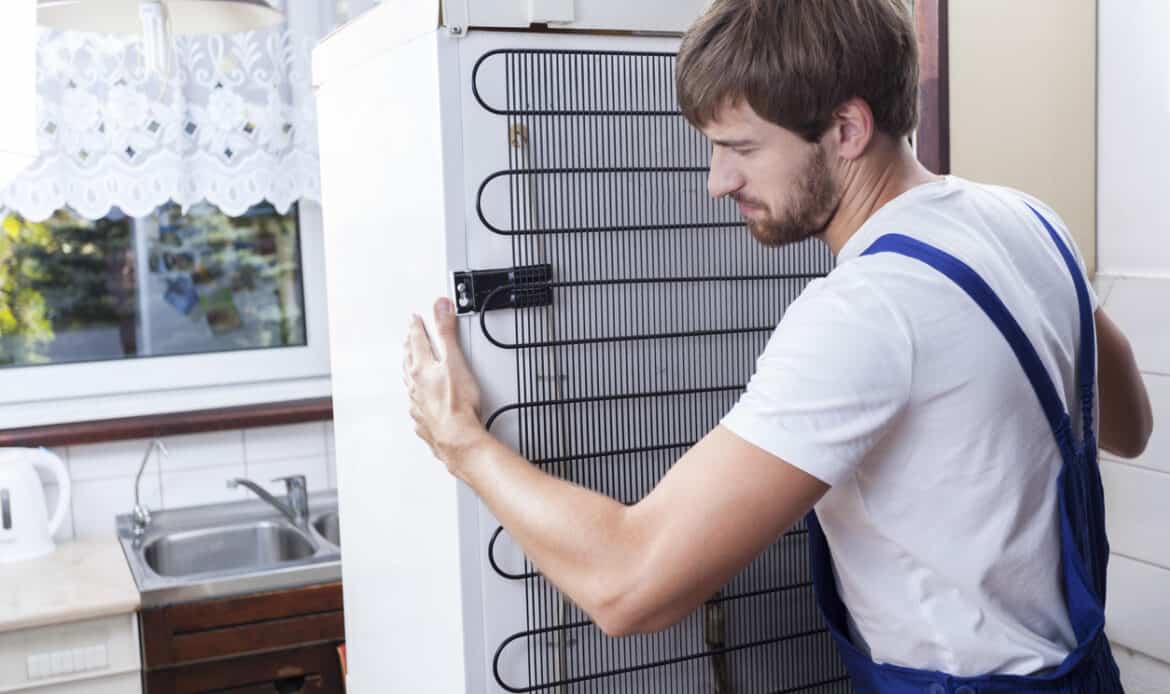 We dispose of old fridges and freezers
Rainbow Rubbish Removals can help you with fridge disposal, providing fast and affordable appliance removal services. We have a reliable team that will come to your address and pick up the items you no longer use. This way, you are freeing up space in your home or workplace for the items you actually need.
We also provide numerous other appliance disposal services, feel free to check them out.
We are fully available for old refrigerator and freezer disposal and recycling in the entire Greater London area within and around the M25. You can contact us at any time to get a quote or ask all of your questions about our services. Our team members are extremely efficient and dependable, so if you provide detailed instructions, they will work under minimum or no supervision to save you time.
We will:
Come with a suitable vehicle
Clean up afterwards if you need us to
Take the waste to a proper facility
How does fridge disposal work?
We have developed a simple system that only consists of 5 easy steps and delivers the best results every single time. If you feel you need our services:
Step 1: Contact us
Use the form on this page to request a quote for fridge or freezer disposal, contact us via email or simply give us a call.
Step 2: Get a quote
Describe what you want us to remove or send us a photo to show us, and we will give you a quote.
Step 3: Schedule an appointment
Pick a date and time convenient for you. You can even schedule a same-day old refrigerator removal visit if you call before 10 a.m.
Step 4: Clearance
Our professional team will remove the fridge or freezer and load it onto our vehicle.
Step 5: Recycling
After collection, our team will transport the waste to the nearest facility for recycling.
How we can help dispose of old fridges and freezers?
We remove entire appliances along with additional parts and components. Although refrigerators are generally regarded as household appliances, if they come from an industrial or commercial site, the law considers them business waste. Regardless of the situation, we are licensed to remove:
Drawers, baskets and containers
We know that having old devices in your home is a waste of space, so we are ready to help you deal with this issue. Oftentimes, the appliances have broken down long ago but the effort to get rid of them is too much trouble and clients can't fit it in their daily schedule. So, at Rainbow Rubbish Removal, we operate efficiently and save you the trouble by providing a complete solution.
Still functional, broken down or disassembled
When it comes to appliance disposal, the case is one of three: the item is still functional at least partially, it is broken down or it has been disassembled. We are up to the task of removal regardless of the condition of the refrigerator.
When clients ask us to remove old fridges that still work, it is usually for a good reason. Some of the most common faults include humming or rattling sounds that people find too disturbing to tolerate on a daily basis. Even if this does not directly interfere with the cooling efficiency, it is still reasonable to go for a replacement.
The refrigerator is an essential household appliance, family meals depend on it every single day. Although repairs are the sustainable option, when it tends to malfunction too often, owners are justified to decide on a replacement. Once the new item is in place, the old one should be removed and disposed of in a sustainable way.
The second option, the one concerning a device that has long been out of order, is usually related to the clearance of a garage or other storage space. Since getting rid of such a large and bulky item is quite troublesome, even if they can no longer use it, owners tend to move it to a shed and forget about it. When the time comes for a clearance, they need an efficient and affordable way to have it removed.
We are also sometimes asked to collect fridge parts along with the appliances in their entirety. These may have been stored in boxes or simply piled and abandoned to rust away. Here, we are often talking about new home owners that are looking to rid the place of household waste left by the people who had previously lived there.

Licensed fridge and freezer disposal company
You can rely on us to dispose of old fridges in an eco-friendly and responsible manner. Depending on the production year, this equipment features certain substances that might prove hazardous to the environment and dangerous to the people that handle it. So, you should always turn to a licensed collector to avoid any risks.
We strongly advise you not to postpone the disposal of old fridges, freezers and other household appliances because rusting and decomposition turn them into hazards to children, pets, family or employees. Whether it comes to items for domestic use or industrial equipment, having it collected and properly disposed of is vital to the community and everyone involved.
Freezer and fridge removal pricing
We aim to offer reasonable prices for our London clients, allowing them to enjoy a swift and diligent service at affordable rates. The Rainbow Rubbish Removal team will process your request and give you an estimated price quote based on the information you provide. Pricing depends on the dimensions of the machines and the time it takes to collect them and load them onto our vans.
We know that you would like to be informed about the price in advance, so please consult the table below. Mind that our team will give you the final price when they arrive, assess the waste and consider any additional expenses that may arise, e.g. parking fees.
| Capacity | Time Loading | Price (Excl. VAT) |
| --- | --- | --- |
| Min Charge or 50 kg | 10 mins | £40 |
| 1/4 or 300 kg | 20 mins | £90 |
| 2/4 or 500 kg | 40 mins | £150 |
| 3/4 or 800 kg | 50 mins | £200 |
| Full Van or 1000 kg | 60 mins | £280 |
Please note that:
Maximum load capacity of one vehicle is 14 cubic yards, the equivalent of 2.5 skips.

The quotes given over the phone or email by our operators are not final because they cannot measure the rubbish weight exactly and they can't account for parking fees and access to the property.

We calculate our prices based on weight, volume, loading time, packaging and disassembling (for furniture and appliances).

If access to the property is hindered or difficult, extra charges may apply.

Dominik L
Highly recommend this company. Extremely fast response and they even offer same day services!!

Lauren Smith
An hour after my call,t guy was here and we were loading 28 bags of

Parsha Hobbs
Extremely fast and efficient service! I called for a quote and they were in the

Zita
Super friendly, worked on very short notice, affordable compared to other services! Took our mattress

Alastair Fletcher
Very friendly, helpful, efficient, and reasonably priced. Arrived in the morning on time, had everything

Niamh Cleary
Unbelievable service. I called them at 8pm last night and the rubbish was gone by

Brendan O' Rourke
Excellent service all round. The removers arrived promptly and set to work clearing our garden
Get a quote for fridge disposal
Head to the contact form, give us a call or send us an email to let us know what you need. Don't forget to attach photos and provide specific instructions. If you ensure access to the items and have given us detailed instructions, we can take care of the waste under minimum or no supervision.