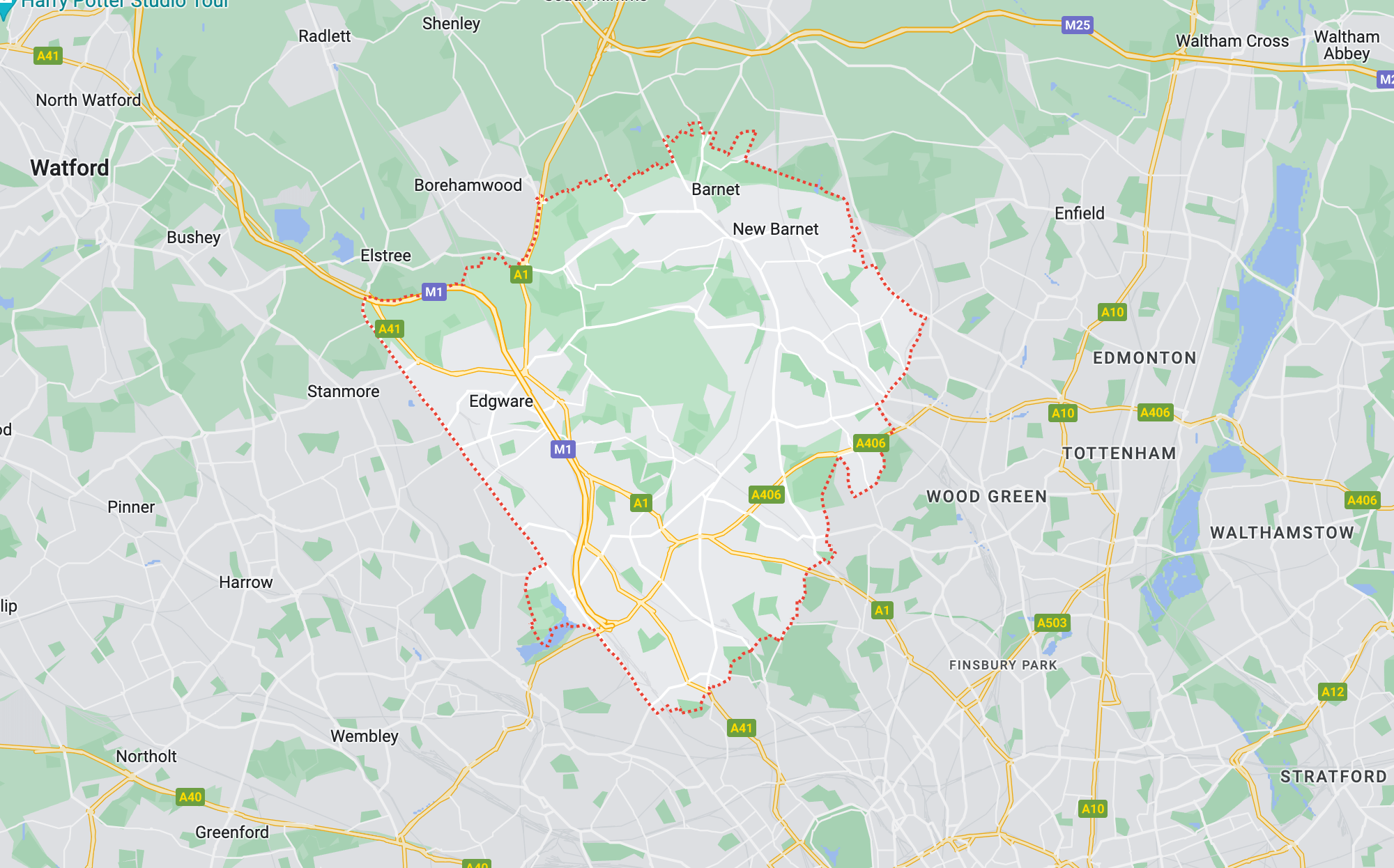 Barnet is a diverse and bustling borough located in North London. Known for its mix of urban and suburban living, excellent transport links, and green spaces, Barnet offers a range of attractions, dining options, and cultural experiences that cater to both residents and visitors.
Main Barnet Postcodes
The primary postcodes in the London Borough of Barnet include EN4, EN5, N2, N3, N11, N12, N14, N20, NW2, NW4, NW7, NW9, and NW11.
Attractions in Barnet
Barnet boasts a variety of attractions and points of interest, including:
Barnet History
The history of Barnet dates back to medieval times, with the establishment of a settlement at the crossroads of two important trade routes. Over the centuries, Barnet grew and developed into a thriving market town and later a suburban residential area.
The arrival of the railway in the 19th century further spurred growth and development, leading to rapid urbanisation and the expansion of the borough. Throughout the 20th century, Barnet continued to diversify and expand, with new housing developments, shopping centres, and cultural institutions adding to the area's appeal.
Today, Barnet is a thriving and dynamic borough that offers a unique blend of urban amenities and suburban living. Its excellent transport links, diverse cultural attractions, and range of shopping and dining options make it a popular destination for both residents and visitors.
Whether you are exploring the fascinating world of aviation at the RAF Museum Hendon, enjoying a performance at Artsdepot, or browsing the stalls at Barnet Market, the borough of Barnet has something for everyone.
Help us keep Barnet clean
Serving the Barnet, EN5 area, Rainbow Rubbish Removals is your go-to clearance company for handling waste efficiently and affordably. Our team consists of diligent, well-informed professionals who utilise top-of-the-line equipment to provide you with a clearance service in Barnet that you'll want to use time and time again.
We understand how hectic life can get, juggling work, home life, and children, with waste management often adding to your stress. That's where we come in – taking care of your waste removal directly from your premises.
As rubbish removal specialists, we offer a comprehensive service throughout the Barnet, EN5 area. Whether you need clearance for your home, office, school, construction site, or personal workspace, our team is just a phone call or WhatsApp message away (use the button above!).
For office or construction-related jobs, simply group your waste together to facilitate a faster and more efficient clearance operation.
Our well-trained crew is available across Barnet, EN5 and the surrounding areas at all times, including weekends and school holiday seasons. Equipped with the appropriate gear for removing and disposing of various types of waste, we are always prepared for any job.
Contact us today for your free quote, and explore our competitive rates to find the best deal for you.
How can you help keep Barnet clear of rubbish?
Managing household and workspace waste can be a demanding chore, potentially taking your focus away from more pressing issues. To streamline your life, we offer a scheduled rubbish removal service throughout the Barnet area. Simply follow these steps:
Select an appropriate day and time for waste collection.
Organise your waste into categories such as recyclables, reusables, large items, and hazardous materials.
Entrust our team with the rest – from collection and disposal to donations and recycling, we guarantee a hassle-free waste management experience.
Questions and answers about our Barnet rubbish removal services
How does your rubbish removal service work in Barnet, EN5?
Our rubbish removal service in Barnet, EN5 follows a simple 5-step process:
Contact us through the quote form, phone, or WhatsApp.
Provide a description and/or photos of the items you want to be removed for a quote.
Schedule an appointment for rubbish removal at your convenience.
Our team will collect and load your items for disposal onto our van.
We will transport your waste items to a local recycling or waste disposal facility.
What types of rubbish do you collect in Barnet, EN5?
We collect various items for disposal, including:
Household waste
Renovation project/construction waste
Books and magazines
Various furniture
Appliances and electrical items
Fridges and freezers
Garden waste
Mattresses
Other rubbish and waste
What are some tips for reducing household waste in Barnet, EN5?
To reduce household waste in Barnet, EN5:
Collect items that can be recycled or reused.
Leave heavy items or toxic wastes for our team to collect safely.
Schedule a regular rubbish clearance service for your home or business.
How is pricing determined for rubbish removal services in Barnet, EN5?
Pricing depends on factors like waste weight, loading times, packing, and disassembly. Refer to our Barnet, EN5 pricing guide for an idea of costs.
Are there any factors that may affect my rubbish removal quote in Barnet, EN5?
Our quotes are based on estimated loading times, weights, packing, and disassembly. Our van holds 14 cubic yards of loading space, and we require easy access to your premises to avoid adding unnecessary time to your collection/removal. Access difficulties may affect your final bill.