Microwave Clearance and Disposal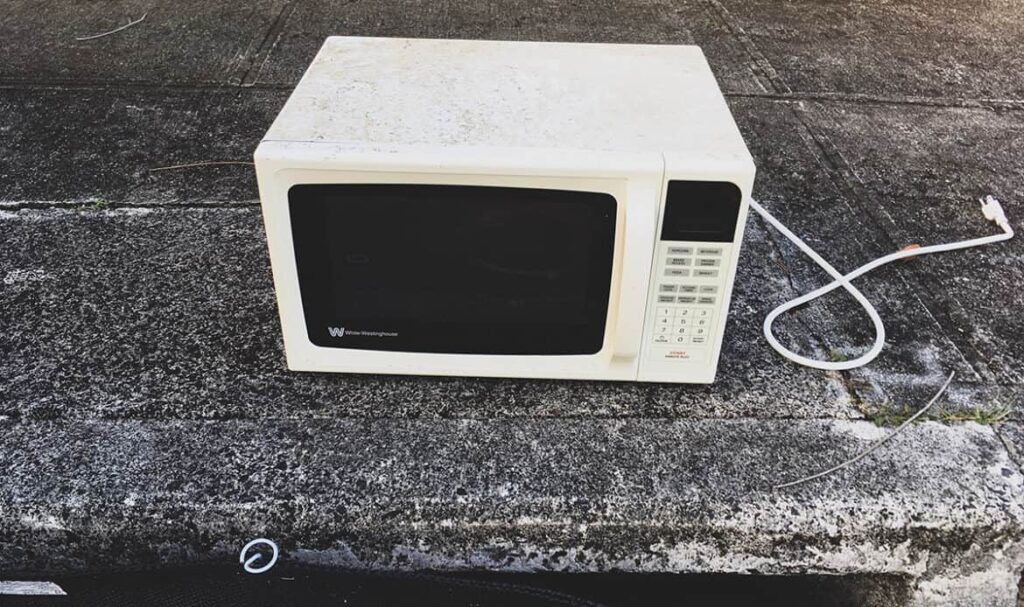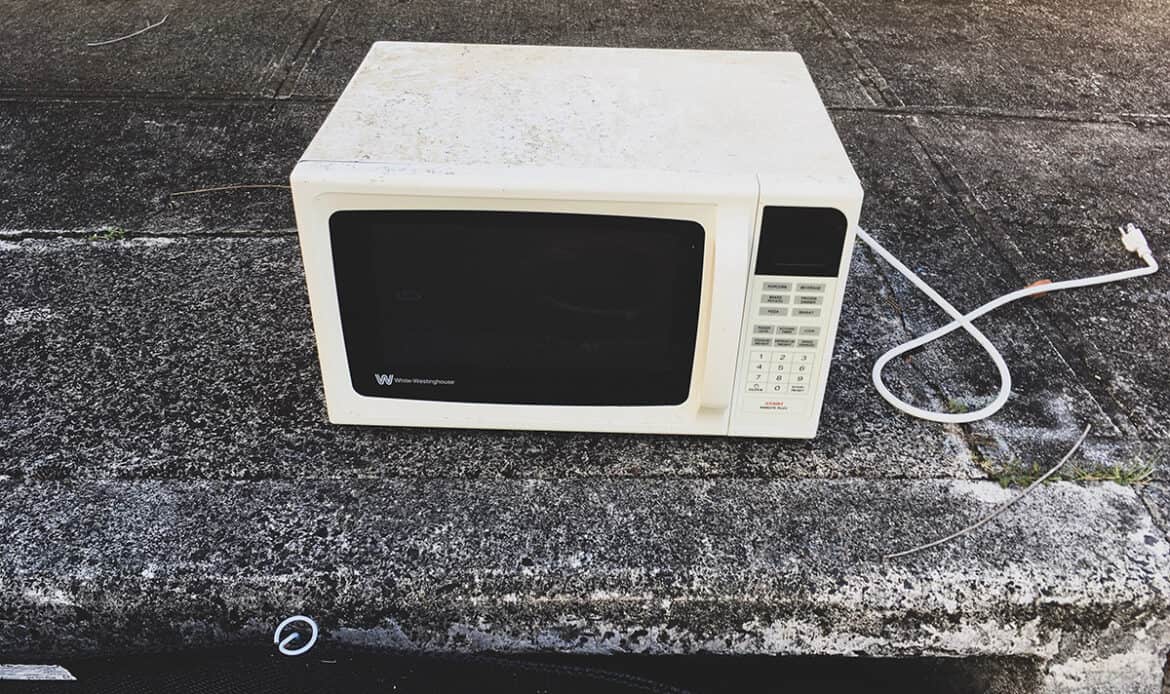 What happens when an old, small kitchen appliance decides to break? You are probably thinking right now: "That's a stupid question. You either fix it or throw it away.
What else are you going to do with it?" Well, many people decide that storing the appliance in its old box, with the idea to repair it someday, is a very good one.
Guess what – the repairing part never happens, you just get a new appliance and you forget about the old one. This is the most frequent case with faulty microwaves and many other appliances, in that manner.
So, if you've decided that it's time to throw out your old microwave, call Rainbow Rubbish Removals and we'll do it for you. We'll send a removals professional to unplug and retrieve the appliance, transport it to the proper waste facility, and get it recycled. Brilliant, right?
More about our London microwave recycling service
Step 1: Contact Rainbow Rubbish Removals

When it comes to making an appointment, all you have to do is fill in your service and personal details in the get a quote form or to contact us and we'll take care of the whole thing.
Step 2: Get your service quote
Once we've gotten the information we need, we'll provide you with a quote for your microwave disposal service.
Step 3: Pick a day for your appointment
Now that you've received your quote, it's time to pick a day and time for the actual microwave removal job. You can make a clearance appointment for any day of the workweek and also, if you need to, on a weekend or bank holiday. You may be able to request same-day rubbish removal in London if you call before 10 am.
Step 4: Microwave removal job
Depending on the number of items you want disposed of, we'll send you either a team or one clearance specialist to remove your faulty or old appliance.
Step 5: Recycling
Your microwave will be loaded into a removals van and transported to the nearest recycling facility. There the appliance piece will be disposed of in a way that doesn't hurt the planet.
Note that if you have other recyclable items in your house that you don't need anymore, you can give us a call prior to the microwave removal and we'll inform the clearance team about the appointment change.
We recommend putting the items in recycling bags and placing them on a visible spot, so the team can just pick and load them into their vehicle.
The other types of appliances we can dispose of
We are rubbish removal experts in London and can get rid of almost any type of appliance piece you want disposed of, no matter how big or small.
The items we can dispose of are anything from a small, old microwave to a huge, free-standing French-door refrigerator – just say the word and consider it gone!
Check out the entire list of appliances we can remove for you:
Refrigerators and freezers
Dishwashers
Power cables and electrics
Small kitchen appliances
Lighting, lamps, chandeliers
Radios and VCRs
Hoods
Hoovers and irons
Water heaters and boilers
Air conditioners
Motors and engines
Our microwave disposal London prices
| Item | Price (Excl. VAT) |
| --- | --- |
| Price from | £40 |
Please note:
Maximum load capacity of the van is 14 cubic yards, the equivalent of 2.5 skips.
Quotes given over the phone or email by our operators are not final because they cannot take into consideration waste weight, parking and access to the property.
We calculate our prices based on weight, volume, loading time, packaging and disassembling (for furnitures and appliances).
When access to the property is difficult we charge extra.
100% reliable rubbish removal services
The goal is to ensure that anyone considering our services has complete faith in us to carry out any given task with or without supervision. Hence, we've provided our contact information and testimonials from our previous customers. You are welcome to reach out to us and make enquiries, we are always available to respond.