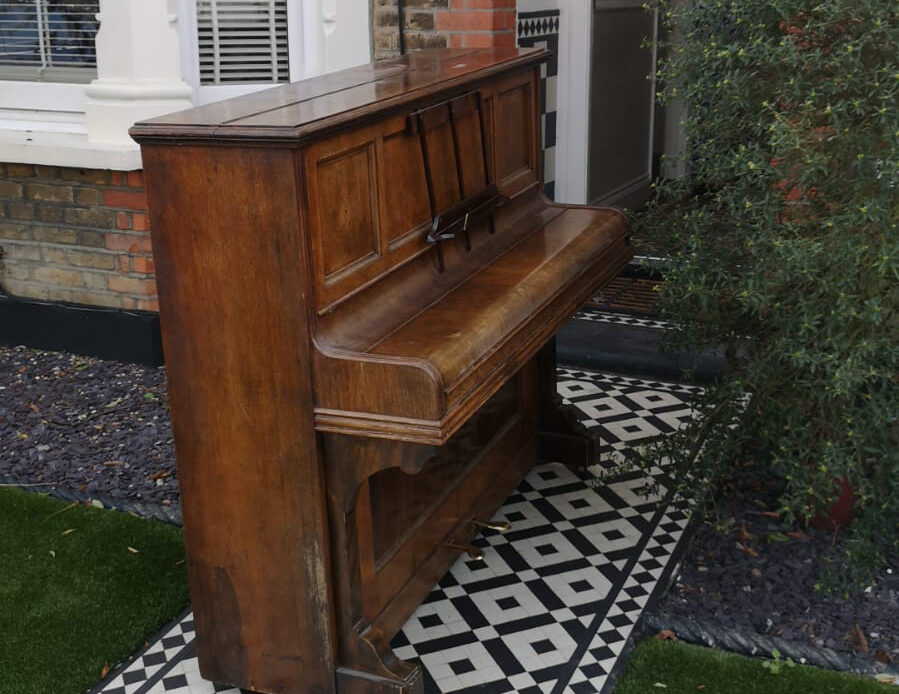 Piano disposal service by local experts
Pianos are among the heaviest items in commercial properties. Their relocation in and out of premises requires specialised equipment and multiple men involved in the piano relocation and disposal process.
Not to mention that heavy injuries are most common during attempts to dispose of grand and baby grand pianos mostly due to lack of physical preparation and improper technique for removal.
At Rainbow Rubbish Removals we know how to remove and dispose of any type of pianos professionally and in an eco-friendly manner, as well as any furniture in the house including beds, sofas and wardrobes.
Type of pianos we'll help you get rid of:
No matter the piano type you want to remove from your property, we'll send a team that will professionally handle the job from start to finish. The rubbish disposal team will get rid of any of the following:
We remove pianos in a 5-steps refined process
Step 1: Contact our company

Don't hesitate to contact us 24/7. We have an interactive online contact form on our website you can use at any time when the phone line is not the best option. Expect a returning call within minutes on workdays.
Step 2: Request a piano disposal quote

The moments for price negotiations have come and you need the details. We'll do that, just share the details about the piano disposal job that we need such as location of the musical instrument, size, weight etc.
Step 3: Schedule a service

We've discussed the most important aspects of your piano removal service, sealing the deal is next. Tell us when you are available and we'll check our schedule to make things fit in your time table. The job will be scheduled for the most suitable time and date then.
Step 4: Piano removal and disposal
The waste removal team will arrive on time at your address and will proceed with the job itself. They'll get to the floor and room where the instrument is located and will start the process of disassembling it (if necessary).
When ready, they will transport it to their vehicle and will load it inside.
Step 5: Reprocessing
If the piano is too damaged and unusable, we'll take it to a recycling centre for reprocessing where it will turn into reusable materials. This guarantees a green approach towards nature, fully compliant with local laws and regulation for waste removal services.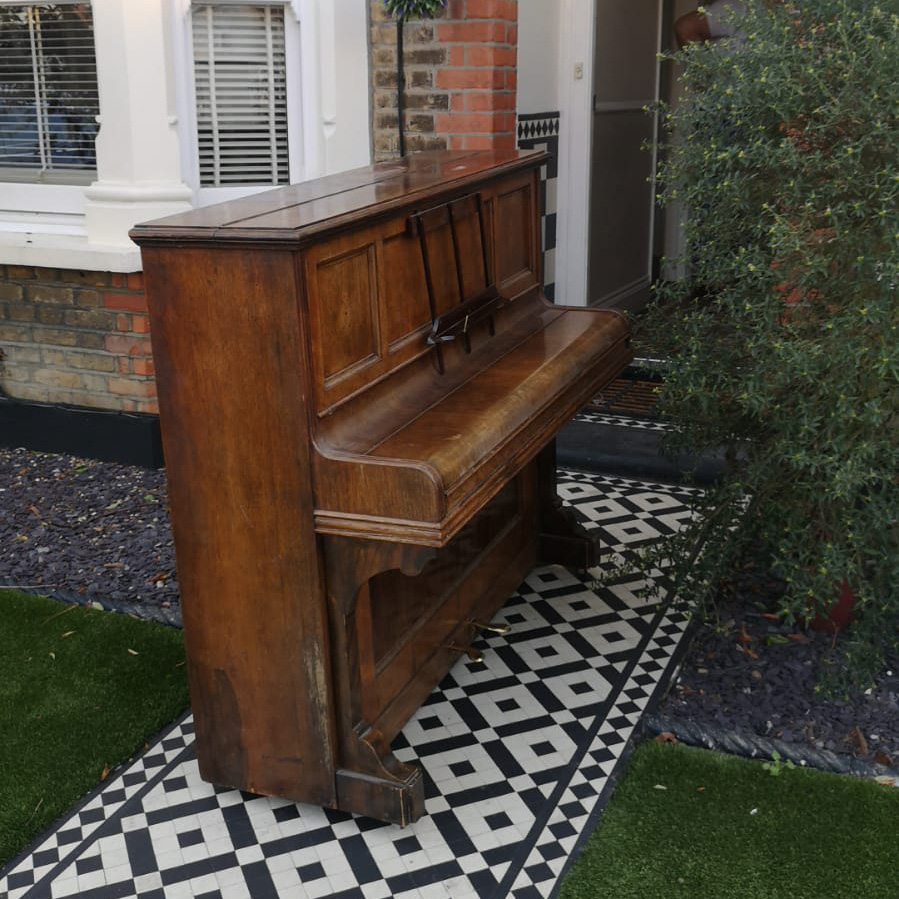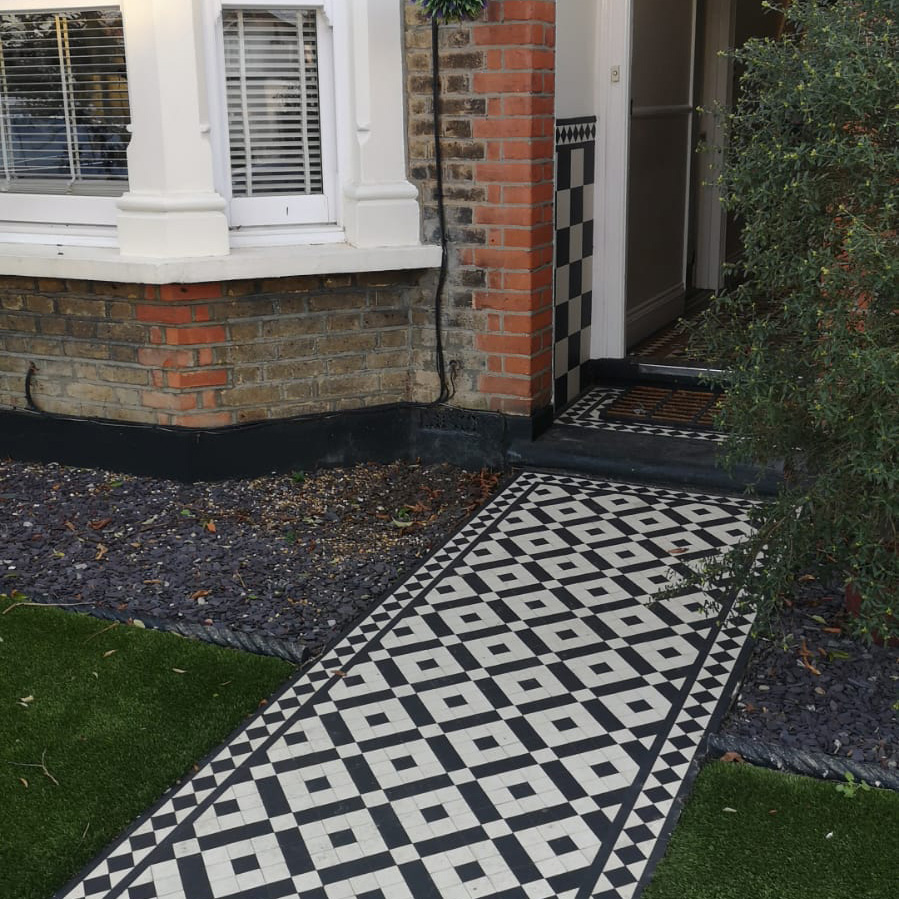 Flexible piano disposal prices
| Item | Price (Excl. VAT) | Quote |
| --- | --- | --- |
| Price from | £150-200 | Get a Quote |
Please note that:
* Maximum load capacity of the van is 14 cubic yards, the equivalent of 2.5 skips.
** Quotes given over the phone or email by our operators are not final because they cannot take into consideration waste weight, parking and access to the property.
*** We calculate our prices based on weight, volume, loading time, packaging and disassembling (for furnitures and appliances).
**** When access to the property is difficult we charge extra.
Our clients rate us as an excellent service provider

Dominik L
Highly recommend this company. Extremely fast response and they even offer same day services!!

Lauren Smith
An hour after my call,t guy was here and we were loading 28 bags of

Parsha Hobbs
Extremely fast and efficient service! I called for a quote and they were in the

Zita
Super friendly, worked on very short notice, affordable compared to other services! Took our mattress

Alastair Fletcher
Very friendly, helpful, efficient, and reasonably priced. Arrived in the morning on time, had everything

Niamh Cleary
Unbelievable service. I called them at 8pm last night and the rubbish was gone by

Brendan O' Rourke
Excellent service all round. The removers arrived promptly and set to work clearing our garden
Get your quote
Waste no more time and get a fixed service quote for piano disposal service with no hidden charges in it. Fill up the contact form below and expect an answer in 15 minutes if you submit the form on a workday before 8 pm.
We respond to Sunday requests on the next workday. Quote requests made after 8 pm receive a callback or an email response from us on the next workday between 8 to 10 AM