Furniture Disposal London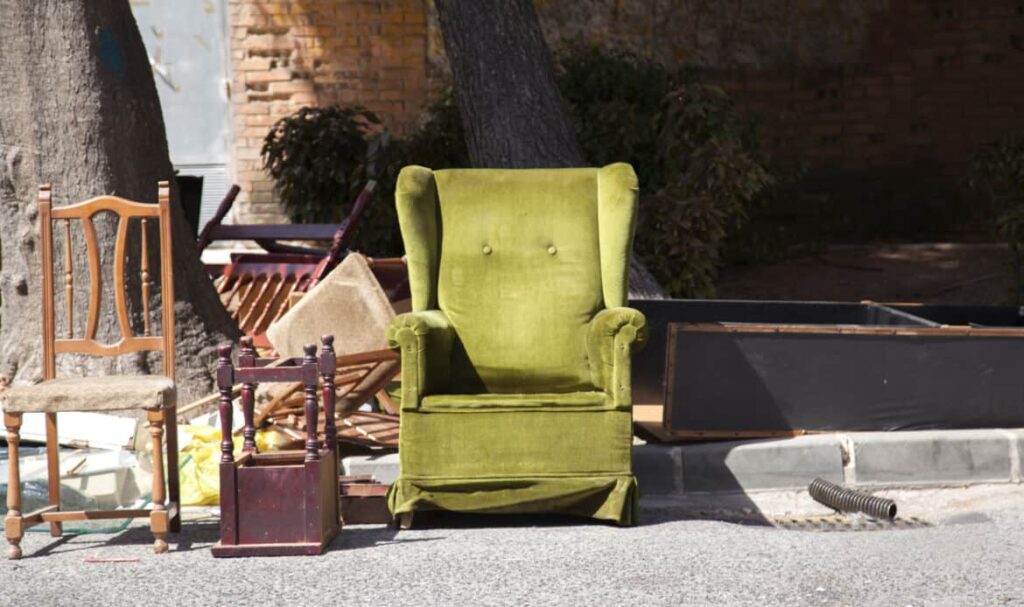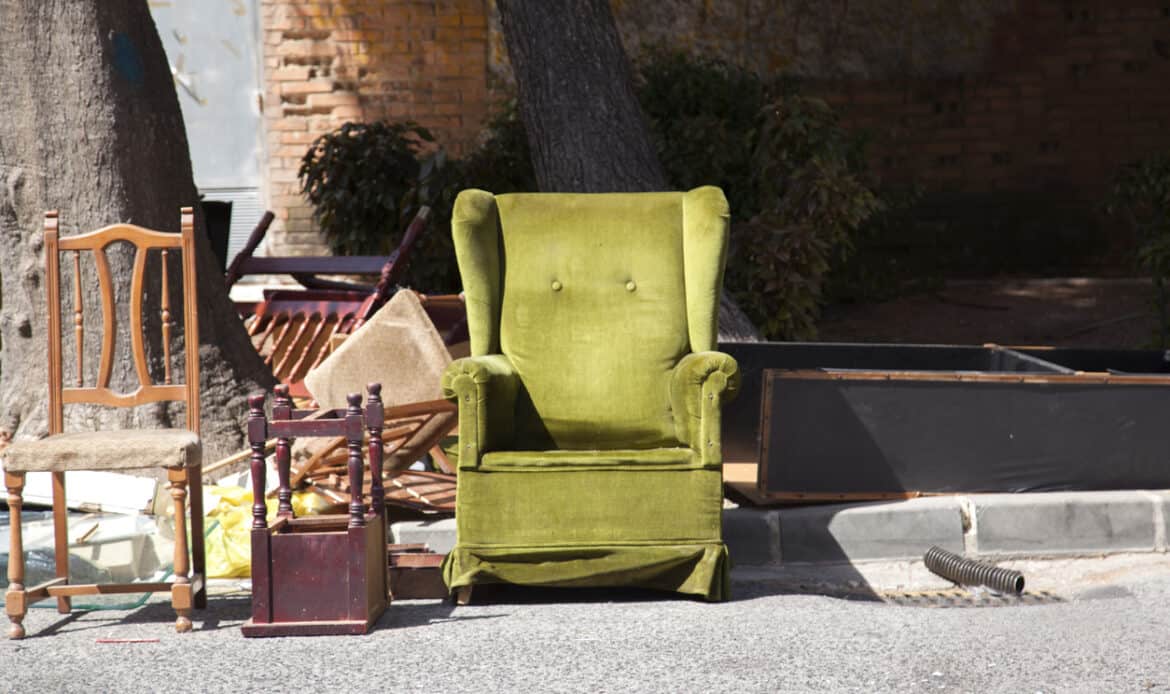 The team of Rainbow Rubbish Removal is here to help you when you need to remove old items to free up and renovate your spaces. We offer affordable furniture disposal services, aiming to take the things you no longer need off your hands and get rid of them in a responsible way. 
We will come to your place at a time that suits your schedule and with an appropriate vehicle to fit everything you need us to collect.
Our team will do all of the heavy lifting as this is solely our job. If you need us to, we will also tidy and clean the space afterward and leave it in the condition you have requested
How does furniture disposal work?
Our house clearance service includes removing all types of items and appliances and disposing of them in a sustainable way, sofa removal being one of the most popular jobs we do.
We will assess the condition of the items and take them to a dedicated recycling facility to be repurposed, reused, or recycled. This way, we improve your spaces by also taking care of the environment and the community.
Step 1: Contact us
Use the form on this page to request a quote for furniture disposal, contact us via email, or simply give us a call.
Step 2: Get a quote
Describe what you want to get removed or send us a photo. Mind that we also do large-scale services such as school clearance. We will estimate the size, volume, and weight and give you a quote.
The more detailed the information you provide, the more accurate the quote will be, so don't hesitate to attach several images and provide specifics such as whether you need mattress removal only or bed removal service as well.
Step 3: Schedule an appointment
Pick a date and time that you find convenient as we will make sure to meet your requirements in terms of schedule. You can even request same-day rubbish disposal in London if you call before 10 a.m.
Step 4: Clearance
Our professional team will collect the old items and load them onto our vehicle.
Step 5: Recycling
After collection, our team will transport the items to the nearest recycling facility or dumping ground depending on the condition, materials and features.
What furniture we remove and recycle?
We offer a hassle-free solution that takes care of every single furnishing item you don't want or need at your place. We service homes, commercial and industrial sites, aiming to ensure flexibility and meet your specific requirements.
Old sofas and sets
Lounge and armchairs
Cupboards, wardrobes, dressers
Storage cabinets and bookcases
Beds and bedside tables
Pillows and bedding
Mattresses
Dressing tables
Chairs
Dining tables
Kitchen units and fittings
Door frames, window panes, sills
Old appliances
Kitchen utensils and tableware
TVs, radios, computers, electronics
Drapes, curtains and blinds
Lighting, lamps and chandeliers
Vanities, tubs and toilets
The list is just to give you an idea of how flexible we are when it comes to the items we collect, so don't worry if you don't find some specific items or appliances on it.
Furniture disposal pricing
We aim to provide high-quality services at affordable prices and help you start the transformation of your spaces by clearing out everything you don't need. We know pricing is essential as you are looking to optimise costs. So, it is our priority to offer outstanding services at a reasonable price and help you clear your home or workplace and take care of the environment.
| Capacity | Time Loading | Price (Excl. VAT) |
| --- | --- | --- |
| Min Charge or 50 kg | 10 mins | £50 |
| 1/4 or 300 kg | 20 mins | £120 |
| 2/4 or 500 kg | 40 mins | £180 |
| 3/4 or 800 kg | 50 mins | £250 |
| Full Van or 1000 kg | 60 mins | £320 |
Please note:
Maximum load capacity of one vehicle is 14 cubic yards, the equivalent of 2.5 skips.
The quotes given over the phone or email by our operators are not final because they cannot measure the rubbish weight exactly and they can't account for parking fees and access to the property.
We calculate our prices based on weight, volume, loading time, packaging and disassembling (for furniture and appliances).
If access to the property is hindered or difficult, extra charges may apply.
A hassle-free solution to furniture removal
We appreciate your trust and will always respect your home, your property and your family or team. Thus, we will strictly follow all of your instructions and do our best to ensure your comfort during our visit.
We know that parting with some items such as disposing of wardrobes can sometimes be difficult and we will be delicate and considerate if this is the case. In order to save time and streamline the process, we are kindly asking you to decide on the things you would like to dispose of prior to our arrival. You can make a list for us, put everything you won't be using in boxes or divide the items into piles. This way, we can work under minimum or no supervision and be certain to collect everything you need us to.
100% reliable rubbish removal services
The goal is to ensure that anyone considering our services has complete faith in us to carry out any given task with or without supervision. Hence, we've provided our contact information and testimonials from our previous customers. You are welcome to reach out to us and make enquiries, we are always available to respond.