Bathroom Removal Service In London By Local Experts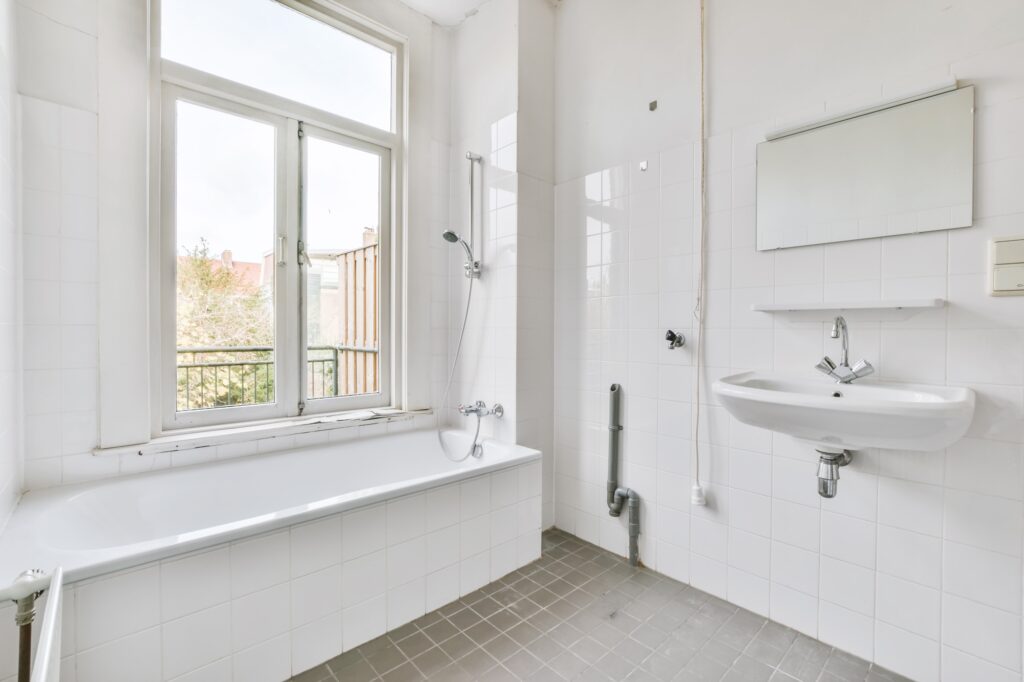 At Rainbow Rubbish Removals, we provide a wide range of quality rubbish removal services in London. While we offer many bespoke options, our speciality is complete room removals.
When you get an entire bathroom removal with us, you'll be able to see our vast experience and skill first-hand, as larger-scale services require more attention, planning, and know-how for them to go well. We have a well-trained team of expert rubbish removers who understand the process of dismantling, removing, loading, and disposing of your bathroom waste.
All our jobs are treated with the appropriate care, ensuring no unwanted damage or mess from our removals. We utilise the best equipment and work hard to complete full bathroom removals quickly and efficiently to minimise the bathroom removal's impact, allowing you to renovate the space quickly.
We understand that bathrooms can be complex spaces to remove and clear. To help, we employ a professional plumber who will be able to detach any pipes and waterways to ensure that there are no leaks or nasty spills while we complete our removal. We handle this aspect of bathroom removal so you don't have to, making the entire experience easier and hassle-free for our clients.
Our bathroom removals can completely strip the room, taking things like baths, taps, toilets, sinks, and more. That said, we can also do part removals and can build a bespoke service for you.
5-step bathroom disposal service
Removing an entire bathroom can become challenging if it's not planned properly. That's why we use a 5-step process to ensure that things go smoothly for you.
Step 1: Get in contact 
You can contact us at any time via multiple channels. We can be reached via email, phone, or the enquiry form at the top of this page. We'll respond to you as soon as possible and begin our discussion about the extent of the work that you need to get done.
Step 2: Get your bathroom removal quote
Once you've contacted us and have been able to provide details about the size and extent of the bathroom removal, we'll be able to provide a quote to help you understand the expected price range of the removal. 
To get an accurate quote, fully explain what needs removing in detail. You can also provide images to help us better understand what needs to be done. Based on the type of bathroom waste and its volume, we'll be able to provide a fixed service price.
Step 3: Schedule a date 
At Rainbow Rubbish Removal, we strive to provide convenient dates and times for all our clients. You're in control and can choose the best available date that suits you and your needs. 
When scheduling our removal, we'll also work out timeframes and figure out a deadline for when the work needs to be completed. 
Step 4: Bathroom removal 
Once we've completed the planning stage of the bathroom removal, we will arrive at your location at the agreed time to complete the work. Our staff are efficient, careful, and knowledgeable and will be able to handle all kinds of bathroom removals with little assistance.
Step 5: Waste disposal and recycling
Rainbow Rubbish Removal is a green business. This means that we care about where your bathroom waste ends up and work hard to ensure that we recycle as much of your waste as possible. We have partnerships will local recycling facilities and use them to process your bathroom waste material properly. 
We're also an ethical business and stay clear of frowned-upon or illegal practices such as fly-tipping.
Bathroom appliances and features we remove
If you're looking for a full bathroom removal, we'll take everything from the space and leave nothing behind. The only caveat is that we will not take away appliances within their warranty period. 
Some of the most common things we remove from bathrooms include, but are not limited to: 
Baths 
Showers 
Sinks 
Toilets 
Taps 
Bathroom Tiles
Lights 
Mirrors
Shelving
Flooring
If your bathroom has something that you want to be removed that doesn't feature on this list, contact us directly to see if we can help you. 
We offer some of the best total bathroom removal prices in London. You can check out our prices below.
| Capacity | Time Loading | Price (Excl. VAT) |
| --- | --- | --- |
| Min Charge or 50 kg | 10 mins | £50 |
| 1/4 or 300 kg | 20 mins | £120 |
| 2/4 or 500 kg | 40 mins | £180 |
| 3/4 or 800 kg | 50 mins | £250 |
| Full Van or 1000 kg | 60 mins | £320 |
The maximum capacity of our vans is 14 cubic yards. This is the same as two and a half skips, meaning we may have to complete multiple trips when removing an entire bathroom. Also, note that weight restrictions also limit our capacity, and we will never overload our vans. 
The quoted price for your bathroom may differ from your final price. This is because that quote was based on estimates. By knowing the actual size and weight of the removal, our final price will be more accurate. 
Our final price is based on factors such as the weight and volume of the rubbish, loading time, and packaging and disassembling.
If your bathroom is difficult to access, we may charge extra.
100% reliable rubbish removal services
We pride ourselves on providing trustworthy bathroom removal services. Our team members have the skill and knowledge to remove your bathroom without carefully the need for assistance or supervision. Over the years, we've collected a lot of reviews and testimonials for you to review to see how we've performed in the past. 
We're transparent in everything we do, and you can contact us at any time to discuss your bathroom removal and learn more about our process. 
You can also trust us to be an ethical rubbish removal business in London. We recycle all we can from your bathroom removals and ensure they're processed at local facilities. This is done to minimise your rubbish's effect on the local environment, and we pledge to be a green business that you can trust. 
Turn to Rainbow Rubbish Removals whenever you need a complete room removed within the London area, including bathrooms as well as other areas and spaces in your household.