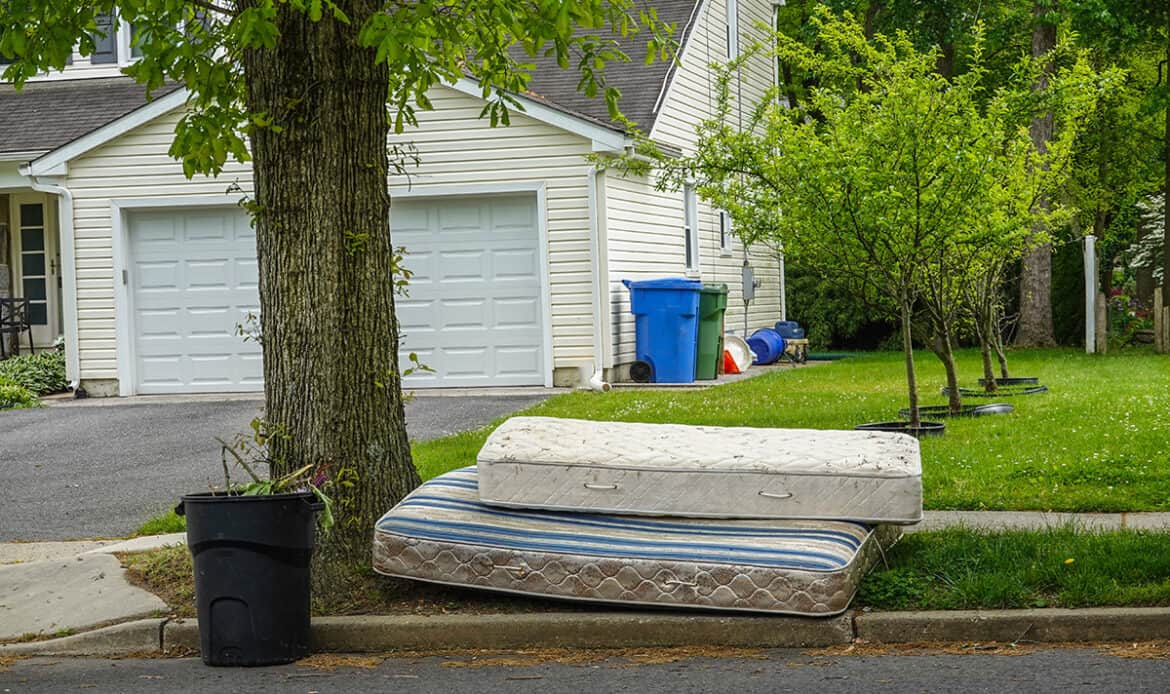 Mattress Disposal Service by Local Experts
Getting rid of an old mattress is a real burden for the majority of the population in the UK. It takes enormous amounts of time and effort, on top of it, the procedure of recycling the mattress is even more complicated.
The team of Rainbow Rubbish Removals has completed hundreds of mattress disposal jobs in London and the area over the last years. We know the drill from start to finish and offer a complete service to customers in the UK at affordable rates and at the time and date that works best for the client.
Each mattress removal service we do ends with an eco-friendly effort to dispose of the mattress at a recycling center for zero pollution and complete compliance with local regulations for waste disposal.
Check out our other furniture disposal services. We also remove beds, sofas and etc.
Types of mattresses we collect:
Our team of experienced and qualified furniture disposal experts will remove, load and drive away any of the most popular type of mattresses in terms of size, including the following:
Super king (California king) size mattress
Mind that some complex old mattress collection disposal jobs will take more hours and resources, especially if the volume of waste is higher than the average or if the client is located away from the London area.
The mattress removal service in detail
Step 1: Contact

Reach out to us via the mobile phone number at the website or fill the contact form from your device in less than a minute. We will return a call as soon as possible or at the time and date, specified in the contact form submission.
Step 2: Get a quote

We need a detailed description of the situation at your home. Provide us with more details on the mattress collection problem you have and we will give a price quote based on the scale of the mattress disposal job you'll need.
Step 3: Schedule a service

Everything so far has gone according to your expectations. That's great, we can proceed to booking a slot for the mattress collection service at the time and date that best fits in your schedule.
Step 4: Service completion
We will send just enough men to handle the disposing of the old mattress at your address. The furniture disposal professionals will take out all old mattresses from the premises and will load them in their vehicle, not wasting even a minute in distractions.
Step 5: Recycling
All loaded goods are transported to a local recycling center where they get recycled in an eco-friendly way for a waste-free planet.
If you have generated any other recyclable type of household waste, notify us about it during the service booking process and put aside all the rubbish, carefully stored in bags. If previously arranged with the client, we are able to pick additional rubbish after the main job is done and get rid of it too.
Our mattress disposal prices
Please note that:
* Maximum load capacity of the van is 14 cubic yards, the equivalent of 2.5 skips.
** Quotes given over the phone or email by our operators are not final because they cannot take into consideration waste weight, parking and access to the property.
*** We calculate our prices based on weight, volume, loading time, packaging and disassembling (for furnitures and appliances).
**** When access to the property is difficult we charge extra.
Check out what some of our clients say about us

Dominik L
Highly recommend this company. Extremely fast response and they even offer same day services!!

Lauren Smith
An hour after my call,t guy was here and we were loading 28 bags of

Parsha Hobbs
Extremely fast and efficient service! I called for a quote and they were in the

Zita
Super friendly, worked on very short notice, affordable compared to other services! Took our mattress

Alastair Fletcher
Very friendly, helpful, efficient, and reasonably priced. Arrived in the morning on time, had everything

Niamh Cleary
Unbelievable service. I called them at 8pm last night and the rubbish was gone by

Brendan O' Rourke
Excellent service all round. The removers arrived promptly and set to work clearing our garden
Get your mattress disposal quote now!
Waste no more time. Write down a detailed description of the mattress removal job you need and will do our best to process your request in 15 minutes or less!
Mind that any requests for a service quote made after 8 PM will be reviewed by our employee the next morning.
All quotation requests made on Sunday, no matter the time of submission, will be processed on the next day.