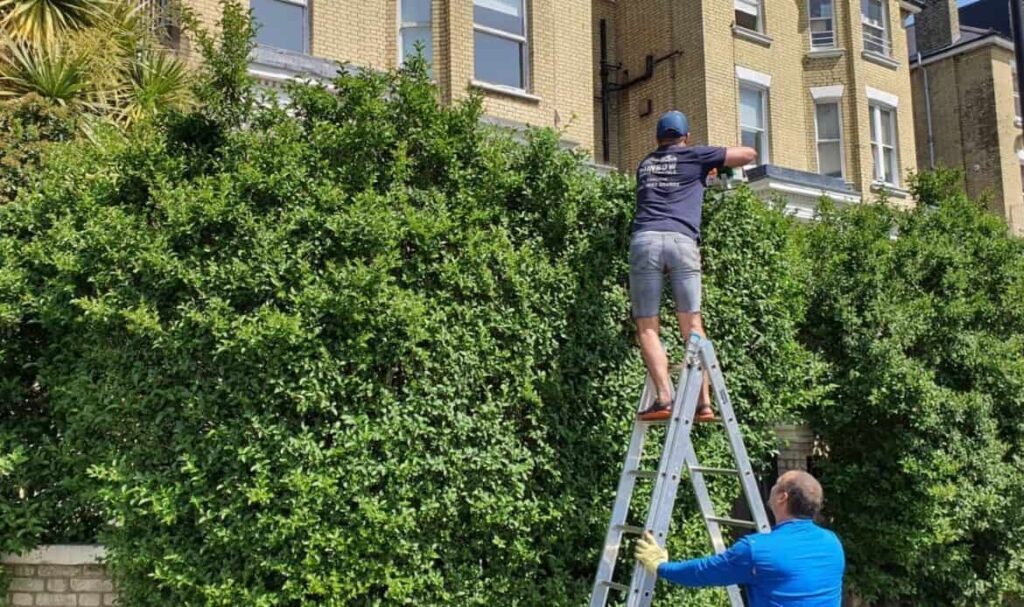 Do you have an unruly hedge causing an obstruction?
We offer professional hedge trimming service in all London areas. We are always available to shape your hedge into whatever shape and size you prefer to complement your garden.
When bushes and hedges are left unkempt, they become a perfect place for insects and small creatures to nest. If they are not properly controlled or eradicated, it becomes home for pests which can destroy homes nearby.
Step 1: Request a quote
Use our online form on this page to request a quote. If possible, provide photos of the hedges you want pruned or trimmed. This allows us to send you more accurate quote estimates.
Step 2: Schedule a visit
Our gardening professionals will visit your garden in a convenient for you time. When they check out the garden and the work that needs to be done, you'll receive the final costs for the service.
Step 3: Provide access
Our professional gardeners will complete the job in a professional and timely manner. Please make sure to provide a parking space close to the premises.
Step 4: Remove waste
All the green waste after the pruning and trimming is completed can be removed upon request and additional payment.
If you notice your hedges are starting to look a bit untidy, it is the best time to have it trimmed.
Hedge cutting is an exhausting and labor-intensive process which is why many people choose to call a professional like Rainbow Rubbish Removals to help give it a befitting look to their compound.
Hedge cutting puts the perfect finishing touch on a garden, creates a smart boundary, looks stunning and keeps the neighbours admiring. Another thing with hedge cutting is that it regularly maintains its shape and avoids problems with unwanted shade.
Hedges should be trimmed at least twice during the growing season and once at the end of the growing season
Flowing hedges should be pruned after flowing. It can be very intimidating and scary for homeowners to trip tall hedges on their own. They will overgrow and spread to unwanted areas if you fail to trim them at the right time.
We always advise that hedges should be trimmed at different times of the year, depending on their species. A healthy trim should leave the hedge tapered.
The bottom should be much wider and the top should be narrower to allow sunlight to reach all parts of the hedge and enhance healthy growth.
You don't need extravagant topiary designs before you beautify your environment and impress your neighbors, our services are affordable and we make sure the hedges are in uniform and have a natural shape.
As specialists in hedge trimming services, we invest in technology that is suited to the task at hand providing you with superior service combined with our experience.
We offer a professional hedge trimming service for all kinds of shapes, sizes and offer a regular hedge trimming maintenance. Our hedge trimming service will ensure that all the plants occupy the intended space.
We understand that no two hedges are the same. The way we trim is determined by the species of the bush, which can be a conifer, yew or beech.
Sometimes it is difficult to know the exact hedges trim that will be perfect for your surroundings. Our years of experiences can help us solve this challenge.
You can count on us to take care of your hedge!
We offer the best hedge trimming service in London.
We have earned a lot of positive reviews from home and business owners throughout London.
Explore Our Other Garden Services
At Rainbow Rubbish Removals, we're not just about hedge trimming. Our passion for enhancing your outdoor spaces extends to a variety of expert garden services.
Garden Maintenance: Our team provides comprehensive garden maintenance, ensuring every shrub, flowerbed, and green space is tended to with care and expertise. Whether it's seasonal upkeep or regular care, we're here to keep your garden vibrant and healthy.
Lawn Care: A lush, well-maintained lawn is the centrepiece of any garden. Our lawn care services are designed to ensure your grass is always green, healthy, and perfectly manicured. From mowing and edging to fertilisation and aeration, we provide all the necessary services to make your lawn the envy of the neighbourhood.
Tree Surgery: Trees are vital to any garden landscape. Our professional tree surgery services ensure your trees are healthy and safe. Whether it's pruning, disease management, or safe removal, our skilled team are equipped to handle all your tree-related needs with precision and care.
100% reliable rubbish removal services
The goal is to ensure that anyone considering our services has complete faith in us to carry out any given task with or without supervision. Hence, we've provided our contact information and testimonials from our previous customers. You are welcome to reach out to us and make enquiries, we are always available to respond.