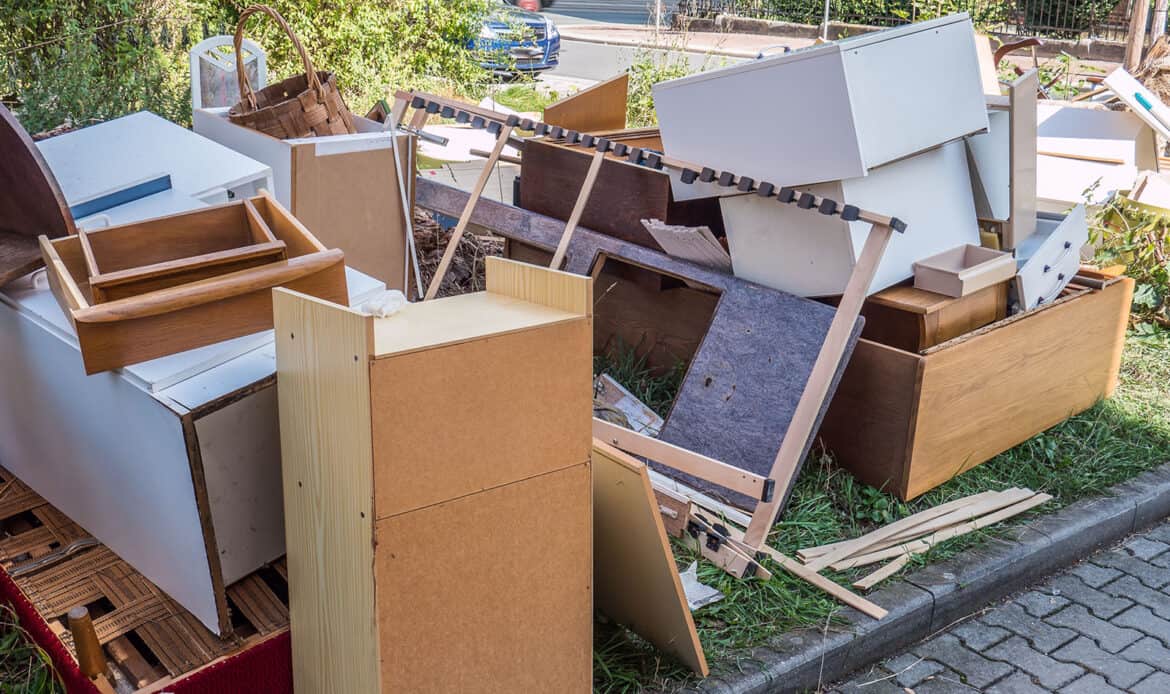 Our vast experience in various waste removals jobs is most evident when we do large-scale services such as kitchen removals. The vetted team of rubbish disposal experts are perfectly familiar with the whole procedure of dismantling, loading and transporting all items in your kitchen.
With our specialised technical know-how and modern equipment, the kitchen removalists from Rainbow Rubbish Removals will complete an end-to-end job in your property. This means they will also unplug all kitchen appliances safely, which will be included in the service hourly rates without any further charges. We dispose of any appliances in your kitchen, including dishwashers, microwaves, fridges, cookers and more.
Kitchen furniture and appliances we dispose of
There's hardly anything we'll leave behind in your kitchen. The only type of items we don't deal with are electronics that require disconnection from representatives of the manufacturing company or if an appliance is within its warranty period.
Some of the most common kitchen furniture and electronics we remove from properties in the UK include but are not limited to:
In case you want to get rid of something that's not on the list, request a quote with us and ask particularly for your specific case, by also sharing a picture of the situation in your kitchen.
We complete any kitchen disposal service in 5 simple steps
Step 1: Reach out to us
Don't hesitate to contact us 24/7 – you'll receive a response from us as soon as possible. We'll contact you via the preferred way that's been mentioned – over the phone or via email.
Step 2: Get your kitchen removals quote
Simply make a picture of your home from a good angle and where everything you want to get rid of is visible. Based on the type of kitchen waste and its volume, we'll provide you with a fixed service quote, without any hidden charges.
Step 3: Set up a date for the job
Eventually, we have to come to an agreement with every client when and how the job will be completed, so they are all completely satisfied upon finishing the kitchen disposal service at the address.
Our schedule is busy but we'll find a way to set up the service for the most convenient day and hour, so your personal plans may remain unchanged.
Step 4: Moving to the actual kitchen disposal job
When the planning part is over and the time for the service has come, our rubbish removal professionals will arrive at your address and will handle the job, as you have instructed us prior to the service.
Step 5: Recycling of kitchen waste
Rainbow Rubbish Removals is a green company. This means we recycle 100% of what we remove from our customers' kitchens. Be it metal, wood, electronics or basically anything you can think of – it ends up in a recycling centre, where it gets transformed into a reusable material.
Kitchen removal price list
Please note that:
Maximum load capacity of one vehicle is 14 cubic yards, the equivalent of 2.5 skips.

The quotes given over the phone or email by our operators are not final because they cannot measure the rubbish weight exactly and they can't account for parking fees and access to the property.

We calculate our prices based on weight, volume, loading time, packaging and disassembling (for furniture and appliances).

If access to the property is hindered or difficult, extra charges may apply.

Dominik L
Highly recommend this company. Extremely fast response and they even offer same day services!!

Lauren Smith
An hour after my call,t guy was here and we were loading 28 bags of

Parsha Hobbs
Extremely fast and efficient service! I called for a quote and they were in the

Zita
Super friendly, worked on very short notice, affordable compared to other services! Took our mattress

Alastair Fletcher
Very friendly, helpful, efficient, and reasonably priced. Arrived in the morning on time, had everything

Niamh Cleary
Unbelievable service. I called them at 8pm last night and the rubbish was gone by

Brendan O' Rourke
Excellent service all round. The removers arrived promptly and set to work clearing our garden
Get a quote for furniture disposal
Fill the form below by adding your personal details. Don't forget to drop a photo of your kitchen, including all of the rubbish inside that needs collecting. Expect to receive a price quote within minutes during workdays and on the very next day, if you send your quote request on a Sunday.