Appliance Removal and Disposal Services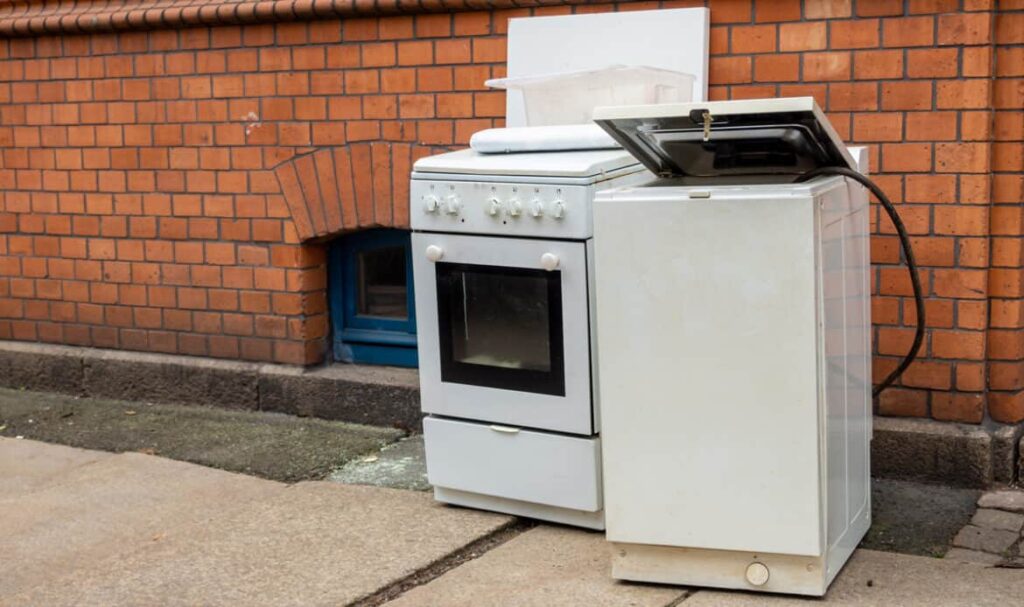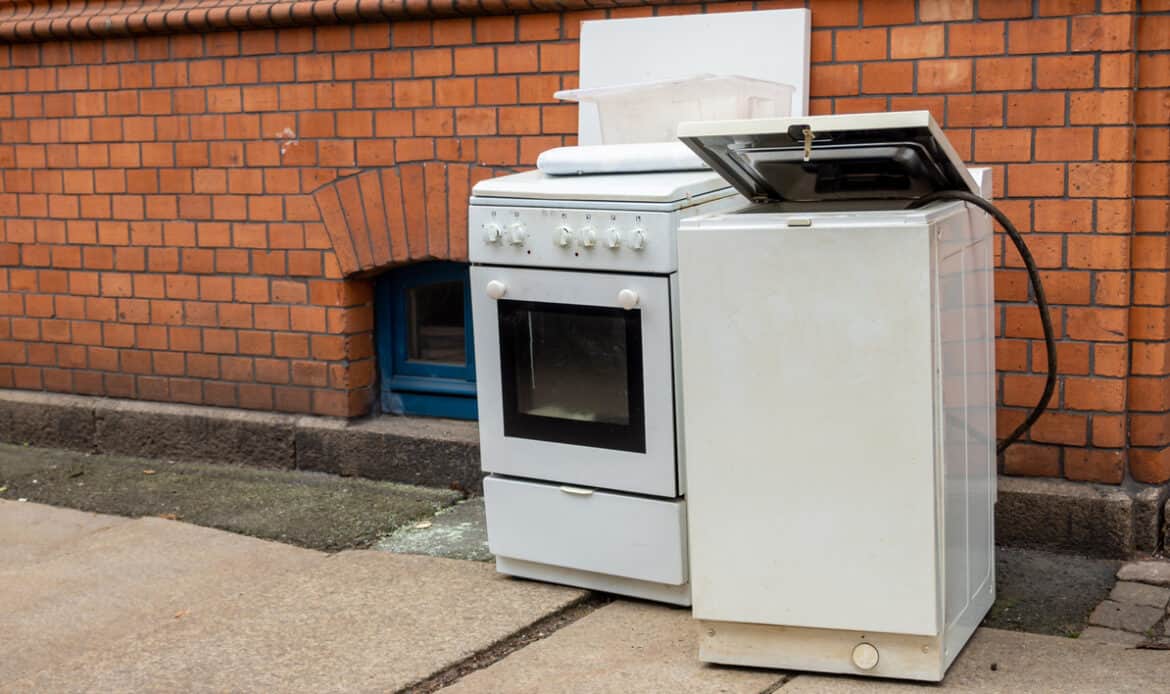 Rainbow Rubbish Removals are experts in rubbish removal in London. We work diligently and efficiently, coming to your address and loading the unwanted items on our vehicle to take them to a dedicated recycling facility. Our team can help with electronics, small and major household appliances as well as electrics.
If you are looking for same-day appliance removal near you, you can schedule a visit from our team. They will pick up the items you no longer have a need for and transport them to a proper facility. After that, they will be due for assessment and repurposing or recycling, depending on their condition.
How does appliance disposal work?
Step 1: Contact us
Use the form on this page to request a quote for waste disposal, contact us via email or simply give us a call.
Step 2: Get a quote
Describe what you want us to remove or simply send us a photo to show us, and we will give you a quote.
The more detailed the information you provide, the more accurate the quote will be, so don't hesitate to attach several images and provide specifics such as whether you need washing machine removal, cooker disposal or help with other white goods.
Step 3: Schedule an appointment
Pick a date and time convenient for you. You can even schedule same-day rubbish removal if you call before 10 a.m.
Step 4: Clearance
Our professional team will remove the items and load them onto our vehicle.
Step 5: Recycling
After collection, our team will transport the waste to the nearest facility for recycling.
You can dispose of your old appliances in 5 easy steps that allow you to schedule a visit at the time that is most convenient for you. When we come and what we collect is entirely up to you; you make up your mind and we do the heavy lifting. You can give us photos of the items you want us to collect, provide instructions when you meet us or simply separate the stuff we need to remove. Our services let you enjoy the peace of mind that your appliances are not simply taken to a dumping ground but disposed of in a sustainable way.
What appliances can we dispose of?
We can collect any appliances from your house or office. There is no limit in the number of items we can pick up in one day and we will come with as many vans as we need to get it all done in one visit. Rainbow Rubbish Removal is certified to dispose of machines including but not limited to:
Fridges and freezers
Washing machines and dryers
Dishwashers
Cookers, gas stoves, hobs
Water heaters and boilers
Air conditioners
Small and major appliances
Power cables and electrics
Lighting, lamps, chandeliers
TVs and screens
Computers, laptops, electronics
Radios and
Hoods
Hoovers and iron
Motors and engines
Maybe the item you have in mind is not on the list. This doesn't mean that we can't dispose of it. Just get a quote and tell us what it is and we will get the job done.
What about the condition?
We offer appliance removal in London regardless of the condition of the machinery. The devices we collect fall into one of the categories:
Out of order or due for repairs
Usually, clients need us to collect old appliances that have long been out of order. However, it is also common for them to give up on a malfunctioning device that they have repaired one too many times. Whether it is an old machine that has been rusting in your garage for years or an item that has only recently broken down, we are here to get it out of your way.
Fully functional
Rattling washing machines and humming freezers are difficult to deal with and we sometimes solve the problem by getting a replacement. Just because it can still do its main job does not mean that you should be putting up with major inconveniences. Oftentimes, excessive energy or water consumption is good enough reason to invest in a new one. Whatever the case, free up some space for your new and better possessions.
Other
You have boxes or piles of machine parts lying around your loft, garage or basement. On the one hand, these can be annoying as they take up lots of space. On the other hand, they can be a serious hazard to family members and pets because of rusty edges, coils and leakage of harmful substances. Let us get these out of your way and dispose of them in a sustainable and eco-friendly manner.
Appliance removal pricing
We aim to offer reasonable prices for our London clients, allowing them to enjoy a swift and diligent service at affordable rates. The Rainbow Rubbish Removal team will process your request and give you an estimated price quote based on the information you provide. Pricing depends on the dimensions of the machines and the time it takes to collect them and load them onto our vans.
We know that you would like to be informed about the price in advance, so please consult the table below. Mind that our team will give you the final price when they arrive, assess the waste and consider any additional expenses that may arise, e.g. parking fees.
| Item | Price (Excl. VAT) |
| --- | --- |
| TV or Monitor | £40 |
| Oven | £60 |
| Washing Machine | £70 |
| Dishwasher | £70 |
Please note that:
Maximum load capacity of one vehicle is 14 cubic yards, the equivalent of 2.5 skips.
The quotes given over the phone or email by our operators are not final because they cannot measure the rubbish weight exactly and they can't account for parking fees and access to the property.
We calculate our prices based on weight, volume, loading time, packaging and disassembling (for furniture and appliances).
If access to the property is hindered or difficult, extra charges may apply.
100% reliable rubbish removal services
The goal is to ensure that anyone considering our services has complete faith in us to carry out any given task with or without supervision. Hence, we've provided our contact information and testimonials from our previous customers. You are welcome to reach out to us and make enquiries, we are always available to respond.