Washing Machine Removal and Disposal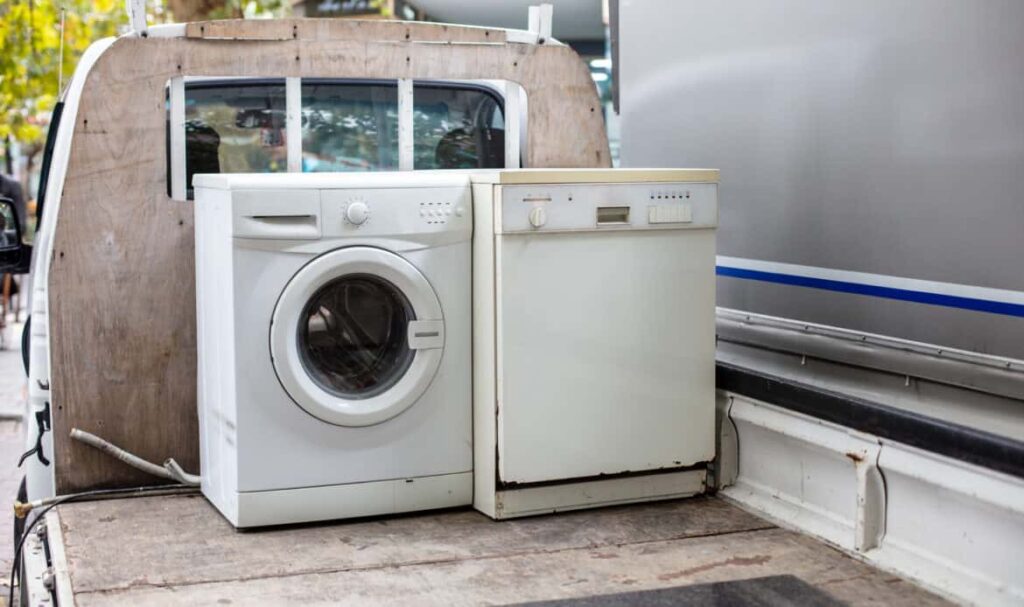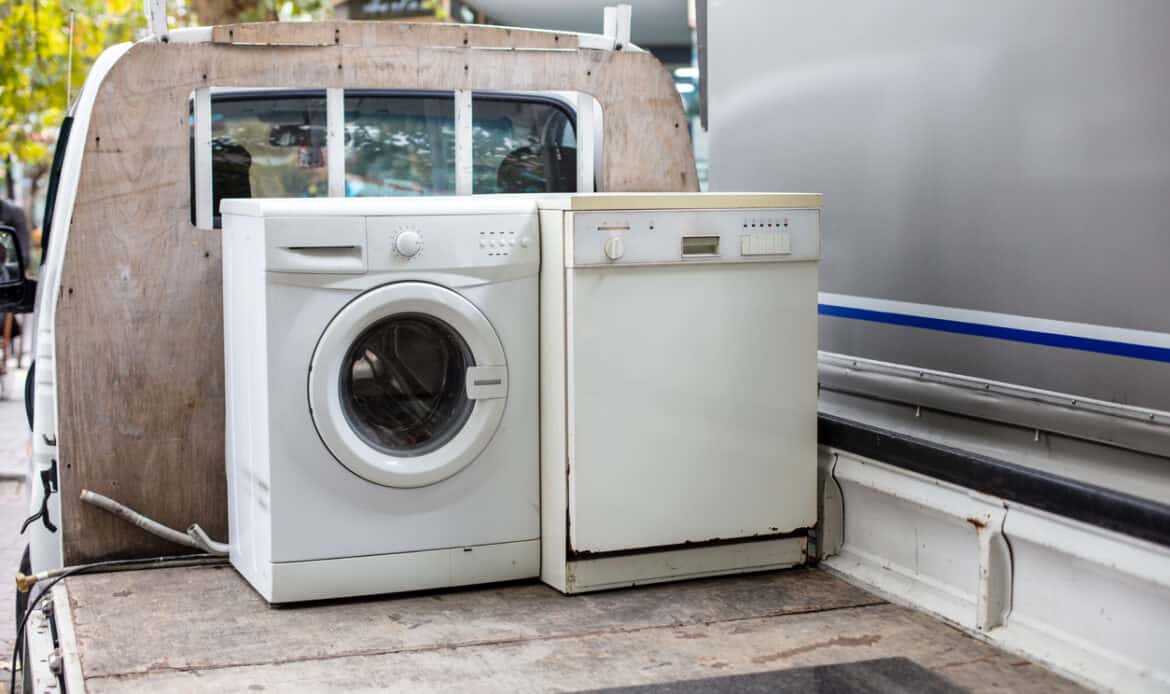 Rainbow Rubbish Removals is here for fast and affordable washing machine disposal services in London. We operate in the entire Greater London area within and around the M25. Get in touch for a same-day rubbish removal; our teams are ready to head to your place to collect the items you no longer have a need for.
Old and broken washers and dryers take up space in your home and can even be a hazard to have around, especially for children or pets.
Unused, appliances start rusting and become unsightly, so we tend to move them to a storage place just to get them out of our way.
Eventually, when the time comes to have a garage clearance or to tidy the shed, we start fussing about these items and look for an easy way to dispose of them.
Rainbow Rubbish Removal has a highly experienced team that is ready to come to your place and pick up the appliances.
We come with a special vehicle to load the items and it is our responsibility to assess their condition and take them to a dedicated recycling facility. We dispose of other appliances as well, including dishwashers, cookers and tumble dryers.
How does washing machine disposal work?
We have streamlined the process because we know you are busy and need to be able to plan ahead and fit our visit into your schedule.
We will accommodate your preferences for the time of visit, so it will work best for you and your family's plans.
Step 1: Contact us
Use the form on this page to request a quote for washing machine disposal, contact us via email or simply give us a call.
Step 2: Get a quote
Describe what you want to get removed or send us a photo and we will give you a quote.
Step 3: Schedule an appointment
Pick a date and time convenient for you. You can even schedule a same-day washing machine collection if you call before 10 a.m.
Step 4: Clearance
Our professional team will collect the washer or dryer and load them onto our vehicle.
Step 5: Recycling
After collection, our team will transport the appliances to the nearest recycling facility.
We collect entire, fully-assembled washing machines, dryers as well as disassembled appliances in London. If there are boxes or heaps of old device parts, we can collect these as well.
It does not matter if they are still functional or out of order. Either way, we will seek out the best use for the items through repurposing or recycling.
It is very often that our clients give up on an old appliance that they had been trying to repair for some time.
Leakages and incomplete draining, high energy or water consumption, rattling or screeching and, of course, failure to clean and dry clothes properly are some of the most common reasons people decide to replace these household items.
Repairs are often too expensive and once the appliance starts malfunctioning, it usually keeps breaking down. So, many people find getting a new device a more sustainable and cost-effective solution.
Give us a call if you need us to remove:
Washers
Dryers
Panels
Drums and tubs
Water pumps
Hoses
Motors and heaters
Power cables
Filters
Pulleys and belts
Even if you do not find the items you have in mind on the list, be sure we can take care of them.
We specialize in rubbish disposal, so we have the skills, the vehicles, and the license to pick up and take the old items to a dedicated recycling facility or an appropriate dumping ground.
Licensed washing machine removal in London
Responsible appliance disposal is a key step to preserving the environment. While repairs are a sustainable approach, they aren't always a viable option, especially when we are talking about very old devices.
Moreover, the older the appliance is, the more energy it tends to consume compared to newer models. So, it is sometimes best to invest in a replacement and have the peace of mind that everyday household needs will be met.
Washing machine disposal services should be performed by a licenced waste collection company to make sure the collector will take special care to deliver the device to a recycling plant for partial repurposing.
Rainbow Rubbish Removal holds permits and licences to remove and dispose of various types of waste, including household appliances.
We are certified with the Environment Agency under the Waste Regulations 2011 to demonstrate our responsibility towards the community and the planet.
Washing machine disposal pricing
Item
Price (Excl. VAT)
Price from
£70
Please note:
Maximum load capacity of the van is 14 cubic yards, the equivalent of 2.5 skips.
Quotes given over the phone or email by our operators are not final because they cannot take into consideration waste weight, parking and access to the property.
We calculate our prices based on weight, volume, loading time, packaging and disassembling (for furnitures and appliances).
When access to the property is difficult we charge extra.
100% reliable rubbish removal services
The goal is to ensure that anyone considering our services has complete faith in us to carry out any given task with or without supervision. Hence, we've provided our contact information and testimonials from our previous customers. You are welcome to reach out to us and make enquiries, we are always available to respond.