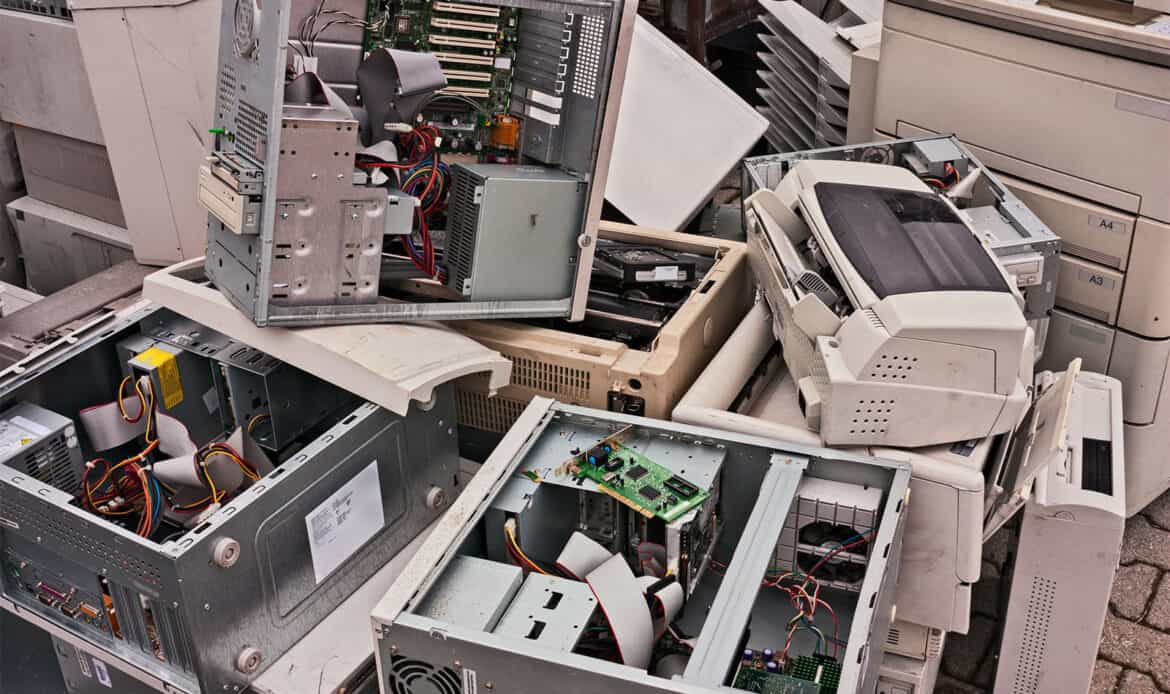 No doubt the most popular device in the world at the moment is the PC a.k.a the Personal Computer. We are dependant on these IT appliances in so many ways it's crazy. Sadly, they often give errors or in the worst-case scenario break down completely. If your computer is old or broken and unusable and you wish to dispose of it, there is no better way than calling Rainbow Rubbish Removals!
Our job is to take care of dirty and tiring jobs like WEEE waste disposal and recycling for you. Just give us a call or fill a contact form and we will figure out a proper date and service for you, there is no task hard enough for us. Order your computer disposal service today!
How Computer disposal works?
Step 1: you need to call or contact us
You can easily reach us by using the number on the top right corner of this page, by filling the contact form which includes your name, email, and message in which you should include the service you require (in this case Computer disposal), or by emailing us.
Step 2: Personal quote
The next step, after you have asked us for help is to wait for our reply, which always happens as soon as possible, most of the time on the same day. If needed, we will ask you for additional information about the location, the house or apartment, or anything really, in order for us to develop the optimal strategy to get the computer disposal done as fast as possible. Next, we will give you a personalized-exact-cost quote based on the information you gave us and the requirements you have.
Step 3: Select a day
After receiving your quote, it's now time to pick a day or days, depending on when you are free. We at Rainbow Rubbish Removals will make sure to come and dispose of your old computer as soon as we can. Feel free to select any days from the workweek, or weekends if you have to. We even work on some holidays.
Step 4: Showtime
Everything is ready. Now all that's left for you is to sit and watch as our team of experts arrives to dispose of your old PC in the fastest and cleanest possible manner.
Step 5: The recycling process
The last step. Your computer will be loaded onto one of our vans and then transported to the closest recycling facility. We do this step carefully so that we don't harm the environment in any way. We work eco-friendly.
We would like to inform you that in case you have any other appliances or items that you don't need and want to dispose of or recycle, you should feel free to inform us about that in advance so that we come prepared and take those as well. In addition, if possible, please put all those in plastic bags in front of your property.
Our Computer disposal prices
Please note that:
Maximum load capacity of one vehicle is 14 cubic yards, the equivalent of 2.5 skips.

The quotes given over the phone or email by our operators are not final because they cannot measure the rubbish weight exactly and they can't account for parking fees and access to the property.

We calculate our prices based on weight, volume, loading time, packaging and disassembling (for furniture and appliances).

If access to the property is hindered or difficult, extra charges may apply.
Here's what our clients have to say

Dominik L
Highly recommend this company. Extremely fast response and they even offer same day services!!

Lauren Smith
An hour after my call,t guy was here and we were loading 28 bags of

Parsha Hobbs
Extremely fast and efficient service! I called for a quote and they were in the

Zita
Super friendly, worked on very short notice, affordable compared to other services! Took our mattress

Alastair Fletcher
Very friendly, helpful, efficient, and reasonably priced. Arrived in the morning on time, had everything

Niamh Cleary
Unbelievable service. I called them at 8pm last night and the rubbish was gone by

Brendan O' Rourke
Excellent service all round. The removers arrived promptly and set to work clearing our garden
Get your personal quote!
Please let Rainbow Rubbish Removals deal with your disposal needs. There is no longer a need for you to do tasks such as this on your own. We are here to take the load off your shoulders! Contact us now and get your personal quote now! And last but not least, if you make your request on a Sunday, it shall be reviewed on the next day.