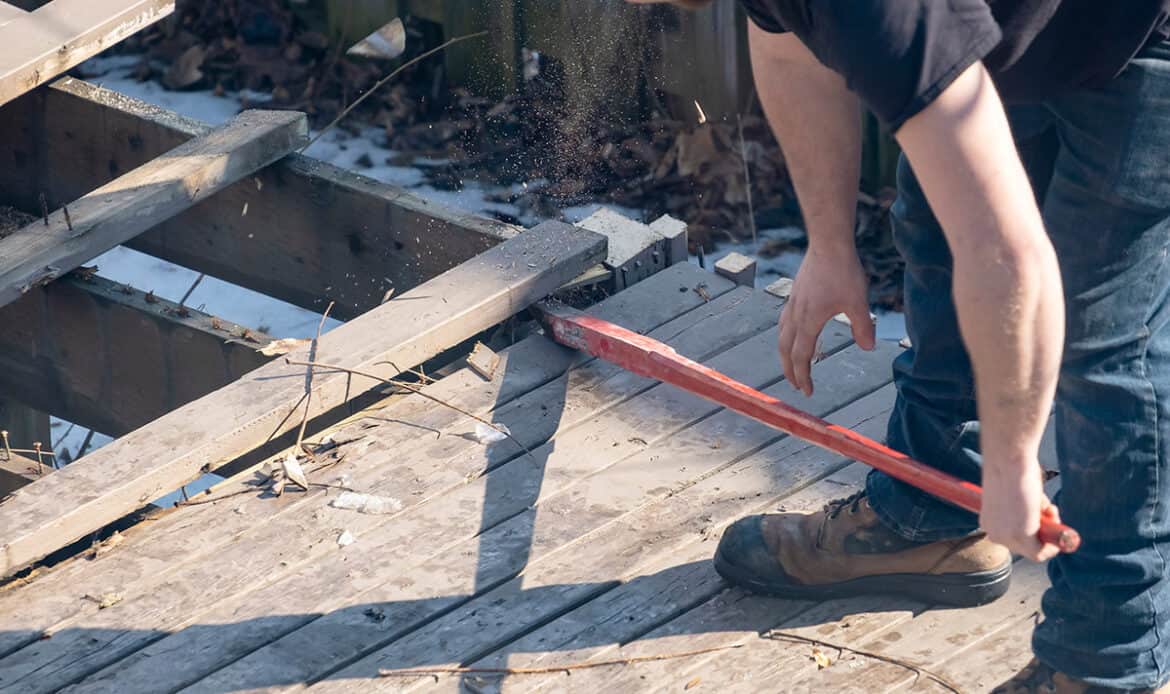 If you've decided that it's time to update your outdoor space with a new deck, but you have an old one that needs to be removed and disposed of, you can count on Rainbow Rubbish Removals to perform the job for an affordable price. At our company, we work with highly experienced professionals who can both dismantle and remove your old decking, so you don't have to invest hours and labour into this time-consuming and hard to complete task.
Take a look at our other services
Besides deck removal, we, at Rainbow Rubbish Removals, also offer a wide range of other disposal services. Check out the list we've provided below to find out what we can do for you and your property:
Builders rubbish disposal
If you have a certain type of item that you want to get rid of or an area of your property cleared and aren't sure if we can help you out with the task, just give us a call and we'll tell you if we can handle the job or not.
In-depth information on how we perform the deck removal service
Contact Rainbow Rubbish Removals
First thing's first – you need to contact us. You can do this by filling out this short form or by giving us a call. Pick the option that sounds most convenient to you. 
We'll give you a price estimate 
Share as much information as possible about the decking you need to be gone – it's size, location, what it's made out of, etc. We'll calculate the end price based on the details you've given us and present you with a quote for your deck removal service. 
Tell us when you want the service performed 
Last, but certainly not least on the booking process list is the appointment details. Choose a date and time for your service that fits your weekly schedule. Our professionals perform the deck removal service all week round, which means that we can send you a team whenever you like, including on a bank holiday. 
The deck removal service
The team will arrive fully equipped with everything that the deck removal job requires – tools, equipment and more. They will carefully dismantle the decking and prepare it to be transported. 
Recycling
The pieces of decking will be transported to the nearest recycling facility and left there for further processing. There the scraps will be disposed of in an environmentally friendly fashion, so you can rest assured that you aren't hurting the planet with more waste. 

If by any chance you have other waste that you need removed from our property, the technicians can take it with them when they are loading the deck scraps. Just make sure to inform us prior to your deck removal service appointment, so we can tell the removal experts that there are more things on-site that they need to dispose of.
The deck removal service prices
| Capacity | Time Loading | Price (Excl. VAT) |
| --- | --- | --- |
| Min Charge or 50 kg | 10 mins | £40 |
| 1/4 or 300 kg | 20 mins | £90 |
| 2/4 or 500 kg | 40 mins | £150 |
| 3/4 or 800 kg | 50 mins | £200 |
| Full Van or 1000 kg | 60 mins | £280 |
* Maximum load capacity of the van is 14 cubic yards, the equivalent of 2.5 skips.
** Quotes given over the phone or email by our operators are not final because they cannot take into consideration waste weight, parking and access to the property.
*** We calculate our prices based on weight, volume, loading time, packaging and disassembling (for furniture and appliances).
**** When access to the property is difficult we charge extra.
Check out some of the service reviews left by our clients

Dominik L
Highly recommend this company. Extremely fast response and they even offer same day services!!

Lauren Smith
An hour after my call,t guy was here and we were loading 28 bags of

Parsha Hobbs
Extremely fast and efficient service! I called for a quote and they were in the

Zita
Super friendly, worked on very short notice, affordable compared to other services! Took our mattress

Alastair Fletcher
Very friendly, helpful, efficient, and reasonably priced. Arrived in the morning on time, had everything

Niamh Cleary
Unbelievable service. I called them at 8pm last night and the rubbish was gone by

Brendan O' Rourke
Excellent service all round. The removers arrived promptly and set to work clearing our garden
Get a price estimate for your deck removal service now!
Dismantling a deck all by yourself is extremely hard and very time-consuming, not to mention that the removal part of the project is a complete pain. So why don't you book a professional removal company, like Rainbow Rubbish Removals, to take apart the old decking for you and remove it from the property? Give us a call today and we'll schedule you a service appointment in zero time.