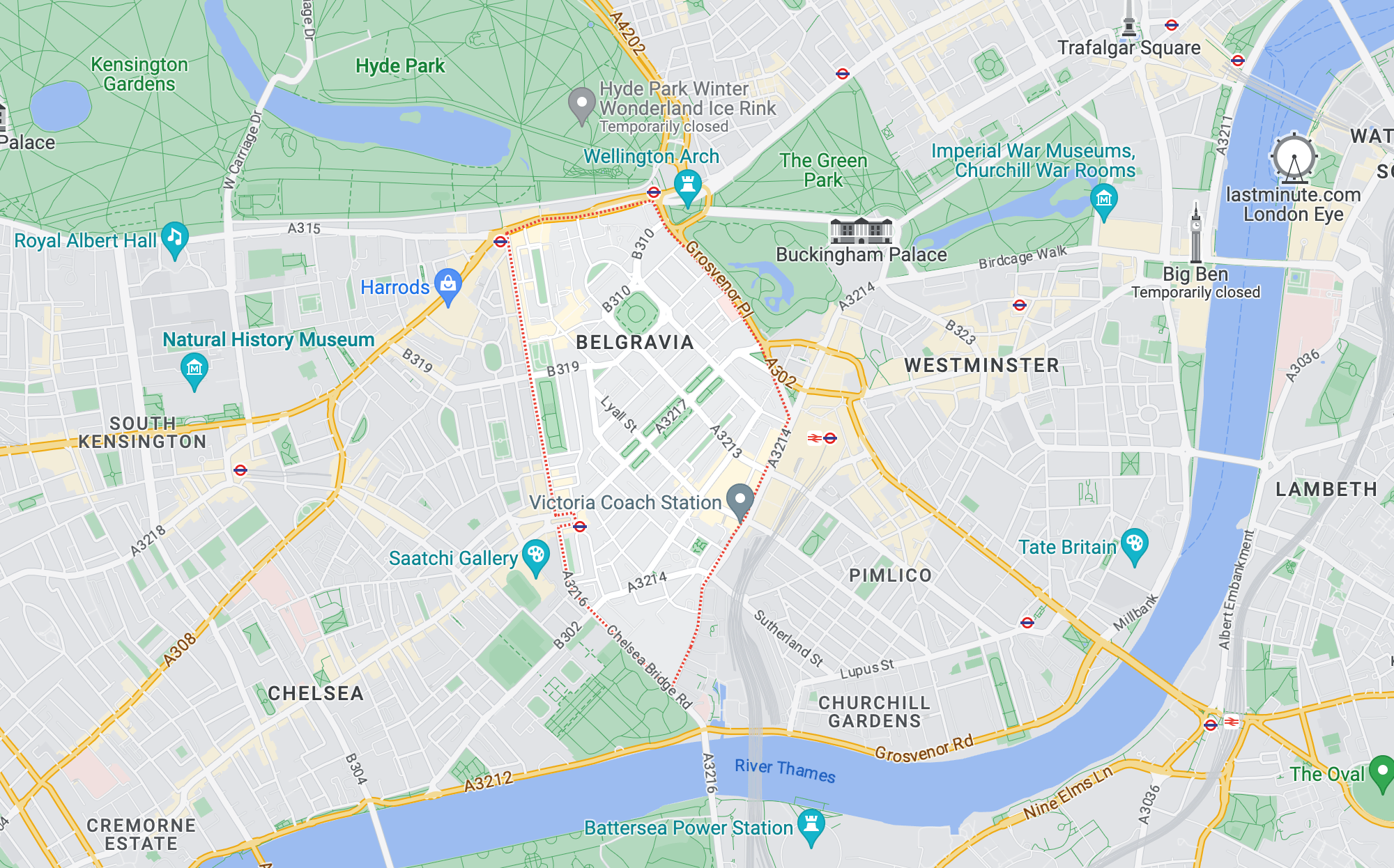 Our Recent Rubbish Removal Work in Belgravia
Recently, we had the pleasure of working with a lovely family in Belgravia who needed a comprehensive rubbish removal service. Their beautiful home had accumulated a significant amount of clutter over the years, and they were eager to create a more spacious and organised living environment.
Our team at Rainbow Rubbish Removals arrived at the property bright and early, ready to tackle the task at hand. We began with a thorough house clearance, sorting through the various rooms and removing any unwanted items. This included old furniture, broken appliances, and general household rubbish that had been gathering dust.
As we moved through the property, we also provided our furniture disposal service, carefully removing a few large pieces that the family no longer needed. This included an old sofa, a worn-out dining table, and a couple of bulky wardrobes. Our team ensured that these items were disposed of responsibly, in line with Belgravia's waste management regulations.
In the garage, we discovered an old piano that the family had been meaning to get rid of for years. Our piano disposal experts carefully dismantled the instrument and removed it from the property, making sure not to cause any damage to the surrounding area.
Once the house clearance was complete, we turned our attention to the garden shed. The family had recently completed a renovation project, and there was a considerable amount of builders' rubbish that needed to be disposed of. Our team efficiently cleared the area, leaving the shed looking neat and tidy.
Finally, we carried out an office clearance for the family's home office. We removed old computers, bookcases, and other office furniture, ensuring that the space was left clean and clutter-free.
The family was thrilled with the results of our rubbish removal services in Belgravia. Their home was transformed into a spacious and organised haven, and they couldn't have been happier with the outcome.
Rainbow Rubbish Removals did a top-notch job clearing out our home in Belgravia! They were proper efficient and got rid of all the old tat we didn't need anymore. The team was friendly and professional, and they left our place looking spick and span. We'd highly recommend them to anyone in need of a good clear-out. Cheers, guys!
Belgravia is an affluent and prestigious district in the heart of London, known for its grand architecture and elegant garden squares. Located within the City of Westminster and the Royal Borough of Kensington and Chelsea, Belgravia is bordered by Knightsbridge to the north, Grosvenor Place and Buckingham Palace Road to the east, Pimlico Road to the south, and Sloane Street to the west. This prime location offers residents and visitors easy access to some of London's most iconic landmarks and attractions.
Belgravia is characterised by its stunning white stucco-fronted buildings, many of which have been converted into luxurious apartments and embassies. The area is also home to a number of high-end boutiques, galleries, and restaurants, making it a popular destination for those seeking a taste of London's high society. The district's quiet, tree-lined streets and well-maintained gardens provide a peaceful retreat from the hustle and bustle of the city centre.
The name Belgravia is derived from the village of Belgrave in Cheshire, which was owned by the Grosvenor family, who developed the area in the early 19th century. Today, the Grosvenor Estate still owns a significant portion of the land in Belgravia, ensuring that the area retains its unique character and charm.
Belgravia Main Postcodes
The main postcodes in Belgravia include SW1W, SW1X, and SW1V. These postcodes cover the majority of the district, encompassing its elegant residential streets, bustling shopping areas, and picturesque garden squares.
Belgravia Main Attractions
Belgrave Square Garden: This private garden square is one of the largest and most impressive in London, featuring beautifully landscaped grounds, statues, and a tennis court. Although access is restricted to residents, the garden can be admired from the surrounding streets.
Eaton Square: Another of Belgravia's iconic garden squares, Eaton Square is lined with grand white stucco-fronted buildings and features a central garden that is also private for residents. The square is home to several embassies and notable residents.
St. Peter's Church: This beautiful Anglican church, designed by architect Henry Hakewill, is located on Eaton Square and is a Grade II listed building. The church hosts regular services and events, and its stunning interior is well worth a visit.
Belgravia History
Belgravia's history dates back to the early 19th century when the Grosvenor family began developing the area as an exclusive residential district. The family commissioned master builder Thomas Cubitt to design and construct the elegant terraces and garden squares that define Belgravia's distinctive character.
The district quickly became popular among the British aristocracy and upper classes, with many notable figures choosing to make their homes in Belgravia. Throughout the 19th and 20th centuries, the area continued to attract wealthy and influential residents, including politicians, artists, and members of the royal family.
During World War II, Belgravia suffered some damage from bombing raids, but the majority of its historic buildings and gardens survived intact. In the post-war years, the area underwent a period of restoration and modernisation, with many of its grand houses being converted into apartments and embassies.
Today, Belgravia remains one of London's most prestigious and sought-after districts, with its elegant architecture, exclusive boutiques, and fine dining establishments continuing to attract a discerning clientele.
More Valuable Information about Belgravia
Belgravia is well-connected to the rest of London, with several nearby Underground stations, including Knightsbridge, Sloane Square, and Victoria, providing easy access to the city's many attractions and business districts. The area is also served by numerous bus routes, making it a convenient base for both residents and visitors.
In addition to its stunning architecture and gardens, Belgravia is known for its vibrant cultural scene, with a number of galleries, theatres, and concert venues located within the district. The area also hosts several annual events and festivals, including the Belgravia Christmas Sunday, which features a festive market, live entertainment, and seasonal activities for all ages.
Help us keep Belgravia clean
Join forces with Rainbow Rubbish Removals, your trusted waste management solution in Belgravia, SW1, London. As your local rubbish clearance team, we're always ready to tackle tasks of any size, ensuring your home and neighbourhood remain clutter-free.
Our dedicated team works diligently to provide a hassle-free experience for various clearance needs, including residential properties, offices, schools, construction sites, and more. We're committed to making the waste disposal process as seamless as possible.
Offering rubbish removal services throughout Belgravia, SW1, London, seven days a week, we operate flexibly to accommodate your schedule. Our professionally-trained team is skilled at handling and disposing of all types of waste, and we take pride in our reliable, efficient, and courteous service. With competitive rates and complimentary quotes, choosing us could be the best decision you make today!
Please don't hesitate to contact us – give us a call, fill out our quick quote form on this page, or send us a WhatsApp message using the button above. Our team is on standby, eager to assist you. Are you ready?
How can you help keep Belgravia clear of rubbish?
Managing household and workplace waste can be a daunting task, potentially distracting you from more important matters. To simplify your life, we offer a planned rubbish clearance service throughout Belgravia, SW1, London. All you need to do is:
1. Choose your preferred day and time for collection.
2. Sort your waste into recyclable materials, reusable items, bulky objects, and hazardous waste.
3. Leave the rest to us – our team will handle everything, including collection, disposal, donations, and recycling, ensuring a smooth waste management experience.
Questions and answers about our Belgravia rubbish removal services
What rubbish removal services do you offer in Belgravia, SW1, London?
Rainbow Rubbish Removals offers a wide range of rubbish removal services in Belgravia, SW1, including house, garden, office, school, and construction site clearances. We cater to both residents and employers in the area, providing a convenient and flexible service that works around your schedule.
How can I get in touch with you for rubbish removal in Belgravia, SW1?
Contacting us is easy! You can click the WhatsApp button, fill out our quick quote form on this page, email us at rainbowrubbishremovals@gmail.com, or give us a call at 020 3870 3051. We'll provide you with a free quote and help you schedule a clearance appointment that suits your needs.
Do you offer same-day rubbish removal services in Belgravia, SW1?
Yes, we offer urgent same-day rubbish removal services in Belgravia, SW1, for those who require our assistance on short notice. Just get in touch with us, and we'll do our best to accommodate your needs.
What types of rubbish do you collect in Belgravia, SW1?
We collect a wide variety of rubbish in Belgravia, SW1, including general household waste, green garden waste, white goods, kitchen appliances, small electricals, furniture, office waste, WEEE waste, bicycles, pianos, sheds, decking, carpets, builder's yard and construction waste, and more.
How can I find out the pricing for rubbish removal in Belgravia, SW1?
For the most accurate pricing information, we recommend visiting our pricing page. Our prices are fair and competitive, and we base our quotes on factors such as overall waste weight, parking, loading and dismantling times, and ease of access to your property.
Do you have any tips for managing waste in Belgravia, SW1?
To effectively manage your waste in Belgravia, SW1, follow the 'three R's': reduce, reuse, recycle. Group your rubbish into categories, including heavy items, and only throw things away if they can't be separated into these categories. You can also schedule a regular rubbish removal service with us to help manage your waste more efficiently.