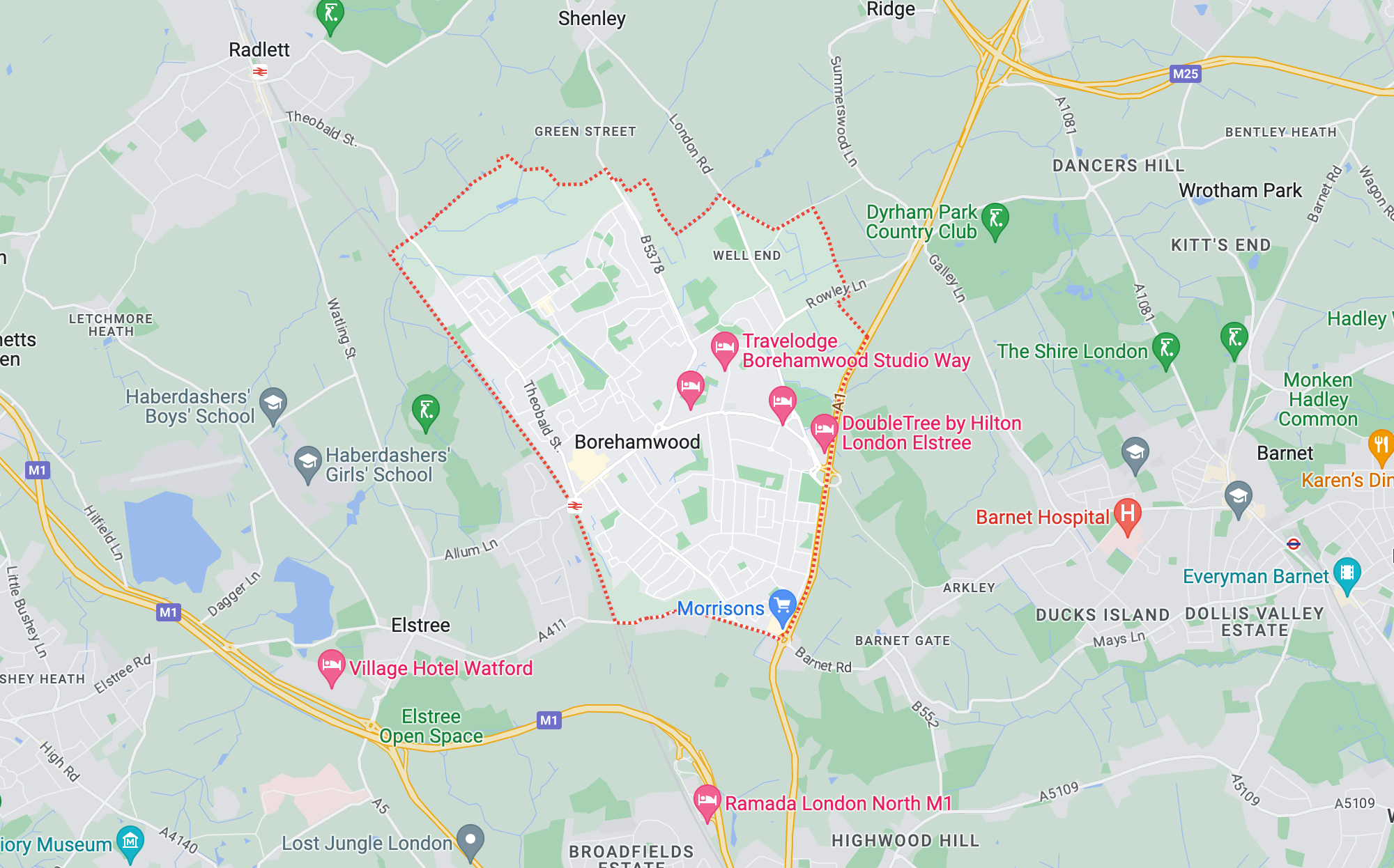 Our Recent Rubbish Removal Work in Borehamwood
A while back, we had the pleasure of working with a lovely family in Borehamwood who needed our rubbish removal services. Their home had accumulated a significant amount of clutter over the years, and they were eager to clear out the space and start fresh.
Our team at Rainbow Rubbish Removals arrived at their Borehamwood residence, fully equipped with the necessary tools and materials to ensure a fast and hassle-free job. We began with a thorough house clearance, removing unwanted items from every room, including old furniture, appliances, and general household rubbish.
As we progressed through the property, we also provided our furniture disposal service, taking care of a few bulky items such as a worn-out sofa and a broken wardrobe. The family had recently replaced some of their appliances, so we made sure to remove the old ones, including a washing machine and a refrigerator, as part of our appliance removal service.
The family had also recently undertaken some renovation work, which had resulted in a pile of builders' rubbish in their garden. Our team efficiently cleared this away, ensuring the outdoor space was left clean and tidy.
Finally, we assisted with an office clearance, as the family had a small home office that needed decluttering. We removed old office furniture, computers, and bookcases, leaving the room looking spacious and organised.
Throughout the entire process, our team at Rainbow Rubbish Removals worked diligently and with the utmost care, ensuring the family's Borehamwood home was left spotless and clutter-free.
Rainbow Rubbish Removals were an absolute lifesaver! They sorted out our cluttered home in Borehamwood in no time, and the team were proper friendly and professional. They took care of everything, from the house clearance to getting rid of our old appliances and even clearing up the mess from our recent renovation. We couldn't be happier with the results, and our home feels so much more spacious now. Cheers, Rainbow Rubbish Removals, you've done a smashing job!
Nestled in the southern part of Hertfordshire, Borehamwood is a thriving town within the London commuter belt. Known for its rich history in film and television production, Borehamwood is often referred to as the "British Hollywood." The town is part of the larger borough of Hertsmere and is located just 12 miles north of Central London, making it an ideal location for those who work in the city but prefer a more suburban lifestyle.
Borehamwood boasts a diverse community, with a mix of residential, commercial, and industrial areas. The town centre is home to a variety of shops, restaurants, and entertainment venues, catering to the needs of both residents and visitors alike. With excellent transport links, including Borehamwood railway station and easy access to the M25 and A1 motorways, the town is well-connected to the rest of the UK.
In addition to its film and television heritage, Borehamwood is also known for its green spaces and recreational facilities. The town is surrounded by beautiful countryside, offering residents and visitors the opportunity to enjoy outdoor activities such as walking, cycling, and horse riding.
Borehamwood Main Postcodes
The London Borough of Borehamwood encompasses several postcodes, including WD6, WD7, and WD23. These postcodes cover areas such as Elstree, Well End, Radlett, and Bushey Heath, providing a range of residential and commercial properties for those looking to live or work in the borough.
Borehamwood Main Attractions
Elstree Film Studios: As the heart of the British film and television industry, Elstree Film Studios has been the production site for numerous iconic films and TV shows, including Star Wars, Indiana Jones, and EastEnders. Visitors can take a guided tour of the studios and learn about the fascinating history of this legendary facility.
96 Shenley Road: This multi-purpose community hub offers a range of facilities, including a theatre, cinema, art gallery, and café. With a diverse programme of events and activities, there's always something happening at 96 Shenley Road.
Aldenham Country Park: Covering over 175 acres, Aldenham Country Park is a haven for nature lovers and outdoor enthusiasts. The park features woodland walks, a reservoir, adventure playgrounds, and a working farm, providing a fun day out for the whole family.
Borehamwood History
The history of Borehamwood dates back to the Roman period, with evidence of a Roman villa discovered in the area. The town's name is derived from the Anglo-Saxon words "Burgæwode," meaning "wood of the fortified place." Throughout the centuries, Borehamwood has been a centre for agriculture and industry, with its close proximity to London playing a significant role in its development.
In the early 20th century, Borehamwood became synonymous with the film and television industry, as several studios were established in the area. The town's association with the entertainment industry continues to this day, with many production companies still based in Borehamwood.
During World War II, Borehamwood played a crucial role in the war effort, with factories producing aircraft components and other essential supplies. The town also served as a base for the Auxiliary Territorial Service, a women's branch of the British Army.
More About Borehamwood
Borehamwood is a vibrant and diverse community, offering a range of amenities and services for residents and visitors. The town is home to several schools, including the highly-regarded Yavneh College, as well as a range of healthcare facilities and leisure centres.
The town's thriving high street offers a mix of independent shops and well-known chains, while the Borehamwood Shopping Park provides additional retail options. With a range of community events and festivals throughout the year, Borehamwood is a lively and welcoming place to live, work, and visit.
Help us keep Borehamwood clean
Rainbow Rubbish Removals, your trusted waste management solution in Borehamwood, WD6, London. As your local rubbish clearance experts, we're always ready to tackle tasks of any size, ensuring a cleaner and greener environment for all.
Our dedicated team works tirelessly to provide a hassle-free experience for a wide range of clearance needs, including residential properties, offices, schools, construction sites, and more. We're committed to making the waste disposal process as seamless as possible for you.
Offering rubbish removal services throughout Borehamwood, WD6, London, seven days a week, we operate flexibly to accommodate your schedule. Our professionally-trained team is skilled at handling and disposing of all types of waste, and we take pride in our reliable, efficient, and courteous service. With competitive rates and complimentary quotes, choosing us could be the best decision you make today!
Don't hesitate to get in touch – give us a call, fill out our quick quote form on this page, or send us a WhatsApp message using the button above. Our team is standing by, ready to assist you.
How can you help keep Borehamwood clear of rubbish?
Managing household and workplace waste can be a daunting task, potentially taking your focus away from more important matters. To simplify your life, we offer a planned rubbish clearance service throughout Borehamwood, WD6, London. All you need to do is:
1. Choose your preferred day and time for collection.
2. Sort your waste into recyclable materials, reusable items, bulky objects, and hazardous waste.
3. Leave the rest to us – our team will handle everything, including collection, disposal, donations, and recycling, ensuring a smooth waste management experience.
Questions and answers about our Borehamwood rubbish removal services
What services does Rainbow Rubbish Removals offer in Borehamwood, WD6?
Rainbow Rubbish Removals is a top-rated local team specialising in rubbish removals in Borehamwood, WD6. Our services include house, garden, office, school, and construction site clearances. We are available throughout the week, all year round, and can accommodate one-off jobs, same-day rubbish collection, or regular services to suit your requirements.
How can I get a quote for rubbish removal in Borehamwood, WD6?
To get a free quote for rubbish removal in Borehamwood, WD6, simply fill out our quick quote form on our website, click on the WhatsApp button, email, or call us directly. Provide us with information about the type and amount of rubbish you need to be removed, and feel free to upload some photos. Once received, we'll send you your free quote.
Can I schedule a same-day rubbish removal service in Borehamwood, WD6?
Yes, if you require an urgent, same-day rubbish removal service in Borehamwood, WD6, give us a call before 10 am and let us know about your requirements. We'll do our best to accommodate your needs and take care of your waste as soon as possible.
What types of rubbish do you collect in Borehamwood, WD6?
We collect a wide range of rubbish in Borehamwood, WD6, including general household waste, furniture, office waste, WEEE waste, kitchen appliances, fridges, freezers, dishwashers, ovens, books, newspapers, magazines, cardboard, pianos, bicycles, carpets, construction waste, sheds, decking, and green garden waste. We also offer a dismantling service for certain items if required.
How can I manage my waste more effectively in Borehamwood, WD6?
To manage your waste more effectively in Borehamwood, WD6, remember the three groups: reusables, recyclables, and heavy/bulky items. Separate your items into these categories, leaving heavy items to the side. Use dedicated, clearly labelled boxes or bins to keep your space tidy. Finally, arrange a regular rubbish removal service with Rainbow Rubbish Removals to take your waste management to the next level.
How much does rubbish removal in Borehamwood, WD6 cost?
The cost of rubbish removal in Borehamwood, WD6 depends on the amount and type of waste you need to be removed. We offer fair and competitive pricing based on estimates of overall waste weight, loading times, and ease of access to your property. For a detailed breakdown of our pricing, please visit our pricing page.