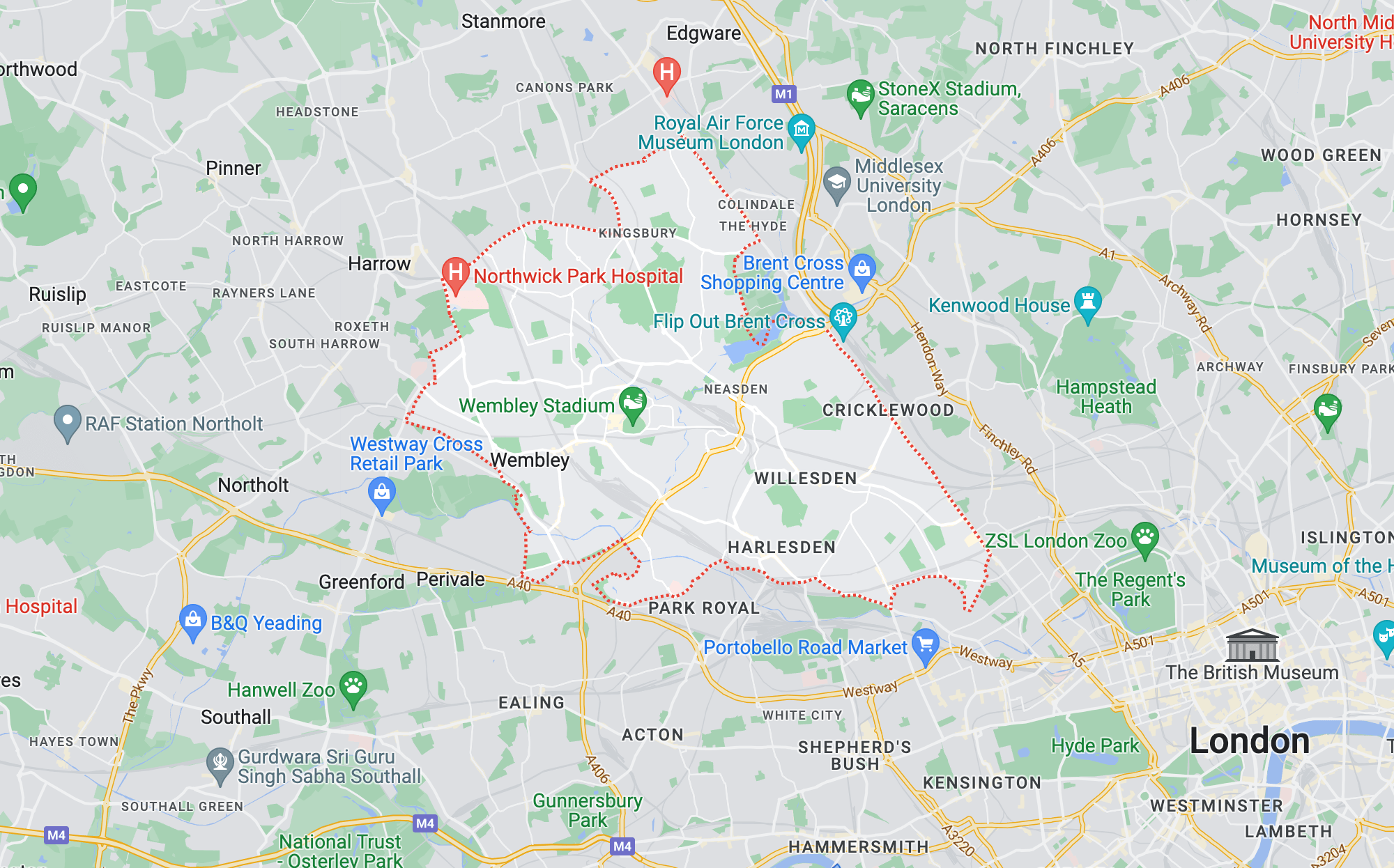 Brent is a lively and multicultural borough located in North West London. Known for its iconic landmarks and rich cultural scene, Brent offers a diverse range of attractions, entertainment, and dining options that appeal to both residents and visitors alike.
Brent Main Postcodes
The primary postcodes in the London Borough of Brent include NW2, NW6, NW9, NW10, HA0, HA1, and HA9.
Brent Attractions
Brent boasts a variety of attractions and points of interest, including:
Brent History
The history of Brent dates back to Roman times, with evidence of settlements in the area. The borough gets its name from the River Brent, which runs through it. Brent's development was significantly influenced by the arrival of the railway in the 19th century, leading to rapid growth and urbanisation.
During the 20th century, Brent became an important centre for manufacturing and industry, with factories producing everything from aircraft components to electrical appliances. The borough's population grew and diversified, with many immigrant communities settling in the area and contributing to its rich multicultural heritage.
Today, Brent is a thriving and dynamic borough with a strong sense of community and a wealth of cultural attractions. Its excellent transport links, diverse shopping options, and iconic landmarks make it a popular destination for both residents and visitors.
Whether you are attending an event at Wembley Stadium, exploring the beautiful Neasden Temple, or shopping for a bargain at the London Designer Outlet, Brent offers a unique and exciting experience for everyone.
Are you seeking a top-notch rubbish removal service in the vibrant borough of Brent, London? Your search ends here!
Obtain a no-obligation quote from our dedicated team, who are committed to delivering swift, environmentally responsible, and cost-effective waste management solutions.
Catering to households, businesses, and construction sites alike, we tackle all types of waste, from everyday household clutter and garden refuse to commercial waste and building debris.
With our expert rubbish removal services, you can enjoy a cleaner, more organised environment in the bustling Brent borough. Request your personalised quote today and discover the ease of working with our professional and hassle-free waste management services.
Why rubbish removal is important?
Household waste can quickly build-up, and can easily cause more stress to your daily life when left unattended. To minimize your amount of waste and to save you money in the long run, adopting some simple rules will help you manage your household waste effortlessly:
Separate household waste into three categories: recyclables, reusable and heavy items/toxic waste
Arrange and schedule a regular rubbish clearance service 
Nothing could be more simple! We will take care of all the rest, and pick up your bags and take care of all the recycling, donating and disposal. 
Check out our blog for more hints and tips to manage your household, office, garden waste, and more.
Questions and answers about our Brent rubbish removal services
How do I get in touch with Rainbow Rubbish Removals in Brent, NW10?
Fill out the quote form on our website, give us a call, or send us a WhatsApp message using the button on our website to get started with rubbish removal in Brent, NW10.
How do I get a quote for rubbish removal in Brent, NW10?
Provide us with details about the items you want us to remove (including photos if possible), and we will be in touch with a quote.
How do I schedule an appointment for rubbish removal in Brent, NW10?
Choose a date and time that is convenient for you, and we'll arrange your clearance. If you need an urgent, same-day service, make sure you give us a call before 10 am on the day!
What does the clearance service involve?
Our professional team will come with our spacious van and collect all the items you want to be cleared in Brent, NW10, based on the information you've provided and the quote you've received.
How are collected items recycled and disposed of?
After collecting your items, we will transport them to the nearest recycling or waste disposal centre in Brent, NW10.
What types of rubbish does the Brent, NW10 team collect?
Our team collects, disposes of, donates, and recycles most types of waste, including general household waste, garden waste, books, magazines, furniture, appliances, electricals, mattresses, fridges, freezers, and renovation project or construction site waste.
How is pricing for rubbish removal in Brent, NW10 determined?
We offer competitive rates based on factors such as waste weight, loading times, and other aspects. For detailed pricing information, please visit the pricing page on our Rainbow Rubbish Removals website.