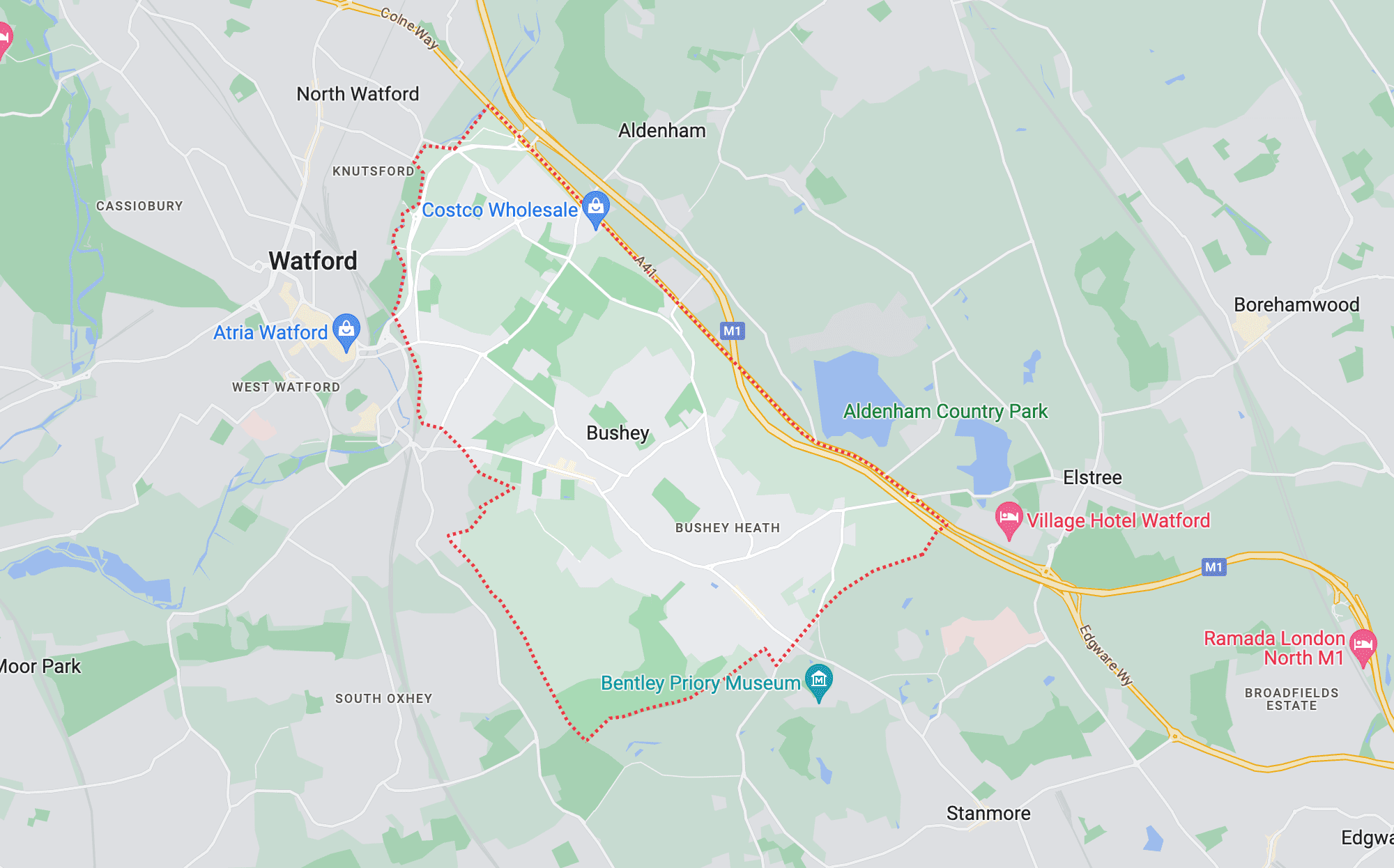 Our Rubbish Clearance Work in Bushey
At Rainbow Rubbish Removals, we take pride in offering top-notch rubbish removal services to our fellow Bushey residents in the WD23 area. Our team of dedicated professionals is always ready to tackle any rubbish removal challenge, ensuring that your property remains clean and clutter-free.
One of our recent works involved a house clearance for a lovely family in Bushey. They had accumulated a significant amount of unwanted items over the years, including old furniture, appliances, and general household waste. Our well-equipped team arrived promptly at the scheduled time and began the task of sorting through the items, carefully separating recyclable materials from non-recyclable waste. We then transported the rubbish to our partner recycling centres, ensuring that as much waste as possible was recycled or disposed of in an eco-friendly manner.
In addition to house clearances, we also offer a range of other services such as office clearance, builders rubbish disposal, and furniture disposal. Our team is highly skilled and experienced in handling various types of waste, making us the go-to rubbish removal company in Bushey.
Our commitment to excellent customer service sets us apart from the competition. We understand that every client has unique needs, which is why we offer flexible scheduling and tailor our services to accommodate specific requests. Moreover, our competitive pricing ensures that you receive great value for your money.
Here's what our satisfied customer from Bushey had to say about their experience with Rainbow Rubbish Removals:
I must say, Rainbow Rubbish Removals did a smashing job clearing out our home in Bushey! Their team was punctual, efficient, and left our property looking spick and span. I was particularly impressed with their commitment to recycling and eco-friendly waste disposal. It's great to know that we're doing our bit for the environment while keeping our home tidy. I wouldn't hesitate to recommend them to anyone in need of rubbish removal services in the WD23 area.
At Rainbow Rubbish Removals, we take our environmental responsibility seriously and strive to make a positive impact on the community. By choosing us for your rubbish removal needs in Bushey, you can rest assured that your waste will be handled with care and disposed of in an environmentally responsible manner.
Nestled in the heart of Hertfordshire, Bushey is a charming and historic village that offers a perfect blend of countryside living and urban convenience. Located just 15 miles northwest of central London, this picturesque village is part of the London Borough of Hertsmere and is known for its rich heritage, beautiful green spaces, and strong sense of community.
Bushey is well-connected to the rest of the UK, with easy access to major motorways such as the M1 and M25, as well as excellent public transport links. The village is served by two railway stations, Bushey and Carpenders Park, which provide regular services to London Euston and Watford Junction. This makes Bushey an ideal location for commuters who want to enjoy a peaceful village lifestyle while still being within easy reach of the capital.
The village boasts a wide range of amenities, including a variety of shops, restaurants, and pubs, as well as several highly regarded schools. Bushey is also home to a thriving arts scene, with numerous galleries, studios, and cultural events taking place throughout the year.
Bushey Main Postcodes
The London Borough of Bushey encompasses several postcodes, including WD23, WD19, and parts of HA3 and HA5. These postcodes cover areas such as Bushey Village, Bushey Heath, Oxhey, and Carpenders Park.
Bushey Main Attractions
Bushey Museum and Art Gallery: This fascinating museum showcases the history of Bushey and its surrounding areas, with a particular focus on the renowned Herkomer Art School. The gallery features a diverse collection of paintings, sculptures, and other works of art by local artists.
Bushey Country Club: Set within 120 acres of stunning parkland, Bushey Country Club offers a range of leisure facilities, including a golf course, gym, and function rooms for events and celebrations.
Bushey Rose Garden: A beautifully restored Edwardian garden, Bushey Rose Garden is a tranquil oasis featuring a stunning array of roses, pergolas, and water features. It's the perfect spot for a leisurely stroll or a relaxing picnic.
Bushey History
The history of Bushey dates back to the Roman era, with archaeological evidence suggesting that the area was once home to a Roman villa. The village is mentioned in the Domesday Book of 1086, where it is referred to as 'Bissei'. Over the centuries, Bushey has been shaped by various historical events, including the English Civil War and the Industrial Revolution.
In the late 19th and early 20th centuries, Bushey became a hub for the arts, thanks to the establishment of the Herkomer Art School by German-born artist Hubert von Herkomer. The school attracted students from across the UK and Europe, many of whom went on to become prominent artists in their own right. The legacy of the Herkomer Art School can still be seen today in the numerous art studios and galleries that are scattered throughout the village.
During World War II, Bushey played a crucial role in the defence of London, with several anti-aircraft gun sites and barrage balloon installations located in the area. The village also served as a base for the US Army Air Forces, who used the nearby Aldenham Park as a storage depot.
More About Bushey
Bushey is a thriving community that offers a wide range of clubs, societies, and events for residents and visitors to enjoy. The annual Bushey Festival is a highlight of the village calendar, featuring live music, art exhibitions, and family-friendly activities. The village is also home to several sports clubs, including Bushey and Oxhey Football Club, Bushey Cricket Club, and Bushey Rangers Football Club.
Nature lovers will appreciate the abundance of green spaces in and around Bushey, such as Bushey Park, King George Recreation Ground, and the nearby Aldenham Country Park. These beautiful parks and open spaces provide ample opportunities for walking, cycling, and wildlife spotting.
With its rich history, strong sense of community, and idyllic countryside setting, Bushey truly offers the best of both worlds – a peaceful village lifestyle with all the amenities and connections of a bustling urban centre.
Maintaining a Clean and Tidy Bushey
Welcome to Rainbow Rubbish Removals, your dependable waste disposal partner in Bushey, London. Consider us your local waste warriors, ready to tackle any disposal task you may have.
Our devoted team consistently strives to provide a stress-free experience, catering to various clearance needs from residential, commercial, educational, and construction settings. Our passion lies in streamlining waste disposal for our clients.
Operating seven days a week throughout Bushey, London, we offer flexible scheduling to accommodate your needs. Our highly trained team is proficient at handling and disposing of a wide range of waste materials. We take pride in offering prompt, efficient, and courteous service. With competitive pricing and free quotes, partnering with us could make all the difference!
Get in touch today by giving us a call, filling out our simple quote form on this page, or sending a WhatsApp message using the button above. Our enthusiastic team is ready to take action. Are you prepared to embark on a cleaner journey?
Join Us in Keeping Bushey Rubbish-Free
Handling waste at home and work can be a challenging task, potentially distracting you from other priorities. To ease your burden, we offer scheduled rubbish removal services throughout Bushey, London. Simply follow these easy steps:
1. Select a convenient day and time for collection.
2. Organise your waste into categories such as recyclables, reusable items, large objects, and hazardous materials.
3. Leave the rest to our team – we'll take care of collection, disposal, donations, and recycling, ensuring a seamless waste management experience.
With these tips and our expert assistance, you can maintain a clean and tidy environment in Bushey. Don't let waste management become a hassle; let us help you keep your surroundings rubbish-free. Reach out to us today to schedule your rubbish removal service and join us in our mission to keep Bushey clean and green.
Questions and answers about our Bushey rubbish removal services
What rubbish removal services do you offer in Bushey, WD23?
At Rainbow Rubbish Removals, we provide a comprehensive range of rubbish removal services in Bushey, WD23. These include house, garden, office, school, and construction site clearances. Our team is dedicated to offering flexible, affordable, and efficient rubbish removal services, whether you need a regular service, a one-off job, or an urgent same-day collection.
How can I book a rubbish removal service in Bushey, WD23?
Booking a rubbish removal service in Bushey, WD23 is simple and straightforward. You can contact us through various methods, including filling out our quick quote form on our website, messaging us directly via WhatsApp, emailing us at rainbowrubbishremovals@gmail.com, or calling us at 020 3870 3051. Once we receive the necessary information about your waste, we'll send you a free quote, and you can choose an appointment that suits you best.
Do you offer same-day rubbish removal services in Bushey, WD23?
Yes, we do offer same-day rubbish removal services in Bushey, WD23. If you have an urgent enquiry, make sure to call us before 10 am, and we'll arrange a collection for you later that day.
What types of rubbish do you collect in Bushey, WD23?
We collect a wide variety of rubbish in Bushey, WD23, including general household waste, office waste, WEEE waste, furniture, kitchen appliances, small electricals, freezers, fridges, dishwashers, pianos, bicycles, books, newspapers, magazines, carpets, sheds, decking, builder's yard and construction site waste, and green garden waste.
How can I manage my waste more effectively in Bushey, WD23?
To manage your waste more effectively in Bushey, WD23, consider separating your rubbish into reusables, recyclables, and heavy/bulky items. Adopt a dedicated box/bin system with clear labels to ensure rubbish is placed in the correct location. For a more comprehensive waste management solution, arrange a regular Bushey WD23 rubbish removal service with us.
How much does rubbish removal in Bushey, WD23 cost?
Our rubbish removal prices in Bushey, WD23 are fair and competitive. The cost depends on factors such as overall waste weight, expected loading times, and ease of access. For a detailed breakdown of our pricing, please visit our pricing page.