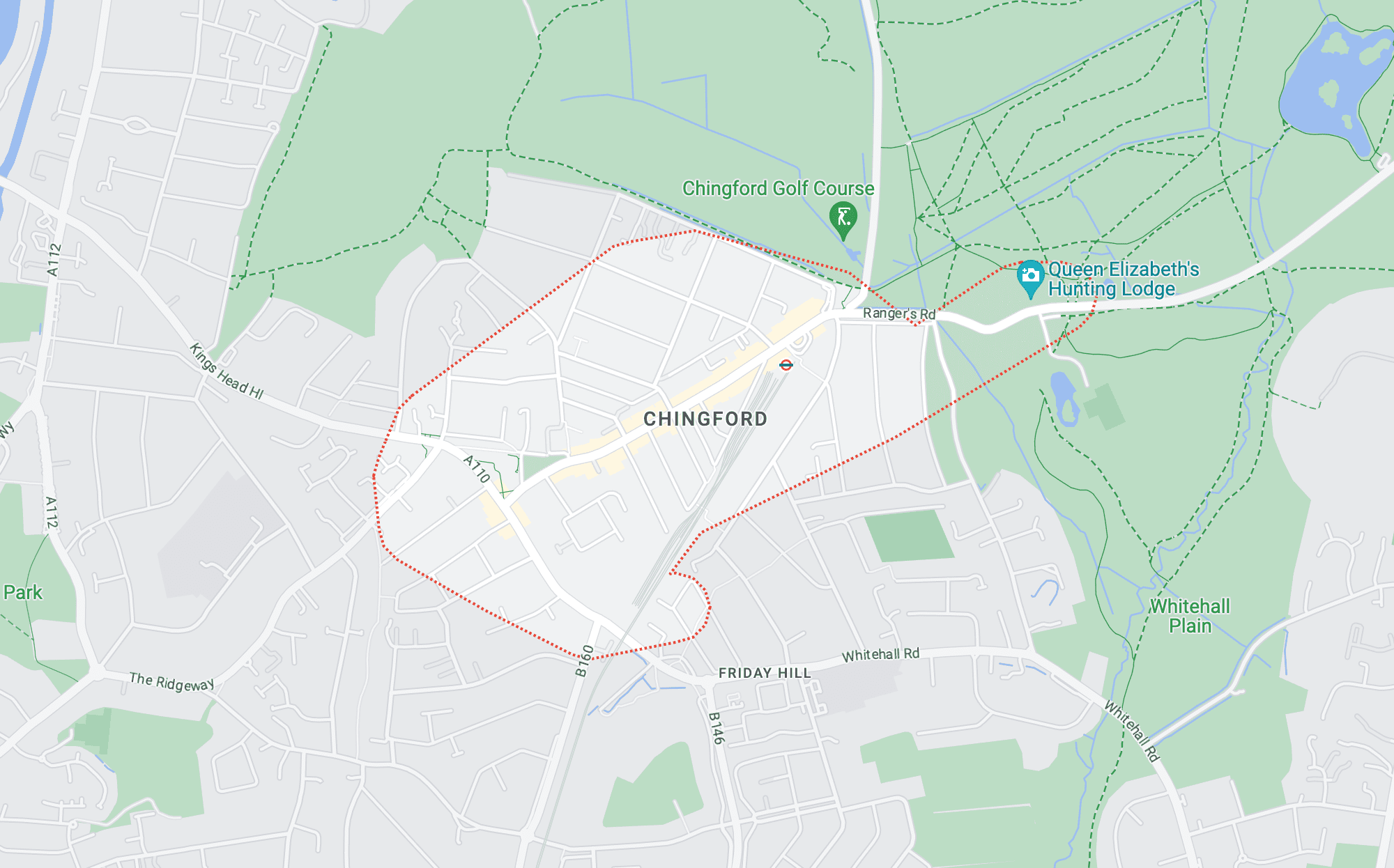 Our Rubbish Removal Work in Chingford
At Rainbow Rubbish Removals, we pride ourselves on providing top-notch rubbish removal services to our fellow Chingford residents in the E4 borough. Our team of dedicated professionals is well-equipped and trained to handle a variety of tasks, including house clearance, rubbish clearance, furniture disposal, appliance removal, builders rubbish disposal, and office clearance. We understand the importance of maintaining a clean and clutter-free environment, which is why we go above and beyond to ensure our clients' satisfaction.
One of our recent works in Chingford involved a full house clearance for a family who had just moved into a new home. The previous occupants had left behind a significant amount of unwanted items, making it difficult for the new homeowners to settle in. Our efficient team arrived promptly at the scheduled time and quickly got to work, carefully sorting through the items and separating them for recycling or proper disposal. We take our environmental responsibility seriously, partnering with local recycling centres to minimise waste and dispose of rubbish in an eco-friendly manner.
Our excellent customer service sets us apart from other rubbish removal companies in Chingford. We prioritise prompt communication, flexible scheduling, and accommodating specific client requests to ensure a smooth and hassle-free experience. Moreover, our competitive pricing ensures that our clients receive exceptional value for their money.
Here's what one of our satisfied customers from Chingford had to say about their experience with Rainbow Rubbish Removals:
I can't recommend Rainbow Rubbish Removals highly enough! They were an absolute lifesaver when we moved into our new home in Chingford. The team was punctual, efficient, and incredibly tidy – you wouldn't even know they'd been here! Thanks to their hard work, we were able to start enjoying our new home much sooner than expected. Their commitment to recycling and eco-friendly disposal practices also gave us peace of mind knowing that our rubbish was being handled responsibly. Top-notch service all around!
At Rainbow Rubbish Removals, we're dedicated to providing the best rubbish removal services in Chingford and the E4 borough. Our commitment to customer satisfaction, environmental responsibility, and exceptional value make us the go-to choice for all your rubbish removal needs.
Nestled in the northeastern part of London, Chingford is a charming borough that offers a perfect blend of urban living and rural tranquillity. As part of the London Borough of Waltham Forest, Chingford is well-connected to the city centre, making it an ideal location for those who want to enjoy the best of both worlds. The area boasts a rich history, beautiful green spaces, and a strong sense of community, making it a popular choice for families and young professionals alike.
Chingford is served by several transport links, including Chingford railway station, which provides direct access to London Liverpool Street. The area is also well-served by buses, connecting residents to neighbouring areas such as Walthamstow, Woodford, and Loughton. The North Circular Road (A406) runs through the southern part of Chingford, providing easy access to other parts of London and the M11 motorway.
The borough is home to a variety of local amenities, including shops, restaurants, and leisure facilities. Chingford's high street offers a mix of independent retailers and well-known chains, while the nearby Epping Forest provides ample opportunities for outdoor activities and relaxation. The area also boasts several highly-regarded schools, making it an attractive option for families.
Chingford Main Postcodes
The London Borough of Chingford encompasses several postcodes, including E4, IG8, and IG10. These postcodes cover areas such as Chingford Green, Chingford Hatch, Highams Park, and Sewardstonebury.
Chingford Main Attractions
Epping Forest: This ancient woodland is a haven for nature lovers and outdoor enthusiasts. Spanning over 2,400 hectares, Epping Forest offers miles of walking, cycling, and horse riding trails, as well as picturesque picnic spots and a variety of wildlife.
Queen Elizabeth's Hunting Lodge: Built in 1543 for King Henry VIII, this historic timber-framed building offers a fascinating insight into Tudor life. Visitors can explore the lodge's three floors, which feature period furnishings and exhibits on the history of the building and Epping Forest.
William Morris Gallery: Located in nearby Walthamstow, this gallery is dedicated to the life and work of influential designer, writer, and socialist William Morris. The gallery features a range of exhibits, including original designs, textiles, and personal items, as well as temporary exhibitions and events.
Chingford History
Chingford has a long and storied history, dating back to the Anglo-Saxon period. The name Chingford is derived from the Old English 'Cingeford', meaning 'King's Ford', which is believed to refer to a crossing over the River Lea used by the Anglo-Saxon kings. The area was mentioned in the Domesday Book of 1086, where it was recorded as a small farming community.
During the Tudor period, Chingford gained prominence as a royal hunting ground, with King Henry VIII commissioning the construction of Queen Elizabeth's Hunting Lodge. The area remained largely rural until the arrival of the railway in the 19th century, which led to significant development and growth. Chingford was incorporated into the London Borough of Waltham Forest in 1965, as part of the wider reorganisation of London's local government.
In the 20th century, Chingford became known for its aviation history, with the opening of the Royal Forest Hotel Aerodrome in 1911. The aerodrome was later renamed RAF Chingford and played a crucial role during World War II, serving as a base for barrage balloon operations and a training centre for pilots.
Chingford Today
Today, Chingford is a thriving and attractive borough that retains much of its historical charm. The area's close proximity to Epping Forest and excellent transport links make it a popular choice for those seeking a balance between city life and natural beauty. With its strong sense of community, excellent schools, and a wide range of local amenities, Chingford continues to be a sought-after location for families and young professionals alike.
Maintaining a Clean and Tidy Chingford
Welcome to Rainbow Rubbish Removals, your dependable waste disposal ally in Chingford, London. Consider us your local waste warriors, ready to tackle any disposal challenge you may face.
Our devoted team consistently strives to provide a stress-free experience, catering to various clearance needs from residential, commercial, educational, and construction environments. Our enthusiasm lies in streamlining waste disposal for our clients.
Operating seven days a week throughout Chingford, London, we offer adaptable scheduling to suit your requirements. Our highly skilled team is proficient at handling and disposing of a wide array of waste materials. We take pride in delivering prompt, efficient, and courteous service. With competitive pricing and free quotes, partnering with us could make a world of difference!
Get in touch today by giving us a call, completing our simple quote form on this page, or sending a WhatsApp message using the button above. Our zealous team is ready to take action. Are you prepared to embark on a cleaner journey?
Join Us in Keeping Chingford Rubbish-Free
Handling waste at home and work can be an overwhelming task, potentially distracting you from other important matters. To ease your load, we offer scheduled rubbish removal services throughout Chingford, London. Simply follow these straightforward steps:
1. Choose a suitable day and time for collection.
2. Organise your waste into categories such as recyclables, reusable items, large objects, and hazardous materials.
3. Leave the rest to our team – we'll take care of collection, disposal, donations, and recycling, ensuring a seamless waste management experience.
By following these steps and working together, we can keep Chingford clean and rubbish-free.
Frequently asked questions and answers about our rubbish removal services in Chingford
What services does Rainbow Rubbish Removals offer in Chingford, E4?
Rainbow Rubbish Removals provides a wide range of rubbish removal services in Chingford, E4, including house, garden, office, school, and construction site clearances. We work around your schedule, offering same-day rubbish collection, one-off jobs, or regular collection services, seven days a week, all year round.
How can I arrange a rubbish removal service in Chingford, E4?
To arrange a rubbish removal service in Chingford, E4, simply get in touch with us by using the WhatsApp button, filling out the quick quote form on our website, emailing us, or giving us a call. If you need an urgent clearance, call us before 10 am to arrange a same-day rubbish collection.
How much does rubbish removal in Chingford, E4 cost?
The cost of rubbish removal in Chingford, E4, depends on the size and complexity of the job. We offer competitive rates based on the information you provide, and our spacious van can hold up to 14 cubic yards of rubbish. For more details on pricing, please visit our pricing page.
What types of rubbish do you collect in Chingford, E4?
We collect a wide variety of rubbish in Chingford, E4, including general household waste, furniture, appliances, small electricals, recyclables, pianos, bicycles, carpets, green garden waste, office waste, construction site and builder's waste, and rubbish from schools, businesses, and garages.
How can I manage my waste more effectively in Chingford, E4?
To manage your waste more effectively in Chingford, E4, separate your rubbish into reusables, recyclables, and heavy, bulky items. Create a dedicated bin system with clear labels and only throw items into refuse if they don't fit into the other categories. You can also arrange a regular waste management service with us to keep your rubbish under control.
What makes Rainbow Rubbish Removals the best choice for rubbish removal in Chingford, E4?
As a locally run and operated rubbish removal specialist, Rainbow Rubbish Removals is committed to providing exceptional service to all our customers in Chingford, E4. We offer flexible scheduling, competitive pricing, and a wide range of services to meet your rubbish removal needs. Our friendly and professional team is always ready to help you get rid of your trash for good.