Rubbish Removal Chiswick, W4, London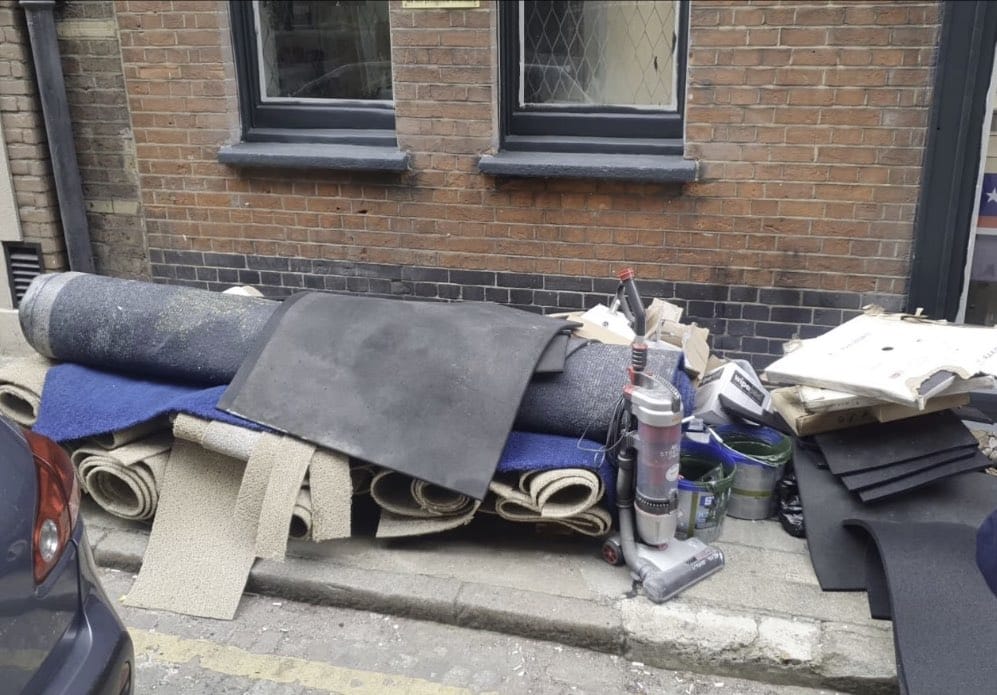 Operating across the Chiswick, W4 area, Rainbow Rubbish Removals offer a one-stop clearance service that will help you manage and remove your waste without breaking the bank. Offering a fuss-free service, our knowledgeable and diligent team will remove waste directly from your home or workplace. 
Waste removal doesn't have to be stressful. Whether you need your home, office, school, building site or other space cleared, our team are prepared for the job, no matter how big or small. For construction or large space rubbish removals, all you need to do is group your waste so our team can remove your rubbish as quickly as possible. 
Our hassle-free Chiswick, W4, rubbish removals service not only saves you time, but our team are always readily available, even during peak holiday season and weekends to dispose of all kinds of waste. Just pop us a WhatsApp message on the button below, give us a call or send us an email. 
Get in touch today to get your free quote. What are you waiting for? 
How does our Chiswick, W4, rubbish removals work?
We like to keep things as straightforward as possible at Rainbow Rubbish Removals. So if you are wondering what our Chiswick, W4 rubbish removals service looks like, here it is in 5 simple steps:
Step 1: Get in touch
The most important step is you getting in touch with us. Simply fill out the quick quote form on this page, send us a WhatsApp message using the button above, email us or give us a call. 
Step 2: Get your free quote
Let us know what items you would like us to remove (you can even send us photos) in as much detail as possible. We will then draw up your free quote and send it to you via email. 
Step 3: Schedule an appointment
Now that you're happy with your quote, choose a date and time that suits you best. We also offer a same-day rubbish removals service. Simply give us a call before 10 am on the day, and we will arrange to have your waste collected as soon as possible. 
Step 4: Clearance
Our dedicated team will come and collect and load all of your unwanted items onto our spacious van on your chosen date and time. 
Step 5: Recycling and disposal
Once all of your unwanted junk is collected, our team will transport all of your items to the nearest waste disposal/recycling center. 
We are passionate about protecting the environment, and will always endeavor to dispose of and/or recycle your goods in the most effective, responsible, and eco-friendly way. 
Simple and effective waste management
We understand how quickly household waste can build up. That's why we offer an effective waste household management service throughout the Chiswick, W4 area. By embracing a few rubbish disposal rules in your home or at the office, you can keep your junk down to a minimum and save yourself some cash in the process:
Separate items that can be recycled or reused

Leave heavy items or toxic, hazardous waste to the side for our team to collect safely

Schedule a regular rubbish clearance service for your Chiswick, W4 based home or business
Simply follow the three steps above to get the most out of your Chiswick, W4 rubbish removals service. Being prepared for your collection ahead of time, will ensure our team can lighten your load as quickly as possible, and remove all of your unwanted items to be recycled, reused or disposed of correctly.
For more tips and advice on managing your household waste, check out our blog. 
What rubbish does our Chiswick, W4 rubbish removals team collect?
Household waste

Books and magazines

Various

furniture 

Appliances, electrical items

Fridges and freezers

Mattresses

Renovation project/construction waste

Garden waste

Other rubbish and waste
Rubbish Removals Chiswick, W4 Pricing
Whatever rubbish removals service you require in the Chiswick, W4 area, we will always offer you the fairest and most competitive rates. Every quote is calculated based on estimated weight, volume, packing, loading time, and a few other factors. 
Here's our rubbish removals Chiswick, W4 pricing guide below:
| Capacity | Time Loading | Price (Excl. VAT) |
| --- | --- | --- |
| Min Charge or 50 kg | 10 mins | £40 |
| 1/4 or 300 kg | 20 mins | £90 |
| 2/4 or 500 kg | 40 mins | £150 |
| 3/4 or 800 kg | 50 mins | £200 |
| Full Van or 1000 kg | 60 mins | £280 |
Some factors to remember:
Our spacious van has an impressive maximum capacity of 14 cubic yards (imagine what 2.5 skips worth of space looks like, and you've nailed it!)

Quotes are based on estimates drawn up by our operators, based on the information you provide via phone, email or WhatsApp message. Bear in mind that your final bill will include the actual overall waste weight, parking and any potential time factors spent accessing your property

Prices are calculated on weight, volume, loading time, packaging and disassembly (for furniture and appliances)

Restricted access to your property may incur an extra charge
Get in touch with us today
Customer experience is at the heart of everything we do. Regardless of what your rubbish removals job requires from us, we will always endeavor to work with you as flexibly and efficiently as possible. 
To give you an idea of what to expect, check out our testimonials page to see what our other customers have to say about us! 
We're ready to manage and remove your waste. Get in touch with us today via WhatsApp, our quick quotes page, email, or by phone.
100% reliable rubbish removal services
The goal is to ensure that anyone considering our services has complete faith in us to carry out any given task with or without supervision. Hence, we've provided our contact information and testimonials from our previous customers. You are welcome to reach out to us and make enquiries, we are always available to respond.