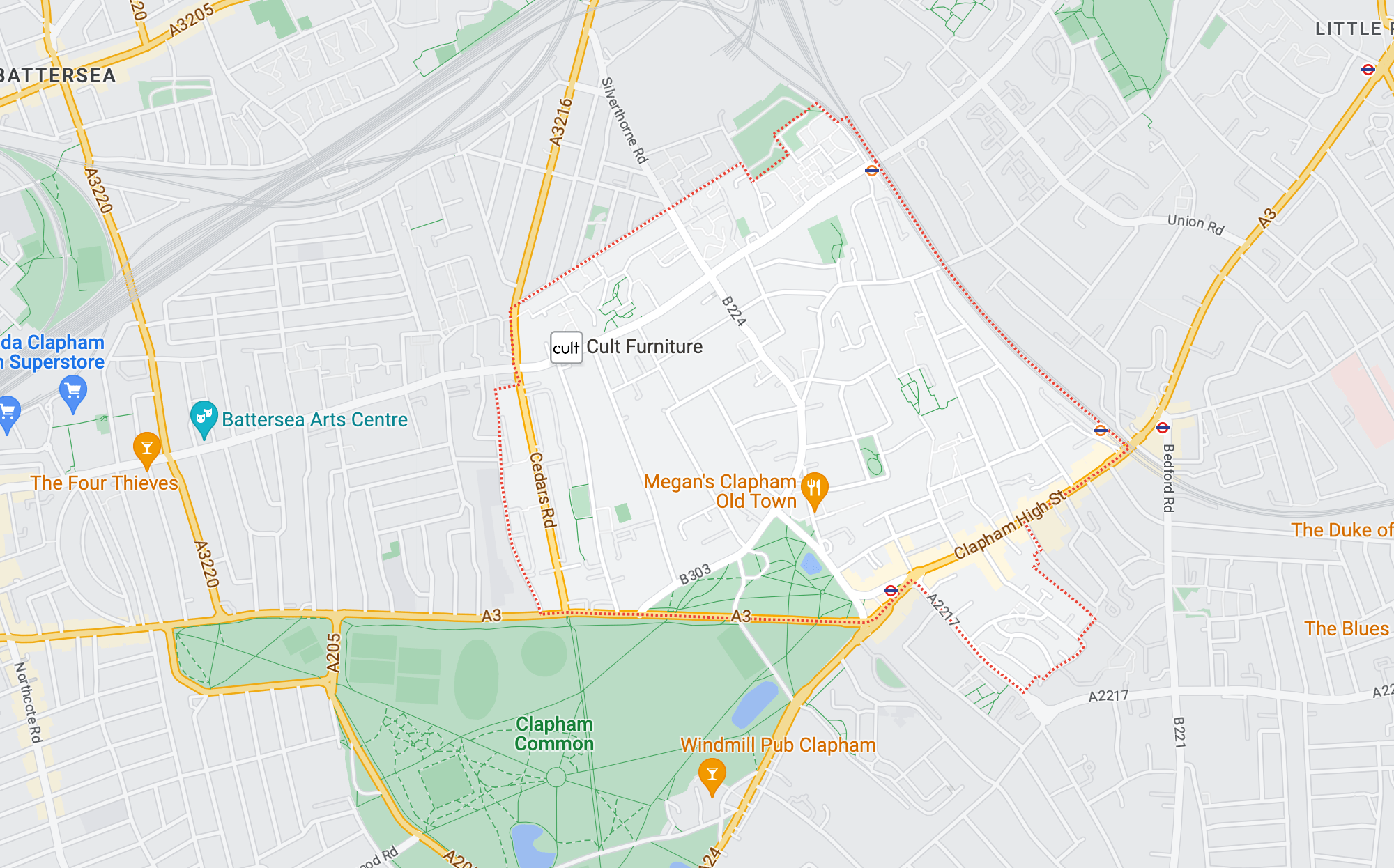 Our Rubbish Clearance Work in Clapham
Not too long ago, we had the pleasure of working with a lovely family in Clapham, SW4, who needed a comprehensive rubbish removal service. Their home had accumulated a significant amount of clutter over the years, and they were eager to create a more spacious and organised living environment.
Our team at Rainbow Rubbish Removals arrived at their Clapham property, fully equipped with all the necessary tools and materials to ensure a fast and hassle-free job. We began by carrying out a thorough house clearance, getting rid of any unwanted junk that had piled up in various rooms. From old furniture to broken appliances, we made sure to leave no stone unturned.
Next, we focused on rubbish clearance, lending a hand to remove all the general waste that had accumulated over time. Our team worked efficiently, ensuring that the family's home was left spotless and clutter-free.
During the process, we also came across several large items that needed special attention, such as an old piano and some bulky furniture. Our skilled team members professionally handled the piano disposal and furniture disposal, ensuring that these items were removed safely and responsibly.
Finally, we tackled the family's garden shed, which was filled with outdated and broken items. Our installation and repair team stepped in to help clear out the space, leaving it ready for a fresh start.
Rainbow Rubbish Removals were an absolute lifesaver! They sorted out our cluttered home in Clapham in no time, and the team was proper friendly and professional. They even managed to get rid of our old piano without a hitch! I'd highly recommend their services to anyone in need of a good clear-out. Cheers, Rainbow Rubbish Removals!
Nestled in the heart of South West London, Clapham is a charming and lively borough that offers a perfect blend of urban living and green spaces. Known for its bustling high street, beautiful parks, and excellent transport links, Clapham has become a sought-after location for both families and young professionals alike. The area is well-served by a variety of shops, restaurants, and pubs, ensuring that there is always something to do in this thriving community.
Clapham is divided into four main areas: Clapham North, Clapham South, Clapham Old Town, and Clapham Junction. Each of these neighbourhoods has its own unique character, with a mix of Victorian and Georgian architecture, as well as modern developments. The borough is well-connected to the rest of London, with Clapham Junction being one of the busiest railway stations in the UK, providing easy access to central London and beyond.
One of the most notable features of Clapham is its abundance of green spaces, with Clapham Common being the largest and most popular. This expansive park offers a variety of recreational activities, including sports facilities, playgrounds, and a boating lake. The Common also hosts numerous events throughout the year, such as music festivals and outdoor cinema screenings, making it a focal point for the local community.
Clapham Main Postcodes
The London Borough of Clapham encompasses several postcodes, including SW4, SW8, SW9, and SW11. These postcodes cover the various neighbourhoods within the borough, such as Clapham North, Clapham South, Clapham Old Town, and Clapham Junction.
Clapham Main Attractions
Clapham Common: This vast green space is the heart of Clapham, offering a variety of recreational activities and hosting numerous events throughout the year. With sports facilities, playgrounds, and a boating lake, there is something for everyone to enjoy at Clapham Common.
Omnibus Theatre: Located in the heart of Clapham Old Town, the Omnibus Theatre is a multi-arts centre that showcases a diverse range of performances, including theatre, music, and comedy. The venue also offers a variety of workshops and classes for the local community.
Battersea Arts Centre: Just a short distance from Clapham Junction, the Battersea Arts Centre is a hub for creativity and innovation. This Grade II listed building hosts a variety of performances, exhibitions, and workshops, making it a must-visit destination for art enthusiasts.
Clapham History
The history of Clapham dates back to the Roman era, with evidence of a Roman road passing through the area. In the 17th and 18th centuries, Clapham was a popular rural retreat for wealthy Londoners, who built grand houses and estates in the area. The arrival of the railway in the 19th century led to rapid urbanisation, transforming Clapham into the bustling borough it is today.
Clapham has a rich history of social reform, with notable residents such as William Wilberforce and the Clapham Sect, a group of influential abolitionists who played a significant role in the abolition of the slave trade. The legacy of these individuals can still be seen in the area, with several streets and buildings named in their honour.
During World War II, Clapham was heavily bombed, resulting in significant damage to the area. However, the post-war rebuilding efforts led to the creation of new housing estates and the development of the borough's infrastructure, shaping the Clapham we know today.
Education and Community in Clapham
Clapham is home to a variety of educational institutions, catering to the needs of its diverse community. The borough boasts several highly-regarded primary and secondary schools, as well as a number of independent schools and colleges. Clapham is also well-served by community centres and libraries, providing valuable resources and support for residents of all ages.
In conclusion, Clapham is a thriving and dynamic borough that offers a unique blend of urban living and green spaces. With its rich history, excellent transport links, and vibrant community, it is no wonder that Clapham has become such a popular destination for both families and young professionals.
Discover a Cleaner Clapham with Rainbow Rubbish Removals
Welcome to Rainbow Rubbish Removals, your trusted waste management partner in Clapham, SW4, London. Picture us as your local rubbish removal champions, always prepared to tackle any disposal challenge that comes our way.
Our dedicated team consistently aims to provide a hassle-free experience, catering to a variety of clearance needs from homes, offices, schools, construction sites, and more. We're committed to simplifying the waste disposal process for you.
Operating seven days a week throughout Clapham, London, our services are designed to fit seamlessly into your schedule. Our highly skilled team is adept at handling and disposing of a wide range of waste materials. We pride ourselves on delivering prompt, efficient, and friendly service. With budget-conscious pricing and complimentary estimates, joining forces with us could be a game-changing decision!
Don't hesitate to get in touch – simply give us a call, complete our easy quote form on this page, or send a WhatsApp message using the button above. Our eager team is ready to spring into action. Are you ready to embark on a cleaner journey?
How can you contribute to maintaining a litter-free Clapham?
Managing household and workplace waste can be a time-consuming task, potentially diverting your attention from other important matters. To make your life easier, we offer a scheduled rubbish removal service throughout Clapham, London. Just follow these straightforward steps:
1. Choose your preferred day and time for collection.
2. Sort your waste into categories such as recyclable materials, reusable items, bulky objects, and hazardous waste.
3. Leave the rest to us – our team will handle everything from collection to disposal, donations, and recycling, ensuring a seamless waste management experience.
Questions and answers about our Clapham rubbish removal services
What types of rubbish removal services are available in Clapham, SW4?
Rainbow Rubbish Removals offers a wide range of rubbish removal services in Clapham, SW4, including house, garden, office, school, and construction site clearances. Our team is locally run and operated, ensuring a flexible, affordable, and convenient experience for all our clients.
How can I get in touch with Rainbow Rubbish Removals for rubbish removal in Clapham, SW4?
You can easily contact us by filling out the quick quote form on our website, sending us a message via WhatsApp, emailing us at rainbowrubbishremovals@gmail.com, or calling us at 020 3870 3051. We'll provide you with a free quote and help you schedule an appointment that suits your needs.
Do you offer same-day rubbish removal services in Clapham, SW4?
Yes, we do offer same-day rubbish removal services in Clapham, SW4. To arrange a same-day clearance, please give us a call before 10 am on the day, and we'll do our best to accommodate your request.
What types of rubbish do you collect in Clapham, SW4?
We collect and remove a wide variety of rubbish in Clapham, SW4, including general household waste, office waste, WEEE waste, kitchen appliances, furniture, bicycles, pianos, sheds, decking, carpets, and construction waste. If you have any other types of rubbish, feel free to get in touch with us to discuss your needs.
How can I manage my waste more effectively in Clapham, SW4?
To manage your waste more effectively, consider using the three R's: reduce, reuse, and recycle. Separate your rubbish into different categories, such as heavy items, and adopt a box/bin system at your workplace to ensure everyone knows where each type of rubbish goes. You can also schedule a regular waste management service with Rainbow Rubbish Removals to keep your space free from waste.
How much does rubbish removal in Clapham, SW4 cost?
Our rubbish removal services in Clapham, SW4 are priced fairly based on factors such as waste weight and loading times. For detailed pricing information, please visit our pricing page. Keep in mind that each quote is based on estimates, and additional fees may apply if access to your property is restricted.