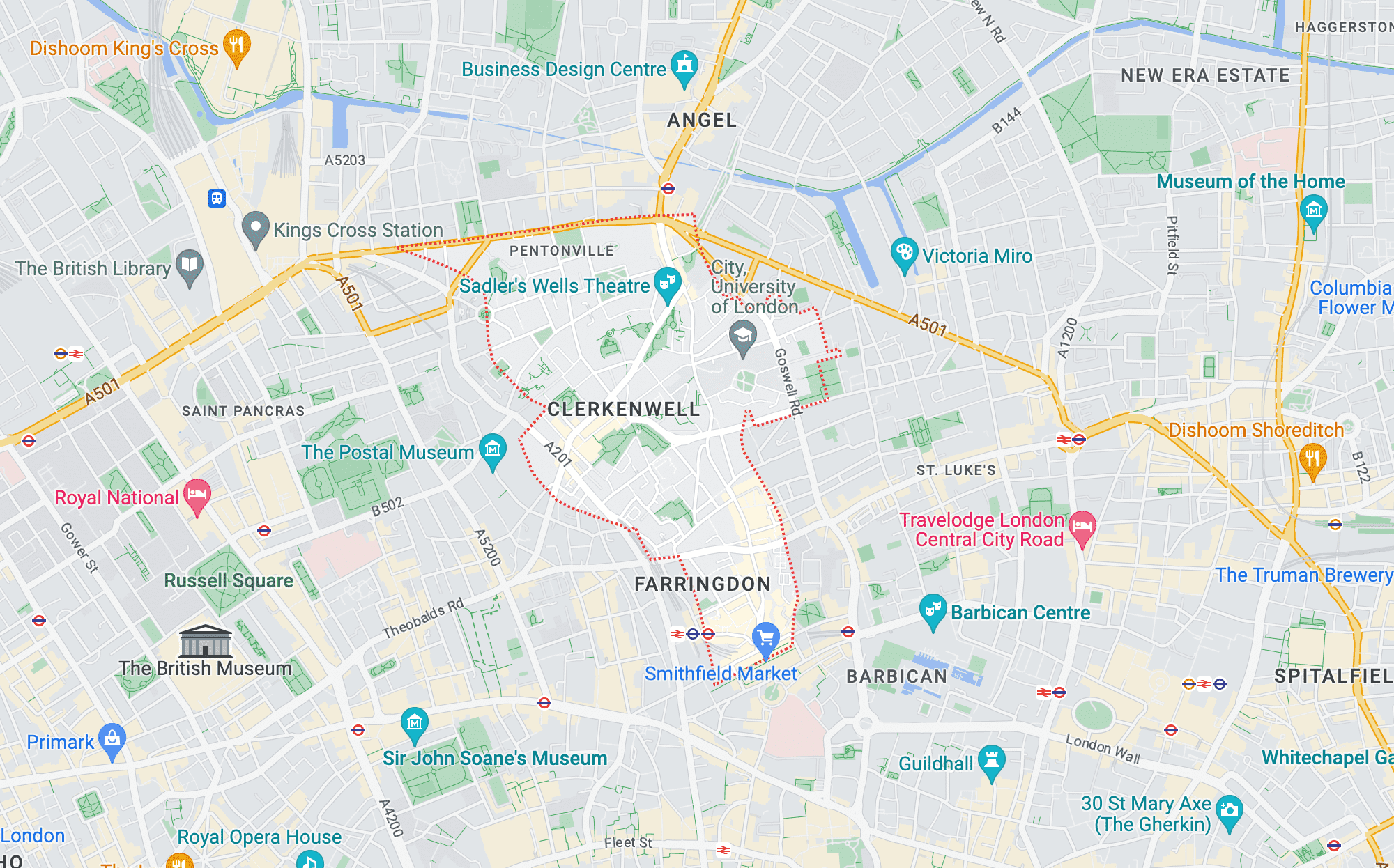 Our Rubbish Removal Work in Clerkenwell
At Rainbow Rubbish Removals, we're proud to serve the vibrant community of Clerkenwell, EC1. Our dedicated team has been providing a wide range of rubbish removal services in this bustling borough for years. From house clearances and furniture disposal to builders rubbish disposal and office clearance, we've got you covered.
One of our most notable works in Clerkenwell involved helping a local family declutter their home after years of accumulating unwanted items. We arrived promptly at the agreed-upon time and quickly assessed the situation before getting down to business. Our efficient team carefully sorted through all the waste materials, ensuring that recyclable items were separated from non-recyclables.
As an environmentally responsible company, we take great care in disposing of waste properly. In this particular job, we partnered with several recycling centres across London to ensure that as much waste as possible was recycled or repurposed rather than ending up in landfills.
Our client appreciated not only our thoroughness but also our excellent customer service throughout the process. We maintained open communication channels and were flexible when it came to scheduling appointments around their busy lives.
Here's what they had to say about their experience with us:
"I can't thank Rainbow Rubbish Removals enough for helping us sort out our cluttered home! The team was punctual, efficient and incredibly tidy – I couldn't believe how quickly they managed everything! It's such a relief knowing that so many items have been recycled or repurposed instead of just being dumped into landfill sites. Their friendly approach made working with them an absolute doddle!"
Rainbow Rubbish Removals is committed to providing high-quality rubbish removal services while prioritising environmental responsibility and exceptional customer service within Clerkenwell EC1 area . With competitive pricing options available , you can trust us for all your rubbish removal needs .
Clerkenwell, a district within the London Borough of Islington, is a fascinating area steeped in history and culture. Located in the heart of London, it is well-known for its creative industries, design studios, and trendy bars and restaurants. The area has a rich industrial past, with many warehouses and factories now converted into stylish residential and commercial spaces.
Clerkenwell is well-connected to the rest of London, with Farringdon and Barbican stations providing easy access to the Circle, Metropolitan, and Hammersmith & City lines, as well as Thameslink and National Rail services. The area is also served by numerous bus routes, making it a convenient location for both residents and visitors.
The district is home to a diverse community, with a mix of young professionals, families, and long-term residents. The area boasts a range of housing options, from modern apartments to charming period properties. Clerkenwell is also known for its green spaces, with Spa Fields Park and St James Church Gardens providing a peaceful retreat from the bustling city.
Clerkenwell Main Postcodes
The main postcodes within the Clerkenwell district include EC1M, EC1R, EC1V, and EC1Y. These postcodes cover the areas of Farringdon, Barbican, and Old Street, as well as parts of Islington and Shoreditch.
Clerkenwell Main Attractions
Museum of London: The Museum of London showcases the history of the city from prehistoric times to the present day. With interactive exhibits and fascinating artefacts, it's a must-visit for anyone interested in London's rich history.
The Charterhouse: This historic complex of buildings dates back to the 14th century and has served as a monastery, private mansion, and school. Today, it is home to a museum, almshouse, and stunning gardens, offering a unique glimpse into London's past.
Sadler's Wells Theatre: As a world-renowned venue for dance, Sadler's Wells Theatre hosts a variety of performances, from contemporary dance to ballet and flamenco. With a rich history dating back to the 17th century, the theatre is a cultural landmark in the area.
Clerkenwell History
Clerkenwell's history dates back to the Middle Ages when it was a rural area known for its natural springs. The name "Clerkenwell" is derived from the Old English "Clerkenwelle", meaning "Clerk's Well", which refers to a well where medieval clerks performed mystery plays.
In the 18th and 19th centuries, Clerkenwell became an industrial hub, with numerous factories and workshops producing goods such as clocks, watches, and printing presses. The area was also known for its breweries and distilleries, which contributed to its lively atmosphere.
Clerkenwell's industrial past is still evident today, with many of its former warehouses and factories now converted into stylish apartments, offices, and design studios. The area has also become a hub for the creative industries, with a thriving community of artists, designers, and architects.
More Valuable Information about Clerkenwell
Clerkenwell is home to several annual events, including the Clerkenwell Design Week, which showcases the latest trends in design and architecture. The area also hosts the London Festival of Architecture, a month-long celebration of the city's architectural heritage.
The district is known for its gastronomic scene, with a wide variety of restaurants, cafes, and bars catering to all tastes. From traditional British pubs to Michelin-starred establishments, there is something for everyone in Clerkenwell.
For those interested in shopping, the area offers a mix of independent boutiques, design shops, and high-street brands. The nearby Exmouth Market is a popular destination for foodies, with its array of street food stalls and artisanal produce.
Clerkenwell is also home to several historic churches, including St John's Gate, which was once the entrance to the medieval Priory of the Knights of St John. Today, the gate houses the Museum of the Order of St John, which explores the history of the order and its role in the area.
Maintaining a Spotless and Organised Clerkenwell
Welcome to Rainbow Rubbish Removals, your dependable waste disposal ally in Clerkenwell, London. Consider us your local waste experts, ready to take on any disposal challenge you may face.
Our devoted team consistently strives to provide a stress-free experience, catering to various clearance requirements from residential, commercial, educational, and construction environments. Our enthusiasm lies in streamlining waste disposal for our valued clients.
Operating seven days a week throughout Clerkenwell, London, we offer adaptable scheduling to suit your needs. Our highly skilled team is proficient at handling and disposing of a wide range of waste materials. We take pride in delivering prompt, efficient, and courteous service. With competitive pricing and complimentary quotes, partnering with us could make a world of difference!
Contact us today by giving us a call, completing our simple quote form on this page, or sending a WhatsApp message using the button above. Our energetic team is prepared to take action. Are you ready to embark on a cleaner journey?
Join Us in Keeping Clerkenwell Waste-Free
Handling waste at home and work can be an overwhelming task, potentially distracting you from other important matters. To ease your load, we offer scheduled rubbish removal services throughout Clerkenwell, London. Simply follow these straightforward steps:
1. Choose a suitable day and time for collection.
2. Organise your waste into categories such as recyclables, reusable items, large objects, and hazardous materials.
3. Leave the rest to our team – we'll take care of collection, disposal, donations, and recycling, ensuring a seamless waste management experience.
By following these simple steps, you can contribute to keeping Clerkenwell clean and waste-free. Get in touch with us today to schedule your rubbish removal service and join our mission to maintain a spotless and organised Clerkenwell.
Common Queries and Responses on Rubbish Removal Services in Clerkenwell
What types of rubbish removal services do you offer in Clerkenwell, EC1?
At Rainbow Rubbish Removals, we provide a wide range of rubbish removal services in Clerkenwell, EC1. Our comprehensive services include house, garden, office, school, and construction site clearances. We cater to both regular waste management services and one-off jobs, as well as urgent same-day rubbish collections. Our friendly team is always ready to help you with your waste clearance needs, no matter the size or type of rubbish.
How can I book a rubbish removal service in Clerkenwell, EC1?
Booking a rubbish removal service in Clerkenwell, EC1, is simple and hassle-free. You can contact us via the WhatsApp button, fill out the quick quote form on our website, send us an email, or give us a call. Provide us with information about the type and amount of rubbish you need cleared, and we'll send you a free quote. Once you're happy to proceed, choose a date and time that suits you, and our team will take care of the rest.
What is the process for rubbish removal in Clerkenwell, EC1?
Our rubbish removal process in Clerkenwell, EC1, is straightforward and efficient. After you've booked an appointment with us, our team will arrive at the scheduled time to clear, dismantle, and load all of your unwanted waste onto our van. We'll then transport it to your local recycling centre, where we'll sort and dispose of your rubbish responsibly.
How can I manage my waste more effectively in Clerkenwell, EC1?
To manage your waste more effectively in Clerkenwell, EC1, follow these simple steps:
1. Reduce, Reuse, Recycle: Group your waste into categories for easier disposal.
2. Store heavy or bulky items in a safe, accessible area.
3. Create a dedicated system for grouping your rubbish, using labelled boxes or bins.
Additionally, get in touch with us to arrange a regular rubbish removal service in Clerkenwell, EC1, to keep your waste under control.
What types of waste do you collect in Clerkenwell, EC1?
We collect a wide variety of waste in Clerkenwell, EC1, including general household waste, furniture, appliances, small electricals, garden waste, carpets, sheds, decking, office waste, WEEE waste, and construction site rubbish. No matter the type or size of your waste, our team is equipped to handle it efficiently and responsibly.
How much does rubbish removal in Clerkenwell, EC1, cost?
Our rubbish removal services in Clerkenwell, EC1, are competitively priced to ensure you receive the best value for your money. For detailed pricing information, please visit our pricing page. Factors such as parking, property access, waste weight, and loading times will all be accounted for in your final bill.