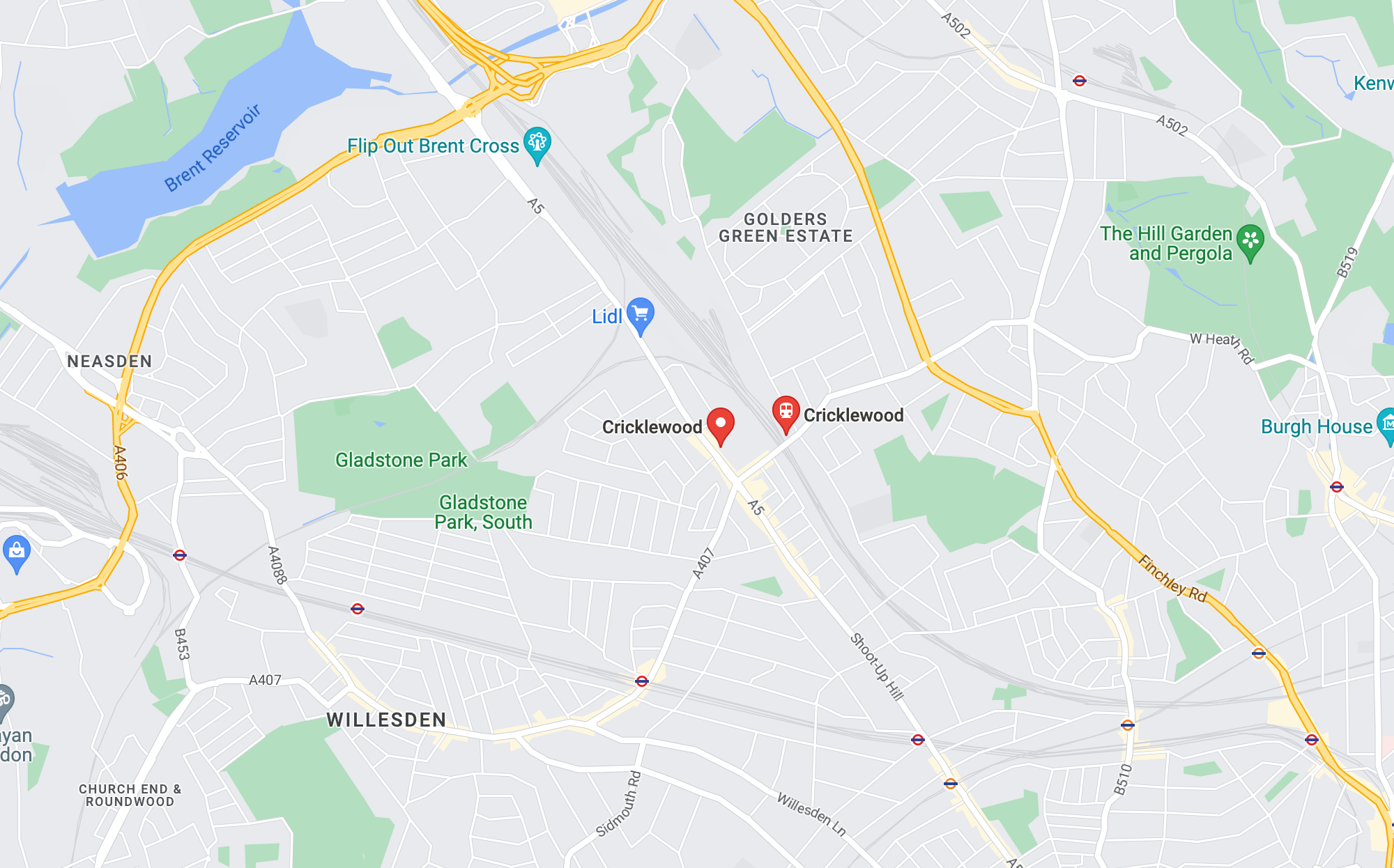 Cricklewood is a vibrant and diverse area located in North West London, straddling the boundaries of three London boroughs: Barnet, Brent, and Camden. This lively neighbourhood is known for its strong sense of community, excellent transport links, and a wide range of amenities, making it an attractive place to live, work, and visit. With a rich history and a unique character, Cricklewood offers a blend of residential, commercial, and industrial areas, as well as green spaces and leisure facilities.
The area is well-served by public transport, with Cricklewood railway station providing Thameslink services to central London, Luton, and beyond. Additionally, several bus routes connect Cricklewood to other parts of London, making it easy to explore the capital. The nearby North Circular Road and M1 motorway also provide convenient road connections for those travelling by car.
Cricklewood is home to a diverse population, with a mix of cultures and backgrounds. This is reflected in the variety of shops, restaurants, and cafes that line Cricklewood Broadway, the area's main thoroughfare. From independent retailers to well-known chains, there is something for everyone in this bustling shopping district.
Cricklewood Main Postcodes
The main postcodes in Cricklewood include NW2 and parts of NW6. These postcodes cover the areas of Cricklewood, Dollis Hill, Childs Hill, and parts of Willesden Green. The postcode boundaries help to define the different neighbourhoods within Cricklewood and its surrounding areas.
Cricklewood Main Attractions
Gladstone Park: This beautiful park offers a wide range of facilities, including sports pitches, a children's playground, a walled garden, and a café. With stunning views of the city, Gladstone Park is a popular destination for locals and visitors alike.
Mapesbury Dell: A hidden gem in Cricklewood, Mapesbury Dell is a small but charming community garden that provides a peaceful retreat from the hustle and bustle of the city.
Brent Reservoir (Welsh Harp): Just a short distance from Cricklewood, Brent Reservoir is a haven for wildlife and a popular spot for water sports, birdwatching, and leisurely walks.
Cricklewood History
Cricklewood has a rich and varied history, dating back to Roman times when it was a small settlement on the Edgware Road. In the 19th century, the area began to develop as a result of the expansion of the railway network. The Midland Railway Company built a large locomotive depot and marshalling yard in Cricklewood, which led to a significant increase in the local population and the construction of new housing.
During the early 20th century, Cricklewood became a hub for the emerging British film industry, with several studios operating in the area. The most famous of these was the Cricklewood Studios, which produced many successful films and employed notable actors and directors. The studios eventually closed in the 1930s, but their legacy lives on in the area's history.
Cricklewood also played a significant role in the development of the aviation industry, with the Handley Page Aircraft Company establishing a factory in the area during World War I. The factory produced aircraft for both military and civilian use until it closed in the 1960s.
More About Cricklewood
Cricklewood is a thriving and diverse community, with a range of local events and activities taking place throughout the year. The annual Cricklewood Festival is a highlight, featuring live music, food stalls, and family-friendly entertainment. The area also boasts several community groups and organisations, such as the Cricklewood Town Team and the Cricklewood Library, which work to improve the local area and provide valuable services to residents.
With its excellent transport links, diverse population, and rich history, Cricklewood is a unique and vibrant part of London that offers something for everyone.
Help us keep Cricklewood clean!
Rainbow Rubbish Removals offer top-rated rubbish removals throughout the Cricklewood, NW2 area. No matter where you are located in NW2, our friendly neighbourhood team are on hand to clear your house, garden, workplace, school, construction site, and much more.
We understand how challenging managing work, family, and life can be. That's why our rubbish removal NW2 services are flexible – working around you to make your life as stress and hassle-free as possible where managing your waste is concerned. No matter how big or small the job is you require, we will have your space cleared before you know it!
Do you need same-day rubbish removal? Give us a call before 10 am on the day, and let us know your requirements. We even work throughout the peak holiday season. Check out our fair and competitive pricing here.
How can you help keep Cricklewood clear of rubbish?
Rubbish is inevitable. No matter how hard we try to buy items with less packaging and make better lifestyle choices.
Managing your household waste doesn't need to be complicated. Instead:
1. Group your household waste into reusables, recyclables, and heavy/bulky items.
2. Don't overfill your refuse bin – think carefully about what can be reused or recycled.
3. Schedule a regular waste management NW2 service with us.
Questions and answers about our Cricklewood rubbish removal services
How does the rubbish removal process work in Cricklewood?
The rubbish removal process in Cricklewood is simple and consists of 5 steps:
1. Contact us through our quote form, WhatsApp, phone call, or email.
2. Receive a free quote based on the information you provide about your waste.
3. Choose a convenient appointment date and time for waste collection.
4. Our team will come and load your unwanted junk onto our spacious van.
5. We will take your waste to the nearest recycling and waste centre for proper disposal.
Can you provide same-day rubbish removals in NW2?
Yes, we offer same-day rubbish removals for urgent jobs in NW2. Just give us a call before 10 am on the day, and we'll arrange the rest.
What types of rubbish do you collect in Cricklewood, NW2?
We collect various types of rubbish in Cricklewood, including household waste, furniture, pianos, cardboard, magazines, WEEE waste, garden waste, and construction site waste.
How can I manage my household waste in Cricklewood, NW2?
To manage your household waste in Cricklewood, NW2:
1. Group your waste into reusables, recyclables, and heavy/bulky items.
2. Avoid overfilling your refuse bin and consider what can be reused or recycled.
3. Schedule a regular waste management service with us.
How much does rubbish removal in Cricklewood, NW2 cost?
Rubbish removal costs in Cricklewood, NW2 vary depending on the weight of the waste and loading times. For detailed pricing information, please visit our pricing page.
What do your customers think of your rubbish removal services?
We pride ourselves on being a friendly and reliable rubbish removal team. You can read what our customers think of our services on our testimonials page.