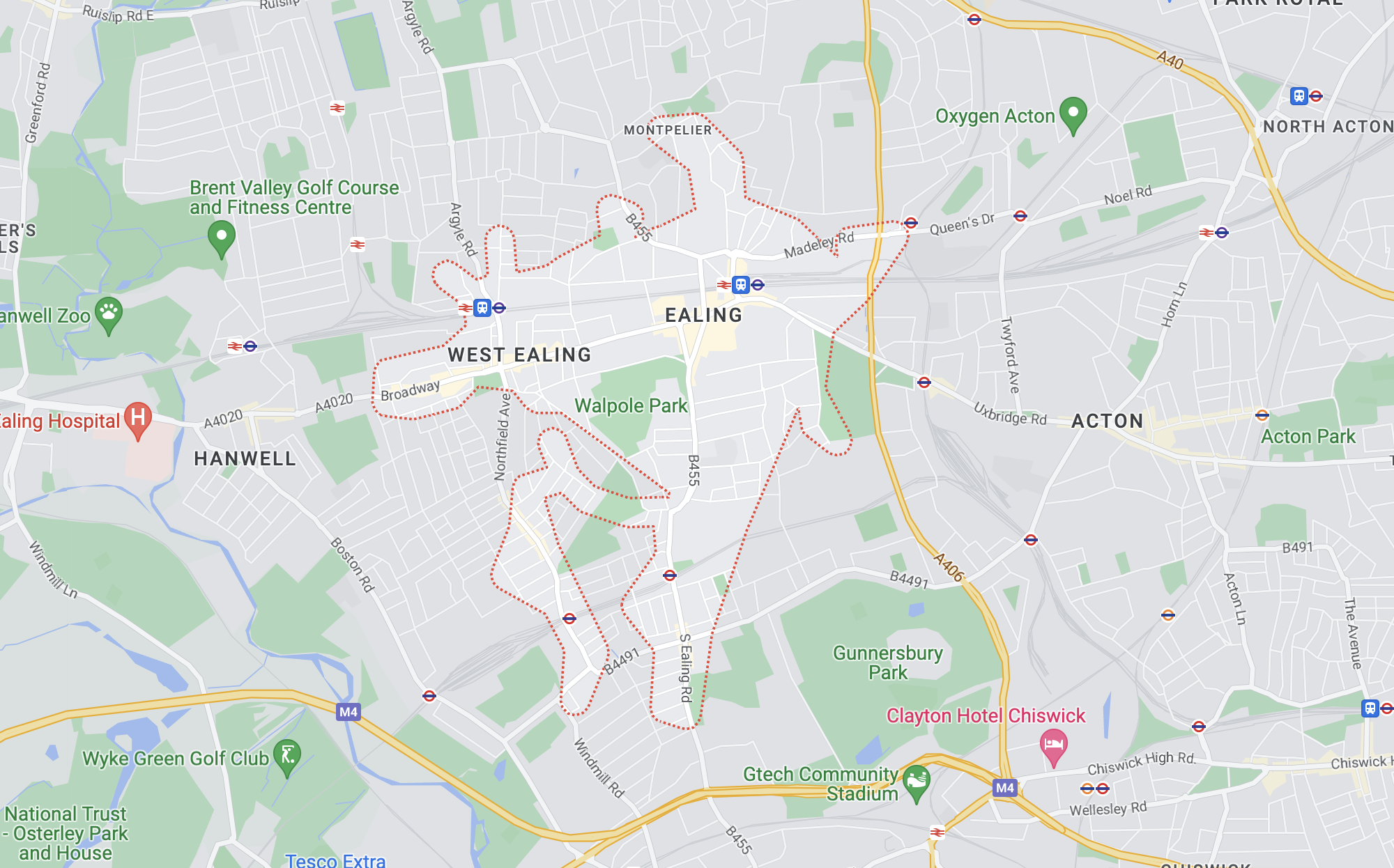 Ealing is a vibrant and diverse borough located in West London. Known for its rich history and picturesque surroundings, Ealing is often referred to as the "Queen of the Suburbs." It boasts an eclectic mix of architectural styles, ranging from Victorian to modern developments, reflecting the area's evolution over time.
Main Ealing Postcodes
The primary postcodes in the London Borough of Ealing include W5, W7, W13, UB1, UB2, and UB6.
Ealing Attractions
Ealing has much to offer both residents and visitors. Key attractions in the area include:
Ealing History
Ealing has a long and storied past, with its origins dating back to the Saxon period. In the 12th century, the area was granted to the Canons of St. Paul's Cathedral by the Bishop of London. It remained a rural village until the 19th century when the arrival of the railway spurred rapid development and urbanisation.
During the Victorian era, Ealing became a popular residential area for wealthy Londoners seeking a more tranquil lifestyle away from the city centre. The borough continued to grow and expand throughout the 20th century, with the construction of several new housing developments, schools, and commercial centres.
Today, Ealing is a thriving and diverse community that offers an attractive mix of urban amenities and suburban charm. Its excellent transport links, green spaces, and cultural attractions make it a popular destination for both residents and visitors alike.
Whether you are looking to explore the area's rich history, enjoy a peaceful day in the park, or indulge in some retail therapy, Ealing has something for everyone.
Help us keep Ealing clean
Are you a resident or business owner in Ealing, London, in need of efficient and professional rubbish removal services?
Request a rubbish removal quote today and let our expert team take care of your waste management needs.
We pride ourselves on providing prompt, eco-friendly, and affordable solutions, tailored to your specific requirements.
Our experienced staff will handle everything from household junk, garden waste, construction debris, to commercial waste disposal, ensuring a clean and clutter-free space.
Don't let rubbish accumulation hinder your daily life in the beautiful borough of Ealing; get your personalized quote now and experience the benefits of a reliable and hassle-free rubbish removal service.
Why rubbish removal is important?
Managing your household and workspace waste is not only time-consuming, but it can take you away from the things that matter most. To make your life easier, we offer a scheduled rubbish removals service throughout the Ealing, W5 area. All you have to do is:
Schedule your preferred day and time
Separate your waste into recyclables, reusables, large items and toxic waste.
We will take care of all the rest, including collection, disposal, donation and recycling.
Questions and answers about our Ealing rubbish removal services
How can I get in touch with Rainbow Rubbish Removals in Ealing?
You can give us a call, send us a WhatsApp message (click the button on our website), or fill out the quick quote form on our website to get started with rubbish removal in Ealing.
How do I get a free quote for rubbish removal in Ealing?
Provide us with details about the items you would like us to remove (you can even send us photos), and we will send you a free quote based on the information provided.
How do I schedule a date and time for rubbish removal in Ealing?
Choose a date and time that suits you, and our team will arrive to collect your waste items. For same-day visits, call us before 10 am, and we will do our best to accommodate your needs.
How are the collected items disposed of and recycled?
Once we have all your items, our team will deliver them to the nearest waste or recycling centre to responsibly dispose of your unwanted items in Ealing.
How can I find out about pricing for rubbish removal in Ealing?
For information on pricing, please visit the pricing page on our Rainbow Rubbish Removals website. We have various options to cater to your needs.