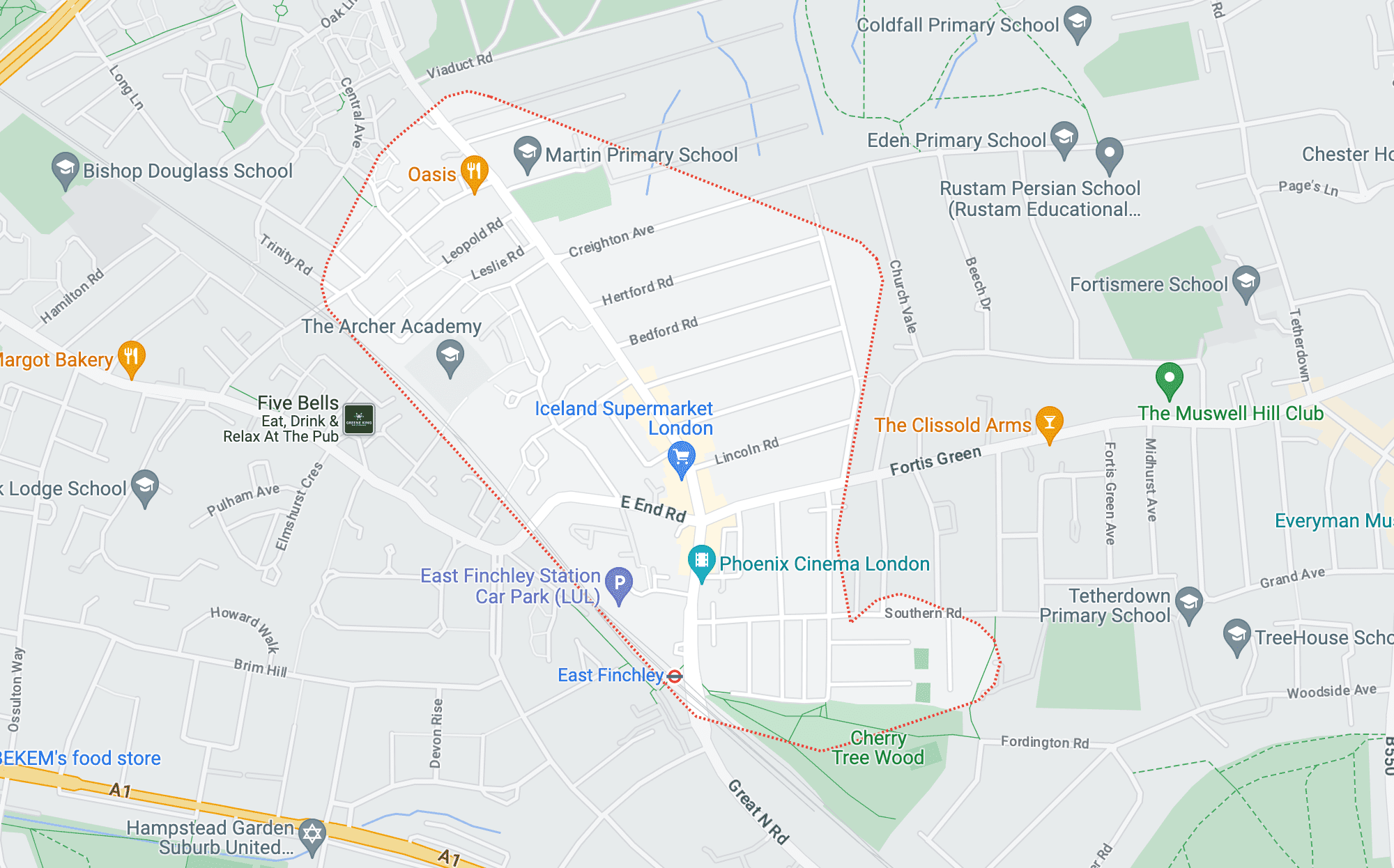 Our Rubbish Removal Work in East Finchley
At Rainbow Rubbish Removals, we take pride in providing exceptional rubbish removal services to our fellow East Finchley residents. Our team of dedicated professionals is always ready to tackle any waste disposal challenge that comes their way, ensuring a cleaner and clutter-free environment for all.
One of the many works we've completed in the N2 area involved a full house clearance for a family who had recently inherited an old property. The house was filled with years' worth of accumulated belongings, including furniture, appliances, and general household waste. Our well-equipped team arrived promptly at the agreed-upon time and got straight to work sorting through the items. We carefully separated recyclable materials from non-recyclables before disposing of them responsibly at local recycling centres.
Another project saw us assisting a small business owner with office clearance after they decided to relocate their operations within East Finchley. We efficiently removed desks, chairs, filing cabinets and other office equipment while taking care not to damage any walls or floors during the process.
Our environmentally responsible approach sets us apart from other rubbish removal companies in London. At Rainbow Rubbish Removals, we are committed to minimising our impact on the planet by segregating waste materials properly and partnering with reputable recycling facilities across London.
But don't just take our word for it! Here's what one satisfied customer had to say about their experience working with us:
"I couldn't be happier with my decision to hire Rainbow Rubbish Removals for my flat clearance in East Finchley! Their team was punctual, efficient and left no mess behind – I could hardly believe how quickly they managed everything! They even took extra care when removing some bulky furniture pieces down my narrow staircase without causing any damage whatsoever. It's clear these chaps know what they're doing!"
At Rainbow Rubbish Removals, we strive not only for excellence in service but also outstanding customer satisfaction. From prompt communication and flexible scheduling options to accommodating specific client requests, we go above and beyond to ensure a hassle-free rubbish removal experience. Our competitive pricing ensures that you receive the best value for your money while enjoying top-quality service from our friendly team.
So if you're in need of rubbish removal services in East Finchley, N2, look no further than Rainbow Rubbish Removals – your local experts who genuinely care about keeping our community clean and green!
East Finchley, a suburban area in the London Borough of Barnet, is known for its charming atmosphere and strong sense of community. Located in North London, it is situated between Highgate, Muswell Hill, and Finchley Central. East Finchley is a popular choice for families and professionals alike, thanks to its excellent transport links, green spaces, and top-rated schools.
The area boasts a mix of architectural styles, from Victorian and Edwardian homes to modern apartment buildings. East Finchley's high street, with its array of independent shops, cafes, and restaurants, offers a welcoming environment for residents and visitors. The area is also home to several parks and open spaces, including Cherry Tree Wood and Coldfall Wood, providing ample opportunities for outdoor activities and relaxation.
East Finchley is well-connected to the rest of London, with its own Underground station on the Northern Line. This makes it an ideal location for commuters, as it provides easy access to central London and other parts of the city.
East Finchley Main Postcodes
The main postcodes in East Finchley include N2, N10, and N12. These postcodes cover the residential areas, as well as the high street and surrounding parks.
East Finchley Main Attractions
Phoenix Cinema: As one of the oldest continuously running cinemas in the UK, the Phoenix Cinema is a must-visit attraction in East Finchley. This historic venue offers a diverse programme of films, from the latest releases to classic movies and special events.
Cherry Tree Wood: This picturesque park is a popular spot for families and nature lovers. With its playground, tennis courts, and beautiful woodland walks, Cherry Tree Wood is the perfect place to unwind and enjoy the outdoors.
Coldfall Wood: This ancient woodland is a haven for wildlife and offers a peaceful retreat from the hustle and bustle of city life. With its walking trails and diverse flora and fauna, Coldfall Wood is a hidden gem in East Finchley.
East Finchley History
East Finchley has a rich history that dates back to the Roman period. The area was originally part of the Bishop of London's hunting grounds, and later became a popular destination for wealthy Londoners seeking a rural retreat. In the 19th century, the arrival of the Great Northern Railway led to significant development in the area, transforming it into the thriving suburb it is today.
The area's architectural heritage is evident in its many listed buildings, such as the Grade II-listed Phoenix Cinema, which opened in 1910. East Finchley was also home to several notable residents throughout history, including the famous diarist Samuel Pepys and the renowned sculptor Henry Moore.
During the Second World War, East Finchley suffered from bombing raids, but the community spirit remained strong. In the post-war years, the area continued to develop, with new housing estates and amenities being built to accommodate the growing population.
Education and Community in East Finchley
East Finchley is home to a number of highly regarded schools, both primary and secondary, making it an attractive location for families. Some of the top schools in the area include Martin Primary School, Holy Trinity Primary School, and Archer Academy.
The community in East Finchley is known for its strong sense of togetherness, with numerous local events and initiatives taking place throughout the year. The annual East Finchley Festival, held in Cherry Tree Wood, is a highlight of the local calendar, featuring live music, food stalls, and activities for all ages.
East Finchley, London Map
Maintaining a Pristine and Orderly East Finchley
Welcome to Rainbow Rubbish Removals, your dependable waste disposal ally in East Finchley, London. Consider us your local waste experts, ready to tackle any disposal challenge you may encounter.
Our devoted team consistently strives to provide a stress-free experience, catering to various clearance requirements from residential, commercial, educational, and construction environments. Our enthusiasm lies in streamlining waste disposal for our valued clients.
Operating seven days a week throughout East Finchley, London, we offer adaptable scheduling to suit your needs. Our highly skilled team is proficient at handling and disposing of a wide array of waste materials. We take pride in delivering prompt, efficient, and courteous service. With competitive pricing and complimentary quotes, partnering with us could make a world of difference!
Get in touch today by giving us a call, completing our easy quote form on this page, or sending a WhatsApp message using the button above. Our zealous team is prepared to take action. Are you ready to embark on a cleaner journey?
Join Us in Keeping East Finchley Litter-Free
Handling waste at home and work can be an overwhelming task, potentially distracting you from other important matters. To ease your load, we offer scheduled rubbish removal services throughout East Finchley, London. Simply follow these straightforward steps:
1. Choose a suitable day and time for collection.
2. Organise your waste into categories such as recyclables, reusable items, large objects, and hazardous materials.
3. Leave the rest to our team – we'll take care of collection, disposal, donations, and recycling, ensuring a seamless waste management experience.
Contact us today to arrange your East Finchley rubbish removal service and bid farewell to your clutter!
Common Queries and Responses on Rubbish Removal Services in East Finchley
What types of rubbish removal services are available in East Finchley, N2?
In East Finchley, N2, we offer a wide range of rubbish removal services to cater to your specific needs. Our services include house, garden, office, school, and construction site clearances. We also provide same-day rubbish collections for urgent enquiries, as well as one-off and scheduled regular waste management appointments. No job is too big or too small for our dedicated team.
How can I book a rubbish removal service in East Finchley, N2?
Booking a rubbish removal service in East Finchley, N2, is easy and hassle-free. You can contact us through the WhatsApp button on our website, fill out the quick quote form, send us an email, or give us a call. Simply provide us with the details of the rubbish you want us to remove, and we'll send you a free quote. Choose a date and time that suits you, and we'll take care of the rest.
How do you ensure responsible waste disposal in East Finchley, N2?
At Rainbow Rubbish Removals, we are committed to responsible waste disposal and recycling. After collecting your rubbish in East Finchley, N2, we transport it to a local recycling centre for sorting and disposal. We adhere to the three R's: Reduce, Reuse, and Recycle, and we encourage our customers to do the same.
What items can you remove during a rubbish clearance in East Finchley, N2?
We can remove a wide variety of items during a rubbish clearance in East Finchley, N2. This includes general household waste, office waste, WEEE waste, cardboard, furniture, kitchen appliances, small electricals, carpets, sheds, decking, green garden waste, and construction site trash. If you have any specific items you need removed, feel free to contact us to discuss your requirements.
Can you provide same-day rubbish removal services in East Finchley, N2?
Yes, we offer same-day rubbish removal services in East Finchley, N2, for urgent enquiries. To arrange a same-day service, please call us before 10 am, and we will do our best to accommodate your request.
How much does rubbish removal in East Finchley, N2 cost?
The cost of rubbish removal in East Finchley, N2, depends on the amount of waste you need to be removed and the time it takes to load and dismantle items. For a detailed breakdown of our pricing, please visit our pricing page. We strive to offer competitive rates and efficient service to ensure you receive the best value for your money.