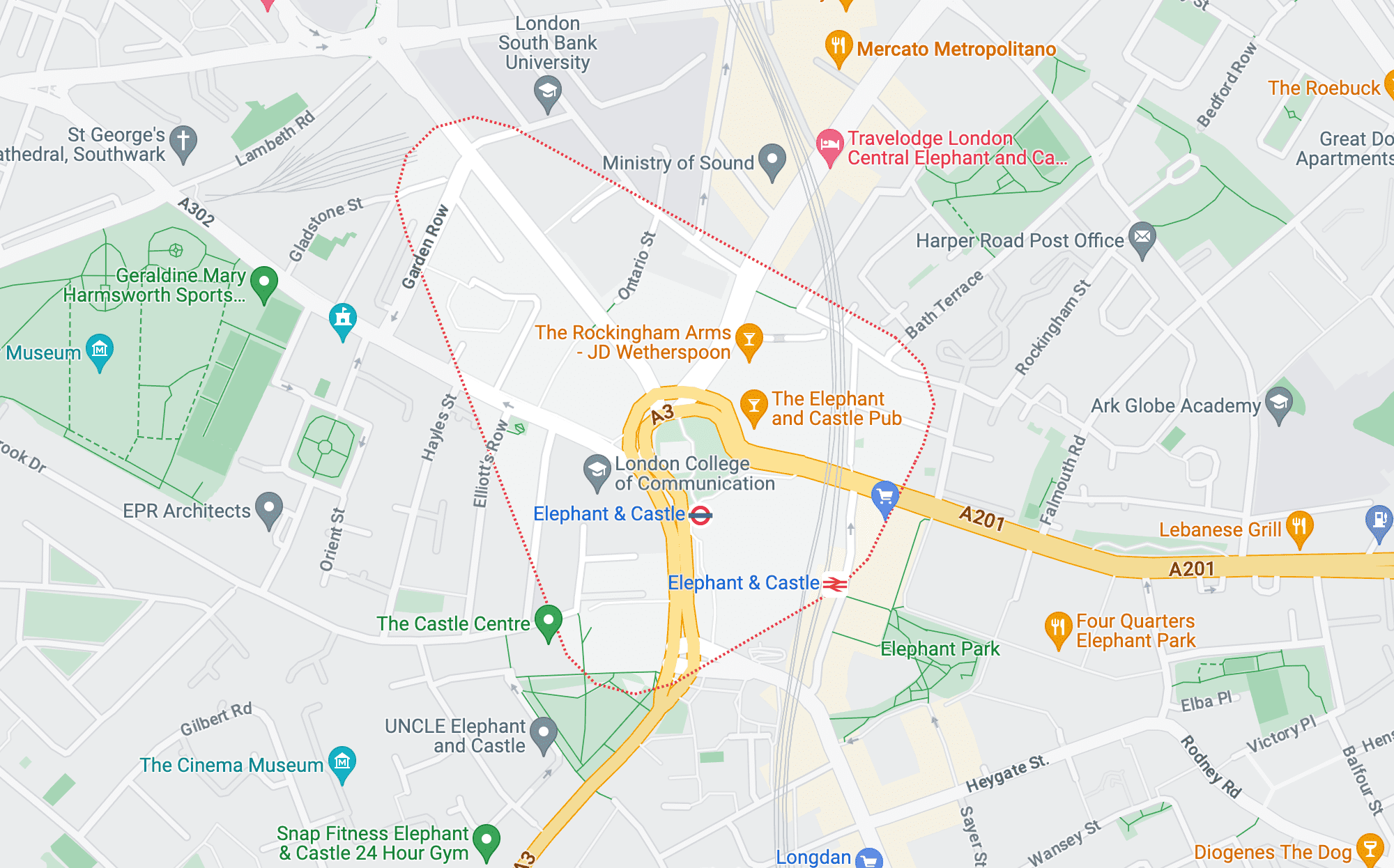 Our Rubbish Removal Work in Elephant and Castle
At Rainbow Rubbish Removals, we take pride in providing exceptional rubbish removal services to our valued customers in Elephant and Castle, SE17. Our dedicated team of professionals is well-equipped to handle a wide range of tasks, including house clearance, rubbish clearance, furniture disposal, appliance removal, builders rubbish disposal and office clearance.
One particular work that stands out was when we were called upon by a local homeowner who needed assistance with clearing their property after an extensive renovation project. The job required us to remove large amounts of construction waste and dispose of old appliances and furniture efficiently. Our team arrived promptly at the agreed-upon time and got straight to work.
We carefully segregated the waste materials into recyclable items such as metals, plastics and wood before transporting them to our partnered recycling centres for responsible processing. This approach reflects our commitment towards environmental responsibility while ensuring that all waste is disposed of in an eco-friendly manner.
Throughout this process, we maintained open communication with the client regarding scheduling adjustments or specific requests they had concerning their property's cleanliness. We believe that excellent customer service goes hand-in-hand with competitive pricing – which is why we strive to provide top value for every job undertaken.
Here's what our satisfied customer from Elephant and Castle had to say about their experience:
"I couldn't be happier with the service provided by Rainbow Rubbish Removals! Their team was punctual, efficient and took great care not to damage my newly renovated home during the clean-up process. They even went above-and-beyond by sweeping up any remaining debris once they'd finished removing all the unwanted items from my property! I'm chuffed with how much better my living space looks now – it feels like a brand new home again!"
If you're looking for reliable rubbish removal services in Elephant & Castle SE17 area – look no further than Rainbow Rubbish Removals! With our environmentally conscious practices combined with outstanding customer service standards; you can trust us to get the job done right.
About Elephant and Castle
Elephant and Castle is a bustling area located within the London Borough of Southwark. Known for its iconic name, which is believed to have originated from a local coaching inn, this lively district has undergone significant regeneration in recent years. With a rich history and a strong sense of community, Elephant and Castle is a thriving hub for both residents and visitors alike.
The area is well-connected, with Elephant and Castle station providing access to both the Northern and Bakerloo lines on the London Underground, as well as National Rail services. This makes it an ideal location for commuters and those looking to explore the wider city. The area is also home to a diverse range of shops, restaurants, and entertainment venues, catering to a wide variety of tastes and interests.
Elephant and Castle is a melting pot of cultures, with a strong Latin American influence evident in the local cuisine and community events. The area also boasts a number of green spaces, including the beautiful Burgess Park, which offers a tranquil escape from the hustle and bustle of city life.
Elephant and Castle Main Postcodes
The main postcodes within Elephant and Castle include SE1, SE11, and SE17. These postcodes cover a wide area, encompassing not only the immediate vicinity of Elephant and Castle but also extending to nearby neighbourhoods such as Walworth, Kennington, and parts of Bermondsey.
Elephant and Castle Main Attractions
Elephant Park: This new development in the heart of Elephant and Castle offers a range of shops, restaurants, and leisure facilities, as well as beautifully landscaped green spaces for residents and visitors to enjoy.
Burgess Park: One of Southwark's largest parks, Burgess Park is a popular destination for picnics, sports, and leisure activities. The park also hosts a variety of community events and festivals throughout the year.
Elephant and Castle Shopping Centre: Although set to be redeveloped in the near future, this iconic shopping centre has been a focal point of the area for decades, offering a range of shops and services to the local community.
Elephant and Castle History
The history of Elephant and Castle dates back to the Roman period when it was a key junction on the road between London and the south coast. The area's unusual name is thought to have originated from a local coaching inn, which featured an elephant carrying a castle on its back as its emblem. This image was later adopted by the local railway station, further cementing the area's association with the name.
Throughout the 19th and early 20th centuries, Elephant and Castle was a thriving commercial and entertainment hub, with numerous theatres, cinemas, and music halls attracting visitors from across London. However, the area suffered significant damage during the Second World War, with many buildings destroyed during the Blitz.
In the post-war years, Elephant and Castle underwent extensive redevelopment, with new housing estates, shopping centres, and transport infrastructure being built to replace the damaged buildings. This period of regeneration continued into the 21st century, with further investment in the area helping to create a modern, vibrant community.
Education and Community in Elephant and Castle
Elephant and Castle is home to a number of educational institutions, including the London South Bank University and the University of the Arts London, which contribute to the area's thriving student population. The area also boasts a range of primary and secondary schools, ensuring that families have access to quality education options.
Community events and initiatives are an important aspect of life in Elephant and Castle, with local organisations such as the Latin Elephant working to support the area's diverse population. Regular events, such as the annual Elephant and Castle Community Festival, help to bring residents together and celebrate the unique character of this vibrant London neighbourhood.
Elephant and Castle, London Map
Maintaining a Pristine and Orderly Elephant and Castle
Welcome to Rainbow Rubbish Removals, your dependable waste disposal ally in Elephant and Castle, London. Consider us your local waste experts, ready to take on any disposal challenge you may face.
Our devoted team consistently strives to deliver a stress-free experience, catering to a variety of clearance requirements from residential, commercial, educational, and construction environments. Our enthusiasm lies in streamlining waste disposal for our valued clients.
Operating seven days a week throughout Elephant and Castle, London, we provide flexible scheduling to suit your needs. Our highly skilled team is proficient in handling and disposing of a wide range of waste materials. We take pride in offering prompt, efficient, and courteous service. With competitive pricing and complimentary quotes, partnering with us could be a game-changer!
Reach out today by giving us a call, completing our simple quote form on this page, or sending a WhatsApp message using the button above. Our zealous team is prepared to take action. Are you ready to embark on a cleaner journey?
Join Us in Keeping Elephant and Castle Litter-Free
Handling waste at home and work can be an overwhelming task, potentially distracting you from other important matters. To ease your load, we offer scheduled rubbish removal services throughout Elephant and Castle, London. Simply follow these straightforward steps:
1. Choose a suitable day and time for collection.
2. Organise your waste into categories such as recyclables, reusable items, large objects, and hazardous materials.
3. Leave the rest to our team – we'll handle collection, disposal, donations, and recycling, ensuring a seamless waste management experience.
By following these steps, you can maintain a clean and clutter-free environment in Elephant and Castle. So, why wait? Get in touch with us today and let us help you keep your surroundings rubbish-free.
Common Queries and Responses on Rubbish Removal Services in Elephant and Castle
What services does Rainbow Rubbish Removals offer in Elephant and Castle, SE17?
Rainbow Rubbish Removals offers a wide range of rubbish removal services in Elephant and Castle, SE17, including house, garden, office, school, and construction site clearances. We cover the entire SE17 area and are available seven days a week, all year round. Our team is dedicated to providing a stress-free and convenient rubbish removal experience for our customers.
How can I book a rubbish removal service in Elephant and Castle, SE17?
Booking a rubbish removal service in Elephant and Castle, SE17, is easy with Rainbow Rubbish Removals. You can contact us through the WhatsApp button on our website, fill out our quick quote form, email us, or give us a call. For urgent jobs, call us by 10 am to arrange a same-day rubbish collection.
How much does rubbish removal in Elephant and Castle, SE17, cost?
The cost of rubbish removal in Elephant and Castle, SE17, depends on the amount and type of waste you need to be cleared. We provide fair and honest pricing for our services. To get an accurate quote, please visit our pricing page and provide us with the necessary information about your rubbish removal needs.
What types of rubbish do you collect in Elephant and Castle, SE17?
We collect a wide variety of rubbish in Elephant and Castle, SE17, including general household waste, office waste, garden waste, school waste, garage and loft waste, and builders, renovation, and construction site waste. We also handle WEEE waste, such as IT equipment, computers, and TVs. Our team is experienced in dealing with various recycling and waste disposal systems in the area.
How can I prevent rubbish from piling up in my home or workplace in Elephant and Castle, SE17?
To prevent rubbish from piling up in your home or workplace in Elephant and Castle, SE17, follow the golden rule of reducing, reusing, and recycling. Group your unwanted items into these three categories and dispose of them accordingly. For workplaces, adopt a clearly labelled bin system to help employees and team members know where to put each item. You can also arrange a regular rubbish removal service with us to keep your space clean and clutter-free.
Why should I choose Rainbow Rubbish Removals for my rubbish removal needs in Elephant and Castle, SE17?
Rainbow Rubbish Removals is a locally run and owned team that values customer service and satisfaction above all else. We are passionate about providing a stress-free and efficient rubbish removal experience for our customers in Elephant and Castle, SE17. Our team is available seven days a week, all year round, and we offer flexible scheduling to accommodate your needs. With our fast response, diligent care, and efficient rubbish removal services, you can trust us to handle your waste management needs.