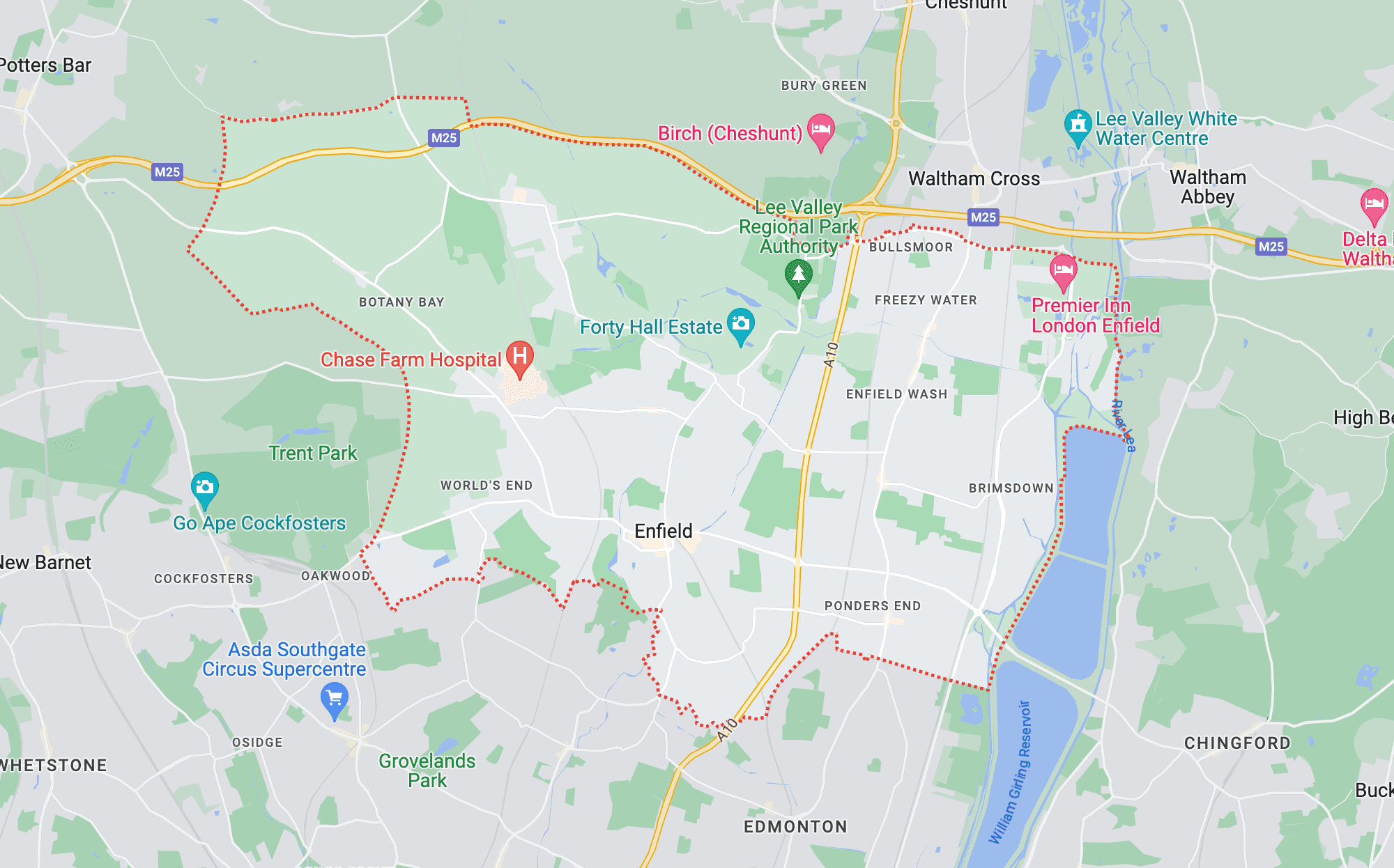 Our Rubbish Removal Work in Enfield Town
As a rubbish removal company based in Enfield Town, EN2, we at Rainbow Rubbish Removals have had the opportunity to work on a variety of projects within the borough. One such work involved a complete house clearance for a family who had recently inherited a property. The house was filled with old furniture, appliances, and general rubbish that needed to be cleared out before the family could move in.
Our team of rubbish removal experts arrived at the property bright and early, ready to tackle the task at hand. We began by sorting through the items, separating recyclable materials from non-recyclable waste. Our commitment to environmental responsibility means that we always strive to recycle as much as possible, partnering with local recycling centres to ensure proper disposal.
Once the waste was sorted, we proceeded to remove the furniture and appliances, taking care to avoid any damage to the property. Our team is highly skilled in handling bulky items, ensuring a smooth and efficient removal process. We also cleared out the builders rubbish that had accumulated during the property's renovation, leaving the space clean and ready for the family to move in.
Throughout the project, we maintained open communication with the client, addressing any concerns and accommodating their specific requests. Our flexible scheduling and competitive pricing ensured that the family received the best value for their rubbish removal needs in Enfield Town, EN2.
Here's what the client had to say about their experience with Rainbow Rubbish Removals:
"I can't recommend Rainbow Rubbish Removals enough! They were absolutely brilliant from start to finish. The team arrived on time, and they were incredibly efficient in clearing out the house. It was a right mess before they came, but they left it looking spick and span. Their commitment to recycling and eco-friendly disposal really put my mind at ease, knowing that we were doing our bit for the environment. The customer service was top-notch, and their prices were very reasonable. If you need rubbish removal in Enfield Town, EN2, look no further than Rainbow Rubbish Removals!"
At Rainbow Rubbish Removals, we take pride in providing exceptional rubbish removal services to the residents of Enfield Town, EN2. Our dedication to customer satisfaction, environmental responsibility, and efficient service sets us apart from the competition. Contact us today to discuss your rubbish removal needs, and let us help you create a cleaner, clutter-free space.
The London Borough of Enfield is a picturesque and charming area located in the northern part of Greater London. Covering an area of 31.74 square miles, Enfield is home to a population of over 330,000 residents. The borough is well-connected to the rest of London, with several train stations and bus routes providing easy access to the city centre and surrounding areas. Enfield is known for its beautiful parks, historic sites, and a strong sense of community, making it an ideal place to live, work, and visit.
Enfield Town, the borough's main centre, offers a delightful mix of modern amenities and historic charm. The town boasts a wide range of shops, restaurants, and leisure facilities, catering to the diverse needs of its residents and visitors. The borough is also home to several outstanding schools and educational institutions, ensuring a high standard of education for its younger residents.
The London Borough of Enfield is committed to preserving its rich heritage while embracing modernity and progress. With ongoing regeneration projects and a focus on sustainability, Enfield is set to become an even more attractive destination for both residents and visitors in the years to come.
Enfield Main Postcodes
The London Borough of Enfield encompasses several postcodes, including EN1, EN2, EN3, EN4, and N9. These postcodes cover areas such as Enfield Town, Enfield Chase, Ponders End, Cockfosters, and Edmonton, each offering its unique character and charm.
Enfield Main Attractions
Forty Hall: A stunning Grade I listed manor house, Forty Hall is a must-visit attraction in Enfield. The house, built in the 17th century, is now a museum showcasing the history of the borough and the life of its former residents. The surrounding estate offers beautiful gardens and parkland, perfect for a leisurely stroll.
Capel Manor Gardens: A hidden gem in Enfield, Capel Manor Gardens is a 30-acre estate featuring a variety of themed gardens, a maze, and a zoo. This attraction is perfect for a family day out, offering a chance to explore the beautiful grounds and learn about horticulture and conservation.
Myddelton House Gardens: These historic gardens, once the home of renowned horticulturist E.A. Bowles, offer a tranquil escape from the hustle and bustle of city life. Visitors can explore the stunning grounds, which include a walled kitchen garden, a conservatory, and a museum dedicated to Bowles' life and work.
Enfield History
The London Borough of Enfield has a rich and fascinating history, dating back to Roman times. The area was originally settled by the Celts, who named it 'Enfeld', meaning 'open land by the river'. The Romans later established a settlement in the area, and the remains of their Ermine Street can still be seen today.
In the medieval period, Enfield was a small market town, with its economy primarily based on agriculture. The town's importance grew with the establishment of the Enfield Chase, a royal hunting ground, in the 12th century. The area continued to develop throughout the centuries, with the construction of several notable buildings, such as Forty Hall and Myddelton House.
The arrival of the railway in the 19th century brought significant change to Enfield, transforming it from a rural community into a thriving suburban area. The borough's population grew rapidly, and new housing developments were built to accommodate the influx of residents. Enfield also became an important centre for industry, with factories producing everything from firearms to electrical goods.
Today, Enfield is a thriving and modern borough, with a strong sense of history and community. The area continues to evolve and grow, with ongoing regeneration projects and a focus on sustainability, ensuring a bright future for its residents and visitors.
Enfield's Green Spaces
One of the most appealing aspects of the London Borough of Enfield is its abundance of green spaces. The borough is home to over 900 acres of parks, gardens, and open spaces, providing residents and visitors with ample opportunities to enjoy the great outdoors. Some of the most popular green spaces in Enfield include Trent Park, Grovelands Park, and Bush Hill Park, each offering a unique and tranquil setting for relaxation and recreation.
Preserving a Spotless and Organised Enfield Town
Welcome to Rainbow Rubbish Removals, your dependable waste disposal ally in Enfield Town, London. Consider us your neighbourhood waste experts, ready to tackle any disposal challenge you may face.
Our devoted team consistently strives to provide a stress-free experience, catering to various clearance requirements from residential, commercial, educational, and construction environments. Our enthusiasm lies in streamlining waste disposal for our clients.
Operating seven days a week throughout Enfield Town, London, we offer adaptable scheduling to suit your needs. Our highly skilled team is proficient at handling and disposing of a wide range of waste materials. We take pride in delivering prompt, efficient, and courteous service. With competitive pricing and free quotes, partnering with us could make all the difference!
Get in touch today by giving us a call, completing our simple quote form on this page, or sending a WhatsApp message using the button above. Our zealous team is ready to take action. Are you ready to embark on a cleaner journey?
Partner with Us in Keeping Enfield Town Waste-Free
Handling waste at home and work can be an overwhelming task, potentially distracting you from other priorities. To ease your load, we offer scheduled rubbish removal services throughout Enfield Town, London. Simply follow these straightforward steps:
1. Choose a suitable day and time for collection.
2. Organise your waste into categories such as recyclables, reusable items, large objects, and hazardous materials.
3. Leave the rest to our team – we'll take care of collection, disposal, donations, and recycling, ensuring a seamless waste management experience.
Common queries and answers on our rubbish removal services in Enfield Town
What rubbish removal services are available in Enfield Town?
We offer a wide range of rubbish removal services in Enfield Town, including house clearance, appliance removals, furniture removals, kitchen removals, carpet and flooring removals, bulky waste collection, office clearance, shed clearance, WEEE waste recycling, garage clearance, school clearance, loft clearance, builder's rubbish removal, and various garden services. Our experienced team can handle rubbish removals from homes, rental properties, warehouses, yards, business premises, gardens, and more.
How can I get a quote for rubbish removal in Enfield Town?
To get a free, no-obligation quote for rubbish removal in Enfield Town, simply contact us via phone, email, or by filling out the enquiry form on our website. Provide us with detailed information about the rubbish you need to be removed, and you can also send us pictures to help us assess the extent of the removal. We will then provide you with an accurate quote based on the information provided.
Can I schedule a rubbish removal in Enfield Town at a convenient time for me?
Yes, you have complete control over when we visit your location for rubbish removal in Enfield Town. We can arrive in the morning, afternoon, or evening, and we also offer collections on weekends if you're unavailable during the week. Additionally, we can provide same-day pick-ups if you contact us before 10 am.
How do you ensure proper disposal of rubbish in Enfield Town?
We take pride in disposing of waste properly and ethically. We have ties to all the local recycling and waste processing centres in Enfield Town to ensure that your rubbish is disposed of correctly. We recycle as much as possible and do everything we can to minimise our environmental impact. We are against fly-tipping and avoid all illegal practices to provide you with ethical rubbish removal services.
What can I do to make the rubbish removal process go smoothly?
To ensure a smooth and professional rubbish removal experience, we recommend that you clearly identify what needs to be removed and what you want to keep by separating these items into two groups at your location. It would also help if you could sort the rubbish between recyclables and non-recyclables. Additionally, book your collection date and time as soon as possible to give us ample time to plan and assign workers for the removal.
How much does rubbish removal in Enfield Town cost?
Our rubbish removal services in Enfield Town come at competitive and low prices. To get an accurate quote for your specific needs, please visit our pricing page. Keep in mind that the final price may be more than the initial quote if the work takes longer than expected or if there's more rubbish to collect. We may also charge more for properties that are difficult to access, such as homes without nearby parking or locations multiple stories high.