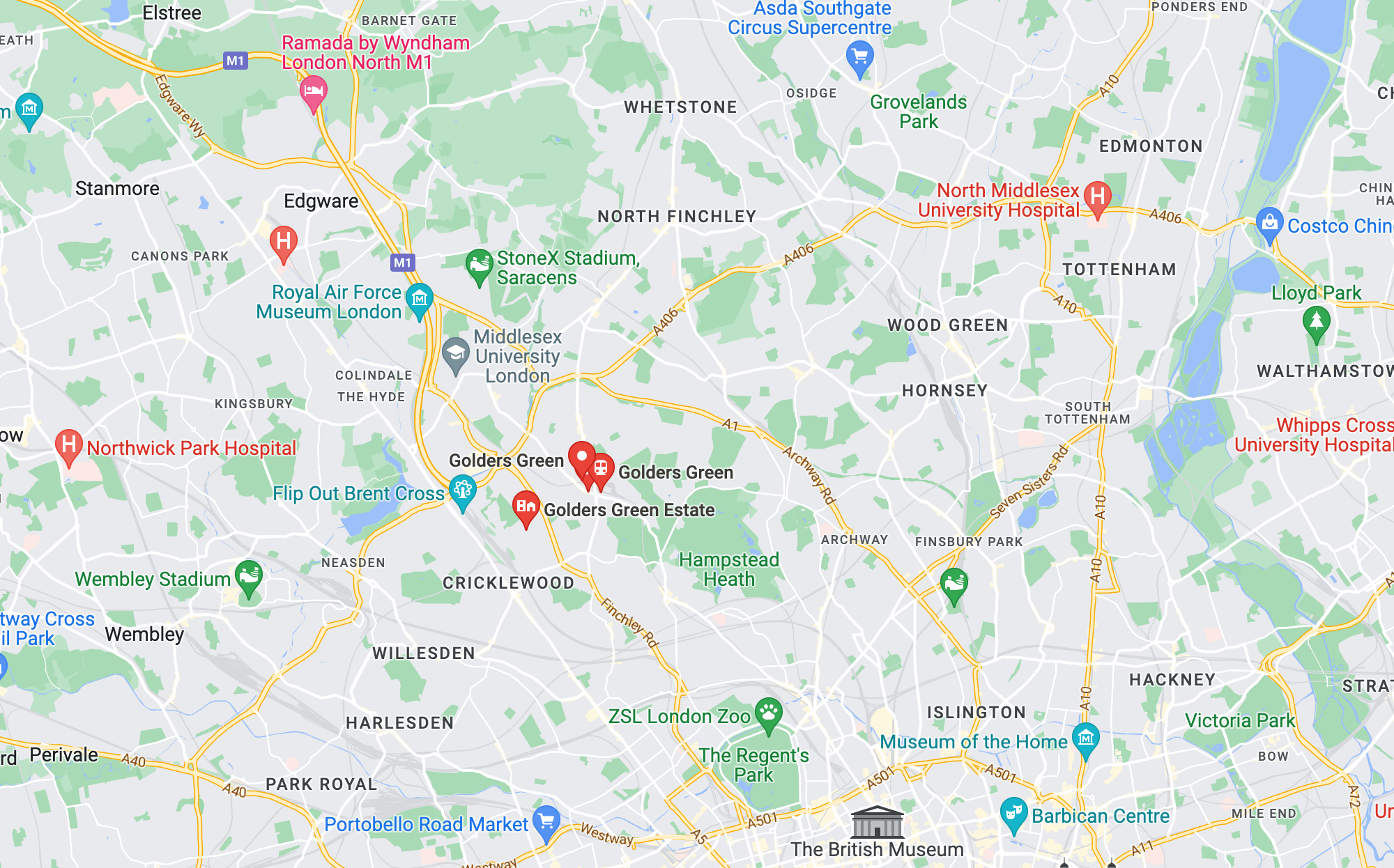 Golders Green is a vibrant and diverse area located in the London Borough of Barnet, in the northwest part of the city. Known for its rich cultural heritage, Golders Green is home to a large Jewish community, as well as residents from various other backgrounds. The area is well-connected to the rest of London, with Golders Green Underground Station on the Northern Line providing easy access to central London and other parts of the city.
The bustling high street offers a wide range of shops, restaurants, and cafes, catering to the diverse tastes of the local community. Golders Green is also known for its beautiful parks and open spaces, such as Golders Hill Park and the Hampstead Heath Extension, which provide residents and visitors with a peaceful retreat from the busy city life.
In addition to its cultural and recreational offerings, Golders Green is home to several excellent schools, making it an attractive location for families. The area also boasts a range of housing options, from grand Edwardian homes to modern apartment buildings, catering to various budgets and preferences.
Golders Green Main Postcodes
The main postcodes in Golders Green include NW11, NW2, and NW4. These postcodes cover the areas of Golders Green, Hampstead Garden Suburb, Temple Fortune, and parts of Hendon and Cricklewood. The area is well-served by public transport, with numerous bus routes and Golders Green Underground Station providing excellent connectivity to the rest of London.
Golders Green Main Attractions
Golders Hill Park: This beautiful park offers a range of recreational facilities, including a children's playground, tennis courts, and a small zoo. The park also features a picturesque pond, formal gardens, and a café, making it a popular destination for families and nature lovers.
Kenwood House: Located on the edge of Hampstead Heath, Kenwood House is a stunning 18th-century mansion that houses a world-class art collection, including works by Rembrandt, Vermeer, and Turner. The house is set within beautiful landscaped gardens, which are perfect for a leisurely stroll or a picnic.
Jewish Museum London: This fascinating museum, located in nearby Camden, explores the history and culture of the Jewish community in Britain. The museum features a range of exhibitions, events, and educational programs, providing an insight into Jewish life and heritage.
Golders Green History
Golders Green has a rich and varied history, dating back to the early 20th century when it was developed as a suburban area to accommodate the growing population of London. The area was named after a local family, the Golders, who owned land in the area during the 18th century.
The arrival of the Golders Green Underground Station in 1907 played a significant role in the area's development, attracting new residents and businesses. The area became particularly popular with the Jewish community, who began to settle in Golders Green in the early 20th century. Today, Golders Green remains a hub of Jewish life, with numerous synagogues, kosher shops, and cultural institutions.
During World War II, Golders Green was heavily bombed, resulting in significant damage to the area. However, the post-war period saw extensive rebuilding and regeneration, with new housing developments and amenities being constructed to meet the needs of the growing population.
More About Golders Green
Golders Green is a thriving and diverse community, offering a unique blend of cultural, recreational, and educational opportunities. The area is well-connected to the rest of London, making it an attractive location for both residents and visitors. With its rich history, beautiful parks, and bustling high street, Golders Green is a vibrant and welcoming part of London that has something to offer everyone.
Help us keep Golders Green clean
Rainbow Rubbish Removals are your all-in-one clearance company. Operating throughout Golders Green, NW11, we offer a comprehensive rubbish removal service that includes house, garden, workplace, school, construction site clearances, and more.
Our rubbish removal NW11 service is not only affordable and convenient, but we'll always work flexibly around you to make clearing your waste as hassle-free and stress-free as possible – even during peak holiday seasons!
We offer same-day rubbish collection, one-off collections, and are happy to schedule regular rubbish removals NW11 if required on a date and time that works best for you. For office and construction site jobs, we may ask you to group your items ahead of our arrival so that everything runs as efficiently and smoothly as possible for all involved.
You can check out our fair and competitive pricing here.
How can you help keep Golders Green clear of rubbish?
Our van is packed with all your unwanted junk. Now it's our turn to go to your nearest waste and recycling centre, where we'll recycle and dispose of your rubbish responsibly.
While managing your waste at your home, office, or workspace may feel overwhelming, there are a few ways you can tackle junk without breaking the bank:
1. Separate your rubbish into reusables, recyclables, and heavy items (worksites and offices may want dedicated boxes/bins).
2. Only dispose of waste into refuse if it can't be grouped into the categories above.
3. Schedule a regular rubbish removals NW11 service with us!
Questions and answers about our Golders Green rubbish removal services
What does the rubbish removal service in Golders Green, NW11 entail?
Our rubbish removal service in Golders Green, NW11 is designed to be simple and hassle-free. We follow five easy steps: contact us, receive a quote, schedule an appointment, clear the rubbish, and recycle and dispose of the waste responsibly. We cater to various locations, including homes, offices, and construction sites.
How do I get a quote for rubbish removal in Golders Green, NW11?
To receive a quote for rubbish removal in Golders Green, NW11, simply fill out the quick quote form on our website, click on the WhatsApp button, give us a call, or send us an email. We will promptly get in touch with you to arrange a free quote based on the information you provide about the waste you want us to clear.
What types of rubbish do you collect in Golders Green, NW11?
In Golders Green, NW11, we collect various types of rubbish, including household waste, furniture, appliances, garden waste, WEEE waste, pianos, carpets, sheds, decking, and builders' and construction site rubbish.
How is the pricing for rubbish removal in Golders Green, NW11 determined?
The pricing for rubbish removal in Golders Green, NW11 is based on the information you provide and uses estimates to create the initial quote you receive. This considers factors such as loading times and waste weight. For detailed pricing information, please visit our pricing page.
What should I do to prepare for the rubbish removal service in Golders Green, NW11?
To ensure a smooth rubbish removal process in Golders Green, NW11, we recommend making access to your property as easy as possible. This will help avoid any potential factors that could alter your final price, such as parking and access restrictions.
Why should I choose Rainbow Rubbish Removals for rubbish removal in Golders Green, NW11?
At Rainbow Rubbish Removals, we value every customer and strive to provide the best possible service. We offer a same-day rubbish removal service across Golders Green, NW11 for any urgent jobs. Our spacious van can hold up to 14 cubic yards or 2.5 skips, and we recycle and dispose of your rubbish responsibly. Check out our testimonials page to see what our customers think about us!