Rubbish Removal Hackney, E9, London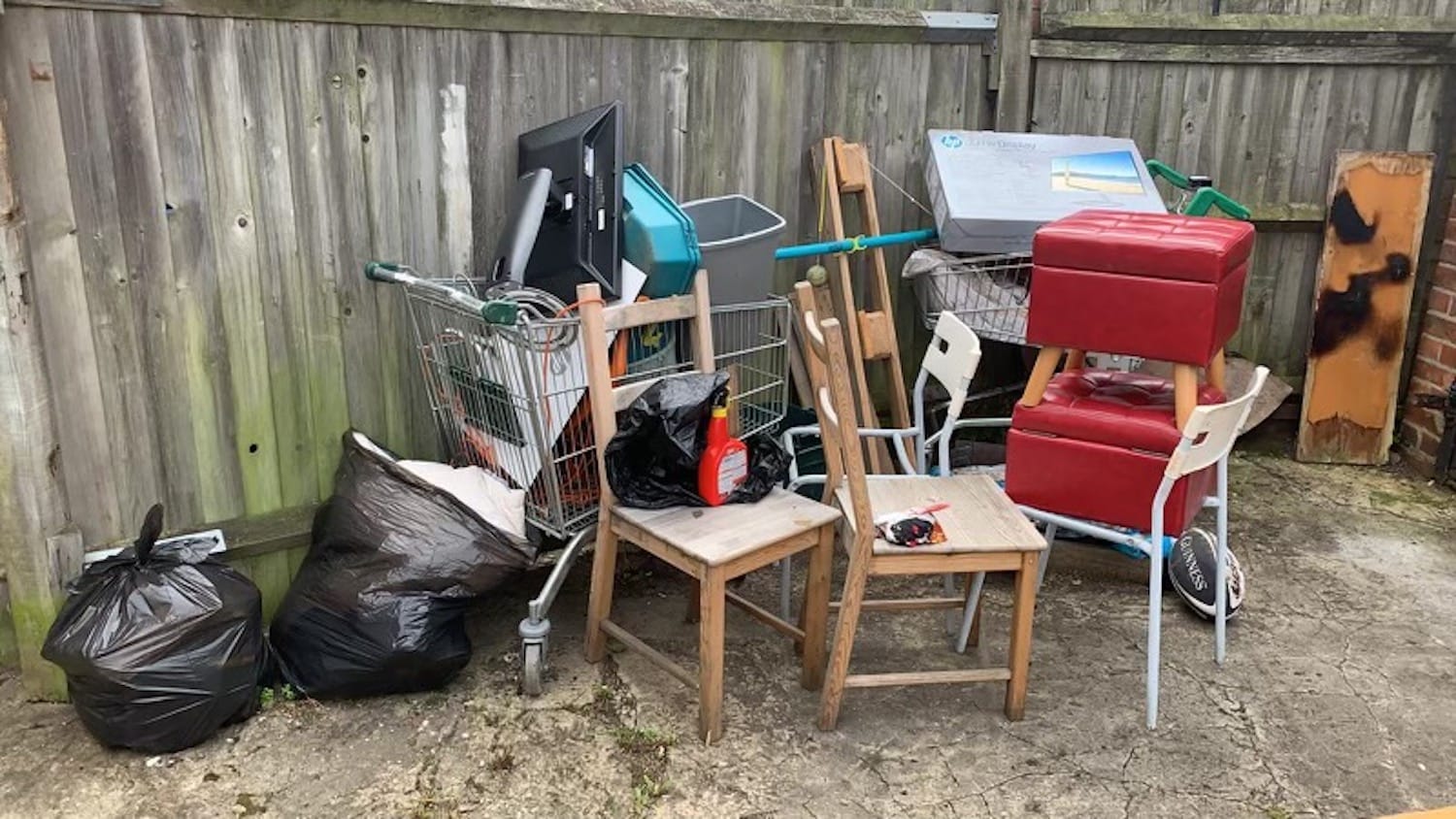 Rainbow Rubbish Removals are the rubbish removal team that works flexibly around you to make your waste management as stress-free as possible. Our rubbish removal Hackney, E9 services operate around the clock to remove waste directly from your home or workplace without any fuss. 
Whether you need to clear your home, garden, office, school, building site or other space, our team come prepared for the job, no matter how big or small. For larger rubbish removals such as construction sites and office spaces, all you need to do is separate your waste and bag it up for our team to collect. 
Quick, efficient and saving you time, we will always deliver a hassle-free service throughout the Hackney, E9 area. We are always readily available, even during the holiday season and weekends to dispose of all kinds of waste. 
Check out our fair rates and give us a call or use the WhatsApp button below to receive your free quote today. What are you waiting for? 
Rubbish removals Hackney in 5 simple steps
We like to keep things simple here at Rainbow Rubbish Removals. So if you are wondering what our rubbish removals service looks like, here it is broken down into 5 simple steps:
Step 1: Contact us
Perhaps the most important step of them all, is you reaching out to us. Simply give us a call, fill out our quick quote form on this page or ping us a WhatsApp message using the button below. 
Step 2: Get your free quote
Let us know what items you would like us to remove (you can even send us a photo), and we will send you a free quote based on your description. 
Step 3: Choose a time and date
Now that you've received your quote and are happy to proceed, choose a time and date that is most convenient to you. For urgent rubbish removals, we offer a same-day service throughout the Hackney, E9 area. Simply give us a call before 10 am, and we'll sort out the rest. 
Step 4: Rubbish removal
Our professional team will come and collect all of your waste items and load them onto our spacious van. 
Step 5: Disposal & recycling
Once we have all of your rubbish items loaded onto our van, we will take them to your nearest waste or recycling centre to dispose of them responsibly. 
If you require a regularly scheduled rubbish removal collection service, get in touch with us today to choose a time and day that suits you best. All we require is that you separate your waste into recyclables, reusables, larger items and toxic waste. We'll come and collect your rubbish bags, and take care of all the rest. It couldn't be more simple. 
What rubbish removal Hackney, E9 services do we offer?
We offer around the clock comprehensive rubbish removals service throughout the Hackney, E9 area. Typically, we dispose and remove of the following items:
Appliances: microwaves, dishwashers, cookers, washing machines, tumble dryers and more
Furniture: tables, chairs, mattresses, beds, sofas, wardrobes, et al
Kitchens 
Pianos
Bikes
Carpets
Cardboard (recycling)
Bulky waste 
Office waste
Sheds
Decking
We also offer a same-day rubbish removal service for those requiring urgent assistance. 
IT equipment 
Computers 
Televisions
Other specialist clearances include:
Garages
Schools
Lofts
Builder's rubbish and construction site waste
We also offer comprehensive garden services, which includes green waste collection, garden clearance and maintenance, tree surgery, hedge trimming and lawn care. 
For more hints, tips and helpful guides to managing your home and garden waste, check out our latest blog. 
Rubbish Removals Hackney, E9 Pricing
Whatever rubbish removals service you require, we will always offer you the fairest and most competitive rates. Calculated based on waste weight, volume, packing, loading time and a few other factors, check out our rubbish removals Hackney, E9 pricing guide below:
| Capacity | Time Loading | Price (Excl. VAT) |
| --- | --- | --- |
| Min Charge or 50 kg | 10 mins | £40 |
| 1/4 or 300 kg | 20 mins | £90 |
| 2/4 or 500 kg | 40 mins | £150 |
| 3/4 or 800 kg | 50 mins | £200 |
| Full Van or 1000 kg | 60 mins | £280 |
Please bear in mind:
We will always go above and beyond where possible for each of our customers. Each collection is made in our spacious 14 cubic yards of loading space van (that's the same as 2.5 skips!). If you require multiple collections, this will be reflected in your final bill
All of our quotes are calculated using estimates based on waste weight, volume, packing and disassembly, plus loading time. Your final bill will represent the true weights and times upon collection
We need easy access to collect your items. An extra fee will be incurred if there is restricted access or challenges reaching your property
Why you should get in touch with us today?
Customer service is at the heart of everything we do. Whether you need us to take care of a big or small rubbish removals job, we will always endeavour to work with you as flexibly and efficiently as possible. 
Here's our testimonials page for you to see what our previous and current clients have to say about us. 
We're ready to take your call. Get in touch to see what we can offer you today!
100% reliable rubbish removal services
The goal is to ensure that anyone considering our services has complete faith in us to carry out any given task with or without supervision. Hence, we've provided our contact information and testimonials from our previous customers. You are welcome to reach out to us and make enquiries, we are always available to respond.