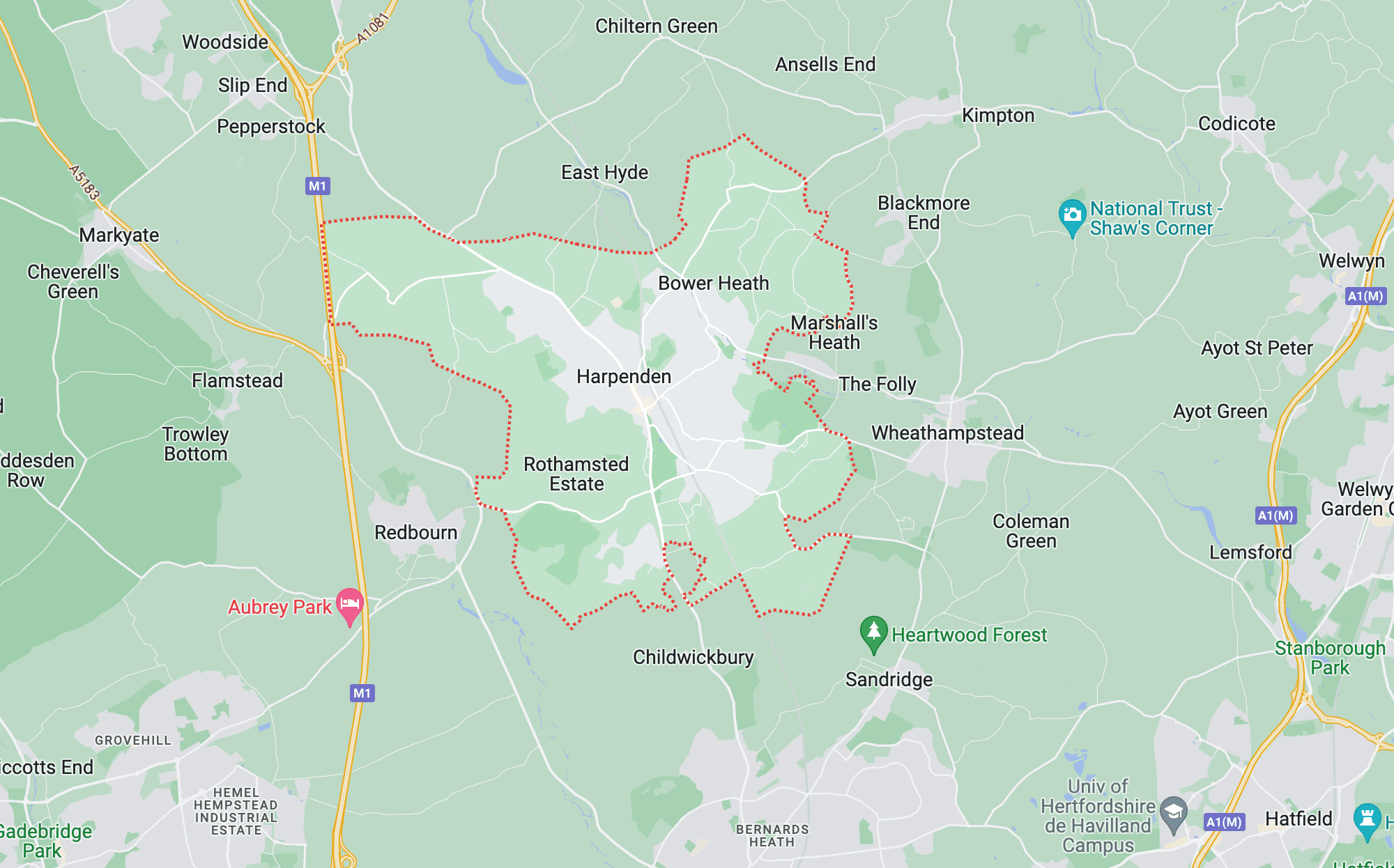 Our Rubbish Removal Work in Harpenden
At Rainbow Rubbish Removals, we've had the pleasure of serving the lovely community of Harpenden, AL5, with our wide range of rubbish removal services. We understand the importance of maintaining a clean and clutter-free environment, which is why we're always ready to lend a helping hand to our neighbours in Harpenden.
One of our recent works involved a house clearance for a family in Harpenden who were preparing to move to a new home. They needed assistance with rubbish clearance, furniture disposal, and appliance removal. Our efficient team arrived on time and quickly got to work, ensuring that all unwanted items were removed from the property with care and precision.
During the same week, we also provided builders rubbish disposal and office clearance services for a local business in Harpenden. Our team was able to accommodate their specific requests and work around their busy schedule, ensuring minimal disruption to their daily operations.
We take our environmental responsibility seriously at Rainbow Rubbish Removals. Our waste segregation process ensures that recyclable materials are separated from non-recyclable waste, and we have established partnerships with local recycling centres in Harpenden to dispose of waste in an eco-friendly manner.
Our commitment to excellent customer service is evident in our prompt communication, flexibility in scheduling, and competitive pricing. We always strive to provide the best value for our clients in Harpenden.
Here's what one of our satisfied customers in Harpenden had to say about their experience with Rainbow Rubbish Removals:
"I recently enlisted the help of Rainbow Rubbish Removals for a house clearance in Harpenden, and I couldn't be happier with the results. The team was punctual, efficient, and left my property looking spick and span. They even took the time to sort through the waste and recycle what they could, which I thought was a brilliant touch. I'd highly recommend their services to anyone in need of rubbish removal in Harpenden. Cheers, Rainbow Rubbish Removals!"
At Rainbow Rubbish Removals, we're proud to serve the Harpenden community and look forward to continuing our work in keeping the borough clean and clutter-free.
Nestled in the heart of Hertfordshire, Harpenden is a charming and picturesque town that offers a perfect blend of urban amenities and rural tranquillity. With its rich history, beautiful parks, and excellent transport links, Harpenden has become a popular destination for both residents and visitors alike. The town is situated just 25 miles north of London, making it an ideal location for commuters seeking a peaceful retreat from the bustling city life.
Harpenden is known for its strong sense of community, with numerous clubs, societies, and events taking place throughout the year. The town boasts a wide range of shops, restaurants, and pubs, catering to a variety of tastes and preferences. The local schools are highly regarded, with many achieving outstanding Ofsted ratings, making Harpenden an attractive choice for families.
The town is surrounded by stunning countryside, including the famous Harpenden Common, which spans over 230 acres and provides a haven for wildlife and outdoor enthusiasts. With its excellent transport links, including a direct train service to London St Pancras in just 25 minutes, Harpenden offers the perfect balance of rural charm and urban convenience.
Harpenden Main Postcodes
The London Borough of Harpenden encompasses several postcodes, including AL5, which covers the majority of the town centre and residential areas. Other postcodes within the borough include AL4, which covers the eastern part of Harpenden, and AL3, which extends to the western outskirts of the town.
Harpenden Main Attractions
Harpenden Local History Society: This organisation is dedicated to preserving and promoting the rich history of Harpenden. They organise regular talks, exhibitions, and events, providing an insight into the town's fascinating past.
Rothamsted Park: A beautiful 56-acre park located in the heart of Harpenden, featuring sports facilities, a children's play area, and picturesque walking trails. The park is also home to Rothamsted Manor, a stunning Grade I listed building with a rich history dating back to the 13th century.
Harpenden Common: This expansive green space is a haven for wildlife and offers a range of recreational activities, including golf, cricket, and walking trails. The Common is also the venue for various community events throughout the year, such as the Harpenden Carnival and Classics on the Common.
Harpenden History
The history of Harpenden dates back to the Roman period, with evidence of a settlement in the area around 150 AD. The town's name is derived from the Old English words 'herepa' and 'denu', meaning 'military path in a valley'. Harpenden grew steadily over the centuries, with its agricultural roots playing a significant role in its development.
In the 19th century, Harpenden experienced rapid growth due to the arrival of the railway, which connected the town to London and other major cities. This led to an influx of new residents and businesses, transforming Harpenden into the thriving community it is today.
Throughout its history, Harpenden has been home to several notable figures, including Sir John Lawes, the founder of Rothamsted Research, and Eric Morecambe, the famous comedian. The town's rich heritage is celebrated through various events and organisations, such as the Harpenden Local History Society and the annual Harpenden Carnival.
Notable Residents and Education
Harpenden is home to a number of well-known personalities, including professional footballers, musicians, and actors. The town's strong sense of community and excellent educational facilities have made it a popular choice for families and individuals alike.
The local schools in Harpenden are highly regarded, with many achieving outstanding Ofsted ratings. The town is served by several primary schools, as well as two secondary schools – Sir John Lawes School and Roundwood Park School. Additionally, Harpenden is within close proximity to several prestigious independent schools, such as St Albans School and St Hilda's School for Girls.
Maintaining a Clean and Tidy Harpenden
Welcome to Rainbow Rubbish Removals, your dependable waste disposal ally in Harpenden, London. Consider us your local waste experts, ready to tackle any disposal challenge you may face.
Our devoted team consistently strives to provide a stress-free experience, catering to various clearance requirements from residential, commercial, educational, and construction environments. Our enthusiasm lies in streamlining waste disposal for our clients.
Operating seven days a week throughout Harpenden, London, we offer adaptable scheduling to suit your needs. Our highly skilled team is proficient at handling and disposing of a wide range of waste materials. We take pride in delivering prompt, efficient, and courteous service. With competitive pricing and free quotes, partnering with us could make all the difference!
Get in touch today by giving us a call, completing our simple quote form on this page, or sending a WhatsApp message using the button above. Our zealous team is ready to take action. Are you ready to embark on a cleaner journey?
Join Us in Keeping Harpenden Rubbish-Free
Handling waste at home and work can be an overwhelming task, potentially distracting you from other priorities. To ease your load, we offer scheduled rubbish removal services throughout Harpenden, London. Simply follow these straightforward steps:
1. Choose a convenient day and time for collection.
2. Organise your waste into categories such as recyclables, reusable items, large objects, and hazardous materials.
3. Leave the rest to our team – we'll take care of collection, disposal, donations, and recycling, ensuring a seamless waste management experience.
By following these simple steps, you can keep Harpenden clean and tidy while focusing on more important tasks. Partner with Rainbow Rubbish Removals today and experience the difference a professional waste disposal service can make.
Common queries and answers on our rubbish removal services in Harpenden
What types of rubbish removal services are available in Harpenden, AL5?
In Harpenden, AL5, we offer a wide range of rubbish removal services to cater to various needs. Our services include house, garden, office, school, and construction site clearances. We are available seven days a week, all year round, ensuring that we can work around your busy schedule. For urgent enquiries, we even offer same-day rubbish collections.
How can I book a rubbish removal service in Harpenden, AL5?
Booking a rubbish removal service in Harpenden, AL5, is simple and hassle-free. You can contact us via phone, email, or by filling out the quick quote form on our website. Alternatively, you can message us directly through WhatsApp. Just provide us with the details of the rubbish you need to be removed, and we will send you a free quote based on the information provided.
What types of waste do you collect in Harpenden, AL5?
We collect a wide variety of waste in Harpenden, AL5, including household waste, furniture, WEEE waste, office equipment, paper and cardboard, kitchen appliances, carpets, sheds and decking, green garden waste, and construction site trash. We are equipped to handle various types of waste, ensuring that your rubbish removal needs are met.
How can I manage my waste more effectively in Harpenden, AL5?
To manage your waste more effectively in Harpenden, AL5, implement the three R's rule: Reduce, Reuse, and Recycle. Use a dedicated labelled box or bin system to sort your waste, making it easier for everyone to dispose of rubbish correctly. For a more convenient solution, arrange a regular rubbish removal service with us, and we will take care of your waste management needs.
How much does rubbish removal in Harpenden, AL5 cost?
The cost of rubbish removal in Harpenden, AL5, depends on the amount of waste and the time it takes to load and dismantle items. We offer competitive rates, ensuring that you receive the best value for your money. For a detailed breakdown of our pricing, please visit our pricing page.
Why should I choose Rainbow Rubbish Removals for my rubbish removal needs in Harpenden, AL5?
Rainbow Rubbish Removals is a locally run and operated business that provides reliable and efficient rubbish removal services in Harpenden, AL5. We are committed to offering a hassle-free experience, working around your schedule and ensuring that your waste is disposed of responsibly. Our testimonials page showcases the positive feedback from our satisfied customers, making us a dependable choice for your rubbish removal needs.