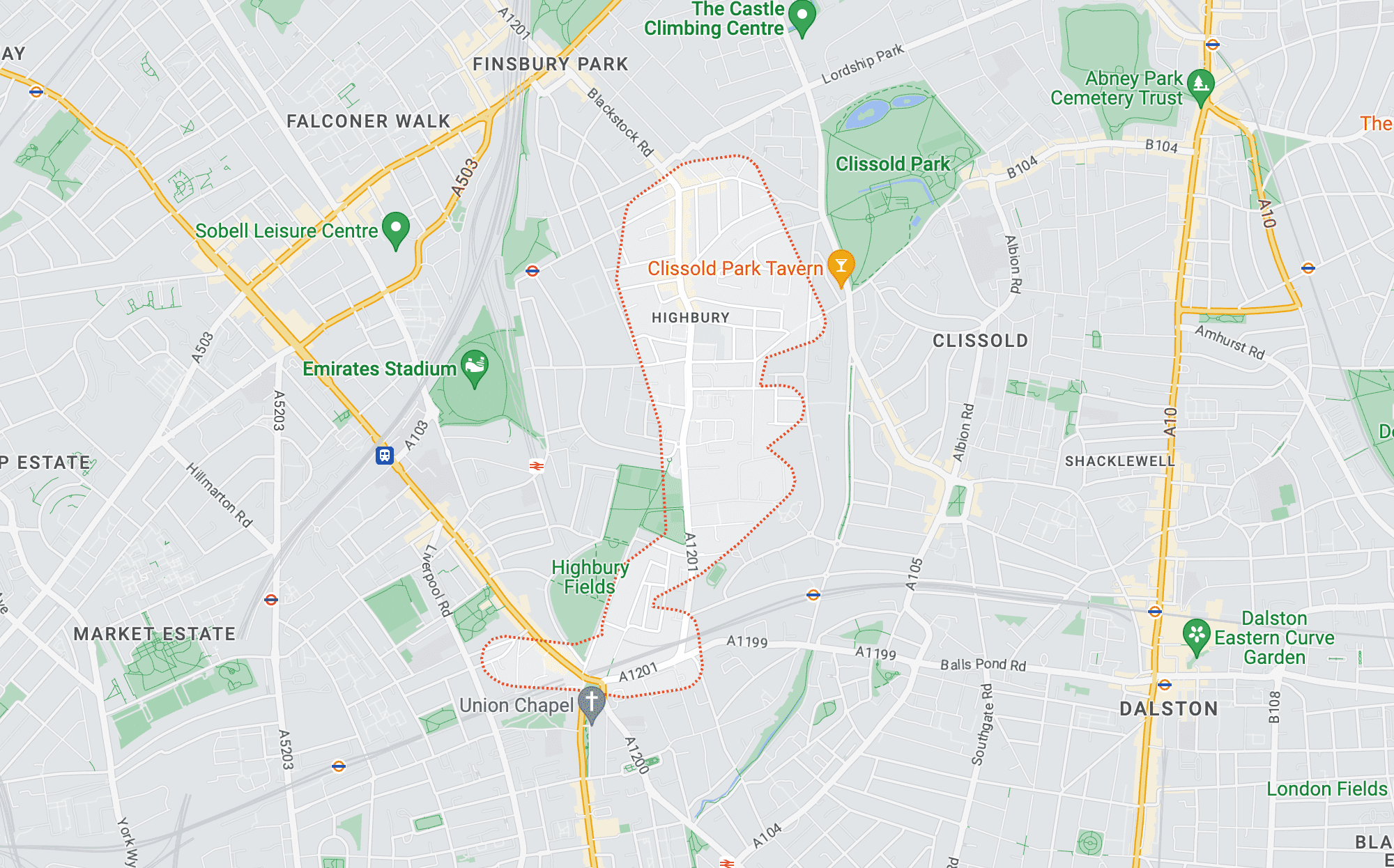 Our Rubbish Removal Work in Highbury
As a rubbish removal company based in London, we at Rainbow Rubbish Removals have had the opportunity to work on various projects across the city. One such project that we're particularly proud of took place in Highbury, N5. Our team was tasked with providing a range of services, including house clearance, rubbish clearance, furniture disposal, appliance removal, builders rubbish disposal, and office clearance.
Our efficient and well-equipped team arrived in Highbury, N5, ready to tackle the job at hand. We understand the importance of being environmentally responsible, so we made sure to segregate the waste and dispose of it in an eco-friendly manner. We have strong partnerships with recycling centres, ensuring that as much waste as possible is recycled and repurposed.
Throughout the project, we maintained excellent communication with our client, keeping them informed of our progress and accommodating any specific requests they had. Our flexibility in scheduling and competitive pricing ensured that our client received the best value for their money.
Here's what our satisfied client had to say about their experience with Rainbow Rubbish Removals:
"I was absolutely chuffed with the service provided by Rainbow Rubbish Removals in Highbury, N5. Their team was punctual, efficient, and left my property looking spick and span. They took great care in disposing of the waste in an environmentally friendly manner, which was important to me. I couldn't have asked for a better experience, and I highly recommend their services to anyone in need of rubbish removal."
By choosing Rainbow Rubbish Removals, you can trust that you'll receive top-quality service from a team that genuinely cares about the environment and your satisfaction. We look forward to working with you on your rubbish removal needs in Highbury, N5.
Nestled in the heart of North London, Highbury is a charming and historic borough that offers a delightful blend of urban living and green spaces. Part of the London Borough of Islington, Highbury is known for its beautiful Georgian and Victorian architecture, as well as its strong sense of community. The area is well-connected to the rest of London, with Highbury & Islington station providing access to the Victoria Line, London Overground, and Great Northern services.
Highbury is home to a wide range of independent shops, cafes, and restaurants, offering residents and visitors a unique shopping and dining experience. The borough also boasts several outstanding schools, making it an ideal location for families. With its rich history, picturesque streets, and thriving local scene, Highbury is a truly special place to live, work, and visit.
Highbury Main Postcodes
The London Borough of Highbury encompasses several postcodes, including N5, N7, and N1. These postcodes cover areas such as Highbury Fields, Highbury East, and Highbury West, as well as parts of neighbouring Holloway and Canonbury.
Highbury Main Attractions
Highbury Fields: This picturesque park is the largest open space in the borough and offers a variety of recreational activities, including tennis courts, a swimming pool, and a children's playground. The park is also home to several events throughout the year, such as outdoor cinema screenings and food festivals.
Emirates Stadium: Home to Arsenal Football Club, the Emirates Stadium is a must-visit for any football fan. The stadium offers guided tours, allowing visitors to explore the behind-the-scenes areas and learn about the club's rich history.
Estorick Collection of Modern Italian Art: This unique art gallery is dedicated to showcasing modern Italian art and features works by renowned artists such as Giorgio de Chirico and Amedeo Modigliani. The gallery also hosts temporary exhibitions and offers a range of educational programmes.
Highbury History
Highbury's history dates back to the 13th century when it was a small rural village known as 'Hibbercote'. Over the centuries, the area transformed into a popular destination for wealthy Londoners seeking a rural retreat. In the 18th and 19th centuries, Highbury became known for its grand estates and elegant squares, many of which still stand today.
The arrival of the railway in the 19th century brought significant change to Highbury, with new housing developments and improved transport links attracting a more diverse population. The area continued to grow and evolve throughout the 20th century, with the construction of the iconic Arsenal Stadium in 1913 and the subsequent relocation of Arsenal Football Club to the area.
In recent years, Highbury has undergone further regeneration, with the opening of the Emirates Stadium and the development of new residential and commercial properties. Despite these changes, the borough has retained its unique character and charm, making it a highly sought-after location for Londoners.
More About Highbury
Highbury is well-known for its strong sense of community, with numerous local organisations and events bringing residents together. The annual Highbury Festival is a highlight of the borough's calendar, featuring live music, food stalls, and family-friendly activities.
The area also offers a range of educational opportunities, with several outstanding primary and secondary schools, as well as the prestigious London Metropolitan University. For those seeking leisure activities, Highbury has a wealth of sports clubs and fitness facilities, catering to a wide range of interests and abilities.
With its rich history, beautiful architecture, and thriving local scene, Highbury is a truly unique and enchanting London borough.
Preserving a Spotless and Organised Highbury
Welcome to Rainbow Rubbish Removals, your dependable waste disposal ally in Highbury, London. Consider us your local waste experts, ready to tackle any disposal challenge you may face.
Our devoted team consistently strives to provide a stress-free experience, catering to various clearance requirements from residential, commercial, educational, and construction environments. Our enthusiasm lies in streamlining waste disposal for our valued clients.
Operating seven days a week throughout Highbury, London, we offer adaptable scheduling to suit your needs. Our highly skilled team is proficient at handling and disposing of a wide range of waste materials. We take pride in delivering prompt, efficient, and courteous service. With competitive pricing and complimentary quotes, partnering with us could make a world of difference!
Get in touch today by giving us a call, completing our simple quote form on this page, or sending a WhatsApp message using the button above. Our zealous team is prepared to take action. Are you ready to embark on a cleaner journey?
Partner with Us in Keeping Highbury Waste-Free
Handling waste at home and work can be an overwhelming task, potentially distracting you from other important matters. To ease your load, we offer scheduled rubbish removal services throughout Highbury, London. Simply follow these straightforward steps:
1. Choose a suitable day and time for collection.
2. Organise your waste into categories such as recyclables, reusable items, large objects, and hazardous materials.
3. Leave the rest to our team – we'll handle collection, disposal, donations, and recycling, ensuring a seamless waste management experience.
Common queries and answers on our rubbish removal services in Highbury
What rubbish removal services are available in Highbury, N5?
We offer a wide range of rubbish removal services in Highbury, N5, including house, garden, office, school, and construction site clearances. Our services are convenient, flexible, and affordable, ensuring that you can easily manage your waste without any stress. We are happy to accept appointments for regular waste management, one-off jobs, and urgent same-day rubbish collections in Highbury.
How can I book a rubbish removal service in Highbury, N5?
Booking a rubbish removal service in Highbury, N5, is simple. You can reach out to us by sending a direct message via the WhatsApp button on our website, filling out the quick quote form on our website, emailing us at rainbowrubbishremovals@gmail.com, or calling us at 020 3870 3051. We will provide you with a free quote based on the information you provide about the rubbish you need us to remove.
Do you offer same-day rubbish removal services in Highbury, N5?
Yes, we offer same-day rubbish removal services in Highbury, N5, for urgent jobs that simply can't wait. To book a same-day service, give us a call before 10 am on the day, and we will take care of all the arrangements.
What types of rubbish do you collect in Highbury, N5?
We collect a wide variety of rubbish in Highbury, N5, including furniture, appliances, electronics, pianos, bicycles, sheds and decking, carpets, office and school waste, WEEE waste, and construction site waste. We also handle green garden waste and offer complete garden services.
How do you ensure effective and affordable waste management in Highbury, N5?
We recommend sorting your rubbish into items that can be reduced, reused, or recycled, and only throwing things away as a last resort. Having dedicated boxes or bins for your waste, labelled for easy identification, can help keep your rubbish organised. Booking a regular rubbish removal service with us in Highbury, N5, can also help you manage your waste effectively and affordably.
How much does rubbish removal in Highbury, N5 cost?
Our rubbish removal services in Highbury, N5, are competitively priced, with costs based on waste weight, loading times, dismantling times (if required), parking, and ease of access to your property. For a detailed breakdown of our pricing, please visit our pricing page.