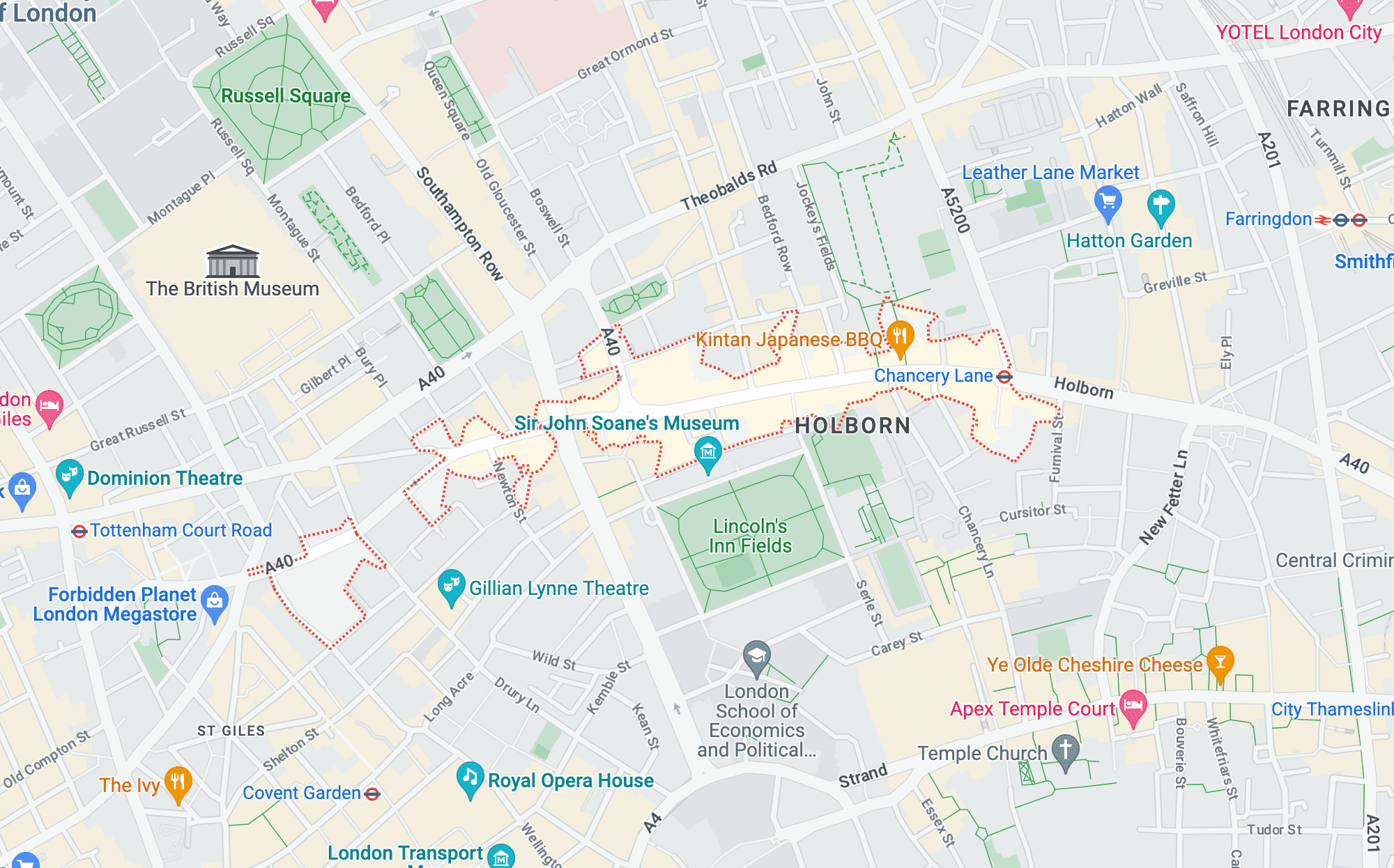 Our Rubbish Removal Work in Holborn
We've had the pleasure of serving the lovely community of Holborn, WC1, with our rubbish removal services. We understand the unique needs of our Holborn clients and are always ready to provide tailored solutions to meet their waste management requirements.
One of our recent works in Holborn involved a house clearance for a family who had just moved into a new home. They needed assistance with rubbish clearance, furniture disposal, and appliance removal. Our efficient team arrived on time and quickly got to work, ensuring that the family could settle into their new home without any unnecessary clutter.
During the same week, we also carried out a builders rubbish disposal project for a local construction company in Holborn. Our team was responsible for clearing the site of debris and waste materials, allowing the builders to focus on their work without any distractions. We also provided office clearance services for a small business in the area, helping them create a more organised and productive workspace.
At Rainbow Rubbish Removals, we take our environmental responsibility seriously. We ensure that all waste collected is segregated and disposed of in an eco-friendly manner. Our partnerships with local recycling centres in Holborn allow us to recycle as much waste as possible, minimising the impact on our environment.
Our clients in Holborn appreciate our excellent customer service, which includes prompt communication, flexible scheduling, and accommodating specific requests. We also offer competitive pricing, ensuring that our clients receive the best value for their rubbish removal needs.
Here's a testimonial from one of our satisfied Holborn clients:
"I recently used Rainbow Rubbish Removals for a house clearance in Holborn, and I must say, their service was absolutely brilliant! The team arrived on time, and they were incredibly efficient and tidy. They took great care in removing our old furniture and appliances, and I was chuffed to learn about their commitment to recycling and eco-friendly waste disposal.
In summary, Rainbow Rubbish Removals is dedicated to providing top-quality rubbish removal services to the Holborn community. Our friendly and professional team, commitment to environmental responsibility, and excellent customer service make us the go-to choice for all your waste management needs in Holborn, WC1.
Nestled in the heart of Central London, the London Borough of Holborn is a bustling and historic area that forms part of the larger London Borough of Camden. Known for its rich cultural heritage and stunning architecture, Holborn is a prime location for both residents and visitors alike. The area is well-connected, with numerous tube stations and bus routes providing easy access to the rest of London.
Holborn is home to a variety of businesses, ranging from law firms and financial institutions to creative agencies and tech start-ups. The area also boasts a wide range of eateries, bars, and shops, catering to the diverse needs of its residents and visitors. With its central location and thriving business scene, Holborn is an ideal place for professionals seeking a dynamic and well-connected environment.
The borough is also known for its educational institutions, including the prestigious London School of Economics and Political Science (LSE) and the Royal College of Surgeons. These establishments contribute to the intellectual atmosphere of the area, attracting students and academics from around the world.
Holborn Main Postcodes
The London Borough of Holborn encompasses several postcodes, including WC1, WC2, and parts of EC1. These postcodes cover areas such as Bloomsbury, Covent Garden, and Farringdon, each with its own unique character and charm.
Holborn Main Attractions
The British Museum: As one of the world's oldest and most renowned museums, the British Museum houses a vast collection of art, history, and culture from around the globe. With over eight million artefacts, visitors can explore the wonders of ancient civilisations and marvel at iconic pieces such as the Rosetta Stone and the Elgin Marbles.
Somerset House: This stunning neoclassical building is a cultural hub, hosting a variety of events, exhibitions, and performances throughout the year. With its beautiful courtyard and riverside location, Somerset House is a must-visit destination for art lovers and history enthusiasts alike.
Lincoln's Inn: As one of the four Inns of Court, Lincoln's Inn is a historic institution that has been at the heart of the British legal system for centuries. Visitors can explore the picturesque grounds and admire the stunning architecture, including the Great Hall and the Chapel.
Holborn History
The history of Holborn dates back to Roman times when it was a key route connecting the City of London to the west. During the medieval period, the area became known for its inns and taverns, which served travellers journeying between London and the West Country.
In the 17th and 18th centuries, Holborn transformed into a fashionable residential district, attracting notable residents such as Samuel Johnson and Charles Dickens. The area also became a hub for legal professionals, with the establishment of the Inns of Court, which continue to play a significant role in the British legal system today.
The 19th century saw the arrival of the railway and the construction of Holborn Viaduct, which further enhanced the area's connectivity. This period also witnessed the growth of the British Museum, which has since become one of the world's most famous cultural institutions.
In recent years, Holborn has continued to evolve, with the development of new commercial and residential properties, as well as the ongoing regeneration of its historic buildings and public spaces.
Notable Holborn Residents
Throughout its history, Holborn has been home to many notable figures, including literary giants such as Charles Dickens, who lived at 48 Doughty Street, now the Charles Dickens Museum. Samuel Johnson, the famous lexicographer, also resided in the area, and his former home is now the Dr Johnson's House Museum.
In addition to its literary connections, Holborn has been home to prominent figures in the fields of law, politics, and science, including Sir Thomas More, who lived in the area before his execution in 1535, and Sir Isaac Newton, who resided at 35 Lincoln's Inn Fields during the later years of his life.
Maintaining a Clean and Tidy Holborn
Welcome to Rainbow Rubbish Removals, your dependable waste disposal partner in Holborn, London. Consider us your local waste experts, ready to tackle any disposal task you may have in the WC1 area.
Our devoted team consistently strives to provide a stress-free experience, catering to various clearance needs from residential, commercial, educational, and construction environments. Our passion lies in streamlining waste disposal for our valued clients.
Operating seven days a week throughout Holborn, London, we offer flexible scheduling to suit your requirements. Our highly skilled team is proficient at handling and disposing of a wide range of waste materials. We take pride in delivering prompt, efficient, and courteous service. With competitive pricing and free quotes, partnering with us could make all the difference!
Get in touch today by giving us a call, filling out our simple quote form on this page, or sending a WhatsApp message using the button above. Our enthusiastic team is ready to take action. Are you ready to embark on a cleaner journey?
Join Us in Keeping Holborn Rubbish-Free
Handling waste at home and work can be a challenging task, potentially distracting you from other important matters. To ease your burden, we offer scheduled rubbish removal services throughout Holborn, London. Simply follow these straightforward steps:
1. Choose a convenient day and time for collection.
2. Organise your waste into categories such as recyclables, reusable items, large objects, and hazardous materials.
3. Leave the rest to our team – we'll take care of collection, disposal, donations, and recycling, ensuring a seamless waste management experience.
By following these steps and working together, we can help keep Holborn clean and rubbish-free. Don't hesitate to reach out to us for all your waste disposal needs in the WC1 area.
Common queries and answers on our rubbish removal services in Holborn
What rubbish removal services do you offer in Holborn, WC1?
We provide a comprehensive range of rubbish removal services in Holborn, WC1, including house, garden, office, school, and construction site clearances. Our team is available seven days a week, all year round, to cater to all your rubbish removal needs in the area. We also offer same-day rubbish collection for urgent requirements, ensuring a stress-free waste collection experience for our clients.
How can I arrange a rubbish removal service in Holborn, WC1?
To arrange a rubbish removal service in Holborn, WC1, you can contact us through various methods, such as WhatsApp, email, or by calling us directly. You can also use the quick quote form on our website. Simply let us know what rubbish you want us to clear, and you can even upload and send us photos for a more accurate quote.
Do you offer same-day rubbish removal services in Holborn, WC1?
Yes, we offer same-day rubbish removal services in Holborn, WC1 for urgent requirements. To arrange a same-day service, please give us a call before 10 am, and we will do our best to accommodate your request.
What types of waste do you collect in Holborn, WC1?
We collect various types of waste in Holborn, WC1, including household waste, appliance clearance, furniture, recycling materials, piano disposal, carpet disposal, bike disposal, office clearance, garden waste, and more. We also cater to garage, loft, school, and construction site clearances, ensuring all your rubbish removal needs are covered.
How much does rubbish removal in Holborn, WC1 cost?
Our rubbish removal services in Holborn, WC1 are competitively priced, and we offer fair rates for all types of waste removal. For detailed pricing information, please visit our pricing page to find the best option for your specific rubbish removal needs.
How can I reduce my waste and improve my recycling system in Holborn, WC1?
To reduce your waste and improve your recycling system in Holborn, WC1, you can follow the three R's: Reduce, Reuse, and Recycle. Divide your waste accordingly, leave heavy or bulky items to the side for easy removal, and create a designated space for sorting your items into the appropriate categories. If you prefer, you can also arrange a regular rubbish removal service with us to handle your waste management efficiently.