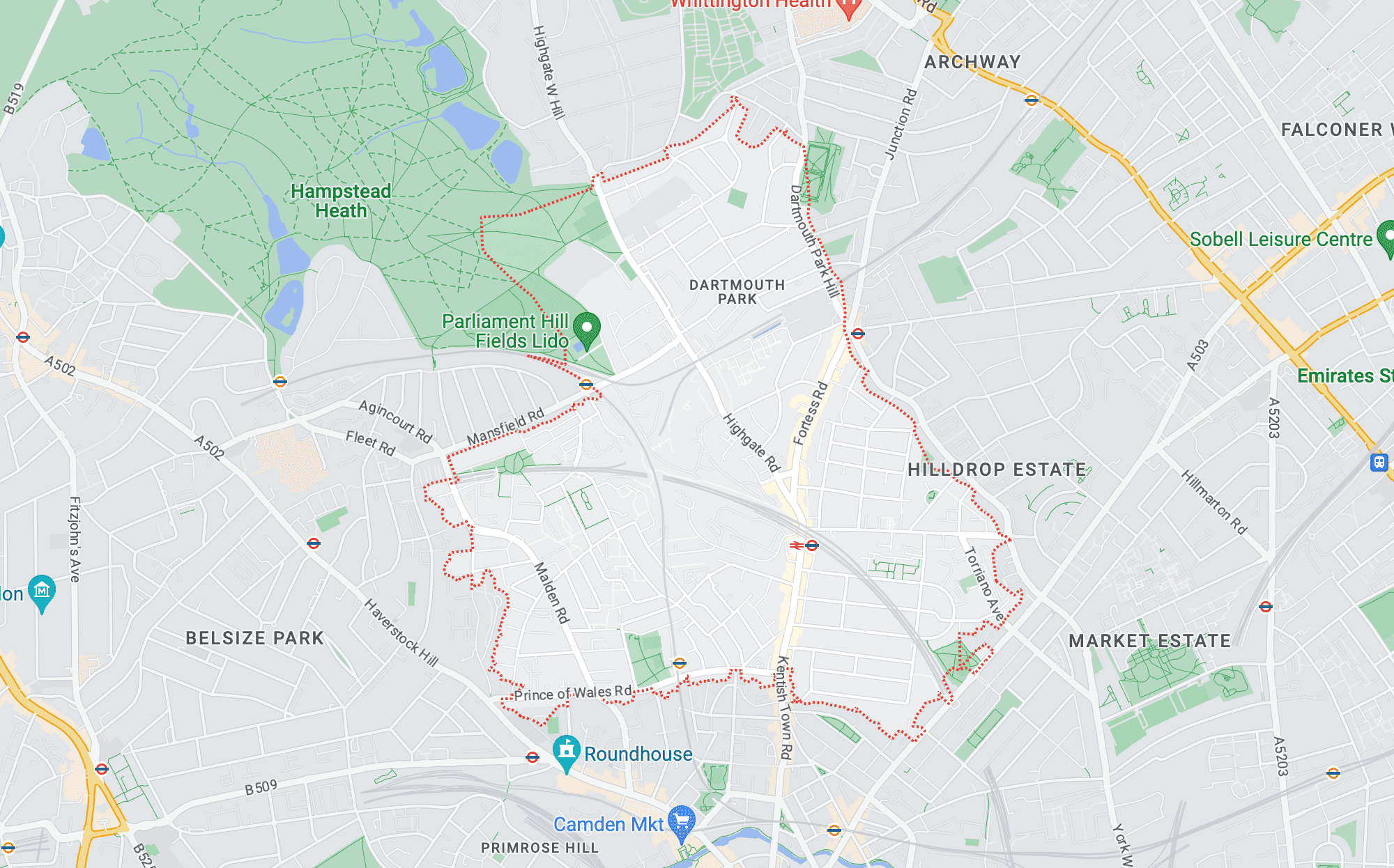 Our Rubbish Removal Work in Kentish Town
As a rubbish removal company based in London, we at Rainbow Rubbish Removals have had the opportunity to work on various projects in Kentish Town, NW5. One such work involved a complete house clearance for a family who had just moved into the area. They needed assistance in disposing of unwanted furniture, appliances, and general rubbish that had accumulated over the years.
Our team of rubbish removal experts arrived at the property in Kentish Town, NW5, and quickly assessed the situation. We began by carefully sorting through the items, separating recyclable materials from non-recyclable waste. Our commitment to environmental responsibility meant that we took great care in ensuring that all recyclable items were sent to the appropriate recycling centres, while the remaining waste was disposed of in an eco-friendly manner.
Throughout the process, our team maintained excellent communication with the client, ensuring that their specific requests were accommodated. We were flexible in scheduling the rubbish removal, working around the client's availability to minimise disruption to their daily routine. Our competitive pricing and the value we provided made the entire experience even more satisfying for the client.
Here's what the client had to say about our work:
"I was absolutely chuffed with the service provided by Rainbow Rubbish Removals. Their team was punctual, efficient, and left our property in Kentish Town, NW5, looking spick and span. They took great care in sorting and disposing of our waste, and I was particularly impressed with their commitment to recycling. I would highly recommend their services to anyone in need of rubbish removal in the area."
Our work in Kentish Town, NW5, showcases our dedication to providing high-quality rubbish removal services, including house clearance, furniture disposal, appliance removal, builders rubbish disposal, and office clearance. Our environmentally responsible approach, excellent customer service, and competitive pricing make us the go-to choice for rubbish removal in the borough.
Kentish Town, located in the London Borough of Camden, is a lively and bustling area in North West London. Known for its rich history and strong sense of community, Kentish Town has become a popular destination for both locals and visitors alike. With its mix of residential streets, independent shops, and a thriving food and drink scene, this neighbourhood offers a unique blend of old and new.
The area is well-connected, with Kentish Town Station providing both underground (Northern Line) and overground services, making it easy to travel to other parts of London. The nearby Camden Town and Chalk Farm stations also offer additional transport options. Kentish Town is home to a diverse population, with a mix of families, young professionals, and students, contributing to the area's lively atmosphere.
Kentish Town Main Postcodes
The main postcodes within the Kentish Town area include NW5, NW1, and NW3. These postcodes cover not only Kentish Town itself but also extend to neighbouring areas such as Camden Town, Gospel Oak, and Dartmouth Park.
Kentish Town Main Attractions
O2 Forum Kentish Town: This iconic music venue has been hosting live performances since the 1930s. With a capacity of 2,300, the O2 Forum Kentish Town has welcomed a wide range of artists, from well-known international acts to up-and-coming local talent.
Talacre Gardens: A lovely green space in the heart of Kentish Town, Talacre Gardens offers a peaceful retreat from the bustling streets. The park features a children's playground, sports facilities, and plenty of space for picnics and relaxation.
Camden Market: Just a short walk from Kentish Town, Camden Market is a must-visit destination for shopping, dining, and entertainment. With over 1,000 unique stalls, shops, and food vendors, there's something for everyone at this famous London market.
Kentish Town History
The history of Kentish Town dates back to the Roman era, with evidence of a settlement in the area around the 1st century AD. The name "Kentish Town" is believed to have originated from the Anglo-Saxon term "Ken-ditch," meaning "the bed of a waterway." The area was primarily rural until the 19th century, when the arrival of the railway spurred rapid urbanisation and industrialisation.
During the Victorian era, Kentish Town became a thriving centre for piano and organ manufacturing, with several factories and workshops located in the area. The neighbourhood also played a significant role in the development of London's transport network, with the construction of the Regent's Canal in the early 19th century and the opening of Kentish Town Station in 1868.
In the 20th century, Kentish Town experienced a period of decline, with many of its industries closing down and the area suffering from neglect. However, in recent decades, the neighbourhood has undergone a significant transformation, with new developments, businesses, and cultural institutions breathing new life into the area.
More About Kentish Town
Kentish Town is known for its strong sense of community, with numerous local organisations and initiatives aimed at improving the area and supporting its residents. The Kentish Town Community Centre, for example, offers a range of activities and services for people of all ages, from children's playgroups to adult education classes.
The neighbourhood also boasts a thriving arts scene, with several galleries, studios, and creative spaces located in the area. The Zabludowicz Collection, a contemporary art gallery housed in a former Methodist chapel, is a prime example of Kentish Town's cultural offerings.
With its rich history, lively atmosphere, and strong community spirit, Kentish Town is a truly unique London neighbourhood that continues to evolve and grow.
Maintaining a Clean and Tidy Kentish Town
Welcome to Rainbow Rubbish Removals, your dependable waste disposal ally in Kentish Town, London. Consider us your local waste experts, ready to tackle any disposal challenge you may face.
Our devoted team consistently strives to provide a stress-free experience, catering to various clearance requirements from residential, commercial, educational, and construction environments. Our enthusiasm lies in streamlining waste disposal for our clients.
Operating seven days a week throughout Kentish Town, London, we offer adaptable scheduling to suit your needs. Our highly skilled team is proficient at handling and disposing of a wide range of waste materials. We take pride in delivering prompt, efficient, and courteous service. With competitive pricing and free quotes, partnering with us could make a significant difference!
Get in touch today by giving us a call, completing our simple quote form on this page, or sending a WhatsApp message using the button above. Our passionate team is ready to take action. Are you prepared to embark on a cleaner journey?
Join Us in Keeping Kentish Town Rubbish-Free
Handling waste at home and work can be an overwhelming task, potentially distracting you from other priorities. To ease your load, we offer scheduled rubbish removal services throughout Kentish Town, London. Simply follow these straightforward steps:
1. Choose a suitable day and time for collection.
2. Organise your waste into categories such as recyclables, reusable items, large objects, and hazardous materials.
3. Leave the rest to our team – we'll take care of collection, disposal, donations, and recycling, ensuring a seamless waste management experience.
Common queries and answers on our rubbish removal services in Kentish Town
What rubbish removal services do you offer in Kentish Town, NW5?
We provide a wide range of rubbish removal services in Kentish Town, NW5, including house, garden, office, school, and construction site clearances. Our team is available seven days a week, offering flexible scheduling to suit your needs, whether you require regular rubbish removals, a one-off clearance, or a same-day rubbish collection.
How can I book a rubbish removal service in Kentish Town, NW5?
Booking a rubbish removal service in Kentish Town, NW5, is simple and straightforward. You can contact us via WhatsApp, fill out our quick quote form on our website, call us at 020 3870 3051, or email us at rainbowrubbishremovals@gmail.com. Once we receive your information, we will send you a free quote, and you can schedule an appointment at a time and date that suits you best.
What types of rubbish do you collect in Kentish Town, NW5?
We collect a wide variety of junk from homes, offices, workplaces, and more in Kentish Town, NW5. Some common items we collect include household waste, furniture, office waste, small appliances, electricals, fridges, freezers, microwaves, washing machines, dishwashers, kitchens, books, magazines, newspapers, cardboard, WEEE waste, bicycles, pianos, sheds, decking, carpets, construction site waste, and green garden waste.
How do you handle rubbish disposal and recycling in Kentish Town, NW5?
After collecting your rubbish in Kentish Town, NW5, we transport it to your local tip or recycling centre, where it is sorted, recycled, and disposed of responsibly. We are committed to reducing waste and promoting recycling, ensuring that your rubbish is handled in an environmentally friendly manner.
How can I manage my waste more effectively in Kentish Town, NW5?
To manage your waste more effectively in Kentish Town, NW5, you can adopt the three R's: Reduce, Reuse, and Recycle. Use dedicated bins or boxes for each type of waste, only throw things away as a last resort, and place heavy or bulky items to the side. If you need extra help, consider booking a regular rubbish removal service with us, so we can handle your waste for you.
How much does rubbish removal in Kentish Town, NW5 cost?
At Rainbow Rubbish Removals, we believe in fair and honest pricing. Our rates are competitive and depend on the amount of rubbish you need us to remove. For detailed pricing information, please visit our pricing page.