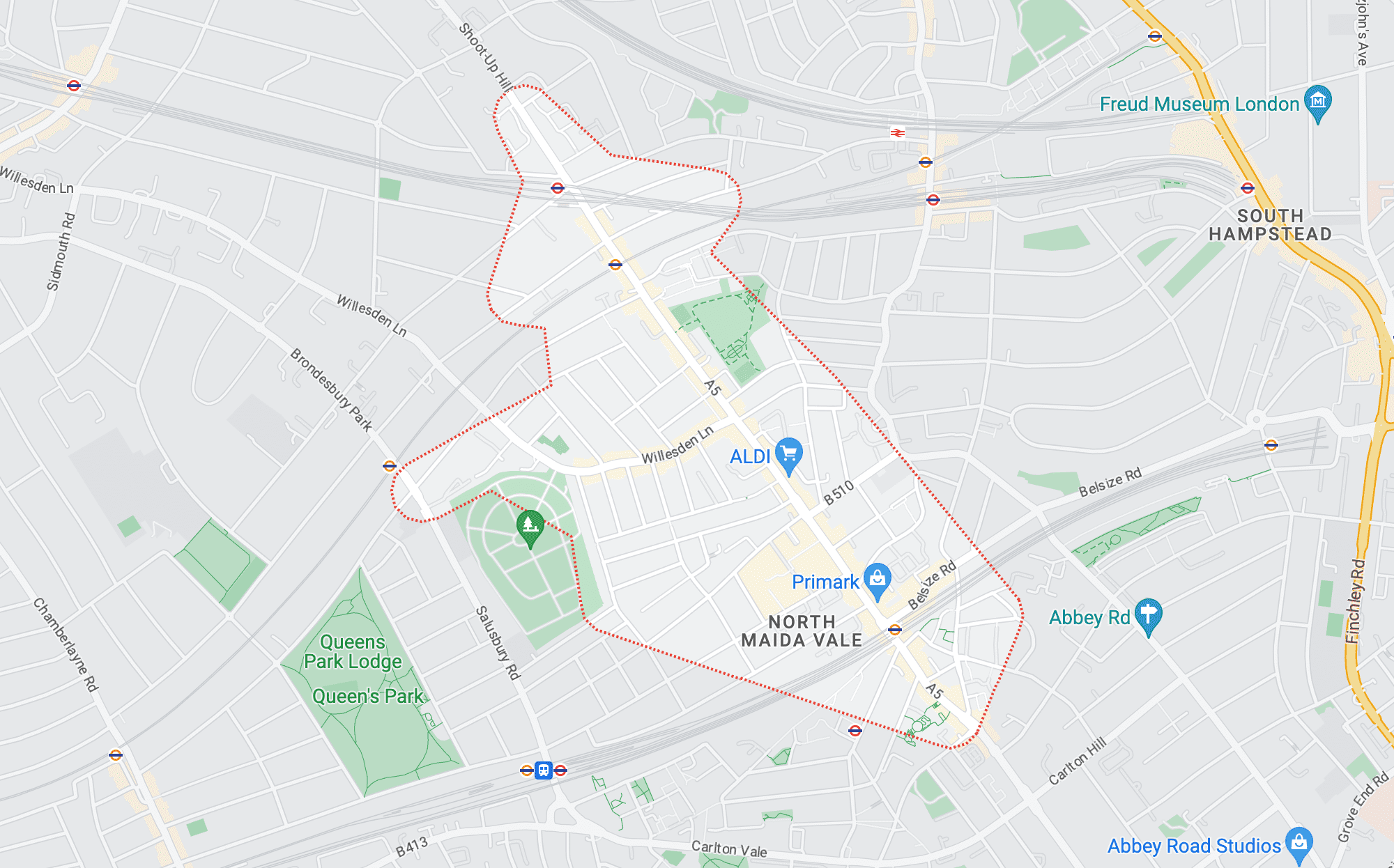 Our Rubbish Removal Work in Kilburn
At Rainbow Rubbish Removals, we've had the pleasure of serving the lovely community of Kilburn, NW6, with our wide range of rubbish removal services. We understand the importance of maintaining a clean and clutter-free environment, which is why we're dedicated to providing efficient and eco-friendly solutions for our clients in the borough.
One of our recent works in Kilburn involved a house clearance for a family who had just moved into a new home. They needed assistance in disposing of unwanted furniture, appliances, and general household rubbish. Our team of skilled professionals arrived promptly, ready to tackle the task at hand. We carefully sorted through the items, ensuring that recyclable materials were separated from non-recyclable waste. Thanks to our strong partnerships with local recycling centres, we were able to recycle a significant portion of the waste, minimising the environmental impact.
Another project we completed in Kilburn was an office clearance for a growing business that required more space. Our team efficiently removed old office furniture, outdated equipment, and builders rubbish, allowing the company to maximise their workspace and improve productivity. We were also able to accommodate their specific requests, such as working outside of regular business hours to minimise disruption.
Our clients in Kilburn have consistently praised our excellent customer service, which includes prompt communication, flexible scheduling, and competitive pricing. We always strive to go above and beyond to meet the unique needs of each client.
Here's a testimonial from one of our satisfied customers in Kilburn, NW6:
"I recently hired Rainbow Rubbish Removals to help clear out my flat, and I couldn't be happier with the results. The team was punctual, efficient, and left my property looking spick and span. They took great care in sorting the waste and even managed to recycle a large portion of it, which I found quite impressive. Their friendly and professional approach made the entire process a doddle. I'd highly recommend their services to anyone in need of rubbish removal in Kilburn."
Kilburn is a bustling and lively area located in North West London, straddling the boundary between the London Boroughs of Brent and Camden. Known for its rich cultural heritage and strong community spirit, Kilburn has a unique charm that attracts both locals and visitors alike. The area boasts a wide range of shops, restaurants, and entertainment venues, catering to a variety of tastes and preferences.
The main thoroughfare, Kilburn High Road, is a hub of activity, with numerous shops, eateries, and pubs lining the street. Kilburn is well-connected to the rest of London, with Kilburn Park and Kilburn High Road stations providing easy access to the Bakerloo and London Overground lines, respectively. The area is also served by several bus routes, making it a convenient location for commuters and travellers.
Kilburn has a strong sense of community, with various local organisations and events that bring residents together. The annual Kilburn Festival is a popular event that showcases local talent and celebrates the area's diverse culture. With its rich history, vibrant atmosphere, and excellent transport links, Kilburn is a fantastic place to live, work, and visit.
Kilburn Main Postcodes
The London Borough of Kilburn encompasses several postcodes, including NW6, NW2, and parts of W9 and W10. These postcodes cover areas such as Kilburn, Brondesbury, West Hampstead, and parts of Maida Vale and Queen's Park. The variety of postcodes within Kilburn reflects the diverse neighbourhoods and communities that make up this lively London borough.
Kilburn Main Attractions
Kiln Theatre: Formerly known as the Tricycle Theatre, the Kiln Theatre is a renowned cultural venue in Kilburn, offering a diverse programme of theatre, cinema, and visual arts. The theatre is committed to presenting innovative and thought-provoking productions, making it a must-visit destination for culture enthusiasts.
2 Willow Road: This modernist gem, designed by architect Ernő Goldfinger, is a fascinating example of mid-20th-century architecture. Now managed by English Heritage, visitors can explore the unique design and history of this iconic building, as well as enjoy stunning views of Hampstead Heath.
Hampstead Heath: Just a short distance from Kilburn, Hampstead Heath is a vast, ancient parkland offering a peaceful retreat from the hustle and bustle of the city. With its beautiful woodlands, meadows, and ponds, the Heath is a popular destination for walkers, picnickers, and nature lovers.
Kilburn History
Kilburn has a rich and varied history, dating back to Roman times when it was a settlement along the ancient Watling Street. The area's name is derived from the Anglo-Saxon words 'cylla' (a kiln) and 'burna' (a stream), indicating the presence of a pottery kiln near the Kilburn brook.
In the 19th century, Kilburn began to transform from a rural village into a thriving suburb, with the arrival of the railway and the construction of the Metropolitan and District lines. The area became a popular destination for Irish immigrants, leading to a strong Irish influence that can still be felt today.
Kilburn's entertainment scene flourished in the early 20th century, with the opening of the Gaumont State Cinema and the Kilburn Empire Theatre. Although the Empire Theatre was demolished in the 1960s, the Gaumont State Cinema remains a prominent local landmark, now serving as a church and community centre.
During the Second World War, Kilburn suffered significant bomb damage, leading to extensive post-war rebuilding. Today, the area continues to evolve, with ongoing regeneration projects and a thriving cultural scene that celebrates its diverse history and heritage.
Education and Leisure in Kilburn
Kilburn is home to a number of well-regarded schools, including primary, secondary, and independent institutions. The area also offers a range of leisure facilities, such as the Moberly Sports Centre, which features a gym, swimming pool, and various fitness classes.
For those who enjoy the outdoors, Kilburn Grange Park provides a green oasis in the heart of the borough, with a children's playground, tennis courts, and beautiful gardens. The nearby Paddington Recreation Ground also offers a wide range of sports facilities, including football pitches, cricket nets, and a running track.
Maintaining a Clean and Tidy Kilburn
Welcome to Rainbow Rubbish Removals, your dependable waste disposal ally in Kilburn, London. Consider us your local waste experts, ready to tackle any disposal challenge you may encounter.
Our devoted team consistently strives to provide a seamless experience, catering to various clearance requirements from residential, commercial, educational, and construction environments. Our passion is in making waste disposal effortless for our clients.
Operating seven days a week throughout Kilburn, London, we offer adaptable scheduling to suit your needs. Our highly skilled team is proficient in handling and disposing of a wide range of waste materials. We take pride in delivering prompt, efficient, and courteous service. With competitive pricing and free quotes, partnering with us could make all the difference!
Get in touch today by giving us a call, filling out our simple quote form on this page, or sending a WhatsApp message using the button above. Our enthusiastic team is ready to take action. Are you ready to embark on a cleaner journey?
Join Us in Keeping Kilburn Rubbish-Free
Handling waste at home and work can be an overwhelming task, potentially distracting you from other priorities. To ease your load, we offer scheduled rubbish removal services throughout Kilburn, London. Simply follow these straightforward steps:
1. Choose a convenient day and time for collection.
2. Organise your waste into categories such as recyclables, reusable items, large objects, and hazardous materials.
3. Leave the rest to our team – we'll take care of collection, disposal, donations, and recycling, ensuring a smooth waste management experience.
Together, we can keep Kilburn clean and rubbish-free.
Common queries and answers on our rubbish removal services in Kilburn
What services does Rainbow Rubbish Removals offer in Kilburn, NW6?
Rainbow Rubbish Removals offers a wide range of rubbish removal services in Kilburn, NW6, including house, garden, workplace, school, and construction site clearances. We work flexibly around your schedule, providing one-off jobs, same-day rubbish collection, and regular rubbish removal services to ensure you receive the best service possible.
How can I get a quote for rubbish removal in Kilburn, NW6?
Getting a quote for rubbish removal in Kilburn, NW6 is easy. You can fill out the quick quote form on our website, click the WhatsApp button, ring or email us to get your free quote. Provide us with details about the rubbish you need removed, and we'll draw up a quote based on the information you provide.
Can I book a same-day rubbish collection in Kilburn, NW6?
Yes, we offer a same-day rubbish collection service in Kilburn, NW6 for urgent jobs. To arrange a same-day collection, give us a call before 10 am with your requirements, and we'll schedule your collection that day.
What types of rubbish do you collect in Kilburn, NW6?
We collect a wide variety of rubbish in Kilburn, NW6, including general household waste, cardboard, books, magazines, furniture, kitchen appliances, small electricals, office waste, WEEE waste, bikes, pianos, garden green waste, builders or construction site waste, and more. We also offer shed, decking, and carpet removal services.
How can I find out about pricing for rubbish removal in Kilburn, NW6?
To learn about our fair and competitive pricing for rubbish removal in Kilburn, NW6, visit our pricing page. Our quotes are based on estimates using the information you provide, such as weight waste, loading times, and dismantling if needed.
How does Rainbow Rubbish Removals ensure responsible waste disposal in Kilburn, NW6?
At Rainbow Rubbish Removals, we take waste disposal seriously. After clearing, dismantling (if needed), and loading your rubbish onto our van, our team will take it to your local recycling and waste centre for responsible recycling and disposal. We encourage our customers to follow the three R's: reduce, reuse, and recycle, to contribute less to landfill and more to sustainable living.