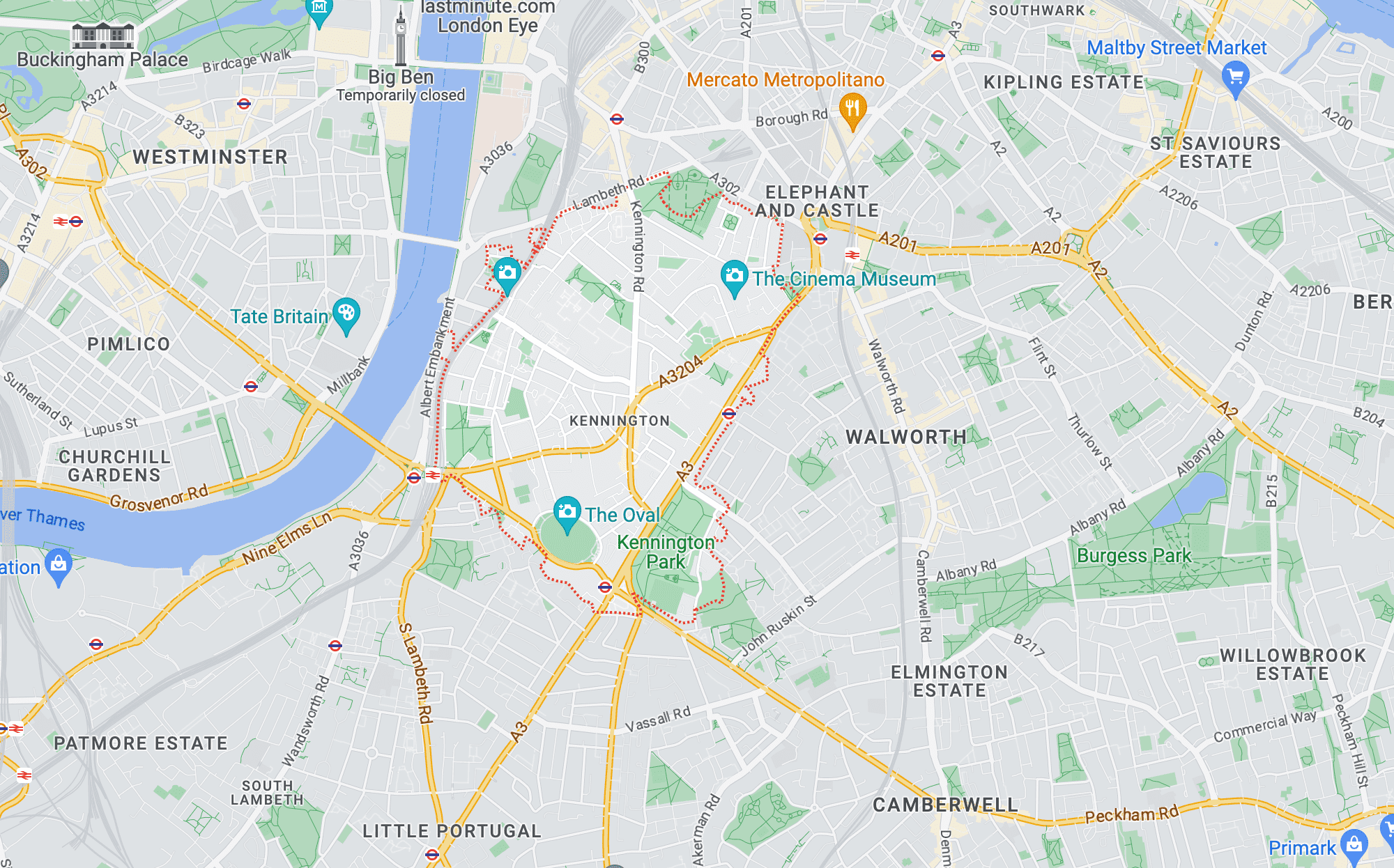 An example of our rubbish removal service in Lambeth
We had the opportunity to work with a lovely family in Lambeth, SE11, who required a complete house clearance and rubbish removal service. Our team arrived promptly at the scheduled time, ready to tackle the task at hand. We began by carefully sorting through the items, separating recyclable materials from general waste. Our commitment to the environment is a priority, so we ensured that all recyclable items were sent to our partnered recycling centres.
The family also needed assistance with furniture disposal and appliance removal. Our efficient team carefully dismantled and removed bulky items such as sofas, wardrobes, and washing machines, making sure to cause minimal disruption to the property. We also provided builders rubbish disposal services, as the family had recently completed some renovation work. Our team efficiently cleared away all construction debris, leaving the property clean and tidy.
In addition to the house clearance, we were asked to perform an office clearance for the family's home office. We carefully removed all unwanted office furniture and equipment, ensuring that any sensitive documents were securely disposed of. Our team's flexibility and willingness to accommodate specific client requests made the process smooth and hassle-free.
Throughout the entire rubbish removal process in Lambeth, SE11, our team maintained excellent communication with the family, keeping them informed of our progress and addressing any concerns they had. Our competitive pricing and the value we provided left the family extremely satisfied with our services.
"I can't recommend Rainbow Rubbish Removals enough! They were absolutely brilliant in helping us clear out our home in Lambeth. The team was punctual, efficient, and took great care in removing our unwanted items. They even went the extra mile to ensure all recyclable materials were properly disposed of. We're chuffed with the results, and our home looks spick and span now."
Located in the heart of London, Lambeth is a thriving borough that boasts a rich history, a strong sense of community, and a wealth of attractions for residents and visitors alike. With its prime location along the River Thames, Lambeth offers a unique blend of urban living and green spaces, making it an ideal place to live, work, and explore.
Lambeth is home to a variety of neighbourhoods, each with its own distinct character and charm. From the lively streets of Brixton to the tranquil beauty of Clapham Common, there is something for everyone in this dynamic borough. With excellent transport links, including numerous bus routes and train stations, Lambeth is well-connected to the rest of London and beyond.
Lambeth Main Postcodes
The London Borough of Lambeth encompasses several postcodes, including SE11, SE1, SE24, SE27, SW2, SW4, SW8, SW9, and SW16. These postcodes cover areas such as Brixton, Clapham, Herne Hill, Kennington, Stockwell, Streatham, Vauxhall, and West Norwood.
Lambeth Main Attractions
Brixton Windmill: This historic windmill, built in 1816, is a unique attraction in the heart of Brixton. Visitors can take guided tours and learn about the history of milling in the area.
Lambeth Palace: As the official residence of the Archbishop of Canterbury, Lambeth Palace is a stunning example of medieval architecture. The palace is open for guided tours, offering a glimpse into its fascinating history.
Brockwell Park: This popular park offers a variety of recreational activities, including sports facilities, a lido, and a miniature railway. It is also home to the annual Lambeth Country Show.
Lambeth History
The history of Lambeth dates back to the Roman era, with evidence of a Roman road running through the area. In the medieval period, Lambeth was a small village centred around the Church of St. Mary, which still stands today. The construction of Lambeth Palace in the 13th century further established the area's importance.
During the 18th and 19th centuries, Lambeth experienced significant growth and development, with the construction of new bridges and railways connecting it to the rest of London. The borough played a crucial role in the industrial revolution, with numerous factories and industries setting up shop in the area.
In the 20th century, Lambeth continued to evolve, with the construction of iconic buildings such as the Royal Festival Hall and the London Eye. Today, the borough is a thriving hub of culture, commerce, and community, with a rich history that continues to shape its future.
Lambeth is known for its strong sense of community and cultural diversity. The borough is home to a wide range of community organisations, arts venues, and cultural institutions, including the Southbank Centre, the National Theatre, and the British Film Institute. With its lively street markets, world-class restaurants, and vibrant nightlife, Lambeth offers a unique and exciting experience for residents and visitors alike.
Maintaining a Clean and Tidy Lambeth
Welcome to Rainbow Rubbish Removals, your dependable waste disposal partner in Lambeth, London. Consider us your local waste experts, ready to tackle any disposal task you may have.
Our devoted team consistently strives to provide a stress-free experience, catering to various clearance needs from residential, commercial, educational, and construction settings. Our passion lies in streamlining waste disposal for our clients.
Operating seven days a week throughout Lambeth, London, we offer flexible scheduling to accommodate your needs. Our highly skilled team is proficient at handling and disposing of a wide range of waste materials. We take pride in offering prompt, efficient, and courteous service. With competitive pricing and free quotes, partnering with us could make all the difference!
Get in touch today by giving us a call, filling out our simple quote form on this page, or sending a WhatsApp message using the button above. Our enthusiastic team is ready to take action. Are you ready to embark on a cleaner journey?
Join Us in Keeping Lambeth Rubbish-Free
Handling waste at home and work can be a challenging task, potentially diverting your focus from other priorities. To ease your burden, we offer scheduled rubbish removal services throughout Lambeth, London. Simply follow these easy steps:
1. Select a convenient day and time for collection.
2. Organise your waste into categories such as recyclables, reusable items, large objects, and hazardous materials.
3. Leave the rest to our team – we'll take care of collection, disposal, donations, and recycling, ensuring a smooth waste management experience.
Frequently Asked Questions and Answers about our Rubbish Removal Services in Lambeth
What areas in Lambeth do you cover for rubbish removal services?
We provide our rubbish removal services throughout the entire Lambeth borough, from Auckland Street to Wren Mews and beyond. Our comprehensive range of services includes house, garden, office, school, and construction site clearances, ensuring that we can cater to all your rubbish removal needs in SE11.
How can I book a rubbish removal service in Lambeth?
Booking a rubbish removal service in Lambeth is easy and hassle-free. You can contact us in various ways, including messaging us directly from your phone via WhatsApp, using the quick quote form on our website, sending us an email, or giving us a call. If you need an urgent same-day rubbish collection, just make sure to contact us before 10 am.
What types of rubbish do you collect in Lambeth, SE11?
We collect a wide variety of rubbish in Lambeth, SE11, including general household waste, furniture, appliances, small electricals, carpets, pianos, bicycles, WEEE waste, garden waste, office waste, builders and construction site waste, school waste, garage and loft waste, and more. We also offer a comprehensive range of garden services across Lambeth.
How do you handle recycling and disposal of rubbish in Lambeth?
After collecting your rubbish in Lambeth, we transport it to a local recycling plant where it is sorted, recycled, and disposed of responsibly. We are committed to minimising waste and ensuring that as much of your rubbish as possible is recycled or reused.
What are some simple ways to minimise waste in Lambeth?
To minimise waste in Lambeth, you can adopt some simple waste management techniques at home or in the workplace. These include grouping your rubbish into recyclables and reusables, creating a donate pile if possible, leaving heavy or awkward items safely to the side, and arranging a regular rubbish removal service with us. Offices, construction sites, and schools can also implement a labelled bin system for each group.
How much does rubbish removal in Lambeth cost, and where can I find pricing information?
We always provide fair and honest pricing for our rubbish removal services in Lambeth. The cost will depend on factors such as the overall weight of the waste, dismantling and loading times, and the number of collections required. For detailed pricing information, please visit our pricing page or get in touch with our friendly team to discuss your specific rubbish removal needs.