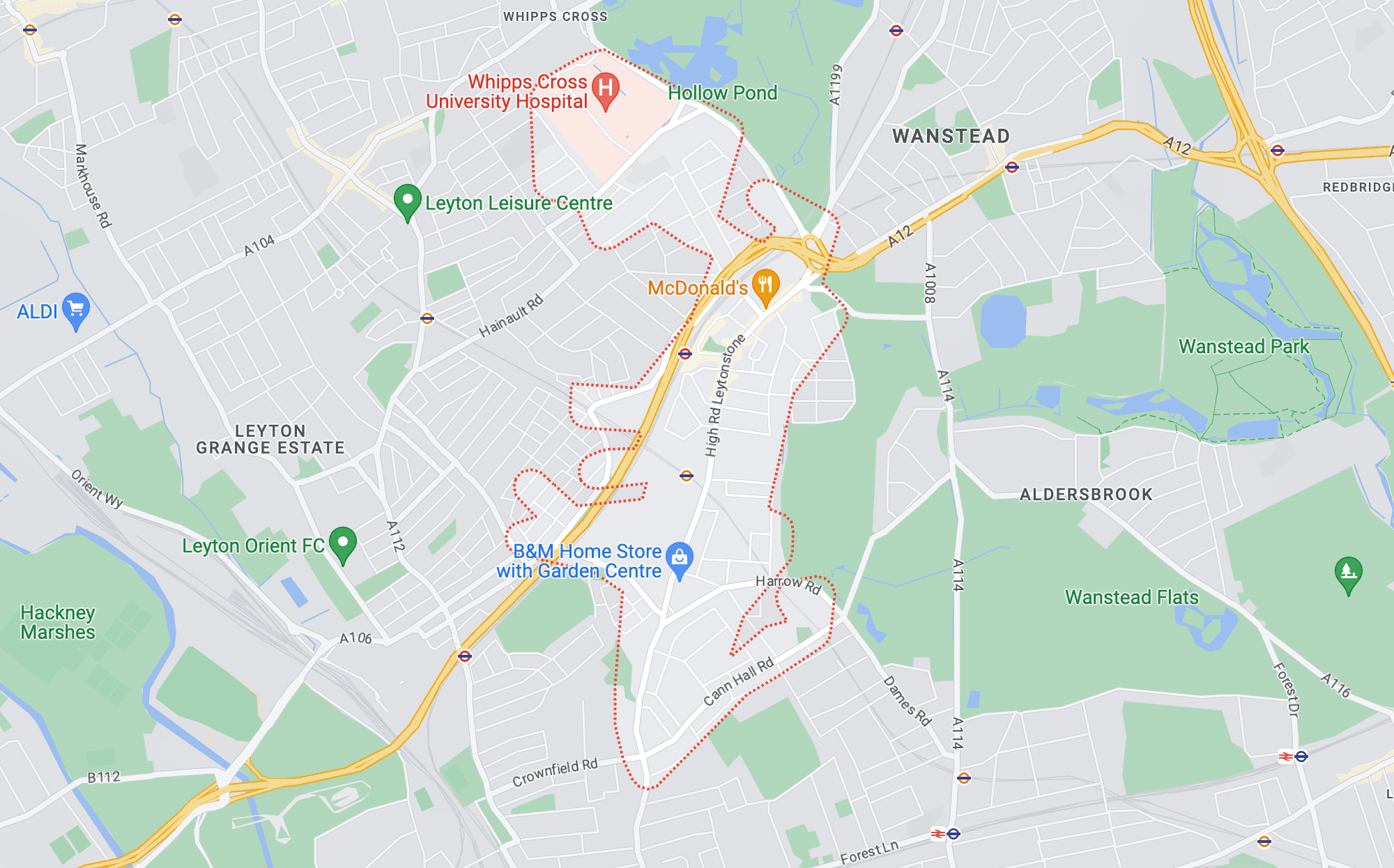 An example of our rubbish removal service in Leytonstone
We had the opportunity to work with a lovely family in Leytonstone, E11, who required a complete house clearance and rubbish removal service. Our team at Rainbow Rubbish Removals was more than happy to assist them in decluttering their home and disposing of unwanted items in an environmentally responsible manner.
Our skilled team began by conducting a thorough assessment of the property to determine the scope of work and the most efficient approach to the task. We then proceeded with the house clearance, carefully sorting through the items to separate reusable and recyclable materials from general waste. Our rubbish removal services in Leytonstone, E11, also included furniture disposal, appliance removal, and builders rubbish disposal, ensuring that the family's home was left clean and clutter-free.
Throughout the process, we maintained open communication with the family, addressing any concerns and accommodating their specific requests. Our flexible scheduling allowed us to complete the work at a time that was most convenient for them, minimising any disruption to their daily routine.
At Rainbow Rubbish Removals, we take our environmental responsibility seriously. We made sure to segregate the waste collected from the Leytonstone, E11 property and partnered with local recycling centres to dispose of the recyclable materials in an eco-friendly manner. This commitment to sustainability not only benefits our clients but also helps protect the environment for future generations.
Our clients in Leytonstone, E11, were delighted with the results of our rubbish removal services and the positive impact it had on their property. They appreciated our prompt communication, efficient work, and the care we took in handling their belongings.
"Rainbow Rubbish Removals did a smashing job clearing out our home in Leytonstone, E11. Their team was punctual, efficient, and took great care in handling our belongings. We were chuffed with their eco-friendly approach to rubbish removal, and their top-quality customer service made the whole process a breeze. Highly recommended!"
About Leytonstone, London
Nestled in the heart of East London, Leytonstone is a charming and historic area within the London Borough of Waltham Forest. Known for its strong sense of community and rich cultural heritage, Leytonstone offers a unique blend of urban living and green spaces. With excellent transport links, including the Central Line, Leytonstone is well-connected to the rest of London, making it an ideal location for both residents and visitors alike.
The area has seen significant regeneration in recent years, with new developments and amenities enhancing the overall appeal of Leytonstone. From independent shops and cafes to beautiful parks and leisure facilities, there is something for everyone in this thriving neighbourhood.
Leytonstone Main Postcodes
Leytonstone is primarily covered by the E11 postcode, with some parts extending into the E10 and E15 postcodes. The E11 postcode encompasses the majority of Leytonstone, including the town centre and residential areas, while the E10 and E15 postcodes cover the surrounding neighbourhoods.
Leytonstone Main Attractions
Wanstead Flats: A vast expanse of open grassland, Wanstead Flats is a popular destination for picnics, sports, and leisurely strolls. The area is also home to a variety of wildlife, making it a haven for nature enthusiasts.
Hollow Ponds: This picturesque boating lake is a favourite spot for families and couples alike. With rowing boats available for hire, visitors can enjoy a leisurely afternoon on the water or simply relax by the water's edge.
Leytonstone Library: This historic library offers a wide range of books, resources, and activities for all ages. With regular events and workshops, the library is a hub of learning and creativity within the community.
Leytonstone History
Leytonstone's history dates back to the Roman era, with evidence of a Roman road running through the area. The name "Leytonstone" is believed to have originated from a Roman milestone, which was later replaced by a more modern stone obelisk in the 18th century.
Throughout the centuries, Leytonstone has been a predominantly agricultural area, with a focus on market gardening and farming. The arrival of the railway in the 19th century led to significant urbanisation, transforming Leytonstone into a thriving residential suburb.
One of Leytonstone's most famous residents was the legendary film director, Sir Alfred Hitchcock, who was born in the area in 1899. Today, a series of mosaics in the Leytonstone Tube Station pay tribute to his life and work, celebrating the area's connection to this iconic figure.
More About Leytonstone
Leytonstone is home to a diverse range of independent shops, cafes, and restaurants, offering a unique shopping and dining experience. The area also boasts several beautiful parks and green spaces, such as Langthorne Park and the Leytonstone War Memorial Garden, providing residents and visitors with a peaceful retreat from the hustle and bustle of city life.
The area is well-served by public transport, with Leytonstone Underground Station on the Central Line providing easy access to central London and beyond. There are also numerous bus routes connecting Leytonstone to neighbouring areas, making it a convenient location for commuters and travellers alike.
With its rich history, strong sense of community, and excellent amenities, Leytonstone is a truly unique and appealing area within the London Borough of Waltham Forest.
Maintaining a Spick-and-Span Leytonstone
Greetings from Rainbow Rubbish Removals, your dependable waste disposal ally in Leytonstone, London. Consider us your local waste experts, ready to tackle any disposal challenge you may face.
Our devoted team consistently strives to provide a stress-free experience, catering to various clearance requirements from residential, commercial, educational, and construction environments. Our enthusiasm lies in streamlining waste disposal for our valued clients.
Operating seven days a week throughout Leytonstone, London, we offer adaptable scheduling to suit your needs. Our highly skilled team is proficient at handling and disposing of a wide range of waste materials. We take pride in delivering prompt, efficient, and courteous service. With competitive pricing and complimentary quotes, partnering with us could make a world of difference!
Reach out today by giving us a call, completing our simple quote form on this page, or sending a WhatsApp message using the button above. Our zealous team is prepared to take action. Are you ready to embark on a cleaner journey?
Join Us in Keeping Leytonstone Rubbish-Free
Handling waste at home and work can be an overwhelming task, potentially distracting you from other important matters. To ease your load, we offer scheduled rubbish removal services throughout Leytonstone, London. Simply follow these straightforward steps:
1. Choose a suitable day and time for collection.
2. Organise your waste into categories such as recyclables, reusable items, large objects, and hazardous materials.
3. Leave the rest to our team – we'll handle collection, disposal, donations, and recycling, ensuring a seamless waste management experience.
By following these steps, you'll quickly notice a difference in the amount of rubbish you produce and manage your waste more effectively in no time. Let us do the heavy lifting for you! Get in touch with us to arrange a regular Leytonstone rubbish removal service today.
Frequently Asked Questions and Answers about our Rubbish Removal Services in Leytonstone
What rubbish removal services do you offer in Leytonstone, E11?
We provide a comprehensive range of rubbish removal services in Leytonstone, E11, including home, garden, office, school, and construction site clearances. Our team is available seven days a week, throughout the year, to help you get rid of your unwanted junk without any hassle. Whether you need regular waste collections or urgent same-day rubbish removals, we've got you covered.
How can I book a rubbish removal service in Leytonstone, E11?
To book a rubbish removal service in Leytonstone, E11, simply get in touch with us by email, phone, filling out the quick quote form on our website, or clicking the WhatsApp button to message us directly. For urgent enquiries, give us a call before 10 am to arrange a same-day rubbish removal service. We'll send you a free quote, and once you give us the go-ahead, you can choose an appointment that suits your schedule.
What types of waste do you collect in Leytonstone, E11?
We collect a wide variety of waste in Leytonstone, E11, including furniture, appliances, garden waste, office equipment, and construction site waste. Some examples of items we collect are sofas, beds, mattresses, microwaves, dishwashers, washing machines, pianos, bikes, carpets, magazines, paper, books, cardboard, WEEE waste, TVs, IT equipment, and more. We also offer a full range of garden services and can remove sheds and decking.
How can I manage my waste more effectively in Leytonstone, E11?
To manage your waste more effectively in Leytonstone, E11, follow these simple steps:
1. Reduce, Reuse, Recycle - the three rules of eco-friendly waste management.
2. Separate and group your items into the 3 Rs above into clearly labelled bins or boxes.
3. Heavy items can be left safely to the side.
By following these steps, you'll quickly notice a difference in the amount of rubbish you produce. You can also get in touch with us to arrange a regular Leytonstone, E11 rubbish removal service to help you manage your waste more effectively.
How much does rubbish removal cost in Leytonstone, E11?
Our rubbish removal services in Leytonstone, E11 are competitively priced, and we offer fair rates for all types of waste collection. For detailed pricing information, please visit our pricing page. Keep in mind that our van can hold up to two and a half skips worth of junk, and for larger jobs that require more than our van's max capacity, we will need to arrange a separate collection, which will be reflected in your final bill.
Why should I choose your rubbish removal services in Leytonstone, E11?
As a locally owned and operated company, we pride ourselves on offering a friendly, flexible, and affordable rubbish removal service in Leytonstone, E11. Our team is dedicated to providing a convenient and accessible service that is tailored to your needs. Don't just take our word for it – read our customer testimonials to see what others have to say about our services. If you're ready to reclaim your living and workspaces, get in touch with us today to book your Leytonstone, E11 rubbish removal service.