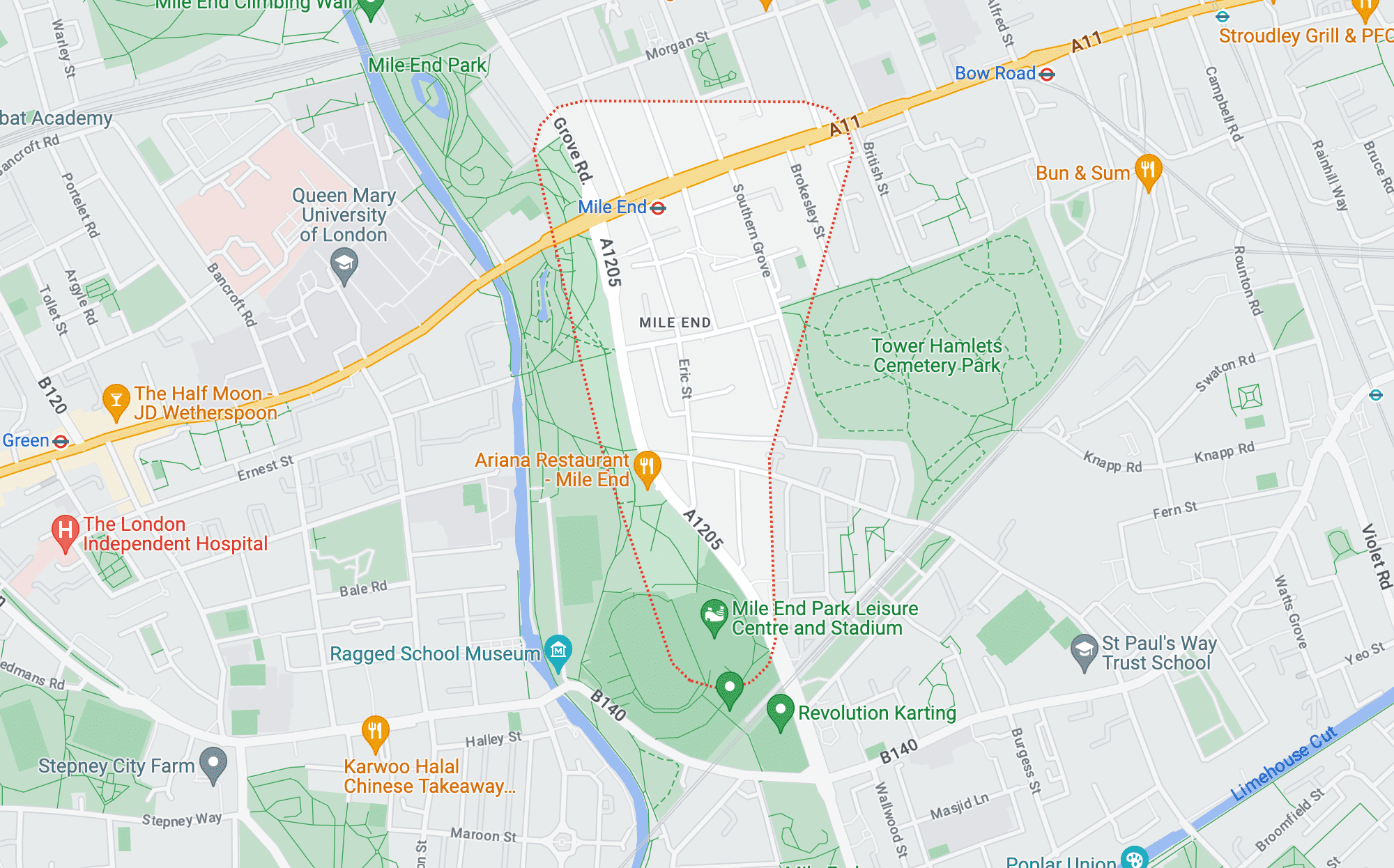 An example of our rubbish removal service in Mile End
We recently had the opportunity to work with a client in Mile End, E1, who required a complete house clearance and rubbish removal service. Our team at Rainbow Rubbish Removals was eager to help, as we understand the importance of maintaining a clean and clutter-free environment in the bustling borough of Mile End.
Our client's property had accumulated a significant amount of unwanted items, including old furniture, appliances, and general household waste. We began by carefully sorting through the items, separating recyclable materials from non-recyclable waste. Our commitment to eco-friendly rubbish removal practices ensures that we dispose of waste responsibly, partnering with local recycling centres in Mile End to minimise our environmental impact.
Once the waste segregation process was complete, our efficient team swiftly removed the items from the property, taking care to avoid any damage to the client's home. We also provided builders rubbish disposal and office clearance services, as the client was in the process of renovating their property and required assistance with the removal of construction debris.
Throughout the entire process, our team at Rainbow Rubbish Removals maintained open communication with the client, ensuring that we accommodated their specific needs and schedule. Our competitive pricing and dedication to providing excellent customer service made us the ideal choice for this Mile End rubbish removal project.
"Rainbow Rubbish Removals did a smashing job clearing out my house in Mile End. Their team was punctual, efficient, and left my property looking spick and span. I was particularly impressed with their eco-friendly approach to rubbish removal, and their willingness to work around my schedule. I'd highly recommend their services to anyone in need of rubbish removal in the E1 area!"
Nestled in the heart of East London, Mile End is a thriving and dynamic area within the London Borough of Tower Hamlets. Known for its rich history, diverse culture, and strong sense of community, Mile End offers a unique blend of old and new, with its historic landmarks standing alongside modern developments. The area is well-connected to the rest of London, with Mile End Underground Station providing easy access to the Central, District, and Hammersmith & City lines.
Mile End is home to a variety of local amenities, including shops, restaurants, and leisure facilities, catering to the needs of its diverse population. The area also boasts several green spaces, such as Mile End Park and Victoria Park, providing residents and visitors with a welcome respite from the hustle and bustle of city life.
Mile End Main Postcodes
The main postcodes within Mile End include E1, E2, and E3. These postcodes cover a wide area, encompassing not only Mile End but also neighbouring areas such as Whitechapel, Bethnal Green, and Bow. The E1 postcode is particularly significant, as it covers the historic heart of Mile End and its surrounding areas.
Mile End Main Attractions
Mile End Park: This 90-acre park offers a range of recreational activities, including sports facilities, a children's play area, and an ecology park. The park also features the Mile End Art Pavilion, which hosts a variety of exhibitions and events throughout the year.
Victoria Park: Known as the 'People's Park', Victoria Park is one of London's most popular green spaces. The park offers a wide range of facilities, including sports pitches, a boating lake, and a children's playground, as well as hosting numerous events and festivals throughout the year.
Ragged School Museum: Housed in a former Victorian school building, the Ragged School Museum offers a fascinating insight into the history of education and the lives of East End children during the 19th century. The museum features a reconstructed Victorian classroom, where visitors can experience a lesson from a strict Victorian schoolteacher.
Mile End History
Mile End has a long and storied history, dating back to the medieval period when it was a small hamlet on the road between London and Colchester. The area gained prominence in the 17th century when it became a popular destination for wealthy Londoners seeking a rural retreat from the city. Notable residents of the time included the philosopher and statesman Sir Thomas Gresham, who built a grand mansion in Mile End known as Gresham House.
In the 19th century, Mile End underwent significant industrialisation, with the construction of the Regent's Canal and the arrival of the railway. This period saw the area transformed from a rural idyll into a bustling urban centre, with factories, warehouses, and densely populated terraced housing. Despite the challenges of this period, Mile End remained a hub of community and culture, with the establishment of institutions such as the People's Palace, a pioneering social and educational centre.
The 20th century brought further change to Mile End, with the area suffering significant damage during the Blitz in World War II. In the post-war years, the area underwent extensive regeneration, with the construction of new housing estates and the creation of Mile End Park. Today, Mile End continues to evolve, with ongoing development and investment in the area ensuring its ongoing appeal to residents and visitors alike.
Mile End is also notable for its strong connections to the arts and literature. The area has been home to several notable figures, including the poet and playwright Christopher Marlowe, who lived in Mile End during the 16th century. More recently, the area has become a hub for the creative industries, with a thriving arts scene and a growing number of galleries, studios, and performance spaces.
Maintaining a Spotless and Organised Mile End
Welcome to Rainbow Rubbish Removals, your dependable waste disposal ally in Mile End, London. Consider us your neighbourhood waste experts, ready to take on any disposal challenge you may face.
Our devoted team consistently strives to deliver a stress-free experience, catering to a variety of clearance requirements from residential, commercial, educational, and construction environments. Our enthusiasm lies in streamlining waste disposal for our valued clients.
Operating seven days a week throughout Mile End, London, we provide flexible scheduling to suit your needs. Our highly skilled team is proficient in handling and disposing of a wide range of waste materials. We take pride in offering prompt, efficient, and courteous service. With competitive pricing and complimentary quotes, partnering with us could make a world of difference!
Contact us today by giving us a call, completing our simple quote form on this page, or sending a WhatsApp message using the button above. Our energetic team is prepared to take action. Are you ready to embark on a cleaner journey?
Join Us in Keeping Mile End Waste-Free
Handling waste at home and work can be an overwhelming task, potentially distracting you from other important matters. To ease your load, we offer scheduled rubbish removal services throughout Mile End, London. Simply follow these straightforward steps:
1. Choose a suitable day and time for collection.
2. Organise your waste into categories such as recyclables, reusable items, large objects, and hazardous materials.
3. Leave the rest to our team – we'll handle collection, disposal, donations, and recycling, ensuring a seamless waste management experience.
By following these steps, you can maintain a clutter-free environment and focus on what truly matters. So, let's work together to keep Mile End rubbish-free and enjoy a cleaner, more organised community.
Frequently Asked Questions and Answers about our Rubbish Removal Services in Mile End
What services are available for rubbish removal in Mile End, E1?
At Rainbow Rubbish Removals, we offer a comprehensive range of services for rubbish removal in Mile End, E1. This includes house, garden, workplace, school, and construction site clearances. Whether you need regular waste management or urgent same-day rubbish removal, we've got you covered in the Mile End area.
How can I book a rubbish removal service in Mile End, E1?
Booking a rubbish removal service in Mile End, E1 is simple. You can contact us through various methods, such as WhatsApp, our quick quote form on our website, phone, or email. Once we receive your information, we'll provide you with a firm and comprehensive free quote. You can then choose a date and time that works best for you, and we'll handle the rest.
What types of rubbish do you collect in Mile End, E1?
Our Mile End, E1 rubbish removal team collects a wide variety of waste, including textiles, carpets, furniture, green garden waste, small electricals, kitchen appliances, cardboard, paper, WEEE waste, office equipment, and more. We can also dismantle and remove items such as sheds, decking, and greenhouses upon request.
How does the rubbish removal process work in Mile End, E1?
Once you've booked an appointment with us, our team will arrive at your location with all the necessary equipment to clear and load your rubbish onto our van. We may ask you to group your waste ahead of our arrival for efficiency. After loading your waste, we'll transport it to a local recycling centre, where we'll sort, recycle, and dispose of it responsibly.
What are some waste management tips for Mile End, E1 residents and businesses?
To make waste management easier in Mile End, E1, separate your waste into the 3Rs: Reduce, Reuse, and Recycle. Safely leave heavy or bulky items to the side, and use a dedicated bin system for offices, schools, and construction sites. You can also book a regular waste management service with us to keep your space clutter-free.
How much does rubbish removal in Mile End, E1 cost?
Our rubbish removal services in Mile End, E1 are affordable and competitively priced. To get an accurate quote for your specific needs, please visit our pricing page. Our quotes include loading and dismantling times, as well as overall waste weight. Keep in mind that non-restricted access is essential for our team to efficiently complete the job.