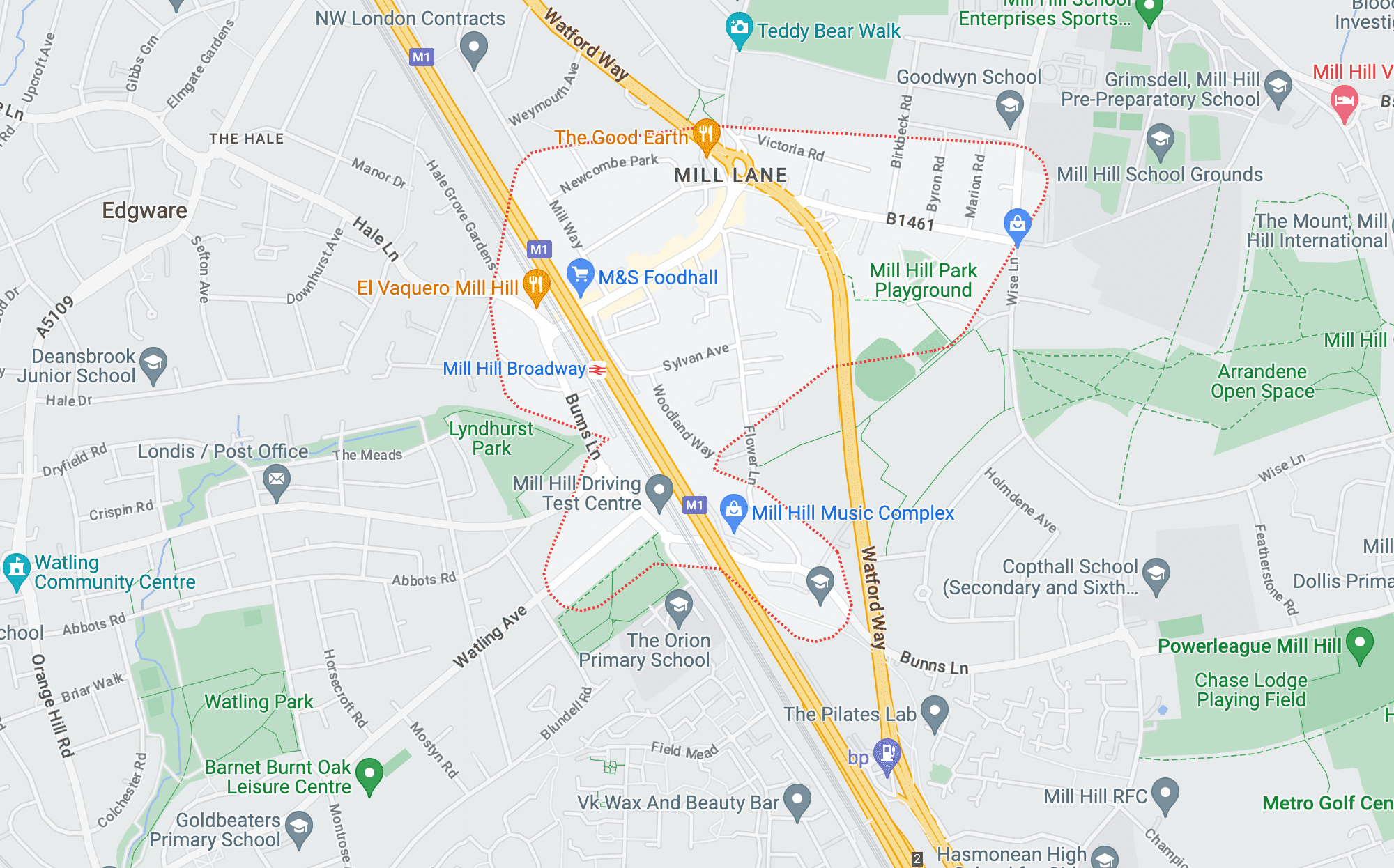 An example of our rubbish removal service in Mill Hill
We had the opportunity to work with a lovely family in Mill Hill, NW7, who needed a complete house clearance and rubbish removal service. Our team arrived promptly at the scheduled time, ready to tackle the task at hand. We began by carefully sorting through the items, separating recyclable materials from general waste. Our commitment to the environment is a priority, so we ensured that all recyclable items were sent to our partnered recycling centres.
Our efficient team then proceeded to remove unwanted furniture and appliances from the property. We took great care in handling these items, ensuring that they were safely transported to the appropriate disposal facilities. The family also had some builders rubbish that needed to be cleared away, which we were more than happy to help with. Our team is experienced in handling various types of waste, making the process smooth and hassle-free for our clients.
During the house clearance, we also provided office clearance services for the family's home office. We understand the importance of maintaining a clean and clutter-free workspace, so we made sure to remove any unwanted items and dispose of them responsibly. Our flexible scheduling and prompt communication made it easy for the family to coordinate with us and ensure that their specific needs were met.
Rainbow Rubbish Removals takes pride in offering competitive pricing and excellent customer service. We believe that our clients in Mill Hill, NW7, deserve the best value for their money, and we strive to deliver top-quality rubbish removal services that exceed expectations.
"Rainbow Rubbish Removals did a smashing job clearing out our home in Mill Hill, NW7. The team was punctual, efficient, and took great care in handling our belongings. They even went the extra mile to ensure that all recyclable materials were properly sorted and sent to recycling centres. We couldn't be happier with the results, and our home is now clutter-free and looking spick and span. Highly recommended!"
Nestled in the northwestern part of London, the London Borough of Barnet is home to the charming suburb of Mill Hill. Known for its picturesque green spaces, historic landmarks, and strong sense of community, Mill Hill offers a perfect blend of urban convenience and suburban tranquillity. With excellent transport links, including Mill Hill Broadway railway station and Mill Hill East Underground station, residents and visitors can easily access central London and the surrounding areas.
Mill Hill Main Postcodes
Mill Hill is primarily located within the NW7 postcode district, with some parts extending into the NW9 and NW4 postcode areas. The NW7 postcode covers the majority of Mill Hill, including Mill Hill Broadway, Mill Hill Village, and Mill Hill East. The NW9 postcode encompasses the western part of Mill Hill, while the NW4 postcode covers a small section of the eastern boundary.
Mill Hill Main Attractions
Watling Chase Timberland Trail: This 10-mile walking and cycling route stretches from Elstree to Mill Hill, offering a scenic journey through woodlands, meadows, and historic sites. The trail is perfect for nature lovers and history enthusiasts alike.
Mill Hill Music Complex: A popular hub for musicians and artists, Mill Hill Music Complex offers state-of-the-art rehearsal and recording studios, as well as a range of music lessons and workshops. The complex has been a staple of the local music scene for over 40 years.
Belmont Children's Farm: A delightful family attraction, Belmont Children's Farm provides a hands-on experience with a variety of farm animals. Visitors can enjoy pony rides, tractor rides, and animal feeding sessions, making it a perfect day out for children and adults alike.
Mill Hill History
Mill Hill has a rich history that dates back to the Roman era. The area was once part of the ancient Watling Street, a Roman road that connected London to the north of England. In the 12th century, a mill was built on the site, giving the area its name. The village of Mill Hill began to develop around the mill, and by the 16th century, it had become a thriving agricultural community.
In the 18th and 19th centuries, Mill Hill became a popular destination for wealthy Londoners seeking a rural retreat. Many grand houses and estates were built during this period, including the now Grade II listed Holcombe House and Mill Hill School. The arrival of the railway in the late 19th century further boosted the area's popularity, leading to significant residential development.
During World War II, Mill Hill played a crucial role in Britain's defence efforts. The area was home to several military installations, including the Inglis Barracks and the Mill Hill Emergency Hospital. After the war, Mill Hill continued to grow and evolve, with new housing developments and amenities catering to the needs of its growing population.
Today, Mill Hill is a thriving suburb that retains much of its historic charm. The area boasts a strong sense of community, with numerous local events and activities taking place throughout the year. From its picturesque green spaces to its rich cultural heritage, Mill Hill offers a unique and appealing blend of urban and suburban living.
Education and Community in Mill Hill
Mill Hill is home to a range of highly regarded schools, both state and independent, catering to children of all ages. Notable institutions include Mill Hill School, Copthall School, and The Mount School. The area also boasts several community centres and sports facilities, such as Mill Hill Library, Mill Hill Park, and Mill Hill Golf Club, providing ample opportunities for residents to engage in recreational activities and social events.
Maintaining a Clean and Tidy Mill Hill
Welcome to Rainbow Rubbish Removals, your dependable waste disposal partner in Mill Hill, London. Consider us your local waste experts, ready to tackle any disposal task you may have.
Our devoted team consistently strives to provide a stress-free experience, addressing various clearance needs from residential, commercial, educational, and construction settings. Our passion lies in streamlining waste disposal for our clients.
Operating seven days a week throughout Mill Hill, London, we offer flexible scheduling to accommodate your needs. Our highly trained team is proficient at handling and disposing of a wide range of waste materials. We take pride in offering prompt, efficient, and courteous service. With competitive pricing and free quotes, partnering with us could make all the difference!
Get in touch today by giving us a call, filling out our simple quote form on this page, or sending a WhatsApp message using the button above. Our enthusiastic team is ready to take action. Are you ready to embark on a cleaner journey?
Join Us in Keeping Mill Hill Rubbish-Free
Handling waste at home and work can be a challenging task, potentially distracting you from other priorities. To ease your burden, we offer scheduled rubbish removal services throughout Mill Hill, London. Simply follow these easy steps:
1. Select a convenient day and time for collection.
2. Organise your waste into categories such as recyclables, reusable items, large objects, and hazardous materials.
3. Leave the rest to our team – we'll take care of collection, disposal, donations, and recycling, ensuring a smooth waste management experience.
By following these steps and working together, we can keep Mill Hill clean and rubbish-free for everyone to enjoy.
Frequently Asked Questions and Answers about our Rubbish Removal Services in Mill Hill
What services does Rainbow Rubbish Removals offer in Mill Hill, NW7, London?
Rainbow Rubbish Removals offers a comprehensive range of rubbish removal services in Mill Hill, NW7, London. We cover everything from house, garden, office, school, and construction site clearances. Our team works flexibly to accommodate your busy schedule, providing rubbish collection directly from your door, waste management services, and even urgent same-day rubbish removals. We operate seven days a week to ensure you can dispose of your unwanted waste without any hassle.
How can I book a rubbish removal service in Mill Hill, NW7?
Booking a rubbish removal service in Mill Hill, NW7, is simple and straightforward. You can contact us via WhatsApp, fill out the quick quote form on our website, call us, or email us directly. When getting in touch, please provide details about the waste you want us to remove and feel free to send over any supporting photos. We will then provide you with a free, honest, and competitive quote, and you can choose a suitable time and date for your appointment.
What waste management tips do you recommend for Mill Hill, NW7 residents?
To keep your Mill Hill, NW7, property clutter-free, we recommend adopting the following waste management techniques:
1. Embrace the 3Rs of recycling: Reduce, reuse, recycle.
2. Separate your waste according to the 3R principle.
3. Leave heavy or bulky items to the side.
4. Offices, schools, and construction sites may want to create a dedicated, labelled bin system for easy grouping.
For a more comprehensive solution, consider arranging a regular rubbish removal service with us.
What types of rubbish do you collect in Mill Hill, NW7?
We collect a wide variety of rubbish in Mill Hill, NW7, including household and office waste, furniture, electrical appliances, WEEE waste, recyclables, textiles, carpets, green garden waste, and waste from schools and construction sites. We also handle bulky items like pianos and bicycles, as well as dismantling and removing sheds, decking, and greenhouses.
How much does rubbish removal in Mill Hill, NW7 cost?
At Rainbow Rubbish Removals, we believe in honest and fair pricing for our rubbish removal services in Mill Hill, NW7. Our quotes include everything from dismantling times to overall waste weight, ensuring you know what to expect before receiving your final bill. For a detailed breakdown of our pricing, please visit our pricing page.
Why should I choose Rainbow Rubbish Removals for rubbish removal in Mill Hill, NW7?
Choosing Rainbow Rubbish Removals for your rubbish removal needs in Mill Hill, NW7, guarantees honesty, competitive pricing, and excellent customer service. We cater to a wide range of waste disposal requirements, from small bags of waste to complete house or office clearances. Our team is dedicated to providing the best service possible, as evidenced by our numerous positive testimonials.