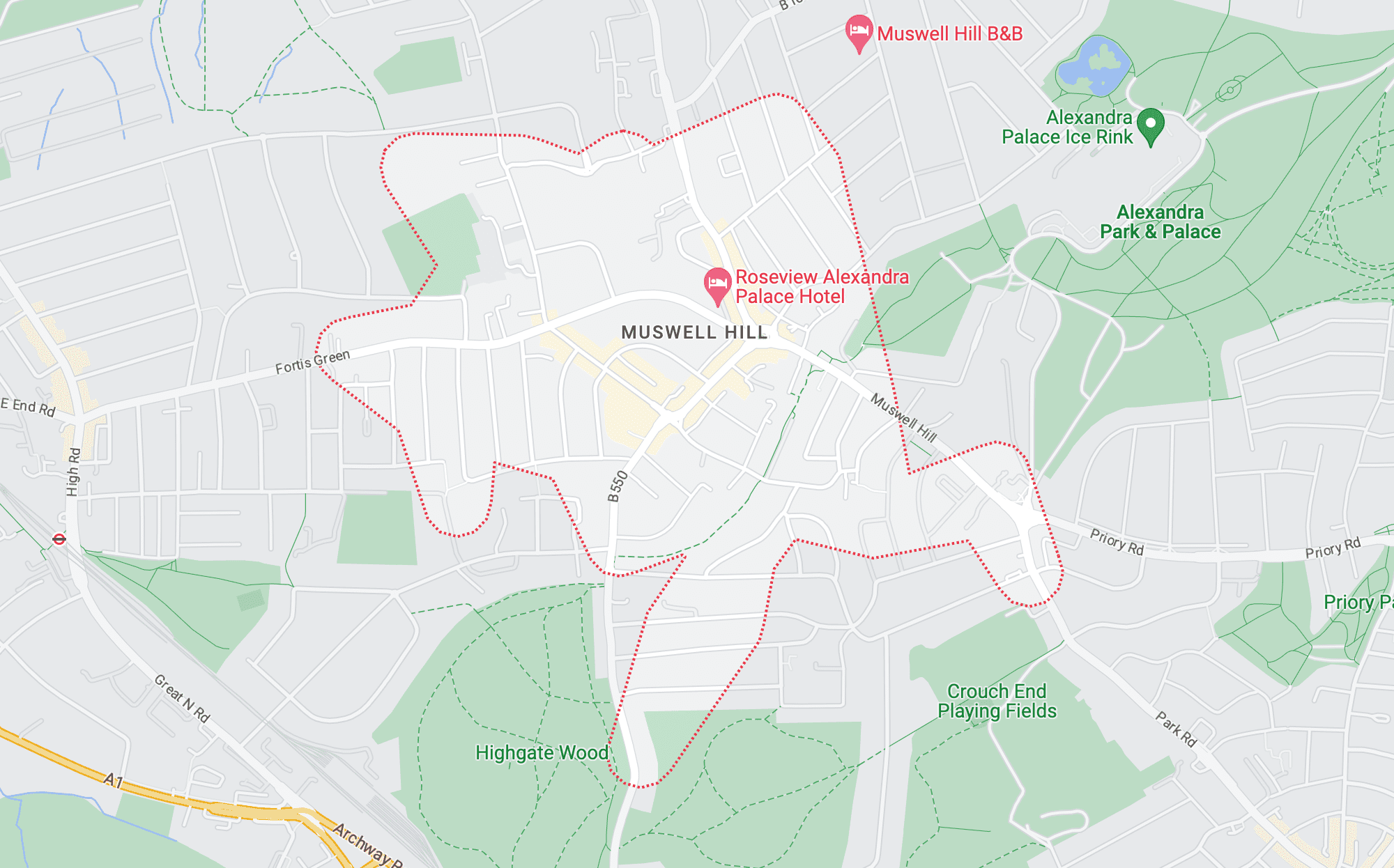 An example of our rubbish removal service in Muswell Hill
We recently had the opportunity to work with a lovely family in Muswell Hill, N10, who required a complete house clearance. Our team at Rainbow Rubbish Removals was more than happy to help them with their rubbish removal needs. We started by assessing the property and providing a detailed plan for the clearance, ensuring that all their requirements were met.
Our skilled team carried out a range of services, including furniture disposal, appliance removal, and general rubbish clearance. We also took care of builders rubbish disposal, as the family had recently completed some renovation work. As always, our team was efficient and careful, ensuring that the property was left clean and tidy.
One of the key aspects of our work in Muswell Hill was our commitment to environmental responsibility. We made sure to segregate the waste collected, separating recyclable materials from non-recyclable items. Our partnerships with local recycling centres allowed us to dispose of the waste in an eco-friendly manner, minimising the impact on the environment.
Throughout the project, we maintained excellent communication with the family, keeping them informed of our progress and accommodating any specific requests they had. Our flexibility in scheduling and competitive pricing ensured that the family received great value for their rubbish removal in Muswell Hill, N10.
"Rainbow Rubbish Removals did a smashing job with our house clearance in Muswell Hill. The team was punctual, efficient, and left our property looking spick and span. Their commitment to recycling and eco-friendly disposal was the cherry on top. We couldn't be happier with the service and would highly recommend them to anyone in need of rubbish removal in the area."
About Muswell Hill, London
Located in the northern part of London, Muswell Hill is a picturesque and affluent suburb known for its stunning Edwardian architecture, tree-lined streets, and panoramic views of the city. This charming area offers a village-like atmosphere, with a strong sense of community and a wide range of independent shops, cafes, and restaurants. The London Borough of Haringey governs Muswell Hill, which is well-connected to the rest of the city through various public transport options.
Main Postcodes in Muswell Hill
Muswell Hill is primarily covered by the N10 postcode, with some parts extending into the N2 and N22 postcodes. The area is bordered by Highgate to the south, East Finchley to the west, and Alexandra Park to the east. The postcode districts surrounding Muswell Hill include N6, N8, N11, and N12.
Muswell Hill Main Attractions
Alexandra Palace: Known as the "People's Palace," Alexandra Palace is a historic entertainment venue that hosts a variety of events, including concerts, exhibitions, and festivals. With its stunning panoramic views of London, the palace is a must-visit attraction in Muswell Hill.
Stephens House & Gardens: This Grade II listed house and its surrounding gardens offer a peaceful retreat from the busy city life. Visitors can explore the beautifully maintained gardens, enjoy the on-site café, and participate in various events and activities throughout the year.
Everyman Cinema: This boutique cinema in Muswell Hill offers a unique movie-going experience, with comfortable seating, a stylish bar, and a curated selection of films.
Muswell Hill History
Muswell Hill has a rich history dating back to the Roman period. The name "Muswell" is believed to have originated from a natural spring in the area, which was said to have miraculous healing properties. In the 12th century, a chapel was built near the spring, and the area became a popular pilgrimage site.
During the 19th century, Muswell Hill began to transform from a rural village into a thriving suburb, thanks to the arrival of the railway and the construction of Alexandra Palace. The area's development continued into the 20th century, with the construction of numerous Edwardian homes and the establishment of local businesses.
In the 1960s and 1970s, Muswell Hill became a hub for musicians and artists, with several notable bands, such as The Kinks and Fairport Convention, forming in the area. Today, Muswell Hill retains its artistic and creative spirit, with a thriving community of independent shops, galleries, and cultural venues.
More About Muswell Hill
Muswell Hill is known for its strong sense of community and family-friendly atmosphere. The area boasts several highly regarded schools, making it a popular choice for families. Additionally, the abundance of green spaces, such as Highgate Wood, Coldfall Wood, and Queens Wood, provides ample opportunities for outdoor activities and leisure.
The area is also home to a thriving food scene, with a wide range of restaurants, cafes, and pubs offering diverse culinary options. From traditional British fare to international cuisine, there is something to suit every taste in Muswell Hill.
In conclusion, Muswell Hill is a charming and historic suburb that offers a unique blend of village-like atmosphere, stunning architecture, and modern amenities. With its strong sense of community, excellent schools, and vibrant cultural scene, it is no wonder that Muswell Hill remains a highly sought-after area to live in London.
Preserving a Spotless and Organised Muswell Hill
Welcome to Rainbow Rubbish Removals, your dependable waste disposal ally in Muswell Hill, London. Consider us your local waste experts, ready to tackle any disposal challenge you may face.
Our devoted team consistently strives to deliver a stress-free experience, catering to a variety of clearance requirements from residential, commercial, educational, and construction environments. Our enthusiasm lies in streamlining waste disposal for our valued clients.
Operating seven days a week throughout Muswell Hill, London, we provide flexible scheduling to suit your needs. Our highly skilled team is proficient in handling and disposing of a wide range of waste materials. We take pride in offering prompt, efficient, and courteous service. With competitive pricing and complimentary quotes, partnering with us could make a world of difference!
Get in touch today by giving us a call, completing our simple quote form on this page, or sending a WhatsApp message using the button above. Our passionate team is ready to take action. Are you ready to embark on a cleaner journey?
Partner with Us in Keeping Muswell Hill Waste-Free
Handling waste at home and work can be an overwhelming task, potentially distracting you from other important matters. To ease your load, we offer scheduled rubbish removal services throughout Muswell Hill, London. Simply follow these straightforward steps:
1. Choose a convenient day and time for collection.
2. Organise your waste into categories such as recyclables, reusable items, large objects, and hazardous materials.
3. Leave the rest to our team – we'll take care of collection, disposal, donations, and recycling, ensuring a seamless waste management experience.
By following these steps, you can maintain a clutter-free environment and focus on what truly matters. Reach out to us today to schedule your rubbish removal service in Muswell Hill, London. Together, we can keep our community clean and organised.
Frequently Asked Questions and Answers about our Rubbish Removal Services in Muswell Hill
What rubbish removal services do you offer in Muswell Hill, N10?
We provide a wide range of rubbish removal services in Muswell Hill, N10, including house, garden, office, school, and construction site clearances. Our team is available every day of the week to help you with any waste management needs, from one-off jobs to regular rubbish collection services.
How can I get in touch with you for rubbish removal in Muswell Hill, N10?
Getting in touch with us is easy. You can click on the WhatsApp button on our website to message us directly from your mobile phone, fill out the quick quote form on our website, phone or email us. Just let us know about the waste you need to be cleared, and feel free to attach supporting photos.
How much does rubbish removal in Muswell Hill, N10 cost?
The cost of rubbish removal in Muswell Hill, N10, depends on factors such as overall waste weight and loading times. We offer firm, competitive quotes that cover all aspects of the service. For more information on pricing, please visit our pricing page.
Do you offer same-day rubbish removal services in Muswell Hill, N10?
Yes, we do offer same-day rubbish removal services in Muswell Hill, N10. If you require an urgent service, please call us before 10 am to arrange a same-day rubbish removal appointment.
How do you ensure responsible waste disposal in Muswell Hill, N10?
We are committed to responsible waste disposal in Muswell Hill, N10. After collecting your rubbish, we drive to the nearest recycling centre to sort through the waste and recycle or dispose of it responsibly. We also recommend separating your waste into reusables and recyclables to help with effective waste management.
What types of waste do you collect in Muswell Hill, N10?
We collect a wide variety of waste in Muswell Hill, N10, including household and office waste, furniture, appliances, garden waste, construction site waste, and more. Whether you need help with a complete clearance or just a few items, our team is ready to assist you.