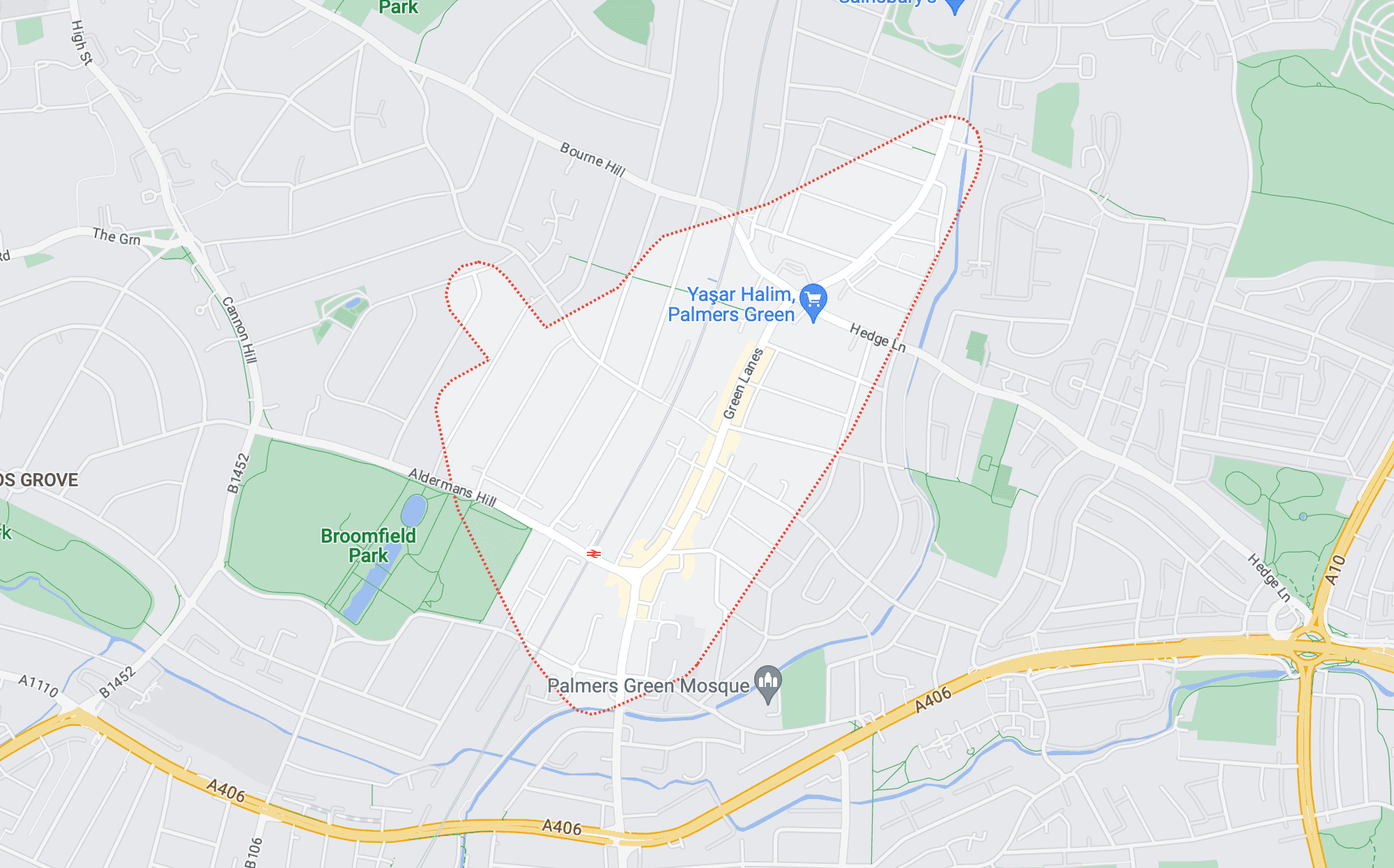 An example of our rubbish removal service in Palmers Green
We recently had the opportunity to work with a lovely family in Palmers Green, N13, who needed a complete house clearance. Our team at Rainbow Rubbish Removals was more than happy to help them with their rubbish removal needs. We started by assessing the property and providing a detailed plan for the clearance, ensuring that all their requirements were met.
Our skilled team carried out a range of services, including furniture disposal, appliance removal, and general rubbish clearance. We also took care of builders rubbish disposal, as the family had recently completed some renovation work. As always, our team was efficient and took great care in performing their duties, ensuring that the property was left clean and tidy.
Rainbow Rubbish Removals is committed to environmental responsibility, and we made sure to segregate the waste collected from the Palmers Green property. We partnered with local recycling centres to ensure that as much waste as possible was recycled, and any remaining waste was disposed of in an eco-friendly manner.
We pride ourselves on our excellent customer service, and this project in Palmers Green was no exception. Our team maintained prompt communication with the family throughout the process, and we were flexible in scheduling the clearance to suit their needs. We also accommodated specific requests, such as the careful handling of certain items. Our competitive pricing and the value we provide made the entire experience a positive one for our clients.
"Rainbow Rubbish Removals did a fantastic job with our house clearance in Palmers Green. The team was efficient, tidy, and took great care with our belongings. They were also very friendly and easy to communicate with. We were chuffed with the results and would highly recommend their services to anyone in need of rubbish removal in the N13 area."
About Palmers Green, London
Located in the north of London, Palmers Green is a charming and welcoming area within the London Borough of Enfield. Known for its leafy streets, beautiful parks, and a strong sense of community, Palmers Green has become a popular choice for families and young professionals alike. With excellent transport links to central London, including Palmers Green railway station and numerous bus routes, residents can enjoy the best of both worlds – a peaceful suburban lifestyle with easy access to the excitement and opportunities of the city.
Palmers Green is also home to a thriving high street, offering a wide range of shops, restaurants, and cafes to cater to the needs of its residents. The area boasts a rich cultural scene, with various events and festivals taking place throughout the year, such as the Palmers Green Festival and the annual Christmas lights switch-on.
Enfield Main Postcodes
The London Borough of Enfield, which encompasses Palmers Green, includes several main postcodes. These are N13, N14, N21, EN1, EN2, and EN3. Palmers Green itself is primarily situated within the N13 postcode area.
Enfield Main Attractions
Forty Hall: A stunning Grade I listed manor house, Forty Hall is a must-visit attraction in Enfield. Set within picturesque grounds, the hall offers a fascinating insight into 17th-century life and hosts a variety of events and exhibitions throughout the year.
Capel Manor Gardens: A beautiful and tranquil oasis, Capel Manor Gardens features 30 acres of themed gardens, a maze, and a zoo. It's the perfect place for a relaxing day out with the family.
Myddelton House Gardens: Home to the famous horticulturist E.A. Bowles, Myddelton House Gardens is a stunning example of Victorian gardening. Visitors can explore the beautiful grounds, glasshouses, and museum, learning about the history of the gardens and the life of E.A. Bowles.
Enfield History
The London Borough of Enfield has a rich and varied history, dating back to Roman times. The area was originally part of the ancient Forest of Middlesex, and over the centuries, it has been home to several notable figures, including Sir Walter Raleigh and Sir Francis Drake.
In the 19th century, Enfield saw significant development with the arrival of the railway, which connected the area to central London. This led to a rapid expansion of the local population and the construction of many new homes and amenities. Palmers Green, in particular, experienced significant growth during this period, with the development of its high street and the establishment of several local businesses.
During the 20th century, Enfield continued to evolve, with the construction of new housing estates and the expansion of local industry. Today, the borough is a thriving and diverse community, offering a unique blend of history, culture, and modern amenities.
Enfield has also played a significant role in the development of the British music scene, with several famous musicians hailing from the area, including Amy Winehouse, Rod Stewart, and Joe Strummer.
Palmers Green and the wider Enfield area offer a wealth of opportunities for residents and visitors alike. From its rich history and beautiful green spaces to its thriving high street and excellent transport links, this charming London borough is a fantastic place to live, work, and explore.
Maintaining a Clean and Tidy Palmers Green
Welcome to Rainbow Rubbish Removals, your trusted waste disposal partner in Palmers Green, London. Consider us your local waste experts, ready to tackle any disposal task you may have in the N13 area.
Our devoted team consistently strives to provide a stress-free experience, catering to various clearance needs from residential, commercial, educational, and construction environments. Our passion lies in streamlining waste disposal for our valued clients.
Operating seven days a week throughout Palmers Green, London, we offer flexible scheduling to suit your requirements. Our highly skilled team is proficient at handling and disposing of a wide range of waste materials. We take pride in delivering prompt, efficient, and courteous service. With competitive pricing and free quotes, partnering with us could make all the difference!
Get in touch today by giving us a call, filling out our simple quote form on this page, or sending a WhatsApp message using the button above. Our enthusiastic team is ready to take action. Are you ready to embark on a cleaner journey?
Join Us in Keeping Palmers Green Rubbish-Free
Handling waste at home and work can be a challenging task, potentially distracting you from other important matters. To ease your load, we offer scheduled rubbish removal services throughout Palmers Green, London. Simply follow these straightforward steps:
1. Choose a convenient day and time for collection.
2. Organise your waste into categories such as recyclables, reusable items, large objects, and hazardous materials.
3. Leave the rest to our team – we'll take care of collection, disposal, donations, and recycling, ensuring a seamless waste management experience.
Say goodbye to your clutter and waste for good, and book your Palmers Green rubbish removals with us today.
Frequently Asked Questions and Answers about our Rubbish Removal Services in Palmers Green
What types of rubbish removal services do you offer in Palmers Green, N13?
We provide a comprehensive range of rubbish removal services in Palmers Green, N13, including house, garden, office, school, and construction site clearances. Our team is equipped to handle everything from small bags of cardboard to complete house or office clearances, ensuring a hassle-free experience for our clients.
How can I get a quote for rubbish removal in Palmers Green, N13?
To receive a free, competitive quote for rubbish removal in Palmers Green, N13, you can contact us through various methods, including WhatsApp, filling out our quick quote form on our website, emailing us at rainbowrubbishremovals@gmail.com, or calling us at 020 3870 3051. We'll promptly provide you with a firm quote based on your specific needs.
What is the process for scheduling a rubbish removal appointment in Palmers Green, N13?
Once you have received your quote, you can schedule an appointment for rubbish removal in Palmers Green, N13, at a date and time that suits you best. During the appointment, our team will clear and load all of your unwanted waste onto our van and then transport it to the nearest recycling centre for eco-friendly and responsible disposal.
Do you offer same-day rubbish removal services in Palmers Green, N13?
Yes, we provide urgent same-day rubbish removal services in Palmers Green, N13. To arrange a same-day collection, please give us a call before 10 am, and we will do our best to accommodate your request and collect your rubbish later that day.
What types of waste do you collect in Palmers Green, N13?
We collect a wide variety of waste in Palmers Green, N13, including furniture, appliances, kitchen removals, WEEE waste, office waste, small electricals, bulky items, textiles, carpets, green garden waste, and construction site waste. Our team is experienced in handling various types of rubbish, ensuring efficient and responsible disposal.
How is the pricing for rubbish removal in Palmers Green, N13 determined?
Our pricing for rubbish removal in Palmers Green, N13, is based on factors such as the overall weight of the waste and the time required for loading and dismantling. We guarantee honest and fair pricing for our services. To learn more about our pricing, please visit our pricing page.