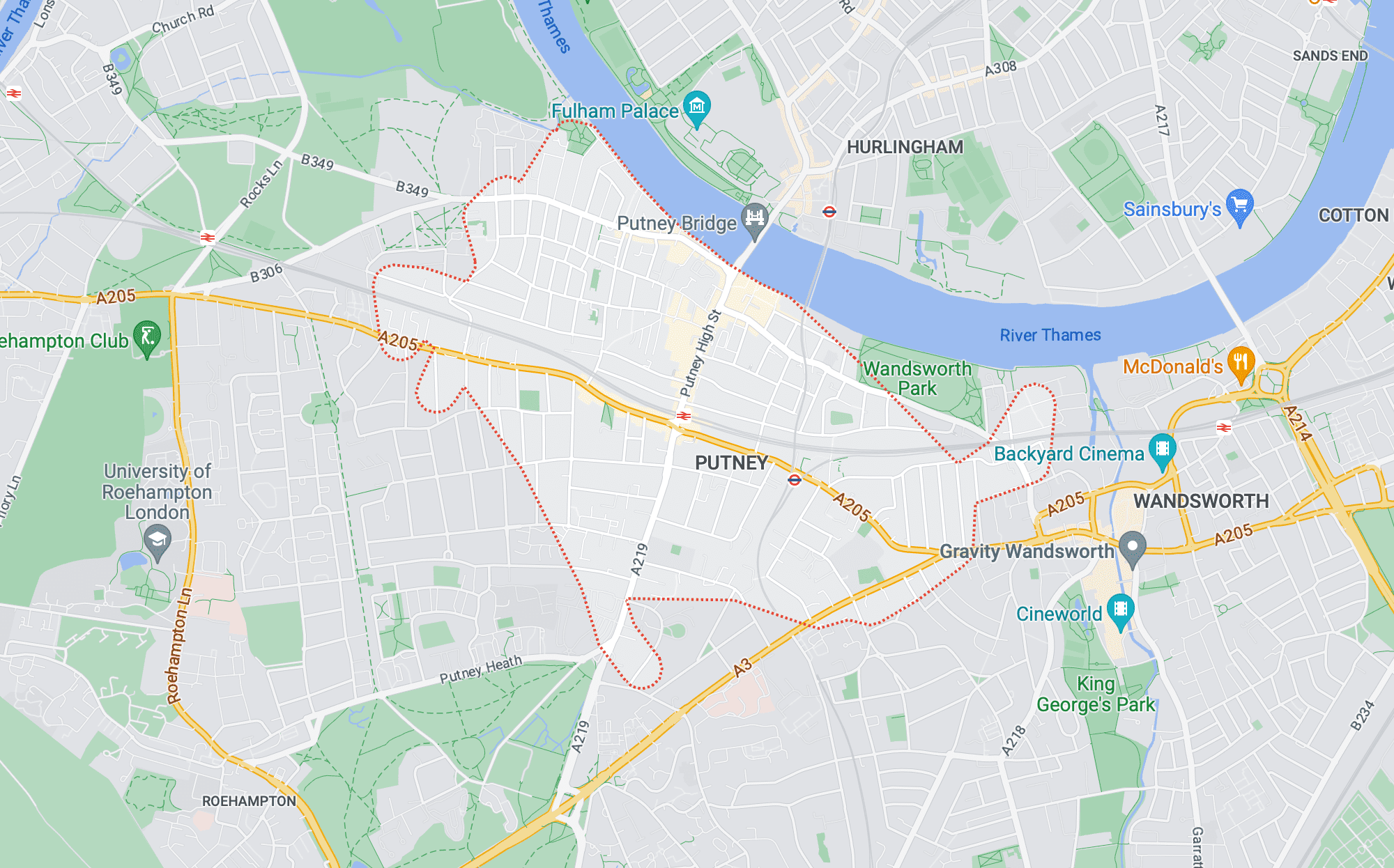 An example of our rubbish removal service in Putney
We recently had the opportunity to work with a lovely family in Putney, SW15, who needed a complete house clearance. Our team at Rainbow Rubbish Removals was more than happy to help them with their rubbish removal needs. The family had accumulated a significant amount of unwanted items over the years, including old furniture, appliances, and general household waste. They were looking for a reliable and efficient rubbish removal service in Putney to help them declutter their home and create a more spacious living environment.
Our team of rubbish removal experts arrived at the property on time, ready to tackle the task at hand. We began by carefully sorting through the items, separating recyclable materials from non-recyclable waste. This is an essential part of our commitment to environmental responsibility, as we strive to recycle as much waste as possible and dispose of the rest in an eco-friendly manner. We have established partnerships with local recycling centres in Putney, ensuring that we can efficiently process and recycle a wide range of materials.
Once the waste was sorted, our team proceeded to remove the unwanted items from the property. This included furniture disposal, appliance removal, and general rubbish clearance. We took great care to avoid causing any damage to the property and ensured that the work area was left clean and tidy. Our team's efficiency and attention to detail allowed us to complete the house clearance in a timely manner, much to the satisfaction of our clients.
Throughout the entire process, we maintained open communication with the family, addressing any concerns they had and accommodating their specific requests. Our flexible scheduling and competitive pricing made it easy for them to choose Rainbow Rubbish Removals for their rubbish removal needs in Putney. We take great pride in providing excellent customer service and value to our clients, and this project was no exception.
"I couldn't be happier with the service provided by Rainbow Rubbish Removals. They were punctual, efficient, and took great care in removing all the unwanted items from our home. The team was friendly and professional, and they left our property looking spick and span. I highly recommend them to anyone in Putney in need of rubbish removal services. Cheers!"
Situated in southwest London, Putney is a picturesque and affluent district within the London Borough of Wandsworth. Known for its charming riverside location, Putney offers a perfect blend of urban living and green spaces. With excellent transport links, including Putney Bridge Underground Station and Putney Railway Station, residents and visitors can easily access central London and other parts of the city.
Putney is a popular destination for families, professionals, and students alike, thanks to its wide range of amenities, including shops, restaurants, and leisure facilities. The area is also home to several reputable schools and the University of Roehampton, making it an ideal location for those seeking a high-quality education.
The River Thames plays a significant role in Putney's identity, with the annual Oxford and Cambridge Boat Race starting from Putney Bridge. This historic event attracts thousands of spectators each year, showcasing the strong community spirit and sporting culture that Putney is known for.
Putney Main Postcodes
The London Borough of Wandsworth encompasses several postcodes within the Putney area. These include SW15, which covers the majority of Putney, as well as parts of SW18 and SW6. These postcodes are essential for residents and businesses, as they help to identify specific locations within the borough.
Putney Main Attractions
Putney Heath: A vast expanse of green space, Putney Heath offers a tranquil escape from the bustling city. With walking trails, sports facilities, and picturesque views, it's a popular destination for outdoor enthusiasts and nature lovers.
Wandsworth Park: Located along the River Thames, Wandsworth Park is a beautifully maintained park featuring sports facilities, a playground, and a riverside promenade. It's an ideal spot for picnics, leisurely strolls, and family outings.
Putney Exchange Shopping Centre: This modern shopping centre offers a wide range of high-street shops, cafes, and restaurants, catering to the needs of Putney's residents and visitors.
Putney History
Putney's history dates back to the Roman era, with evidence of a settlement in the area as early as the 1st century AD. The name Putney is believed to have originated from the Old English words "put" (hawk) and "lea" (meadow), suggesting that the area was once a hunting ground.
In the medieval period, Putney was a small village known for its agricultural activities and fishing industry. The construction of Putney Bridge in 1729 significantly impacted the area's development, as it provided a vital link between Fulham and Putney, encouraging trade and growth.
During the 19th century, Putney experienced rapid urbanisation, with the arrival of the railway and the construction of new housing developments. The area became increasingly popular among the middle and upper classes, who were attracted to its riverside location and proximity to central London.
Today, Putney retains much of its historical charm, with many listed buildings and conservation areas. The district continues to evolve, offering a unique blend of modern amenities and rich heritage.
Putney is also known for its political significance, as it was the site of the famous Putney Debates in 1647. These discussions between members of the New Model Army and Levellers sought to determine the future of England's government following the English Civil War. The debates are commemorated with a plaque at St. Mary's Church, where the meetings took place.
Putney's rich history, combined with its modern amenities and picturesque setting, make it a highly sought-after location for residents and visitors alike.
Maintaining a Spick and Span Putney
Welcome to Rainbow Rubbish Removals, your dependable waste disposal ally in Putney, London. Consider us your local waste experts, ready to tackle any disposal challenge you may encounter.
Our devoted team consistently strives to provide a stress-free experience, catering to various clearance requirements from residential, commercial, educational, and construction environments. Our enthusiasm lies in streamlining waste disposal for our valued clients.
Operating seven days a week throughout Putney, London, we offer adaptable scheduling to suit your needs. Our highly skilled team is proficient at handling and disposing of a wide range of waste materials. We take pride in delivering prompt, efficient, and courteous service. With competitive pricing and complimentary quotes, partnering with us could make a world of difference!
Get in touch today by giving us a call, completing our simple quote form on this page, or sending a WhatsApp message using the button above. Our zealous team is ready to take action. Are you prepared to embark on a cleaner journey?
Join Us in Keeping Putney Rubbish-Free
Handling waste at home and work can be an overwhelming task, potentially distracting you from other important matters. To ease your load, we offer scheduled rubbish removal services throughout Putney, London. Simply follow these straightforward steps:
1. Choose a suitable day and time for collection.
2. Organise your waste into categories such as recyclables, reusable items, large objects, and hazardous materials.
3. Leave the rest to our team – we'll take care of collection, disposal, donations, and recycling, ensuring a seamless waste management experience.
By following these steps and working together, we can keep Putney clean and rubbish-free for everyone to enjoy.
Frequently Asked Questions and Answers about our Rubbish Removal Services in Putney
What rubbish removal services do you offer in Putney, SW15?
We provide a comprehensive range of rubbish removal services in Putney, SW15, including house, garden, office, school, and construction site clearances. Our team is equipped to handle various types of waste, and we can accommodate regular clearance bookings, one-off collections, and urgent same-day rubbish removals if needed.
How can I book a rubbish removal service in Putney, SW15?
Booking a rubbish removal service in Putney, SW15, is simple. You can contact us through the WhatsApp button on our website, fill out our quick quote form, send us an email, or give us a call. Provide us with details about the type of waste you need to be removed, and we'll send you a free quote. Once you're happy with the quote, choose an appointment that suits your schedule.
Do you offer same-day rubbish removal services in Putney, SW15?
Yes, we do offer same-day rubbish removal services in Putney, SW15. If you require urgent waste collection, please give us a call before 10 am, and we'll do our best to accommodate your request.
What types of rubbish do you collect in Putney, SW15?
We collect a wide variety of rubbish in Putney, SW15, including general household waste, furniture, small electricals, appliances, WEEE waste, office waste, green garden waste, sheds and decking, carpets, and construction site waste. Our team is experienced in handling various types of waste, ensuring proper disposal and recycling.
How much does rubbish removal in Putney, SW15 cost?
Our rubbish removal services in Putney, SW15, are competitively priced, and we always strive to offer the fairest rates. The cost depends on factors such as the overall weight of the waste, loading and dismantling times, and parking. For a detailed breakdown of our pricing, please visit our pricing page.
How do you ensure proper disposal and recycling of the rubbish collected in Putney, SW15?
At Rainbow Rubbish Removals, we are committed to environmentally friendly waste management practices. After collecting your rubbish, our team will transport it to a local recycling centre and tip, where we will sort, recycle, and dispose of the waste responsibly. We follow the three R's principle: Reduce, Reuse, and Recycle, ensuring that we minimise the environmental impact of our rubbish removal services in Putney, SW15.