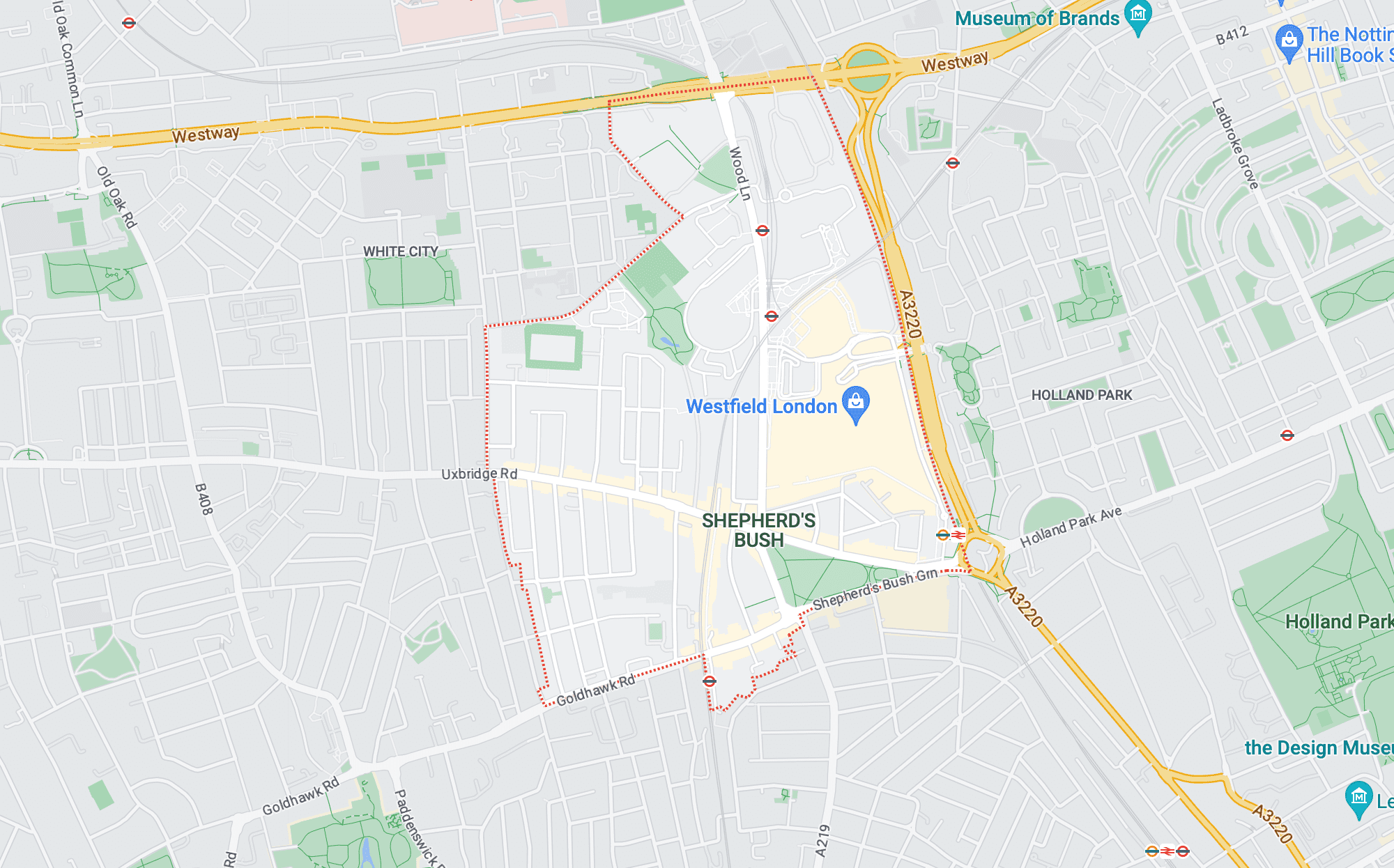 One of our waste management service success story in Shepherd's Bush
At Rainbow Rubbish Removals, we recently had the opportunity to work with a lovely family in Shepherd's Bush, W12. They contacted us for a complete house clearance, as they were preparing to move to a new home. Our team of rubbish removal experts in Shepherd's Bush quickly assessed the situation and provided a tailored solution to meet their needs.
We began by removing unwanted furniture and appliances, ensuring that all items were carefully handled to prevent any damage to the property. Our team then proceeded to clear out the builders rubbish that had accumulated during recent renovations. We also assisted with office clearance, as the family had a small home office that needed decluttering.
Throughout the process, our team in Shepherd's Bush demonstrated their efficiency and expertise in rubbish removal. We took great care to segregate waste materials, ensuring that recyclable items were sent to the appropriate recycling centres. This is part of our commitment to environmental responsibility and eco-friendly waste disposal practices.
Our clients were impressed with our prompt communication and flexibility in scheduling the rubbish removal in Shepherd's Bush. We were able to accommodate their specific requests and worked around their busy schedule to complete the job in a timely manner. Moreover, our competitive pricing and the value we provided left them feeling satisfied with their decision to choose Rainbow Rubbish Removals.
"Rainbow Rubbish Removals did a cracking job clearing out our home in Shepherd's Bush. The team was spot on with their punctuality and efficiency, and they left our property looking spick and span. We couldn't be happier with the results and the positive impact their services had on our moving process. Highly recommended!"
About Shepherd's Bush, London
Located in West London, Shepherd's Bush is a thriving and lively area within the London Borough of Hammersmith and Fulham. Known for its rich history and strong sense of community, this bustling neighbourhood offers a unique blend of residential, commercial, and entertainment options. With its convenient location, Shepherd's Bush is well-connected to the rest of London through its extensive public transport network, making it an ideal place for both residents and visitors alike.
Shepherd's Bush is home to a wide range of amenities, including the famous Westfield London shopping centre, which boasts an impressive array of shops, restaurants, and leisure facilities. The area also features a variety of green spaces, such as Shepherd's Bush Green and Hammersmith Park, providing residents and visitors with a welcome respite from the urban environment. Furthermore, the neighbourhood is known for its thriving arts and culture scene, with several theatres, galleries, and music venues offering a diverse range of entertainment options.
Shepherd's Bush Main Postcodes
The London Borough of Hammersmith and Fulham encompasses several postcodes within the Shepherd's Bush area. These include W12, which covers the majority of Shepherd's Bush, as well as parts of W6 and W14. These postcodes are essential for residents and businesses alike, as they help to identify specific locations within the borough and facilitate efficient postal services.
Shepherd's Bush Main Attractions
Westfield London: As one of the largest shopping centres in Europe, Westfield London offers a vast selection of high-street and luxury brands, as well as a wide range of dining and entertainment options.
Bush Theatre: This renowned theatre has been a staple of the Shepherd's Bush arts scene since 1972, showcasing innovative and thought-provoking productions from both established and emerging playwrights.
O2 Shepherd's Bush Empire: This historic music venue has hosted countless iconic performances since its opening in 1903 and continues to be a popular destination for live music enthusiasts.
Shepherd's Bush History
The history of Shepherd's Bush dates back to the early 19th century when it was primarily an agricultural area with a small population. The arrival of the railway in the mid-1800s led to rapid development, transforming Shepherd's Bush into a thriving residential and commercial hub.
During the 20th century, Shepherd's Bush continued to grow and evolve, with the construction of several iconic buildings, such as the Shepherd's Bush Empire and the BBC Television Centre. The area also played a significant role during World War II, with many local factories contributing to the war effort.
In recent years, Shepherd's Bush has undergone further development and regeneration, with the opening of Westfield London in 2008 and ongoing improvements to local infrastructure and amenities. This ongoing growth and investment have helped to cement Shepherd's Bush's reputation as a vibrant and dynamic part of West London.
Shepherd's Bush has also been home to a diverse range of notable residents throughout its history, including musicians, actors, and writers. This rich cultural heritage, combined with the area's ongoing development, ensures that Shepherd's Bush remains an exciting and dynamic place to live, work, and visit.
Maintaining a Clean and Tidy Shepherd's Bush
Welcome to Rainbow Rubbish Removals, your dependable waste disposal partner in Shepherd's Bush, London. Consider us your local waste experts, ready to tackle any disposal task you may have.
Our devoted team consistently strives to provide a hassle-free experience, catering to various clearance needs from residential, commercial, educational, and construction environments. Our passion lies in streamlining waste disposal for our clients.
Operating seven days a week throughout Shepherd's Bush, London, we offer flexible scheduling to accommodate your needs. Our highly skilled team is proficient at handling and disposing of a wide range of waste materials. We take pride in offering prompt, efficient, and courteous service. With competitive pricing and free quotes, partnering with us could make all the difference!
Get in touch today by giving us a call, filling out our simple quote form on this page, or sending a WhatsApp message using the button above. Our enthusiastic team is ready to take action. Are you ready to embark on a cleaner journey?
Join Us in Keeping Shepherd's Bush Rubbish-Free
Handling waste at home and work can be a challenging task, potentially diverting your focus from other priorities. To ease your burden, we offer scheduled rubbish removal services throughout Shepherd's Bush, London. Simply follow these easy steps:
1. Select a convenient day and time for collection.
2. Organise your waste into categories such as recyclables, reusable items, large objects, and hazardous materials.
3. Leave the rest to our team – we'll take care of collection, disposal, donations, and recycling, ensuring a smooth waste management experience.
With these simple waste management techniques, you will quickly notice a difference in how much rubbish you produce and how much time you get back:
– Separate your trash into the 3R's: Reduce, reuse, recycle.
– Use a dedicated bin system to group your items.
– Keep large and bulky items safely to the side.
Waste management is one of our specialities! Speak to us today to discover more about our Shepherd's Bush rubbish removal service and how it can work for you.
Frequently Asked Questions (FAQs) and Answers Regarding Our Rubbish Removal Services in Shepherd's Bush
What types of rubbish removal services do you offer in Shepherd's Bush, W12?
We offer a wide range of rubbish removal services in Shepherd's Bush, W12, including house, garden, office, school, and construction site clearances. Our locally based and knowledgeable team is available seven days a week, all year round, to help you with any rubbish removal needs, whether it's a regular waste management service, a one-off clearance, or a same-day service.
How can I book a rubbish removal service in Shepherd's Bush, W12?
Booking our rubbish removal service in Shepherd's Bush, W12, is simple and straightforward. You can contact us via WhatsApp, email, by filling out the quick quote form on our website, or by giving us a call. Provide us with the details of the rubbish you want us to remove (photos are welcome), and we'll send you a free quote. Choose an appointment that suits your schedule, and we'll take care of the rest.
What can I expect during the rubbish removal appointment in Shepherd's Bush, W12?
During your rubbish removal appointment in Shepherd's Bush, W12, our team will arrive ready to clear, dismantle, and load your rubbish onto our van. Once the van is loaded, we will drive to the nearest recycling centre to sort through and discard your waste responsibly. If you need a same-day service, call us before 10 am to arrange it.
What types of waste do you collect in Shepherd's Bush, W12?
We collect a wide variety of waste in Shepherd's Bush, W12, including household, office, and construction site waste, kitchen removals, appliances, small electricals, furniture, carpets, textiles, recyclables, WEEE waste, green garden waste, and more. We can also help with dismantling sheds, decking, and greenhouses if required.
How much does rubbish removal in Shepherd's Bush, W12 cost?
Our rubbish removal pricing in Shepherd's Bush, W12, is fair, competitive, and transparent. Each quote considers the overall waste weight, loading and dismantling times, and ease of access to your property. For a detailed pricing table, please visit our pricing page. If you require a larger clearance, an extra collection may be necessary.
What makes your Shepherd's Bush, W12 rubbish removal service stand out?
Our Shepherd's Bush, W12 rubbish removal service stands out due to our commitment to providing an excellent customer experience. We focus on delivering a stress-free and straightforward service, ensuring that your rubbish removal needs are met with professionalism and efficiency. Our friendly and knowledgeable team is always ready to help you refresh your space and say goodbye to your trash for good.