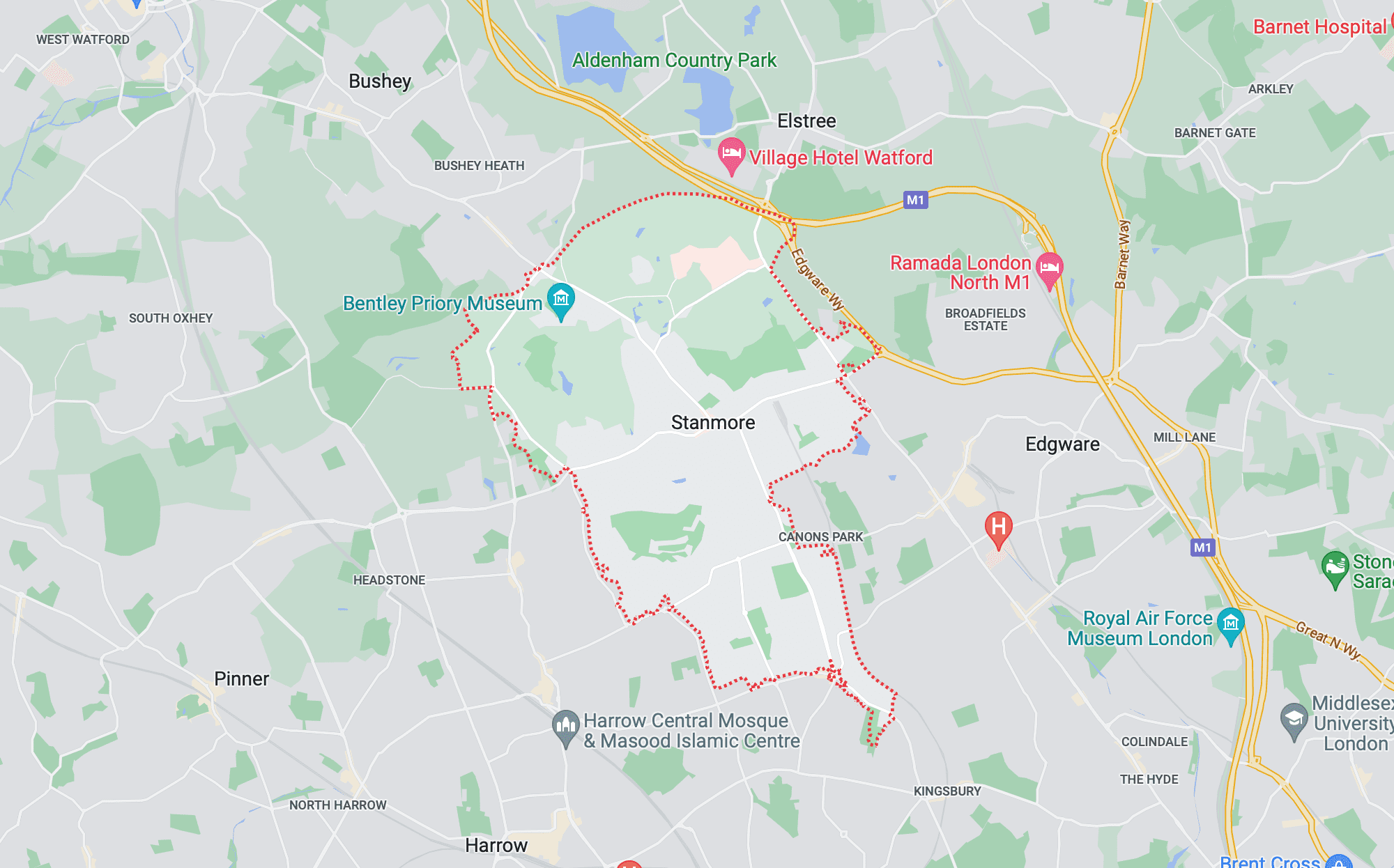 One of our waste management service success story in Stanmore
At Rainbow Rubbish Removals, we've had the opportunity to work on a variety of projects in the Stanmore, HA7 borough. One such project involved a complete house clearance for a family who had recently inherited a property. Our team was tasked with removing all the unwanted furniture, appliances, and general rubbish that had accumulated over the years. We took great care in handling the items, ensuring that any valuable or sentimental belongings were set aside for the family.
Our rubbish removal services in Stanmore, HA7 also extend to office clearances. We once assisted a local business in decluttering their workspace by disposing of old office furniture, outdated equipment, and piles of paperwork. Our efficient team worked diligently to complete the task with minimal disruption to the company's daily operations.
Another project we undertook in the Stanmore, HA7 area involved builders rubbish disposal. After a home renovation, the homeowners were left with a significant amount of construction waste. We promptly arrived on-site to remove the debris, allowing the family to enjoy their newly renovated space without any lingering mess.
At Rainbow Rubbish Removals, we are committed to environmental responsibility. Our waste segregation process ensures that recyclable materials are separated from non-recyclable waste, and we maintain partnerships with local recycling centres in Stanmore, HA7. This allows us to dispose of rubbish in an eco-friendly manner, reducing the impact on our planet.
"Rainbow Rubbish Removals did a cracking job clearing out my late aunt's house in Stanmore, HA7. The team was punctual, efficient, and took great care in handling her belongings. They even went the extra mile to help us sort through items we wanted to keep. Their commitment to recycling and eco-friendly disposal was the cherry on top. I'd highly recommend their services to anyone in need of rubbish removal in the area."
Located in the northwestern part of Greater London, Stanmore is a charming suburban area within the London Borough of Harrow. Known for its picturesque residential streets and lush green spaces, Stanmore offers a peaceful retreat from the hustle and bustle of central London. With excellent transport links, including Stanmore Underground Station on the Jubilee Line, residents and visitors can easily access the heart of the city while enjoying the tranquillity of this suburban haven.
Stanmore is home to a variety of local amenities, including independent shops, cafes, and restaurants, as well as several highly regarded schools. The area also boasts a rich cultural scene, with a number of community events and activities taking place throughout the year. With its strong sense of community and idyllic setting, Stanmore is an ideal location for families and professionals alike.
Stanmore Main Postcodes
The London Borough of Harrow encompasses several postcodes within the Stanmore area. These include HA7, which covers the majority of Stanmore, as well as parts of HA3 and HA8. These postcodes are essential for residents and businesses in the area, as they help to identify specific locations within the borough and facilitate efficient postal services.
Stanmore Main Attractions
Bentley Priory Museum: This fascinating museum is housed in a beautiful Grade II listed building and tells the story of the Royal Air Force's role during the Battle of Britain. Visitors can explore the historic rooms, learn about the key figures involved, and discover the vital role that Bentley Priory played in the defence of the nation.
Stanmore Country Park: A beautiful green space offering a variety of walking trails, wildlife habitats, and stunning views across London. The park is a popular destination for families, dog walkers, and nature enthusiasts, providing a peaceful escape from urban life.
Bernays Gardens: A hidden gem in the heart of Stanmore, Bernays Gardens is a tranquil community garden that offers a peaceful retreat for residents and visitors alike. The gardens feature a variety of plants, flowers, and seating areas, making it an ideal spot for relaxation and reflection.
Stanmore History
Stanmore has a rich history that dates back to the Roman period, with archaeological evidence suggesting that the area was once home to a Roman villa. The name Stanmore is derived from the Old English words "stan" (stone) and "mere" (pool), indicating the presence of a stone-lined pond in the area.
In the 14th century, Stanmore was a small hamlet with a population of around 100 people. The area remained largely rural until the 19th century when the arrival of the railway led to significant development and growth. Many of the area's most notable buildings, such as the Grade II listed Stanmore Hall, were constructed during this period.
During World War II, Stanmore played a crucial role in the defence of London, with Bentley Priory serving as the headquarters for Fighter Command. The historic building has since been transformed into the Bentley Priory Museum, which commemorates the bravery and sacrifice of those who served during the Battle of Britain.
Stanmore Today
Today, Stanmore is a thriving suburban community that offers a high quality of life for its residents. The area boasts a range of excellent schools, including Stanmore College and Park High School, as well as a variety of leisure facilities, such as the Stanmore Golf Club and the Aspire Leisure Centre. With its strong sense of community, rich history, and picturesque setting, Stanmore remains a highly sought-after location for families and professionals looking to enjoy the best of both worlds – the tranquillity of suburban living and the convenience of easy access to central London.
Maintaining a Clean and Tidy Stanmore
Welcome to Rainbow Rubbish Removals, your dependable waste disposal partner in Stanmore, London. Consider us your local waste experts, ready to tackle any disposal challenge you may face.
Our devoted team consistently strives to provide a stress-free experience, catering to various clearance requirements from residential, commercial, educational, and construction environments. Our passion lies in streamlining waste disposal for our valued clients.
Operating seven days a week throughout Stanmore, London, we offer adaptable scheduling to suit your needs. Our highly skilled team is proficient at handling and disposing of a wide range of waste materials. We take pride in delivering prompt, efficient, and courteous service. With competitive pricing and complimentary quotes, partnering with us could make a world of difference!
Get in touch today by giving us a call, completing our simple quote form on this page, or sending a WhatsApp message using the button above. Our enthusiastic team is ready to take action. Are you prepared to embark on a cleaner journey?
Join Us in Keeping Stanmore Rubbish-Free
Handling waste at home and work can be an overwhelming task, potentially distracting you from other important matters. To ease your load, we offer scheduled rubbish removal services throughout Stanmore, London. Simply follow these straightforward steps:
1. Choose a suitable day and time for collection.
2. Organise your waste into categories such as recyclables, reusable items, large objects, and hazardous materials.
3. Leave the rest to our team – we'll take care of collection, disposal, donations, and recycling, ensuring a seamless waste management experience.
Are you ready to refresh your space? Contact us today to arrange your Stanmore rubbish removal service!
Frequently Asked Questions (FAQs) and Answers Regarding Our Rubbish Removal Services in Stanmore
What rubbish removal services do you offer in Stanmore, HA7?
We provide a wide range of rubbish removal services in Stanmore, HA7, including home, garden, school, office, and construction site clearances. Our team is available seven days a week, all year round, for scheduled appointments, one-offs, and urgent same-day rubbish removals. No matter the size or type of waste, we're here to help you clear your space efficiently and responsibly.
How can I book a rubbish removal service in Stanmore, HA7?
Booking a rubbish removal service in Stanmore, HA7, is simple. You can contact us via email, phone, or by clicking on the WhatsApp button on our website. Alternatively, you can fill out our quick quote form on the right side of our website. If you require an urgent same-day rubbish removal service, please call us before 10 am, and we'll take care of the rest.
What types of waste do you collect in Stanmore, HA7?
We collect a wide variety of waste in Stanmore, HA7, including general household waste, furniture, appliances, kitchen removals, paper and cardboard goods, WEEE waste, small electricals, carpets, pianos, bikes, green garden waste, pots, panels, general debris, sheds, decking, office furniture, recyclables, and more. We also offer a comprehensive range of garden services, such as tree surgery and hedge trimming.
How do you ensure responsible waste disposal in Stanmore, HA7?
At Rainbow Rubbish Removals, we are committed to responsible waste disposal. After collecting your rubbish, we transport it to the closest recycling centre in Stanmore, HA7, where we sort and dispose of all waste in an environmentally friendly manner. We follow the golden rule of waste management: Reduce, Reuse, Recycle, ensuring that your waste is handled responsibly and sustainably.
How much does rubbish removal in Stanmore, HA7 cost?
Our rubbish removal services in Stanmore, HA7, are competitively priced to ensure you get the best value for your money. Prices vary depending on the capacity and time required for loading. For a detailed breakdown of our pricing, please visit our pricing page. If you have any questions or need more information, feel free to contact our friendly office team.
Why should I choose Rainbow Rubbish Removals for my rubbish removal needs in Stanmore, HA7?
As a locally run and operated business, we are passionate about serving the Stanmore, HA7 community. We pride ourselves on offering a hassle-free, flexible, and environmentally responsible rubbish removal service. Our team is dedicated to providing exceptional customer service, as evidenced by our numerous positive testimonials. Choose Rainbow Rubbish Removals for a reliable and efficient rubbish removal experience in Stanmore, HA7.