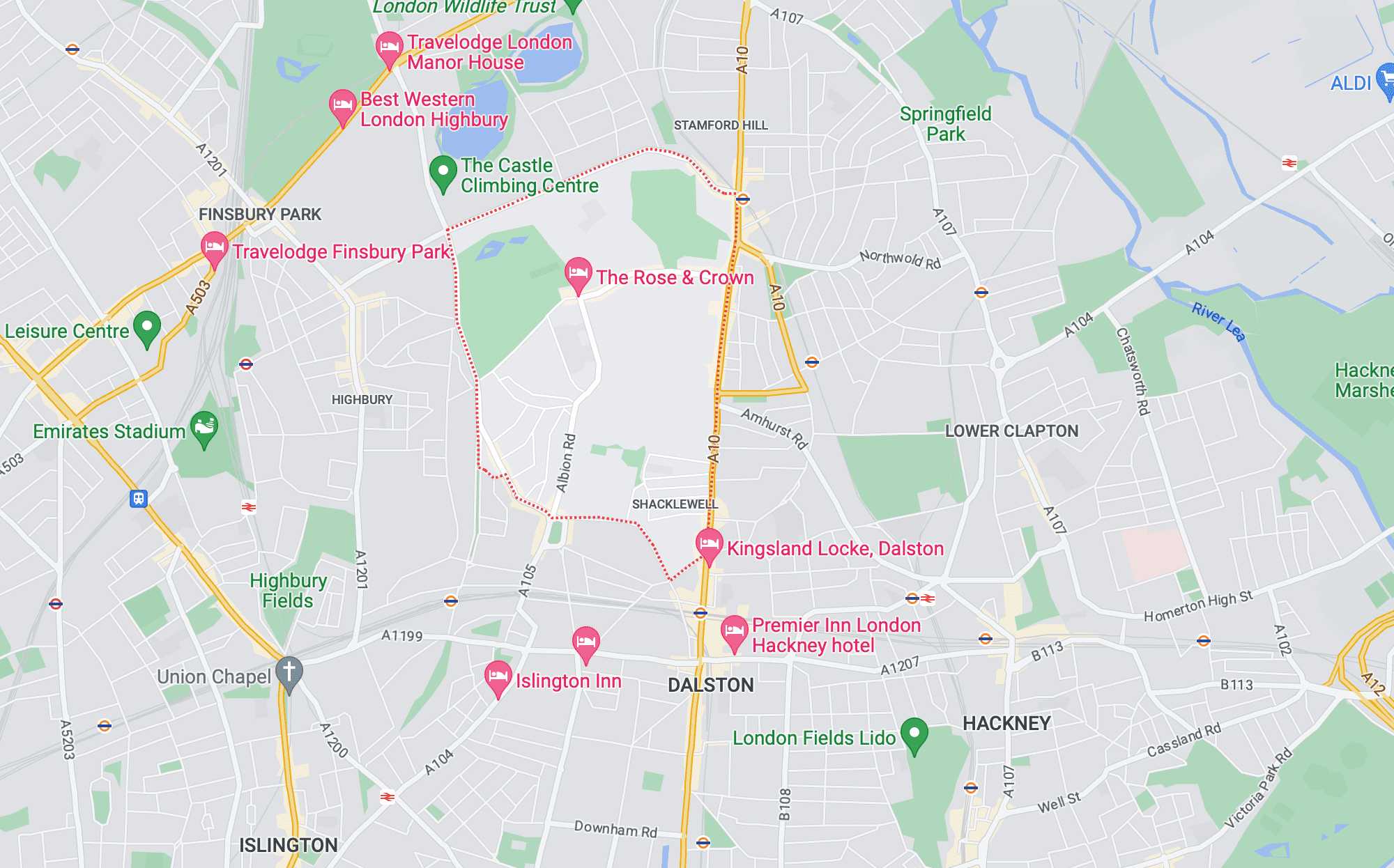 One of our waste management service success story in Stoke Newington
We recently had the opportunity to work on a rubbish removal project in Stoke Newington, N16, where we provided a range of services to help a local homeowner declutter their property. Our team of experts was called upon to handle various tasks, including house clearance, furniture disposal, and appliance removal. We were also responsible for disposing of builders rubbish left behind after a recent renovation.
Our efficient team in Stoke Newington, N16, took great care in performing their duties, ensuring that the homeowner's property was left clean and tidy. We understand the importance of being environmentally responsible, which is why we meticulously segregate waste and partner with local recycling centres to dispose of rubbish in an eco-friendly manner.
At Rainbow Rubbish Removals, we pride ourselves on our excellent customer service. Our prompt communication, flexibility in scheduling, and willingness to accommodate specific client requests set us apart from other rubbish removal companies in the borough. We also offer competitive pricing, ensuring that our clients receive the best value for their money.
In this Stoke Newington, N16 project, our team's hard work and dedication resulted in a significant improvement to the client's living environment. The homeowner was left with a clutter-free space, allowing them to fully enjoy their newly renovated property.
"I couldn't be happier with the service provided by Rainbow Rubbish Removals in Stoke Newington, N16. The team was absolutely brilliant - they arrived on time, worked efficiently, and left my property spotless. I was chuffed to see how much care they took in recycling and disposing of the waste responsibly. I'd highly recommend them to anyone in need of rubbish removal services."
About Stoke Newington, London
Located in the north-eastern part of London, Stoke Newington is a charming and historic area within the London Borough of Hackney. Known for its rich cultural heritage, beautiful green spaces, and lively atmosphere, Stoke Newington has become a popular destination for both residents and visitors alike. The area boasts a strong sense of community, with a wide range of independent shops, cafes, and restaurants lining its streets. Stoke Newington is well-connected to the rest of London, with numerous bus routes and Overground stations providing easy access to the city centre and beyond.
Stoke Newington Main Postcodes
Stoke Newington is primarily covered by the N16 postcode, which also includes parts of Stamford Hill and Shacklewell. Additionally, some areas of Stoke Newington fall under the N4 and N5 postcodes, which encompass Finsbury Park and Highbury, respectively. These postcodes ensure that residents and businesses in Stoke Newington are well-connected to the rest of London and the surrounding areas.
Stoke Newington Main Attractions
Clissold Park: This picturesque park offers a tranquil escape from the busy streets of London. With its beautiful gardens, large pond, and various sports facilities, Clissold Park is a popular destination for families, joggers, and nature enthusiasts.
Abney Park Cemetery: A historic Victorian cemetery and nature reserve, Abney Park Cemetery is a peaceful and fascinating place to explore. The cemetery is home to a diverse range of flora and fauna, as well as the final resting place of many notable figures from Stoke Newington's past.
St Mary's Old Church: Dating back to the 16th century, St Mary's Old Church is a beautiful and historic building that still serves as an active place of worship. The church hosts various events and concerts throughout the year, making it a cultural hub within the community.
Stoke Newington History
Stoke Newington has a rich and varied history, dating back to its origins as a small village in the Middle Ages. The area was once known for its fertile farmland and abundant natural resources, which attracted settlers and helped the village to grow and prosper. In the 16th century, the construction of St Mary's Old Church marked a significant milestone in Stoke Newington's development, as it became an important centre for religious and community life.
Throughout the 18th and 19th centuries, Stoke Newington continued to expand, with the construction of grand houses and the establishment of several prestigious schools. The arrival of the railway in the 19th century further boosted the area's growth, as it became more accessible to the rest of London. In the 20th century, Stoke Newington became known for its strong sense of community and cultural diversity, as waves of immigrants from various countries settled in the area and contributed to its unique character.
Today, Stoke Newington is a thriving and vibrant part of London, with a rich history that is still evident in its beautiful architecture and historic landmarks. The area continues to attract new residents and visitors, who are drawn to its lively atmosphere, diverse culture, and strong sense of community.
Stoke Newington is also home to a thriving arts scene, with numerous galleries, studios, and performance spaces showcasing the work of local and international artists. The area's diverse range of eateries and pubs offer a taste of cuisines from around the world, while its independent shops and boutiques provide a unique shopping experience. With its rich history, vibrant culture, and strong sense of community, Stoke Newington is a truly unique and captivating part of London.
Maintaining a Clean and Tidy Stoke Newington
Welcome to Rainbow Rubbish Removals, your dependable waste disposal ally in Stoke Newington, London. Consider us your local waste experts, ready to take on any disposal challenge you may face.
Our devoted team consistently strives to provide a seamless experience, catering to various clearance requirements from residential, commercial, educational, and construction environments. Our enthusiasm lies in streamlining waste disposal for our clients.
Operating seven days a week throughout Stoke Newington, London, we offer adaptable scheduling to suit your needs. Our highly skilled team is proficient at handling and disposing of a wide range of waste materials. We take pride in delivering prompt, efficient, and courteous service. With competitive pricing and free quotes, partnering with us could make a world of difference!
Get in touch today by giving us a call, completing our simple quote form on this page, or sending a WhatsApp message using the button above. Our energetic team is ready to take action. Are you prepared to embark on a cleaner journey?
Join Us in Keeping Stoke Newington Rubbish-Free
Handling waste at home and work can be an overwhelming task, potentially distracting you from other important matters. To ease your load, we offer scheduled rubbish removal services throughout Stoke Newington, London. Simply follow these straightforward steps:
1. Choose a suitable day and time for collection.
2. Organise your waste into categories such as recyclables, reusable items, large objects, and hazardous materials.
3. Leave the rest to our team – we'll take care of collection, disposal, donations, and recycling, ensuring a smooth waste management experience.
By following these steps, you can contribute to keeping Stoke Newington clean and rubbish-free. Together, we can make a difference in maintaining a tidy and pleasant environment for everyone to enjoy.
Frequently Asked Questions (FAQs) and Answers Regarding Our Rubbish Removal Services in Stoke Newington
What rubbish removal services are available in Stoke Newington, N16?
In Stoke Newington, N16, we offer a wide range of rubbish removal services to cater to your needs. These include house, garden, office, school, and construction site clearances. We are happy to accept regular bookings, one-offs, and even same-day rubbish collections if required. Our team is dedicated to providing efficient and affordable rubbish removal services to the residents of Stoke Newington.
How can I book a rubbish removal service in Stoke Newington, N16?
Booking a rubbish removal service in Stoke Newington, N16, is simple. You can either fill out our quick quote form on our website, click on the WhatsApp button to message us directly, call us at 020 3870 3051, or email us at rainbowrubbishremovals@gmail.com. Once we receive your request, we will provide you with a free quote and help you schedule an appointment that works best for you.
What types of rubbish do you collect in Stoke Newington, N16?
We collect a wide variety of rubbish in Stoke Newington, N16, including general household waste, green garden waste, furniture, small electrical appliances, WEEE waste, bicycles, pianos, carpets, construction site waste, and office waste. Our team is equipped to handle any rubbish removal task, big or small, ensuring that your space is clean and clutter-free.
How can I manage my waste more effectively in Stoke Newington, N16?
To manage your waste more effectively in Stoke Newington, N16, consider implementing the following tips:
1. Reduce, reuse, and recycle whenever possible.
2. Set up a separate waste area with clearly labelled boxes or bins for different types of rubbish.
3. Store bulky or large items separately until they can be disposed of properly.
4. Be cautious with hazardous waste and dispose of it correctly.
You can also arrange a regular rubbish removal service with us to help keep your waste under control and maintain a clean environment.
How much does rubbish removal in Stoke Newington, N16 cost?
Our rubbish removal services in Stoke Newington, N16, are competitively priced and offer fair, honest rates. Prices vary depending on the weight of the waste and the time it takes to dismantle and load it. For a detailed breakdown of our pricing, please visit our pricing page.
What should I do to prepare for my rubbish removal appointment in Stoke Newington, N16?
To ensure a smooth rubbish removal process in Stoke Newington, N16, please make sure that there is clear access to your property for our team. Restricted or limited access can slow down the process and may result in additional fees. By preparing your property for our arrival, you can help us provide you with an efficient and stress-free rubbish removal experience.