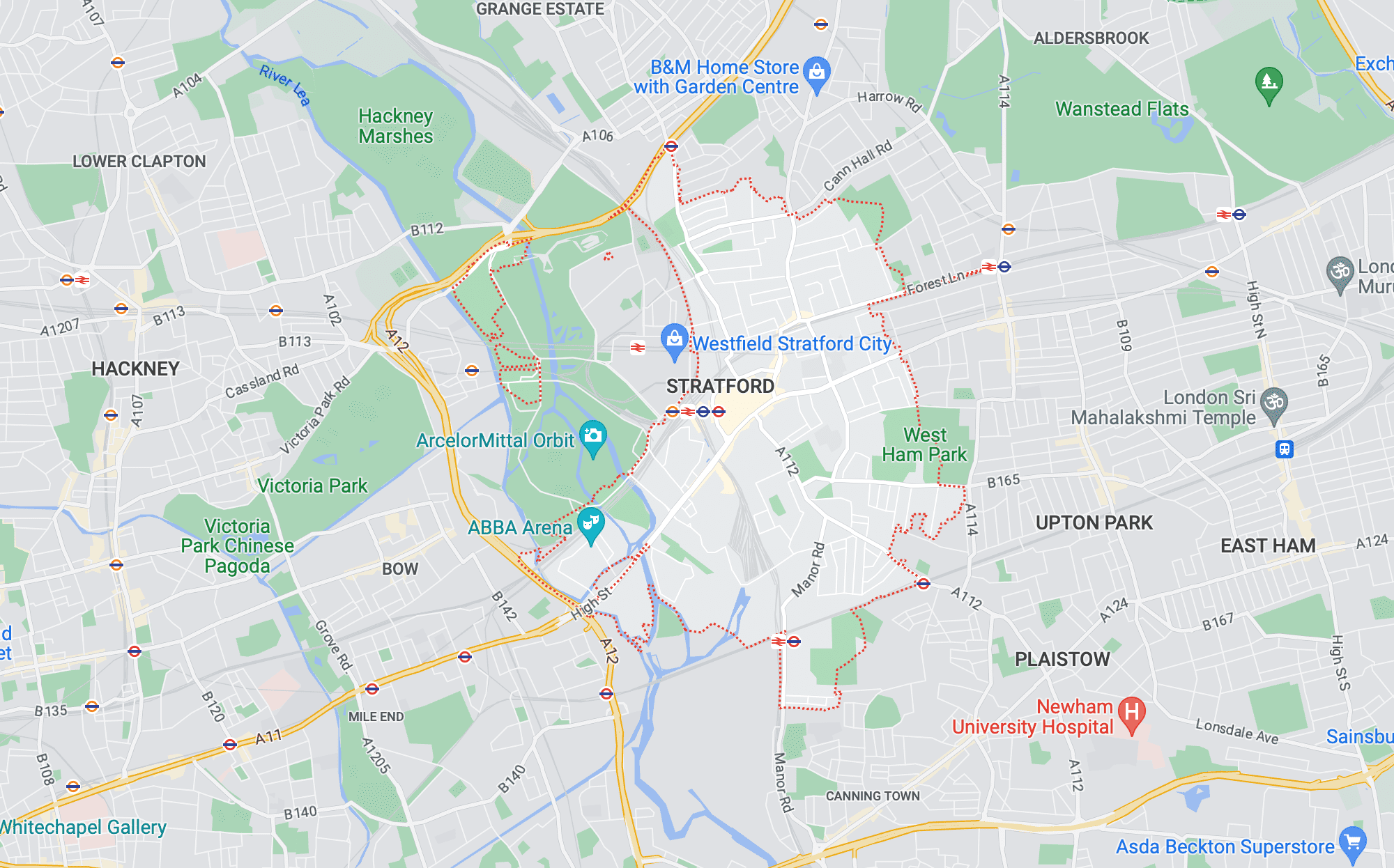 One of our waste management service success story in Stratford
We had the opportunity to work with a lovely family in Stratford, E15, who needed a complete house clearance. Our team at Rainbow Rubbish Removals was more than happy to help them declutter their home and create a more spacious living environment. We provided a range of services, including rubbish clearance, furniture disposal, and appliance removal. Our efficient team ensured that the entire process was smooth and hassle-free for the family.
During the house clearance, we also encountered builders rubbish that needed to be disposed of. Our team is experienced in handling such waste, so we quickly and safely removed it from the property. We understand the importance of keeping a clean and organised workspace, especially during a renovation project, and our team was able to assist the family in achieving this.
One of the key aspects of our work in Stratford, E15, was our commitment to environmental responsibility. We took great care in segregating the waste collected from the property, ensuring that recyclable materials were sent to the appropriate recycling centres. Our partnerships with local recycling facilities allowed us to dispose of the waste in an eco-friendly manner, minimising the impact on the environment.
Our clients in Stratford, E15, appreciated our excellent customer service, which included prompt communication, flexibility in scheduling, and accommodating their specific requests. We pride ourselves on offering competitive pricing and great value for our rubbish removal services, making us a popular choice for residents in the borough.
"Rainbow Rubbish Removals did a cracking job clearing out our home in Stratford, E15. The team was punctual, efficient, and left our property looking spick and span. We were chuffed with their eco-friendly approach to waste disposal, and their top-quality customer service made the whole experience a breeze. Highly recommended!"
Located in the heart of East London, the London Borough of Stratford is a thriving and dynamic area that has undergone significant regeneration in recent years. With a rich history and a strong sense of community, Stratford offers a unique blend of old and new, combining the charm of its historic buildings with the excitement of its modern developments. The area is well-connected to the rest of London, with excellent transport links including the Central and Jubilee lines, as well as the Docklands Light Railway and London Overground services.
Stratford has become a popular destination for both residents and visitors alike, thanks to its wide range of amenities, cultural attractions, and green spaces. The area boasts a variety of shopping centres, restaurants, and entertainment venues, catering to a diverse range of tastes and interests. Furthermore, the borough is home to several educational institutions, including the University of East London and Birkbeck, University of London, making it an attractive location for students and academics.
Stratford Main Postcodes
The London Borough of Stratford encompasses several postcodes, including E15, E20, and parts of E7, E9, and E10. These postcodes cover areas such as Stratford itself, Westfield Stratford City, Stratford International, and the surrounding neighbourhoods of Maryland, Forest Gate, and Leyton.
Stratford Main Attractions
Queen Elizabeth Olympic Park: This iconic park was developed for the 2012 London Olympics and has since become a popular destination for sports, leisure, and cultural events. The park features world-class sporting facilities, beautiful parklands, and a range of family-friendly attractions.
Westfield Stratford City: One of the largest shopping centres in Europe, Westfield Stratford City offers a vast array of shops, restaurants, and entertainment options, including a cinema and a bowling alley.
Discover Children's Story Centre: A unique and interactive museum dedicated to children's literature, the Discover Children's Story Centre offers a range of exhibitions, workshops, and storytelling sessions for children and families to enjoy.
Stratford History
The history of Stratford dates back to Roman times when it was a small settlement along the River Lea. The area grew in importance during the medieval period, with the construction of Bow Bridge in 1110, which connected Stratford to the City of London. By the 18th century, Stratford had become a thriving market town, known for its agricultural produce and its role in the burgeoning British railway industry.
The 19th and 20th centuries saw significant industrial development in Stratford, with the establishment of factories, docks, and other businesses. The area suffered extensive damage during World War II, leading to a period of decline and disinvestment. However, the successful bid for the 2012 London Olympics marked a turning point for Stratford, with major regeneration projects transforming the area into a vibrant and modern urban centre.
Today, Stratford is a thriving and diverse community, with a rich cultural heritage and a strong sense of identity. The area continues to evolve and grow, with ongoing investment in infrastructure, housing, and public spaces, ensuring that Stratford remains an attractive and dynamic place to live, work, and visit.
Stratford is also known for its strong connection to the arts, with several theatres and performance spaces located within the borough. The Theatre Royal Stratford East, for example, has a long history of producing innovative and groundbreaking productions, while the Stratford Circus Arts Centre offers a diverse programme of events and workshops for the local community.
Maintaining a Spick and Span Stratford
Welcome to Rainbow Rubbish Removals, your dependable waste disposal ally in Stratford, London. Consider us your neighbourhood waste experts, ready to tackle any disposal challenge you may encounter.
Our devoted team consistently strives to provide a stress-free experience, catering to a variety of clearance requirements from residential, commercial, educational, and construction environments. Our enthusiasm lies in streamlining waste disposal for our valued clients.
Operating seven days a week throughout Stratford, London, we offer adaptable scheduling to suit your needs. Our highly skilled team is proficient at handling and disposing of a wide range of waste materials. We take pride in delivering prompt, efficient, and courteous service. With competitive pricing and complimentary quotes, partnering with us could make a world of difference!
Get in touch today by giving us a call, completing our simple quote form on this page, or sending a WhatsApp message using the button above. Our zealous team is ready to spring into action. Are you ready to embark on a cleaner adventure?
Join Us in Keeping Stratford Rubbish-Free
Handling waste at home and work can be an overwhelming task, potentially distracting you from other important matters. To ease your load, we offer scheduled rubbish removal services throughout Stratford, London. Simply follow these straightforward steps:
1. Choose a convenient day and time for collection.
2. Organise your waste into categories such as recyclables, reusable items, large objects, and hazardous materials.
3. Leave the rest to our team – we'll take care of collection, disposal, donations, and recycling, ensuring a seamless waste management experience.
Together, we can keep Stratford clean and rubbish-free. Reach out to us today to schedule your rubbish removal service and experience the difference a clutter-free environment can make.
Frequently Asked Questions (FAQs) and Answers Regarding Our Rubbish Removal Services in Stratford
What rubbish removal services do you offer in Stratford, E15?
We provide a comprehensive range of rubbish removal services in Stratford, E15, including house, garden, workplace, school, and construction site clearances. Our friendly and professional team is available seven days a week, all year round, to help you with your rubbish removal needs, whether it's a one-off clearance or a regular collection.
Can you accommodate same-day rubbish removal requests in Stratford, E15?
Yes, we offer same-day rubbish removal services in Stratford, E15 for urgent jobs. To arrange a same-day collection, simply give us a call before 10 am on the day, and we'll take care of the rest.
How do I arrange a rubbish removal service in Stratford, E15?
To arrange a rubbish removal service in Stratford, E15, you can contact us in several ways:
- Click the WhatsApp button above to connect with us instantly
- Fill out the quick quote form on our website
- Email: rainbowrubbishremovals@gmail.com
- Phone: 020 3870 3051
Provide a description of the rubbish you'd like removed, and feel free to send photos as well. We'll then send you a free quote based on your information.
What types of rubbish do you collect in Stratford, E15?
We collect a wide variety of rubbish in Stratford, E15, including:
- Furniture: beds, wardrobes, pianos, seating, etc.
- Appliances: ovens, fridges, freezers, microwaves, and more
- Small electricals: vacuum cleaners, irons, humidifiers, etc.
- Cardboard, magazines, books, paper
- WEEE waste such as computers, IT equipment, and TVs
- Green garden waste
- Dismantled sheds, decking, greenhouses
- Office furniture, stationary, and electricals
- Construction site waste and renovation project rubbish
- And much more!
How much does rubbish removal in Stratford, E15 cost?
Our rubbish removal prices in Stratford, E15 are fair and competitive, taking into account factors such as waste weight and loading times. For a detailed breakdown of our pricing, please visit our pricing page.
What makes your rubbish removal services in Stratford, E15 stand out?
At Rainbow Rubbish Removals, we pride ourselves on our excellent customer service and commitment to providing a hassle-free rubbish removal experience in Stratford, E15. Our team is friendly, professional, and dedicated to going above and beyond to ensure your satisfaction. We also believe in complete transparency, which is why we encourage you to read our customer testimonials on our website.