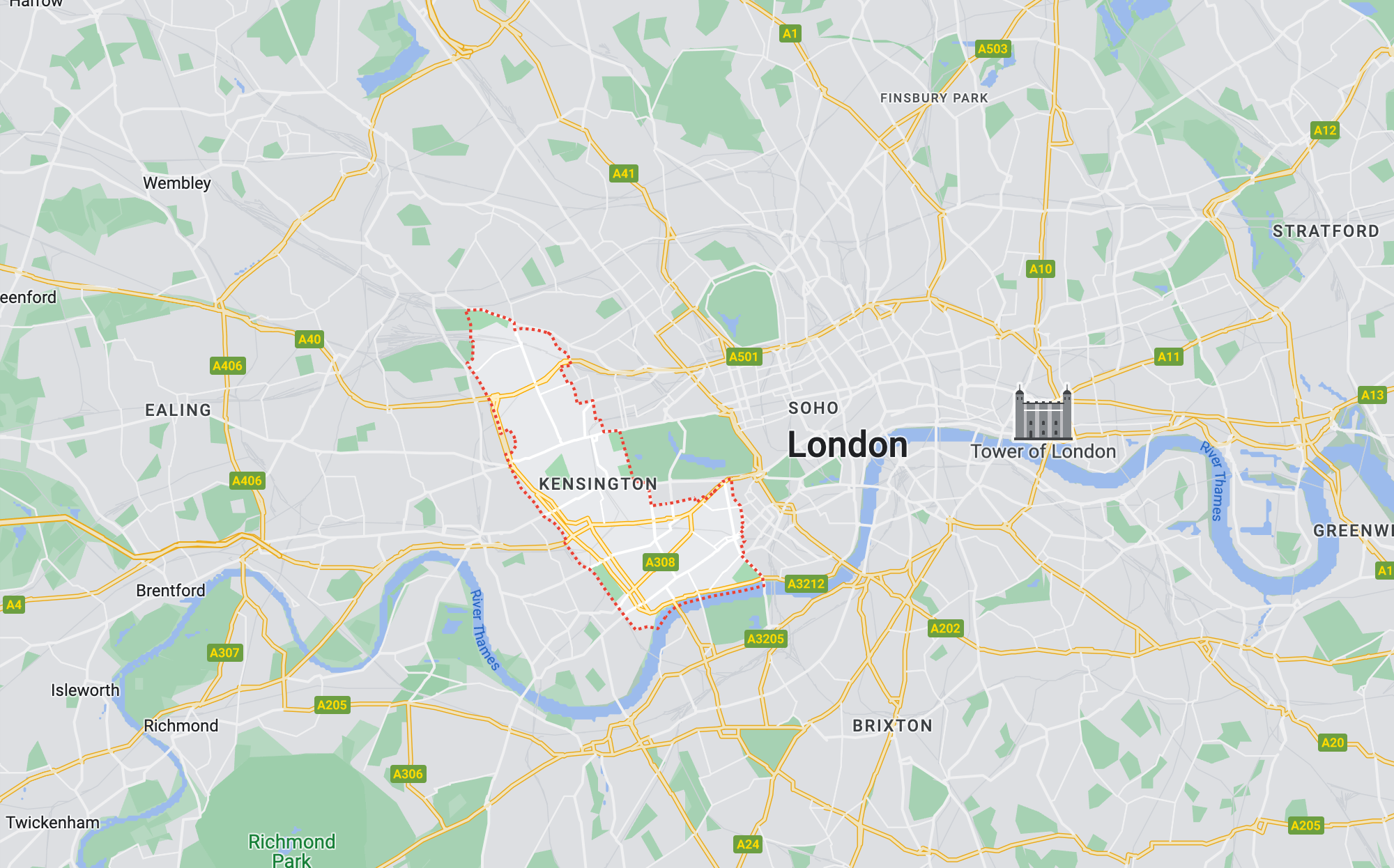 About Kensington & Chelsea
Kensington & Chelsea is an affluent and sophisticated borough located in West London. Known for its stunning architecture, world-class museums, and fashionable shopping districts, Kensington & Chelsea offers a diverse range of attractions, dining options, and cultural experiences that cater to both residents and visitors.
Kensington & Chelsea Main Postcodes
The primary postcodes in the Royal Borough of Kensington & Chelsea include SW1, SW3, SW5, SW7, SW10, W8, W10, and W11.
Kensington & Chelsea Attractions
Kensington & Chelsea boasts a variety of attractions and points of interest, including:
Kensington & Chelsea History
The history of Kensington & Chelsea dates back to Roman times, with evidence of settlements in the area. Over the centuries, the borough evolved from a collection of rural villages into a thriving and fashionable residential area, attracting royalty, artists, and the upper echelons of society.
Throughout the 19th and 20th centuries, Kensington & Chelsea continued to develop and diversify, with new housing, cultural institutions, and commercial centres adding to the area's appeal. The borough became known for its elegant squares, grand mansions, and picturesque gardens, which continue to be cherished by residents and visitors alike.
Today, Kensington & Chelsea is a thriving and cosmopolitan borough that offers a unique blend of historic charm and modern luxury. Its excellent transport links, world-class cultural attractions, and fashionable shopping districts make it a popular destination for both residents and visitors.
Whether you are immersing yourself in the wonders of the Natural History Museum, exploring the grandeur of Kensington Palace, or indulging in some retail therapy on King's Road, Kensington & Chelsea has something for everyone.
Help us keep Kensington & Chelsea clean
Seeking a streamlined and effective solution for all your waste management needs in the Kensington & Chelsea, W8, SW3 area? Look no further than Rainbow Rubbish Removals, your trusted rubbish collection team! We provide comprehensive rubbish removal services throughout Kensington & Chelsea, carried out by our diligent and efficient crew.
Our expertise covers various premises, including homes, offices, schools, garages, construction sites, and more – ensuring the swift and thorough clearance of all unwanted rubbish. Reclaim your valuable space with our top-notch waste management services.
Your dependable rubbish removal team is readily available for waste collection in the Kensington & Chelsea, W8, SW3 area, irrespective of weekends or peak holiday times. Our commitment to providing exceptional service remains unwavering.
For urgent rubbish removal needs, our hassle-free same-day service is at your disposal. Simply give us a call, and we'll handle the rest – guaranteeing an immaculate space and complete peace of mind.
Why rubbish removal is important?
The accumulation of household waste can rapidly escalate, potentially adding unwanted stress to your daily routine if not properly managed. To reduce waste and save money in the long term, implementing a few straightforward strategies can help you effortlessly handle your household waste:
Divide household waste into three distinct categories: recyclables, reusable items, and bulky or hazardous waste.
Organise and set up a regular rubbish clearance service.
It's as easy as that! Our team will take care of the rest, collecting your bags and handling all recycling, donations, and disposal tasks.
For additional advice and guidance on managing household, office, and garden waste, and more, explore our blog packed with valuable tips and insights.
Questions and answers about our Kensington & Chelsea rubbish removal services
What can I expect from Rainbow Rubbish Removals' service in Kensington & Chelsea?
Rainbow Rubbish Removals provides a responsible and environmentally friendly rubbish removal service. We follow a 5-step process to make it easy and efficient for you:
Get in touch with us through phone, email, WhatsApp, or our quick quote form.
Provide details about the rubbish you want us to remove for a free quote.
Schedule an appointment for rubbish removal at your convenience.
Our team will collect and load your items for disposal onto our spacious van.
We will transport your waste items to a local recycling or waste disposal plant.
Is same-day rubbish removal service available in Kensington & Chelsea?
Yes, we offer a same-day rubbish removal service throughout Kensington & Chelsea, W8, SW3. Call us before 10 am, and we will handle your enquiry as quickly as possible.
What types of rubbish do you collect in Kensington & Chelsea?
Our expert team handles various waste types, including general household waste, green waste, furniture, mattresses, appliances, electricals, WEEE waste, carpets, and garden structures. We also provide additional services like tree surgery, lawn care, and garden maintenance.
Do you offer scheduled waste management in Kensington & Chelsea?
Yes, we offer scheduled waste management services to help you stay on top of your waste disposal needs. Simply book your preferred day and time, separate recyclables and reusables, and leave the bulky items and toxic waste for us to handle.
How is pricing determined for rubbish removal services in Kensington & Chelsea?
Pricing depends on several factors, such as waste weight and loading times. Visit our pricing page for a detailed guide on rubbish removal costs in Kensington & Chelsea.
What factors should I consider when booking rubbish removal in Kensington & Chelsea?
Keep in mind that our quotes are based on waste weight, time, packaging, and dismantling estimates. Our spacious van helps minimize the need for multiple collections, but larger jobs may require additional trips. Also, difficult or restricted access may increase the time needed for rubbish removal.