Rubbish Removals Wandsworth, SW18, London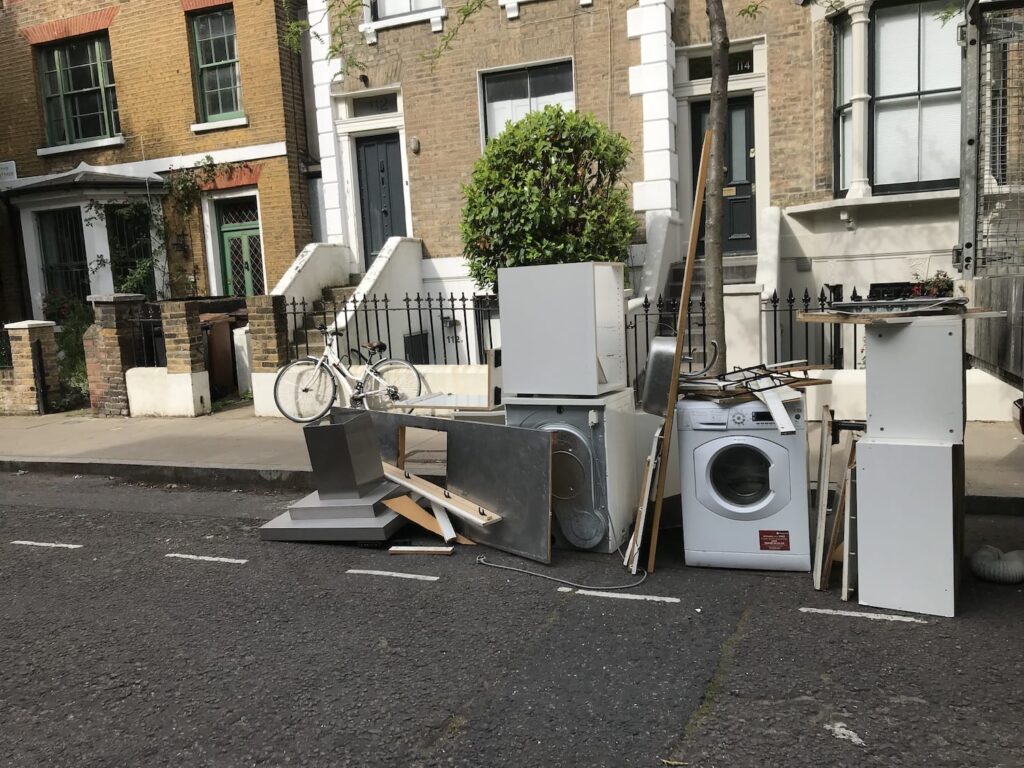 Are you looking for Rubbish Removal in Wandsworth, SW18, London?
Wandsworth, SW18 residents, rejoice! Rainbow Rubbish Removals are your friendly, local rubbish removals team. We offer a flexible and comprehensive waste collection service that won't break the bank! 
We understand how challenging work and life commitments can be. From taking care of the kids to juggling work with home life, removing waste from your house can be a daunting and stressful experience. That's where our expert team comes in. We will take care of and remove your rubbish, so you don't have to. 
We specialise in all kinds of rubbish removals in Wandsworth, SW18. From house to office clearances to managing all your construction site and garage waste, we've got you covered. 
No matter the time or day, our well-trained crew is on hand and always come prepared to remove and dispose of all kinds of waste. Operating seven days a week, we offer free quotes and fair prices. 
Give us a call, fill out our quick quote form on the right or send us a WhatsApp message using the button above. One of our team will be in touch shortly!
What will your Wandsworth, SW18 rubbish removal look like?
Whatever type of premises you need clearing, we stick to 5 simple steps to make your experience as precise and smooth as possible:
Contact us
The most crucial step of all! You can either give us a ring, email us, send us a WhatsApp message (click the button below) or fill out our quick quote form on the right of this page
Get a free quote
You know what waste or rubbish you want to be cleared, so tell us about it in as much detail as possible! You can even attach photos to give us the bigger picture of the job you require
Make an appointment
We've been in touch, you've got your quote, now it's time to choose an appointment that works best for you. For urgent enquiries, give us a call before 10 am for hassle-free same-say rubbish removal. 
Collect & load
Our team will arrive on your chosen date and time to collect and load all of your items for disposal onto our large (14 cubic yards of loading space) van!
Transport & recycle
Once we have all of your items for disposal onboard, we will transport your goods to your local recycling & waste plant.
Waste management in Wandsworth, SW18, London
Yes, sometimes a one-off rubbish removal is enough to make a lasting dent in your waste. However, scheduling in a regular rubbish collection will ensure you stay on top of your waste management. 
Simply schedule a day and time. Separate and bag up your recyclables and reusables. Leave your large, bulky items and toxic waste for us.
We will arrive, collect and load your items for disposal and take them to be recycled, donated or destroyed. 
Rubbish Removals Wandsworth, SW18 Pricing
Rubbish is inevitable, and disposing of it responsibly and correctly is our speciality. We believe in fair prices, no matter what type of waste you need to dispose of. 
We consider several factors when drawing up your quote, including waste weight and loading times. Check out our Wandsworth SW18 pricing guide below:
| Capacity | Time Loading | Price (Excl. VAT) |
| --- | --- | --- |
| Min Charge or 50 kg | 10 mins | £40 |
| 1/4 or 300 kg | 20 mins | £90 |
| 2/4 or 500 kg | 40 mins | £150 |
| 3/4 or 800 kg | 50 mins | £200 |
| Full Van or 1000 kg | 60 mins | £280 |
Each quote is drawn up using estimated based on the detailed information you provide
We will always try to minimise the need for multiple collections. For most jobs, our spacious 14 cubic yards of loading space van is more than ample. Think 2.5 skips in van form, and you've hit the mark!
We require non-restricted access where possible, so please tell us in advance, if this is likely to be challenging.
We're ready to collect your rubbish!
Giving all of our customers the best, smoothest and most efficient service is everything to us.
Regardless of the clearance you require, every job we carry out is done with respect and aims to minimise any disruption to your day. 
Want to hear what some of our other customer's have to say about us? Read our testimonials page to find out more. 
All that's left is to get in touch with us, and our team will get prepared to handle the rest!
100% reliable rubbish removal services
The goal is to ensure that anyone considering our services has complete faith in us to carry out any given task with or without supervision. Hence, we've provided our contact information and testimonials from our previous customers. You are welcome to reach out to us and make enquiries, we are always available to respond.